The Style Girlfriend Guide to: Valentine's Day without the Cliché
Let's just get something out of the way right now – Valentine's Day is the worst, right? Whether you're happily ensconced in a long-term relationship, or uneasily treading the waters of new love, this Hallmark holiday never fails to strike fear in the hearts of lovers young and old. Once we've outgrown grade school's helpful, Communist dictum of "one card for every classmate," things just get confusing.
 
I've found myself on both sides of the day's fortunes – mushy in love and Les Miserables-style On My Own. What I've learned through the years is that the cliché gifts that get a groan when mentioned – flowers, chocolate and the like – have gotten a bad rap. The success or failure of these standards, long synonymous with unimaginative gift-giving, is all in the execution. Below, how to outsmart Cupid and make standard tokens of affection feel anything but. 
FLOWERS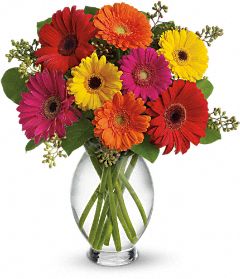 Teleflora "Brights" bouquet ($54)
Long-stemmed red roses are to Valentine's Day as Mel Gibson is to action thrillers. No longer relevant.
 
Update your floral gift-giving with a more modern bouquet. Bonus points if you know your lady love's favorite flowers, but if not, what about her favorite color? Anything to give the florist a jumping off point to work with.
 
These days, bigger is not better when it comes to flowers. Skip the waist-high bouquets in favor of tightly-packed buds in a short vase. Have the arrangement delivered to her work to give her the added satisfaction of showing off how great her guy is to all her co-workers.
 
Oh, and include carnations at your own risk.
JEWELRY
Jess LC Braille "I Love You" Necklace ($58)
I'm all for jewelry – a well-chosen token will be cherished long after it's given. But remember, if you're not planning to pop the question this Valentine's Day, avoid presenting your sweetheart with a ring-sized box. That means no elegant stud earrings (yes, even if they're diamonds) or a bauble that goes on any finger other than the one next to the pinkie. Have I scared you enough? Good, then here's some help – a necklace delicate enough to be worn every day is always a crowd-pleaser.
LINGERIE 
 Eberjay Bluebird Isabella bralette & culottes ($32, $20) ((also, you're welcome))
 
Listen closely: step away from the Victoria's Secret catalogue.
 
Despite what the card may say, a gift of lingerie is always in danger of telegraphing, "This is a gift for me, not you." The trick is to go for "lovely," not "sexy." Trust me, if she feels beautiful (as opposed to trashy) sexy will come naturally. Also, your first inclination may be to go with an a padded push-up and a flimsy bottoms, but consider a pretty bralette and boy short in lace. This set from Eberjay will set her heart aflutter and yours racing.
 
So skip the red, the leopard-print, and especially, the mall brands.
 
CHOCOLATE
Marie Belle Hot Chocolate Tins ($42)
I'm not a huge chocolate fan, but I am a sucker for beautifully boxed foodstuffs. Like Julie Andrews in The Sound of Music, I'll break into song for brown paper packages wrapped up in string.
 
Shun the drugstore heart-shaped box of boring milk chocolate in favor of a pretty package containing tasty contents. And you don't even have to wrap it. I like Marie Belle for upscale chocolate in fancy boxes. They make amazing ganache (I've been told), but I'm all about their hot chocolate and the lovely tins they come in. The best part, she'll think about how sweet you are every time she makes herself a cup.
DINNER
 
(via realsimple)
Please, please don't go out to dinner on Valentine's Day. Even the best restaurants will be running an overpriced prix-fixe with a choice of salmon that's been sitting under heat lamps, ribeye that's been sitting under heat lamps or pasta that's been sitting under heat lamps. No thanks. Instead, step into the kitchen and cook your specialty. Set the table with the best dishes you own and lots of candles. Use cloth napkins if you've got 'em.
 
Don't have a specialty? Try this easy recipe for a can't-miss win.
 
If she really wants to get out of the house, after dinner head to the nicest restaurant in town – you know, the one you drive by thinking, "Someday…" – and share a romantic dessert at the bar.
 
 
Now you're all set for your most stylish Valentine's Day ever.