The 2015 Grammys' Best Dressed Men
Let's sing a ditty for the guys who got it right
Last night's Grammys were a surprisingly stylish affair, as witnessed here at SG HQ.
I say "surprising" because this is what we've become used to when reviewing men's style at the Grammys.
Now, did it help that my favorite living Beatle (sorry, Ringo) was there and was everyone's selfie partner of choice…except maybe Sam Smith…people loved that guy last night? Of course. But overall, I was impressed by the show of restraint at this awards show, which musicians usually use as an excuse to air out their concert tour costumes – a lot of glitz, a lot of glitter. Yes, even on the guys. This year? Suits reigned supreme, and while as of yet no one has taken me up on my offer to play matchmaker with a good local tailor to take up some of those pant hems, the level of taste definitely twerked up a few notches last night.
Below, my picks for best dressed. Check them out, then share your own favorites in the comments below:

I imagine Paul is saying, "Hey Rihanna, did the audio guy check to make sure my mic was on at soundcheck?"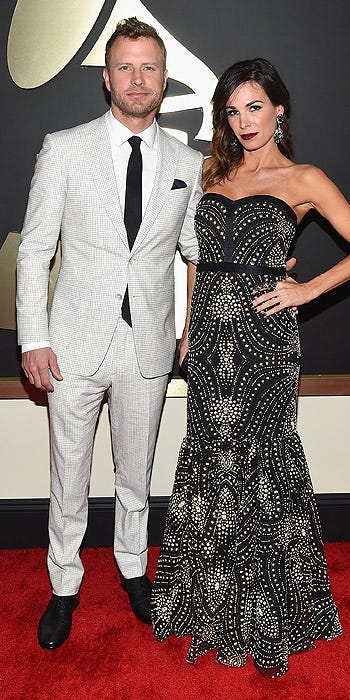 Who says country music is all bootcut jeans and untucked shirts under blazers? Well, okay, everyone. Literally everyone. But the "What Was I Thinkin'" singer proves the stereotype isn't right all the time in a sharp suit and just the slightest of break in his pants. Well done, Dierks, well done.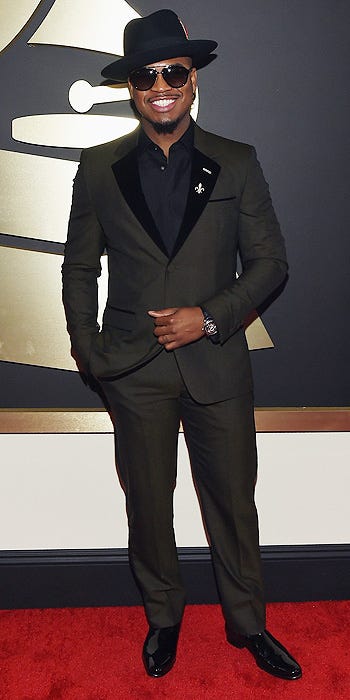 No surprise here: singer Ne-Yo generally shows up places looking dapper and appropriate, and he didn't disappoint on last night's red carpet. The man does not make a misstep in his style or his smooth soulful jams.
It's clear Ne-Yo lives by the motto "You will never be underdressed in a suit." And he's right. I tried to find a good reason for why he's wearing the Fleur de lis, but he's not from New Orleans, and at that point, I ran out of curiosity. Whether it's just for fashion, or there's some personal significance, no matter. I like that he switched it up with the lapel pin and did something a little striking. Hey, it got me looking, and that's never a bad thing.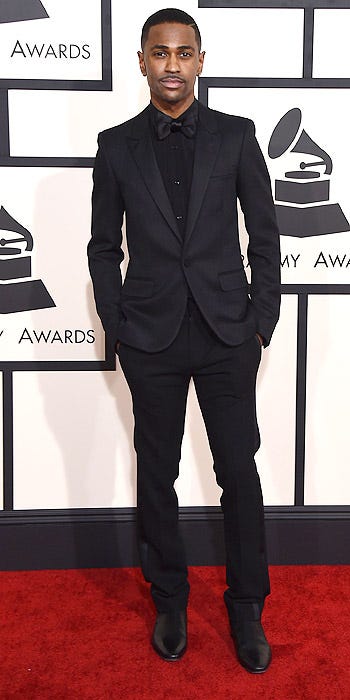 Dark colors head-to-toe were a trend last night, and Big Sean brought it. I especially like that black bow tie – big enough to make a statement, not so big it's colliding with his jawline. Could the pants have been hemmed with less of a break? Sure, but at least they're not baggy (if anything, they look a little snug!)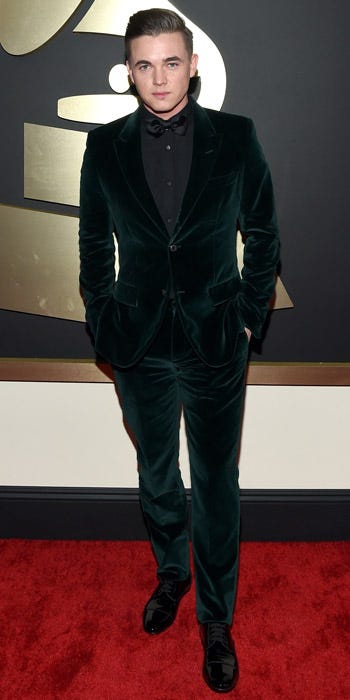 Another McCartney (no relation) looking handsome, and again, in head-to-toe dark colors. Sure, Wiz Khalifa's super-cute son may have worn it better, but singer-songwriter Jesse McCartney's forest green look comes in a close second. I feel like velvet is a little warm for LA in February, but hey, he looks cozy, and everything fits right, so I'm not complaining if he's not.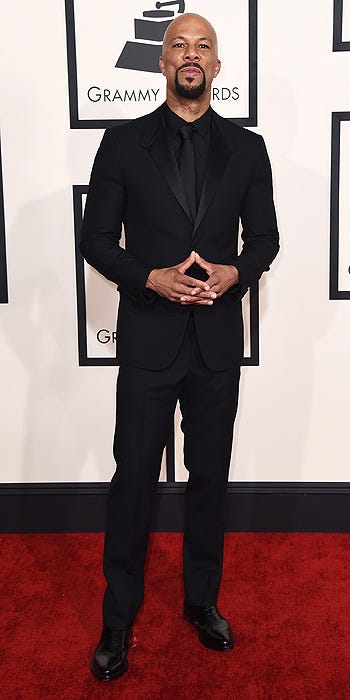 And three's a trend! Golden Globe winner and Oscar nominee (workin' on that EGOT) Common gets the proportions right on this tux with nearly no break in the pant and an appropriately shiny patent leather shoe..which is exactly right, unless you're bold enough to go with a tuxedo slipper sans socks, like Donald Glover, aka Grammy nominee Childish Gambino, did.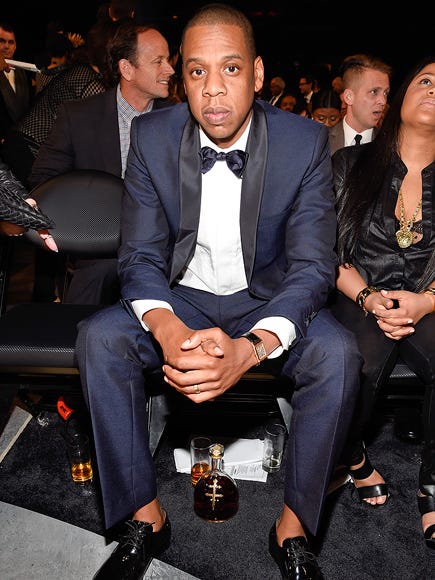 An even higher degree of difficulty (or maybe just discomfort in the name of style), patent leather shoes with no socks, a la Mr. Carter.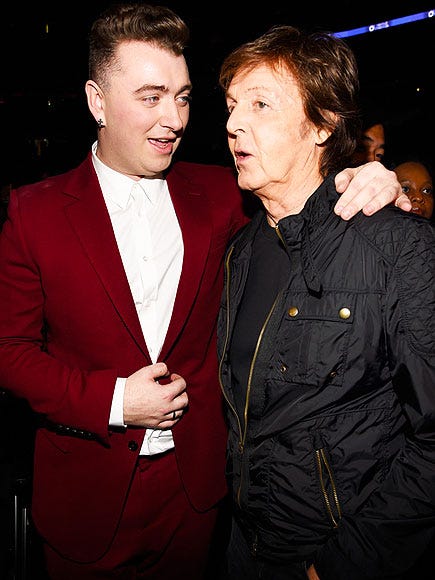 A post-peformance costume change for Macca means I get to talk about him again! Win win. Oh, and last night's Adele – aka Sam Smith – looks great in red, too.
Tell me:
Who was your pick for best dressed at last night's awards show?
(All images via People.com)