My 2015 Resolutions
Style, Travel, Fitness, Home, Career
Last year, I simplified my resolution-making with just one goal for myself. And I did pretty good. But this year? This year I go big.
With the list of life-improving challenges clocking in at five, I'm hoping that's enough to keep me busy for at least twelve months. This year's resolutions focus on the four pillars of Style Girlfriend…plus a bonus:
Style (of course)
Career
The latter are all areas I hope to explore more on SG in 2015, and so it follows that I want to work on them in my own life too.
STYLE
Wear more blazers
Simple enough, right?
Working from home, I have a tendency to dress well (can't have the FedEx guy seeing me all schlubby!) but for comfort. I always feel like such a strong, empowered businesswoman whenever I slip into a sport coat or blazer, so why don't I wear them every day? They're just as comfy as a sweater, and I can wear them over t-shirts and still look and feel dressed up.
It might not quite be a million bucks moment, but it nets me at least a couple grand in my mental bank account when I look in the mirror. That's good enough reason for me to power up more often.
TRAVEL
Travel farther than I've ever gone before
…Which for me, is pretty much anywhere past western Europe or below Mexico. Japan, Australia, Africa. Wherever. Just get me out of western civilization for a minute. Not sure how these frequent flyer miles will actually be attained, but hey, that's for figuring out later, right?
On the flip side, I want to stop having travel envy. Thanks to the wonder that is Instagram (where you're totally following me, right?), I get to scroll through the vacations of friends, acquaintances, and celebs I not-so-secretly stalk. There they are: coconut in hand on the beach, astride a camel in the desert, whizzing down some snowy mountaintop…the "wish I was there" locales seem to never end.
But that's cool! Go on your trip, and I will stay here and read the paper and eat donuts sometimes.
FITNESS
Lose weight or shut up about it already.
This one was tough for me. I am someone who very much values their health, and takes pride in working out because it makes me feel good. But I still look in the mirror and see my thighs, my hips, my arms and think, "You should really do something about that." It's gross and annoying and I'm sick of it.
Here's the thing: I know I'm not "fat" so don't worry that I'm fishing for compliments in the comments; I'm just telling you, as a woman (or maybe just as a human..do you guys feel this way?), I have a hard time loving my body.
So in 2015, I intend to either fix the hips/butt/back of arms situation, or learn to deal with them in a way that's not judge-y or self-abusing. This will not be easy, but I expect that putting it here in writing will keep me honest about it.
HOME
Drink more booze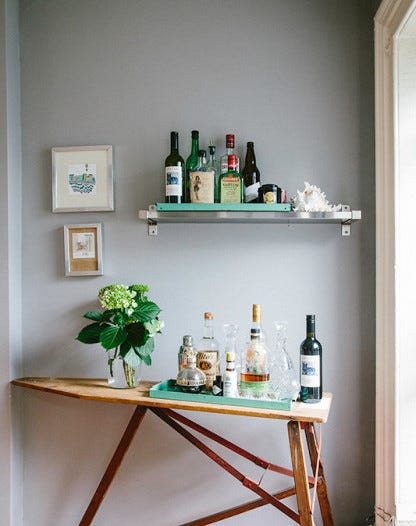 Great resolution or greatest resolution?!?
My father just retired this past fall, and on his recent Christmas wish list, everything was either gym-related or cocktail accoutrements. He's really adapting to a bon vivant lifestyle, and on the latter front, I'd really like to work on the same.
My palate has slowly grown to include brown liquors (yes, I was the "I'll have a vodka soda" girl for way too long after college) and I'm interested in figuring out what I like, and how to make it myself…because discovering what you don't like when you're out at a fancy cocktail bar can get pretty expensive pretty fast.
CAREER
Talk more, grow more
Running a business is something I think about every single day (maybe even more than I think about desert boots? sacrilege, I know!), so I want to start talking about it more on SG, too. Because there's definitely a right and wrong way to carry yourself when it comes to business, and just like in your wardrobe, there's shortcuts to "getting it right" that are worth starting conversations around.
In that spirit of communication, my work resolution for the year is to grow the readership two-fold. I was so psyched last year to see that Style Girlfriend received over 4 million page views in 2014, but there's no reason to think that a million a month isn't doable. It is, and I just need to figure out how to get there. The way I see it, all of you guys that find SG useful, you're not so special – well, you are of course, but what I mean is there must be more out there like you: guys who want to up their style game. Guys who have a subscription to GQ or Esquire, but are looking for stylish and affordable ways to interpret that fashion in your daily life. Awesome guys who want to live a stylish life that's actually attainable, not never-gonna-be-able-to-afford-it aspirational.
The trick here, is that I'm not at all sure how to find these new readers. I'd been trying some things last year, and then I got discouraged and just sort of came back and catered to you because it's what I knew how to do and writing for SG's existing community felt easier and safer than going out and trying to find new folks and failing. But to grow my business and improve what I can offer you (video! more stories a day! a mobile-freaking-optimized experience on your phone already!), I need to grow the site's numbers.
If you have ideas on this, I'm literally all ears. I'm made of 'em. Covered head to toe. Because I'm not too proud to ask for help on my resolutions (asking for help is very in this year, in my opinion).
Tomorrow: My resolutions for YOU. In the meantime, tell me:
How would you suggest getting new readers to check out Style Girlfriend?
(image)
SHARE ON: