25 Things You Don't Know About Me: Lizzie Thompson
SG's relationship advice giver gets personal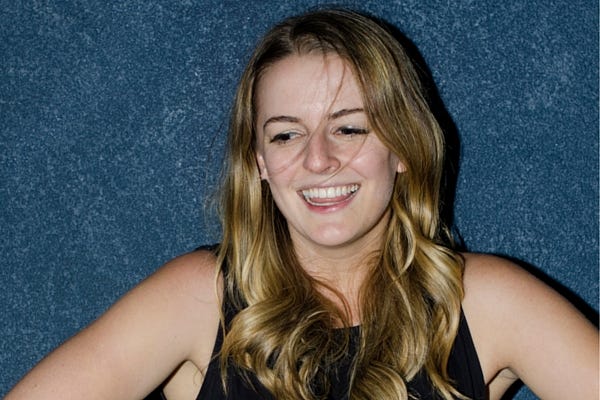 In the spirit of friendship, we want to make sure you're on a first-name basis with every member of Team SG. After filling you in on 25 things you may not have known about Megan, Brit, Gabi, and Taylor, we asked Lizzie to share a few (25 to be exact) fun facts about herself with you guys. Get to know her better and don't forget to say, "Hey!" in the comments below. 
Below, 25 things to know about Lizzie:
1. I grew up in Paradise Valley, Arizona. In the summers, the temperature regularly hits 115
degrees or above. It's a dry heat.
2. I was a serious ballet dancer for twelve years. I did summer programs at Boston Ballet and Miami City Ballet.
3.  When I was 14, I played Clara from The Nutcracker in the Radio City Christmas Spectacular. Sadly, my dream of becoming a Rockette was never realized (kidding).
4. My senior superlative was "Most likely to be found protesting."
5.  My older sister is my best friend in the entire world. She is two years older (and two inches taller) than I am, but we get asked regularly if we are twins. If we go a day without talking to each other, we both get really anxious.
6. My mother was the principal of my high school. It really wasn't that bad – minus the fact my mom knew everyone and everything that went on at school. Went to a party that got broken up? My mom found out. Forgot to study for that French quiz? She was told my grades before I was. But I digress.  In fact, when I first moved to New York and went to my very first bar, the bartender knew my mom and gave me free drinks because of it. I still owe her for that one.
7. I've read the Harry Potter series at least ten times (each book). On my 11th birthday I will admit that I was truly disappointed that I didn't get a letter (delivered by an owl, of course) accepting me to the famed Hogwarts School for Witchcraft and Wizardry. I tried to play it off cool to my family, but I really thought I was going to Hogwarts. To this day I'm not convinced it doesn't exist.
8. I cannot properly pronounce the word "crayon" without a serious pep talk to myself beforehand and a lot of concentration. It sounds like a combination of "crown" and a growl otherwise.
9. I was a pescatarian (vegetarian but you can eat fish) from 9 years old until 18 years old. I then moved to NYC for college, promptly ate a Grey's Papaya hot dog, and never looked back.
10. I was on Columbia University's competitive dance team in college. We competed every year at the NCA/NDA Competition in Daytona Beach, FL (think Bring it On, but college), and were ranked in the Top 10 for D-1 collegiate dance teams in 2008 and 2009. We even performed at Madison Square Garden during a college basketball tournament.
11. In middle school, I had two dogs, a cat, two parakeets, a guinea pig, and four hermit crabs. In seventh grade the parakeet, the guinea pig, and all four hermit crabs died. It was not a good year for my pets.
12. I studied abroad in Cape Town, South Africa my junior year of college. While there, I went cage diving with great white sharks and bungee jumped off of Bloukrans Bridge, the highest bungee point in the world. I also got mugged twice.
13. The weirdest thing (or one of the weirdest things) to happen to me in the 8 years I've lived in New York City was the time a stranger offered to buy me my tampons. I declined.
14. I have a Masters in Creative Writing (fiction).
15. I make the pies at my family's holiday. Pecan, apple, and pumpkin are my specialty. I even make the crust myself.
16. I've been water-skiing since I was six.
17. My first car was an old white Volvo station wagon named Martha. I had to sit on a yellow pillow to drive it. Martha was indestructible. I got into two car accidents in my high school parking lot in Martha. I hit the same car twice, months apart. Both times were my fault.
18. Until I was about 18 I used to cry every year the night before my birthday, because I never thought the next year could get any better than the year before. It always did.
19. If I could change one thing about myself, I would give myself the ability to sing. I sometimes wish my life were like Glee or Pitch Perfect and I could just break into song to express how I'm feeling. Despite my inability to carry a tune, I still love karaoke. Go to song? Nicki Minaj's "Anaconda."
20. If there is buratta on a menu, I will order it every time. If there are green peppers in a dish, I won't touch it.
21. I went to Barnard College and majored in English and Creative Writing. Spending four years at an all-women's college was the best decision I've ever made.
22. I've run three half marathons: NYC in 2013, Brooklyn in 2014, and Baltimore in 2015. I keep entering the lottery for the NYC Marathon and have yet to get in.
23. Drink preferences: Brunch: Bloody Marys. Lunch: Rosé. Happy hour: Beer. Dinner: Red wine. Night out: Tequila.
24. The books that mean the most to me as an adult are The Things They Carried, Beloved, and Pride and Prejudice. My favorite movies are Mean Girls, Dirty Dancing, Wedding Crashers, Zero Dark Thirty, and Silence of the Lambs.
25.  When I was in 4th grade, a Senior boy at my school (one of my mom's students) told me that I was "so sassy" that "I would never catch myself a husband."
TELL US: 
WHAT WOULD YOU CHANGE ABOUT YOURSELF IF YOU COULD? WHAT WOULDN'T YOU CHANGE?! 
Get more from Lizzie here and here! And don't forget to follow her here