3 Looks To Nail Your New Year's Eve
From The Kegger To "Da Club"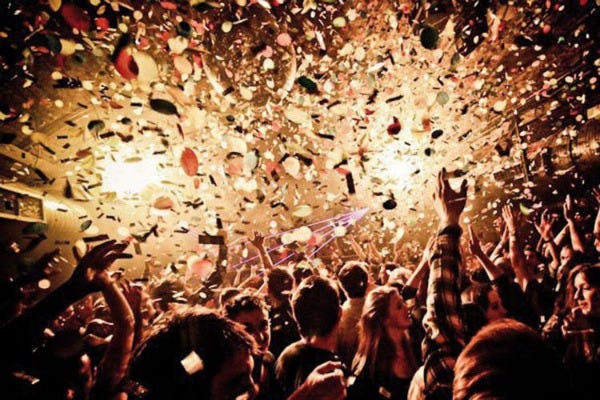 Is there any holiday on the calendar with more expectations than New Year's Eve? Each December we build up this night to be the Most Important Party of the Year—the bash that sets the tone for all bashes to come in January and beyond. While there's usually an anti-climactic element to this kind of build-up (a party is rarely as great as all that pressure implies), you can at least look the part of a Party of the Year attendee.
True, New Year's Eve tends to conjure up images of men in tuxedos and women in sparkly gowns at a fantastic, over-the-top party akin to the one J. Lo's seminal music video, "Waiting For Tonight." But let's be honest, that's not how most of us roll. From a laid-back college party to a sophisticated dinner at home – and even for that big night on the town – we've got sharp outfit ideas that will set the tone for a well-dressed 2015.
What To Wear To…The College Kegger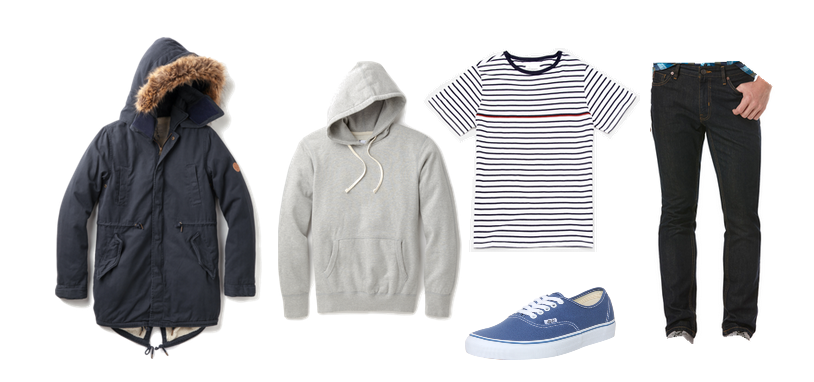 The look
No need to stress over your ensemble when you're headed for a laid-back college party on New Year's Eve. Classic sneakers, jeans and a sweatshirt will do the trick—just make sure your grooming game is on point in case you lock eyes with a Solo cup-toting cutie across the flip cup table.
The key piece
Casual doesn't have to mean lazy—pairing a hooded sweatshirt with these Original Penguin slim-fit, vintage wash jeans lends a little bit of style and structure to a comfortable look. (Cuff them once for extra points.)
What To Wear To…An Intimate Dinner Party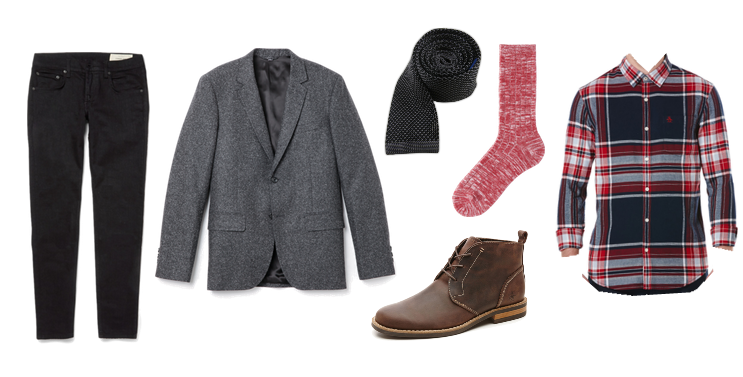 The look
For a night in with friends, the goal is to look put-together but totally at ease. Acknowledge the hard work your host put into this evening by smartening up a plaid shirt by tucking it in and adding a tie, then just wear your favorite pair of dark denim jeans and leather boots. (Don't forget the bottle of wine!)
The key piece
A plaid shirt like this should be a staple in your winter wardrobe. It easily goes from casual to party-ready with a quick tuck and a tie.
What To Wear To…A Night Out At "Da Club"
The look
If ever there were an occasion to dress-to-impress, a New Year's Eve out on the town certainly checks the "Let's do this" box. Change up your usual semi-formal style with a velvet blazer, paired with a pair of suit pants, dress shoes and a subtly patterned tie. Then turn on the charm and lock down that midnight kiss.
The key piece
An investment jacket you'll reach for again and again, the velvet blazer channels the red carpet style of snappy dressers like Matthew McConaughey and Chris Hemsworth.
If you're deciding between going bold with your jacket or pants, it tends to be easier to incorporate a textured, colored, or patterned jacket into more looks than you would with pants that make you go, "Whoah."
While you'll need to pay special attention to the slim cut and snug fit of a jacket to avoid looking costume-y, you'll find you can wear it in both dressy and slightly more casual looks over time.
A few more notes on party style
Unsure of the party's dress code? Ask the host! Unless it's a "black tie only" affair, you'll likely have everything you need in your closet already.
Take your NYE outfit in a more casual direction by pairing dark denim with a patterned blazer and white dress shirt; just skip the tie.
If you're event requires a tux, you can add a little more personality in your accessories. Silk or velvet bow tie? Oh yes. Attention-grabbing socks? You bet.
Tell me:
What are your plans for New Year's Eve this year?
> See all our #SGapproved shopping picks here