5 Cooking Essentials for Men in Any Kitchen
Basic "How to Be a Grown Man" Sh*t
When I graduated from high school, I deferred college for a year and moved to New York City. Have I ever told you that? My parents were terrified. Afraid I'd get swallowed up by the big bad apple, and probably freaked that I might love it so much I'd skip more schooling altogether.
One of the things that ensured that would never happen was my diet. I was – I believe the technical term is "piss poor" – thanks to a great but low-paying job managing the front desk of a hair salon. Squeaking by paycheck to paycheck meant I had to get creative when it came to my meal budget.
So every day I ate the same thing – for breakfast, a muffin taken from the salon's cafe the night before (hey, they were just going to throw them away anyway). For lunch, half a turkey sandwich and an apple. And for dinner, a bowl of pasta with a slab of grilled chicken on top.
Nowadays, I'm a little more skilled in the kitchen, but it didn't come naturally. But just like making the effort with your wardrobe is a part of learning to be a grown ass man, so is making an effort to get yourself comfortable in the kitchen!
It's not a cute look when a guy brags how he can't cook. Trust me from experience on that one.
For those still working on boiling water, we've got you!
Here are the 5 cooking essentials for men in any kitchen:


Cooking Essential #1 Cast Iron Skillet
There's a reason cast iron skillets have been around for centuries. They work. It was non-stick before "non-stick" was a thing, and with a little TLC it's a men's cooking essential that will last you a lifetime.
Cleaning it is a breeze too. You can practically take anything short of a jackhammer to it and it'll stand up. Just don't use soap, or if you do, use it sparingly. The skillet gets seasoned over time and makes everything taste better. Trust me.
Cooking Essential #2 Chef's Knife
A good chef's knife is a must-have cooking essential for guys. It'll run for anywhere from $125-$250 but it's worth its weight in gold in the kitchen.
This knife will be your go-to for everything. Chopping, slicing, dicing, mincing – it does it all, and if you treat it with a little respect you'll only need to sharpen it 2-3 times a year.
You're less likely to cut yourself with a sharp knife because it does what you want it to do with ease, so splurge on the knife, save on the band aids.
Cooking Essential #3 Chopping Block
Say goodbye to that plastic cutting board from your university days and pick up a nice wooden chopping block.
Not only do they look better, but they don't discolour, they can be used as a respectable serving platter, and they actually look better the more that you use them. This is a no brainer.
Cooking Essential #4 Kitchen Towel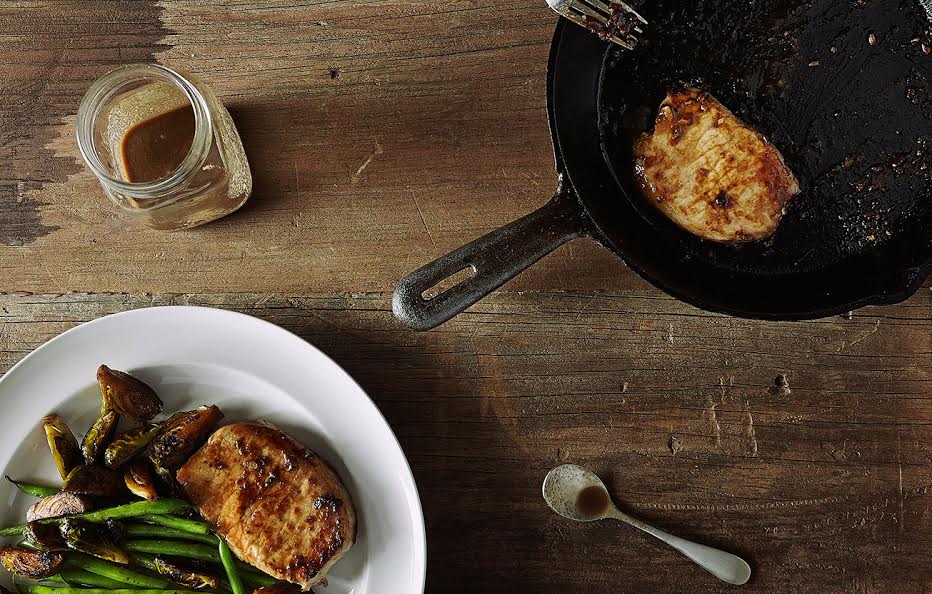 When we say kitchen towel we don't mean frilly fabrics or cloths with cliché quotes on them. Simple cotton kitchen towels will do the trick.
They come in handy for anything, whether it's drying your dishes or hands, wiping down a counter top or cleaning up a spill, or serving as an oven mitt.
Cotton is king – it's absorbent, easy to clean, and it won't melt to that hot pan you just grabbed.
Cooking Essential #5 Recipe Inspiration
Most "Essentials" lists would probably include a cookbook, but quite frankly, we're over them. It seems every year someone gives you one, but after limited use they'd almost be better suited as a cheese board.
Head to the internet for ways to make simple, delicious dishes in easy-to-follow videos and recipes. Some of my favorites are Bon App, Kitchn, and AllRecipes, where you can use the "Ingredient Search" function to type in the stuff you actually have on-hand, and it'll spit back ideas for what you can cook without a rush trip to the grocery store.