5 Days, 5 Ways: Colorful Denim
When regular ol' jeans give you the blues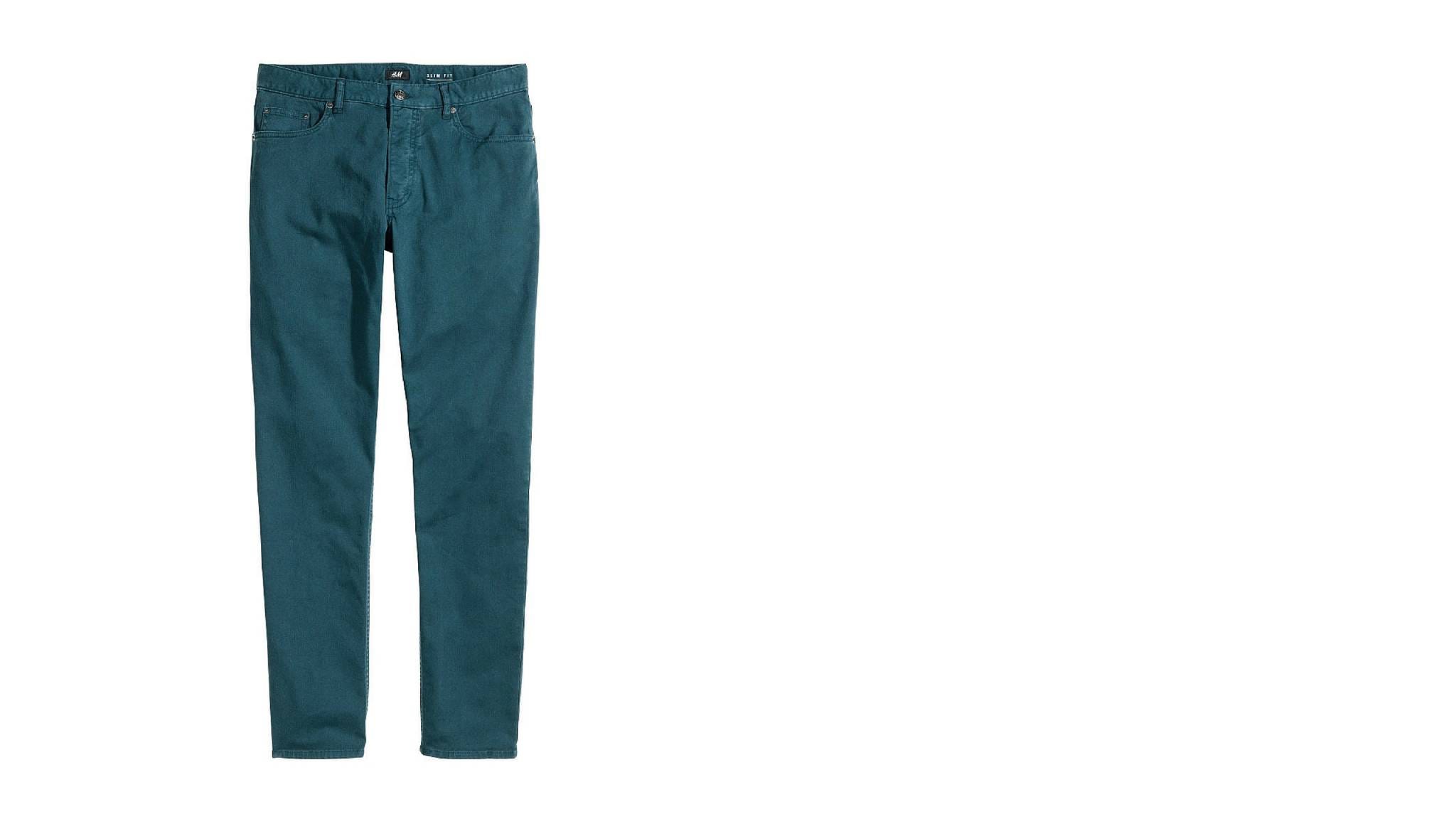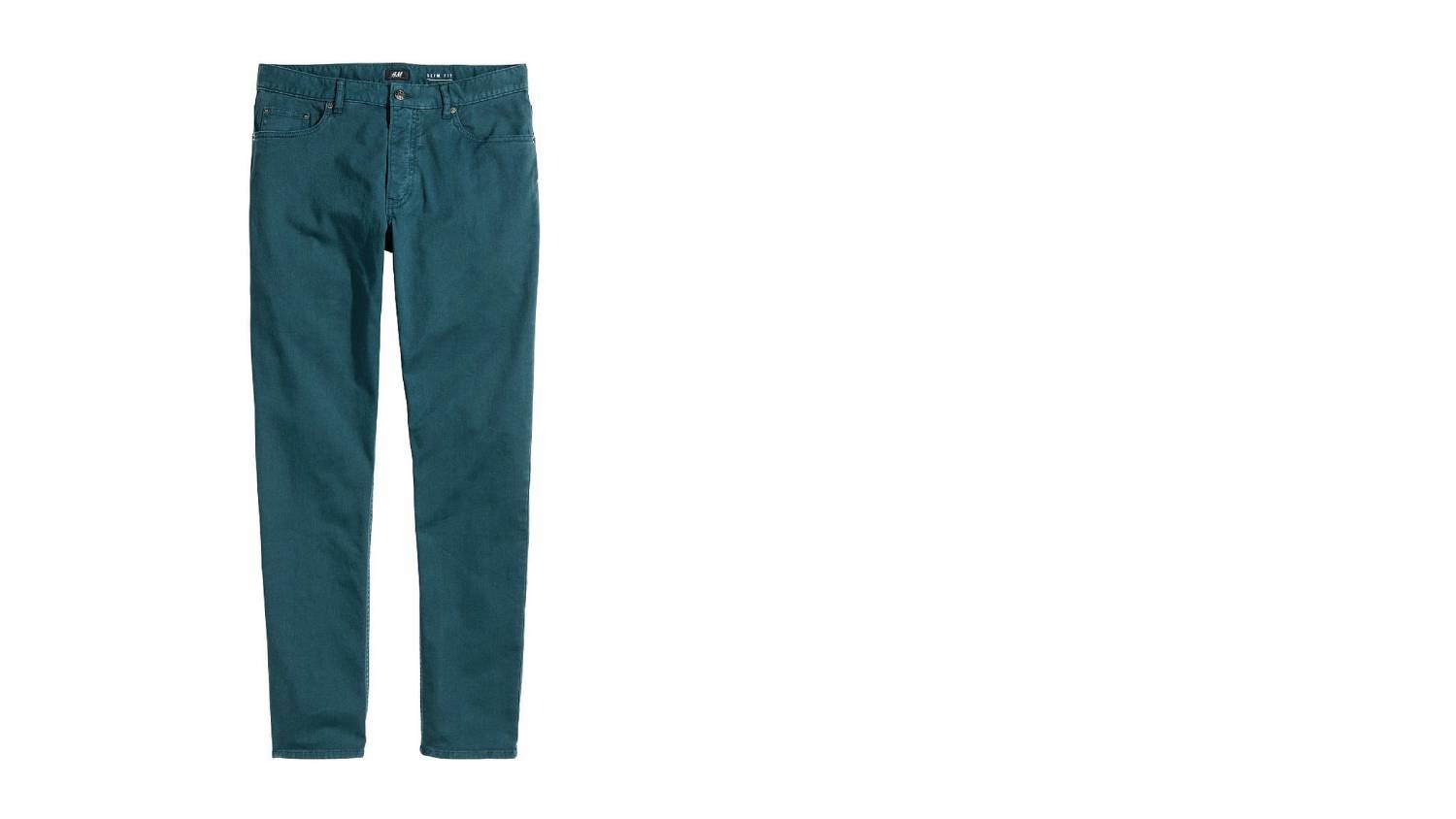 There is no replacement for blue jeans. They are the one pant that everybody has at least *one* pair, if not a (few) favorite pair(s). If you're a jean aficionado, you probably have also dipped your toes into black denim, lightwash jeans and maybe even a distressed pair, but what about colorful denim? It's out there, and it's for you – all of you. For those of you who can't justify *another* pair of colorful chinos, colorful jeans could just be the answer. Colorful denim can feel edgy, neat, cool, casual, sleek or sophisticated, depending on the shade and cut.
Colorful jeans are the perfect union between your tried and true blue jeans and your colorful chinos, making them perfect for work AND weekend looks. Below, 5 ways to wear them out and about.
MONDAY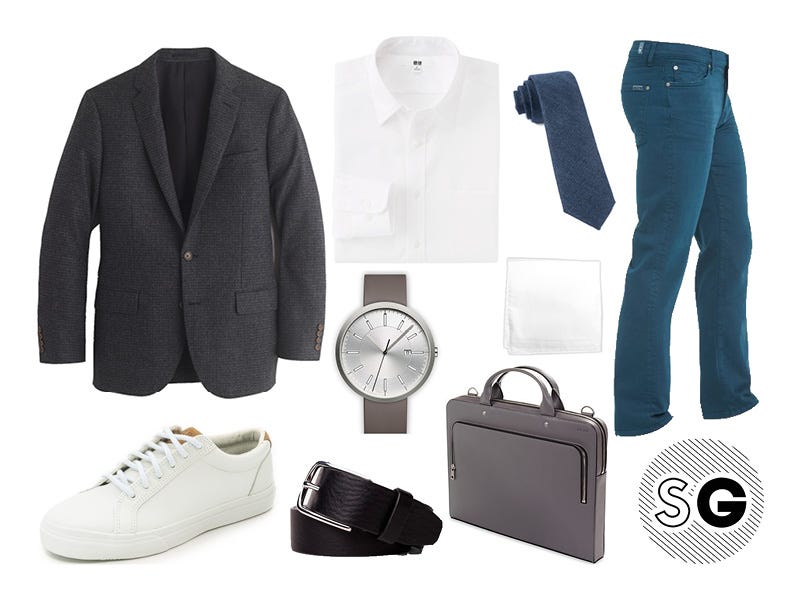 Blazer: J.Crew, $348 | Shirt: Uniqlo, $30 | Tie: The Tie Bar, $19
Pocket Square: The Tie Bar, $10 | Sneakers: Sperry, $90 | Belt: Everlane, $45 
Watch: Uniform Wares, $600 | Briefcase: Jack Spade, $279
Wear it well: Show off those ankles before snowfall!
TUESDAY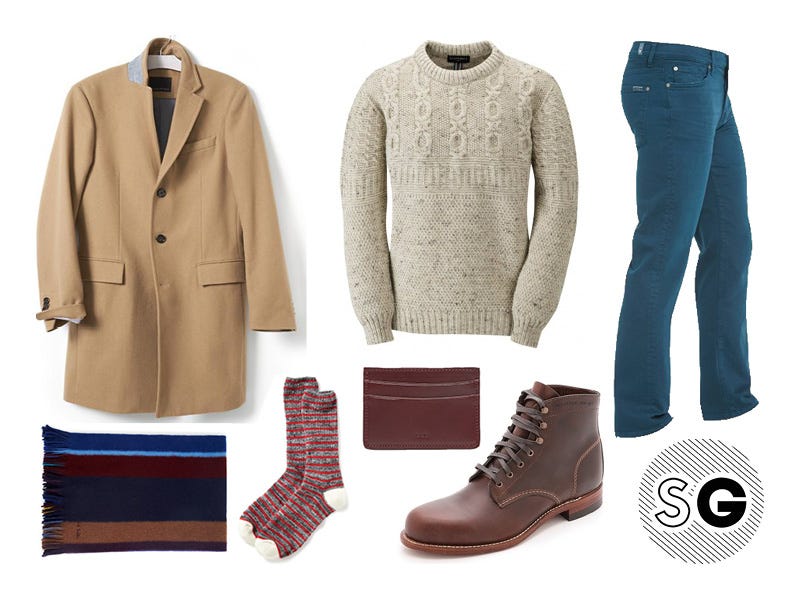 Topcoat: Banana Republic, $298 | Sweater: Gloverall, $265 | Scarf: Paul Smith, $125
Boots: Wolverine, $360 | Socks: Old Navy, $10 | Wallet: A.P.C., $110
Wear it well: Camel, brown and burgundy warm the saturated jewel tone of the pants, making it feel more winterized.
WEDNESDAY
Mac Jacket: Levi's Made and Crafted, $595 | Shirt: Hugo Boss, $115 | Cardigan: Land's End, $79 
Shoes: Clarks, $150  | Tie: River Island, $20 | Socks: Saturdays, $12
Wear it well: Raise yourself from colorful jeans to colorful ensemble – just make sure there's a consistent color running throughout.
THURSDAY
Harrington Jacket: GANT Rugger, $425 | Shirt: Gitman Vintage, $160  
Boots: Bass, $79 | Glasses: Warby Parker, $95  | Belt: American Apparel, $23 
Wear it well: Wear it on date night – the shirt is double-faced cotton-flannel, so you won't be too cold if you have to give up your jacket.
FRIDAY
Coat: Carhartt WIP, $358 | Sweatshirt: Scotch & Soda, $99 | Tee: Unis, $25
Sneakers: Vans, $75 | Backpack: Fjallraven, $75 | Beanie: Urban Outfitters, $15
Wear it well: Keep most of your look neutral, but go for an accent color on the opposite side of the color wheel for your accents and accessories.
TELL ME:
WHAT COLOR JEANS ARE YOU MISSING IN YOUR LIFE?
Gabi

Meyers is a former intern, turned regular contributor at Style Girlfriend. She lives in Philadelphia and works as a personal stylist at Anthropologie. She likes to instagram dogs and other things at @gabi_meyers.
Want more ways to wear your favorites? See how to style the Breton shirt, minimal sneaker and navy crewneck sweater.

Like a phoenix rising from the ashes, Gabi Meyers went from Team SG's first-ever intern to a trusted fashion editor and stylist. She currently lives in Chicago with a very cute dog.