5 Days, 5 Ways: Leather Pilot Jacket
a live-in-forever type of leather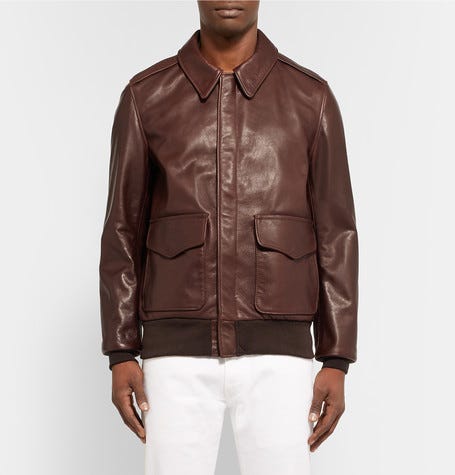 If you don't already have a leather jacket, it's about time. Leather jackets are timeless, and just about the perfect weight for fall weather. If you're thinking to yourself, "I'm not that edgy" or "am I really that cool" stop yourself right there – what you're thinking of is a leather moto jacket. There is another option – the pilot jacket. And it's just as cool, in a different way.
Unlike the leather moto jacket, there's no questioning whether or not one can "pull off" the pilot jacket. A chocolate brown leather pilot jacket is like the established, older brother to the black leather motorcycle jacket's rebellious teenage spirit. The pilot jacket's basic, utilitarian style easily mixes with every outfit, and looks just as good on a guy who is 25 as a man who is 82.
THE LEATHER PILOT JACKET: SCHOTT, $775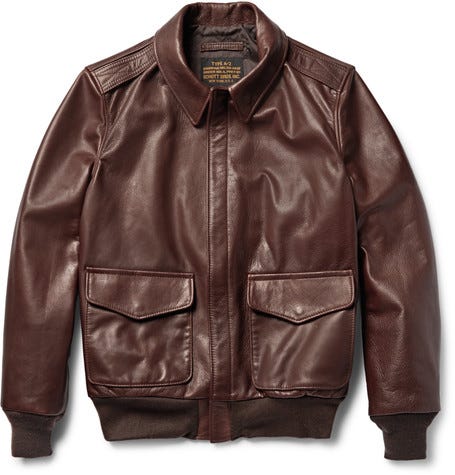 A leather pilot jacket is the cool-weather staple that transcends trends and looks amazing at any age.
MONDAY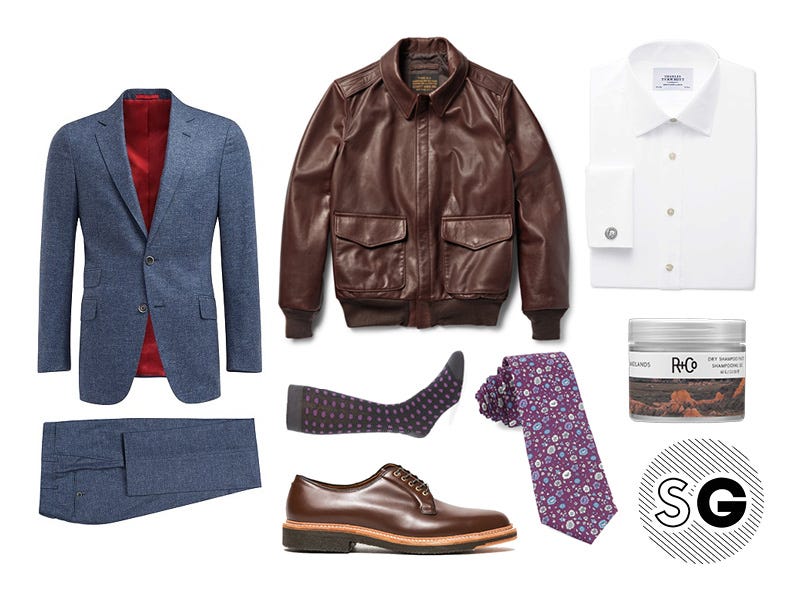 Wear it well: Throw a leather jacket over your suit for chillier mornings.
 TUESDAY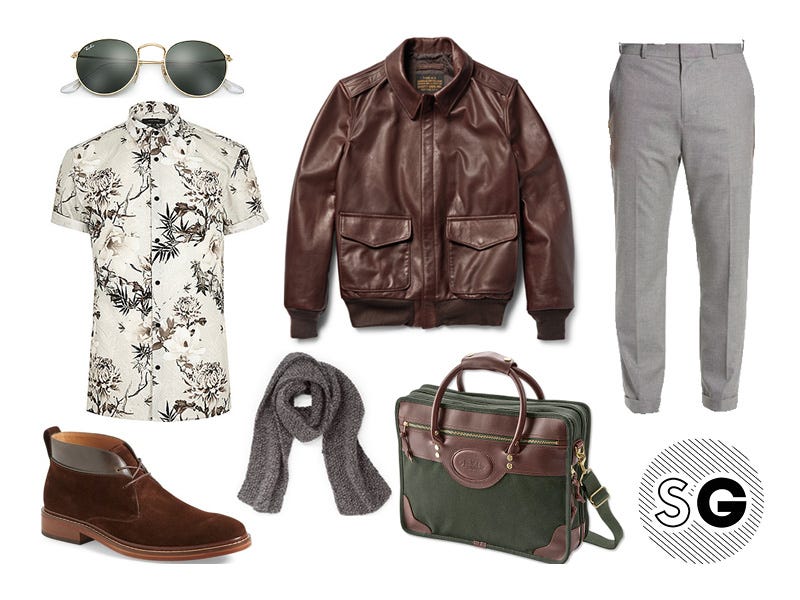 Bag: Orvis, $298 | Sunglasses: Ray-ban, $150 | Scarf: Fossil, $60
Wear it well: Bring your favorite summer shirt into fall by pairing it with lots of chocolate brown leather and a cozy scarf.
WEDNESDAY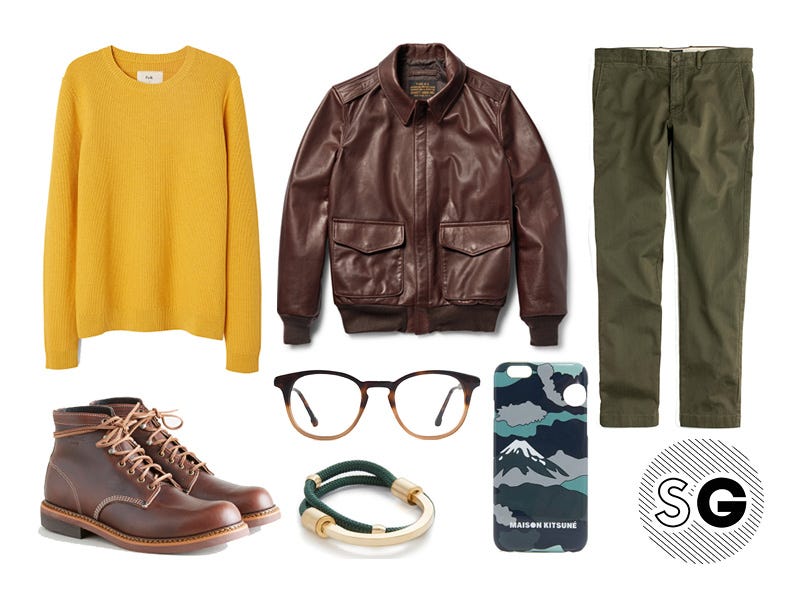 Sweater: Folk, $112 | Chinos: J.Crew, $75 | Boots: Thorogood, $283
Glasses: Steven Alan, $205 | Bracelet: Miansai, $125 | Phone Case: Maison Kitsune, $35
Wear it well: Bring mountain man style into the modern world with slim cuts and fun accessories.
THURSDAY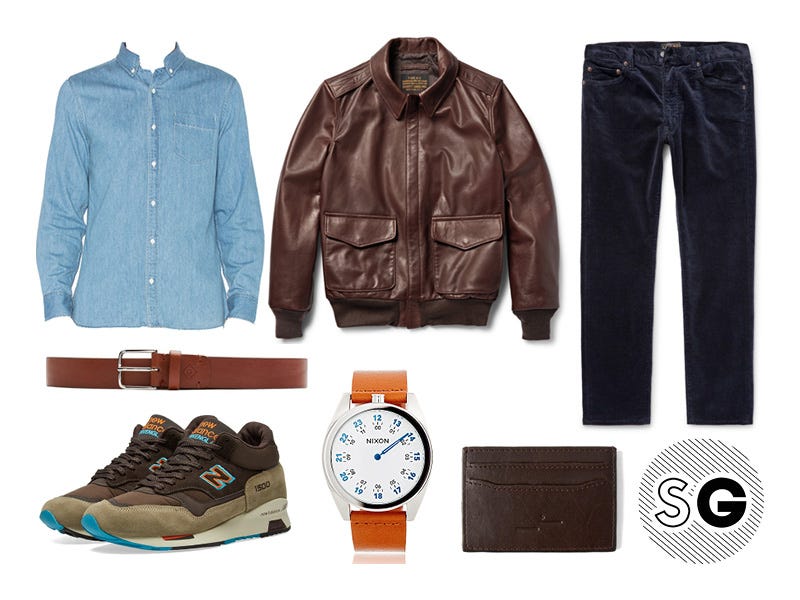 Corduroys: Beams Plus, $140 | Shirt: Frame Denim, $185 | Belt: Gant, $125
Sneakers: New Balance, $169 | Wallet: Frank+Oak, $38 | Watch: Nixon, $200 
Wear it well: Pick two colors and wear them in every shade and fabric – twice as nice as monochrome.
FRIDAY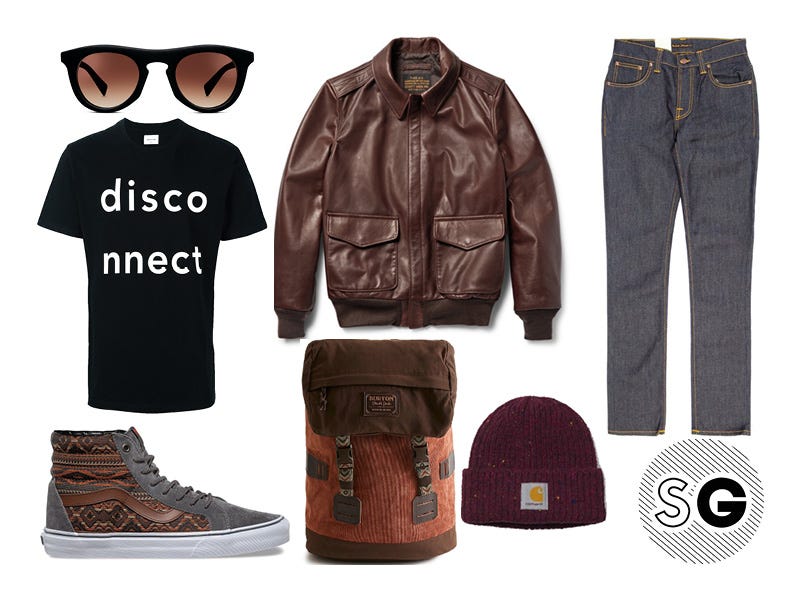 Jeans: Nudie Jeans Co., $165  | Tee: Wood Wood, $55  | Sneakers: Vans, $70
Sunglasses: Warby Parker, $95 | Beanie: Carhartt WIP, $45 | Backpack: Burton, $95
Wear it well: Mix and match neutral basics with high-interest accessories.
TELL ME:
WHAT KIND OF LEATHER JACKET FITS YOUR STYLE PROFILE?
Want to see more ways to wear your favorite pieces? We show you how to style the breton shirt, colorful chino and graphic tee, 5 ways.

Like a phoenix rising from the ashes, Gabi Meyers went from Team SG's first-ever intern to a trusted fashion editor and stylist. She currently lives in Chicago with a very cute dog.