The Best (Affordable) Puffer Jackets & Vests for Men
Stay warm, look cool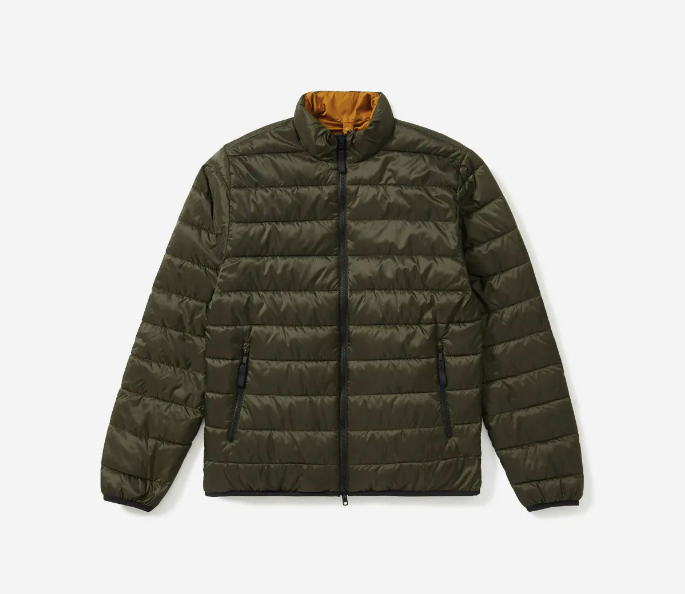 Today, a love letter to winter's wardrobe workhorse, and our picks for the most stylish, affordable puffer jackets for men…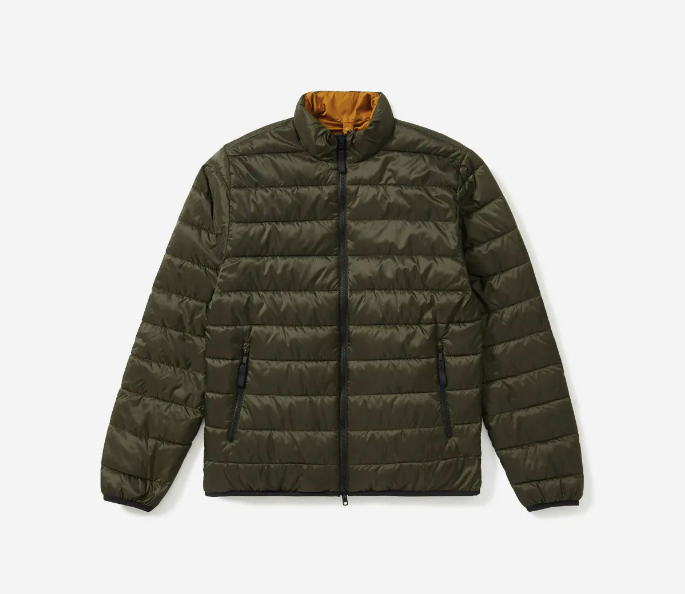 Of all the reasons I love New York—walking everywhere, bars that open at 8am, The Temple of Dendur at The Met— one of my favorites is our seasons.
Some are longer than others, I know.
Fall feels like a dream that was just about to get really good and suddenly your alarm goes off. Spring is a pretty photo on your phone of some cherry blossoms in Madison Square Park that you don't remember taking. Summer is a travel-fueled fever dream of swampy days and perfect nights.
Winter is everything else.
And believe it or not, I don't exactly mean that in a bad way! It can be bright and crisp to the point that your eyes are tearing for no reason. And, yes, it can be so despairingly dark and gloomy you wonder if it will ever end.
But then it snows.
Or you take a ski trip with friends. Or you find a bar in your neighborhood that makes the best spiked apple cider you've ever had.
I can say with 100 percent certainty that every person I know who "doesn't like winter" does not own good outerwear. Because when you're cold, you complain. One January day a couple of years ago it snowed two feet in a single day. One day! People were freaking out.
But not me! I zipped up a puffer jacket, laced up my sturdiest snow boots, and grinned like an idiot as I stepped off my stoop onto a sidewalk covered in fresh powder.
To be fair, I also love freakish amounts of snowfall and didn't have anywhere important to be that day—but still. The jacket was the difference between venturing out to find a cozy restaurant to nurse a hot toddy while watching out the window as people skied down Second Avenue (that really happened) versus moping around my apartment binging The Office.
That's why I'm a devotee of puffer jackets in the winter.
Truly, technical outerwear rocks my thermal socks. Puffers come in handy in the city, and I always wear one when jetting off to Sun Valley for the holidays, too. I'm here today because I want you to be obsessed, too. There are a bunch of cheap puffer jackets out there but we've compiled a list for you of coats that will both keep you warm and stand the test of time, all without breaking the bank.
Below, the most stylish, affordable puffer jackets and vests for men and how to style them. Keep scrolling to find:

Plus, outfit ideas for how to wear all your quilted outerwear this winter!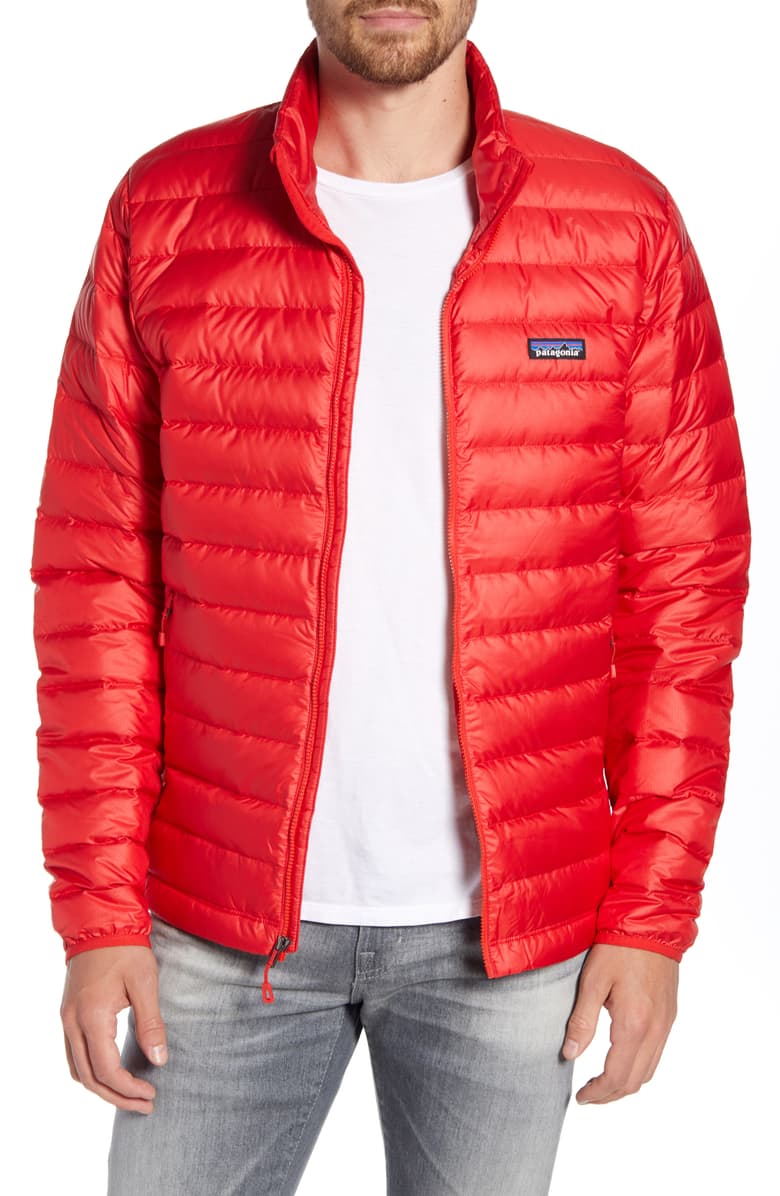 SG Says: Over, under, around and through—that's maybe instructions for tying your shoes but it's also a list of the ways you can wear your puffer jacket.
Over a shirt or a sweater. Under a denim jacket or a big coat. Tied around your waist if you get hot. With the sleeves through the armholes of a vest. That sounds weird, maybe, but you get what I'm going for here. These pieces truly deliver when it comes to versatility.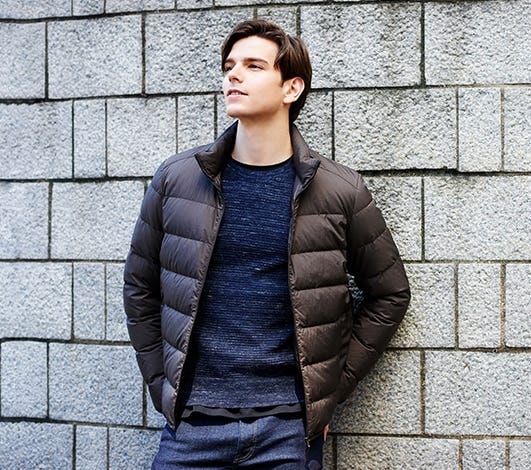 SG Says: One of the things I like most about Uniqlo's Ultra Light Down collection of jackets and vests is that they pack down into their own stuff bag.
I can roll mine into its very own little stuff bag and then stuff that bag into a tiny corner of my suitcase. When flying, it all but disappears, and takes so little space I can even bring a bunch of extra sweaters, bandanas and hair styling tools that I definitely don't need. You wanna bring that third pair of dark wash jeans home for the holidays just in case? Go for it, you've got room.
Most recently, on my trip home to Sun Valley for Thanksgiving, instead of packing my ULD jacket into my suitcase, I tossed the stuff bag into my carry-on. That move turned out to be the ultimate travel game-changer. I had an extra layer at the ready without feeling weighed down, sloppy, or disorganized from TSA to takeoff.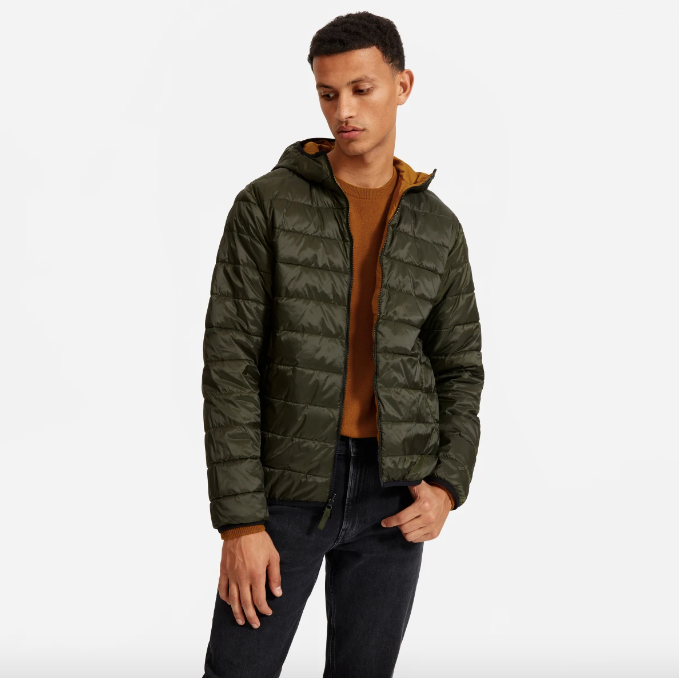 SG Says: Because today's puffer jackets and vests have become so lightweight and thin and have that simple standing collar, my favorite way to layer them is also my greatest hot tip for you. Try wearing one under your "nice" fall coats to extend their wear all the way through winter. Need some examples? I thought you'd never ask.
A black puffer under your favorite leather jacket.
A navy vest under an olive green waxed canvas field jacket.
A hunter green pullover under a wool camel-colored topcoat.
A red puffer jacket under a shearling-lined denim jacket.
The options are (nearly) endless!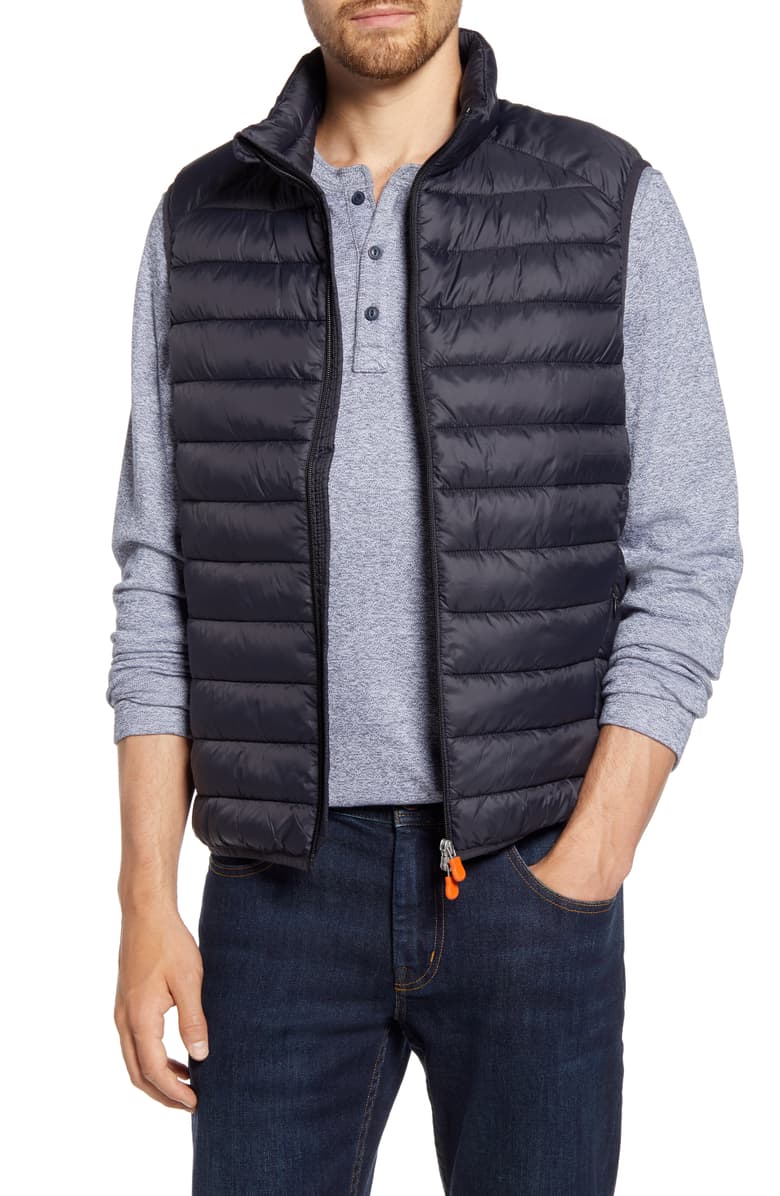 SG Says: The absolute best thing about a slim puffer vest is that they're like soft, warm outfit chameleons: They adapt to whatever you wear with them!
Solid colors and standing collars look really sharp layered with the jackets and coats you already own for everyday wear around town. These are a great alternative to a down puffer vest as well.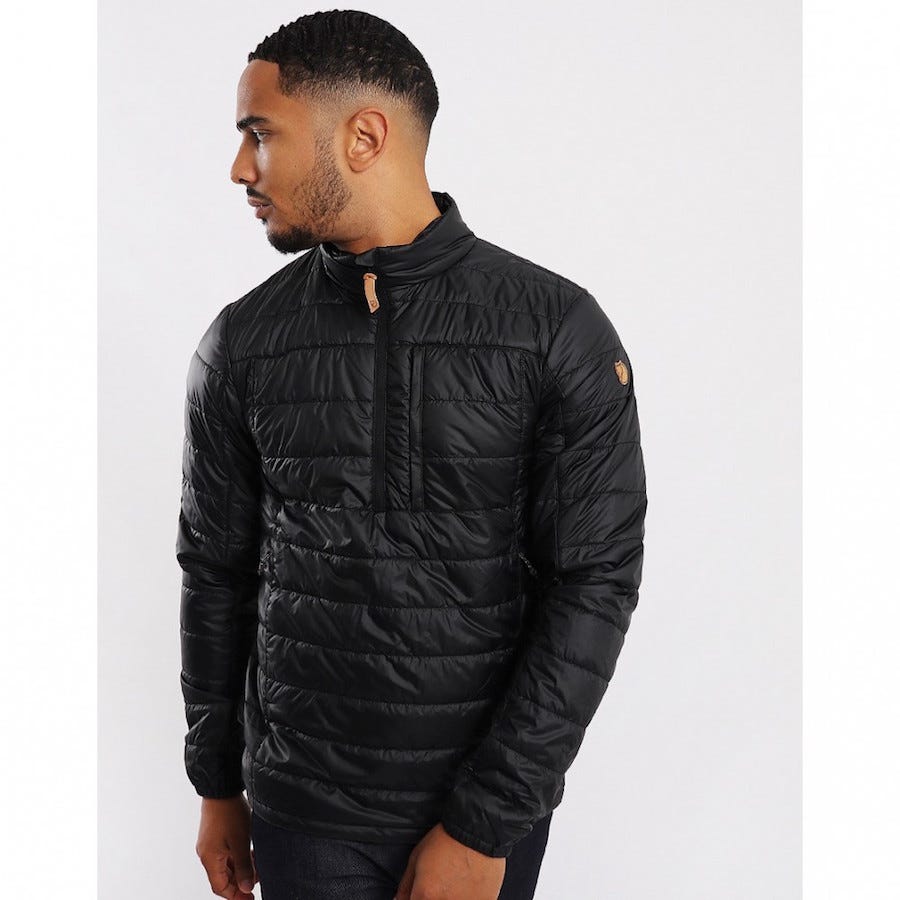 SG Says: Since puffers are lightweight (duh), made with water-repellent nylon (nice), and designed for movement (sweet), they're also really great for doing fitness-y things.
Me? I wear them snowshoeing and cross-country skiing on the regular. You can rock this Ll Bean pullover puffer as your to-the-gym jacket or pack one into your backpack when you go hiking!
Oh, another thing? These bad boys are affordable AF.
These vests, jackets and parkas all clock in under $250.
If you're me, this kind of accessible price point means that not only are you *enjoying* winter in your appropriate outerwear, but you're doing it in multiple colors and styles like a true beacon of cold weather dressing inspiration!
Affordable puffer jackets for men? Yes, please.
Your puffer will truly become some of the most agile pieces in your wardrobe. One minute you're layered up for a mid-winter's date night and the next you're keeping warm on hike to the top of some snowy peak.
Remember: winter doesn't have to be miserable, even if everyone around you is. Dress for the season you want, my friends.
***
Of course, I've been talking here about slimmed-down puffers that you can layer. But there's times when you just want a big-a*s puffer jacket to take on the cold! I get that! Here's a few #SGapproved picks:
// Shop #SGapproved heavy-duty puffer jackets //
***
How to wear a puffer jacket
So ubiquitous, it's easy to mistake puffer coats as the lowest common denominator of winter outerwear. After all, anything you wear to shovel your snowed-in car at 7am can't be that cool, right?
Wrong. Choose well, and you can rock a puffer coat that's both stylish and warm—one that won't give off even a whiff of Marshmallow Man vibe.
Below, how to wear a puffer coat three distinct and stylish ways:
Option #1: Sleek 'n Chic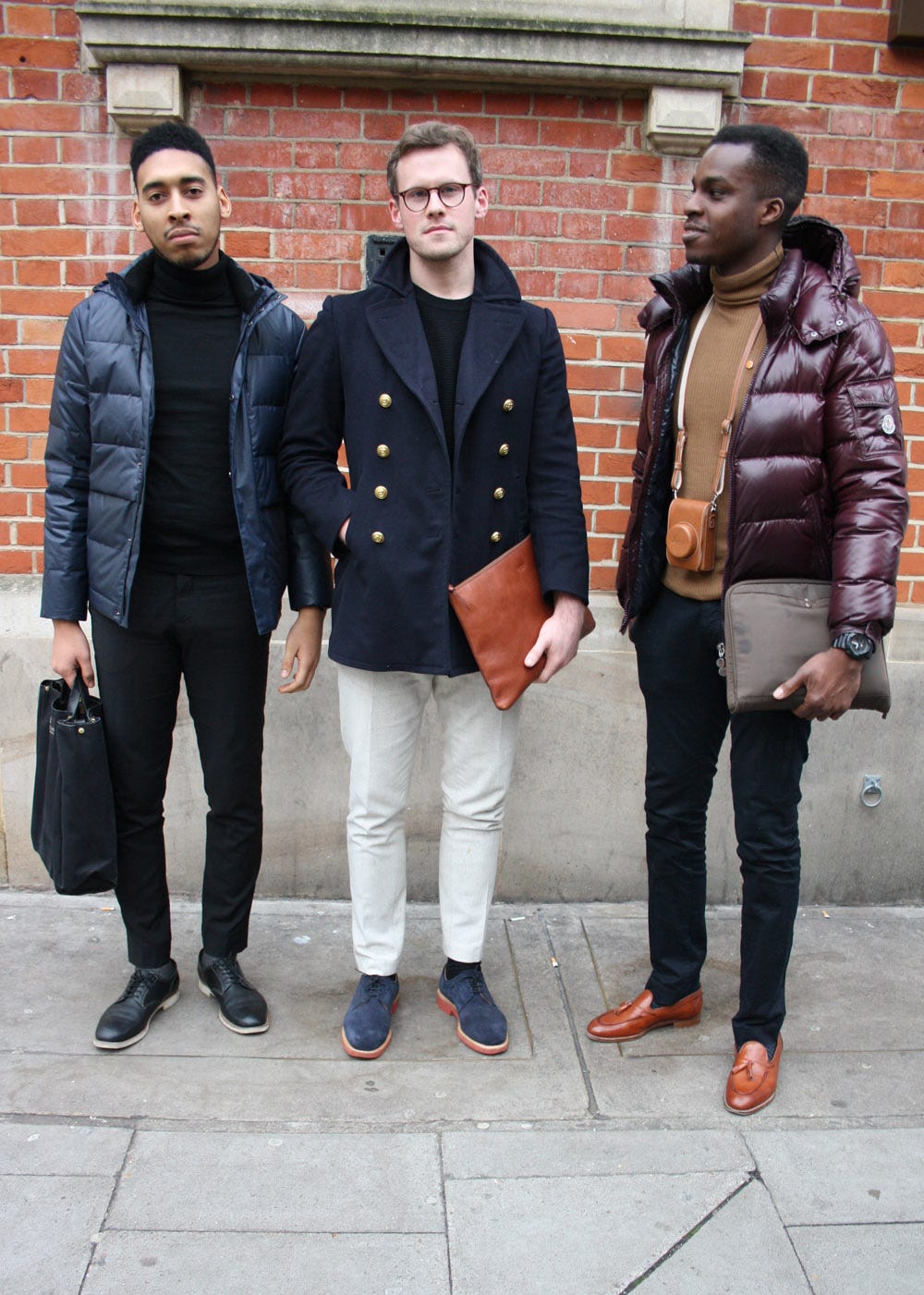 SG Says: Puffers don't have to actually be that puffy. The stylish guys on either side above show how sleek a puffer can look with a work look, like slacks, dress shoes, and a (ahem) turtleneck.
How to replicate the look: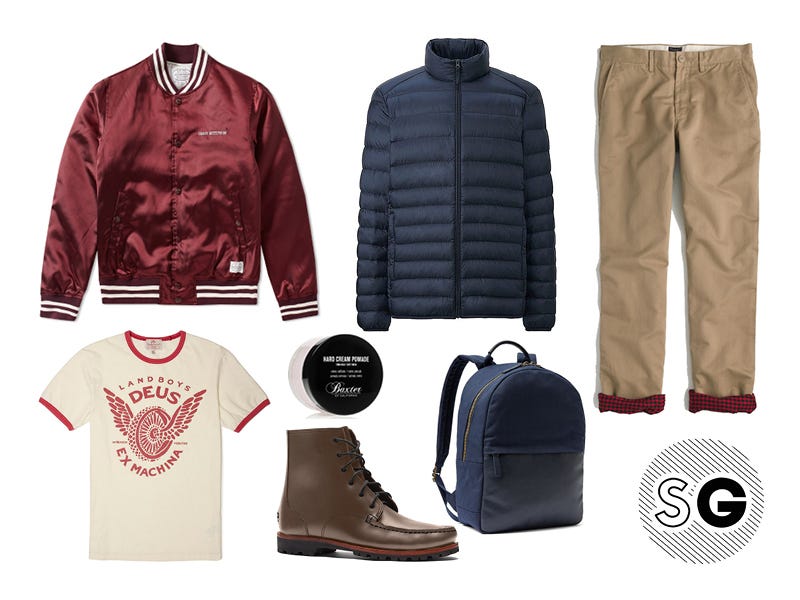 Wear it well: Bring your lightweight bomber onboard by layering it over a thin puffer.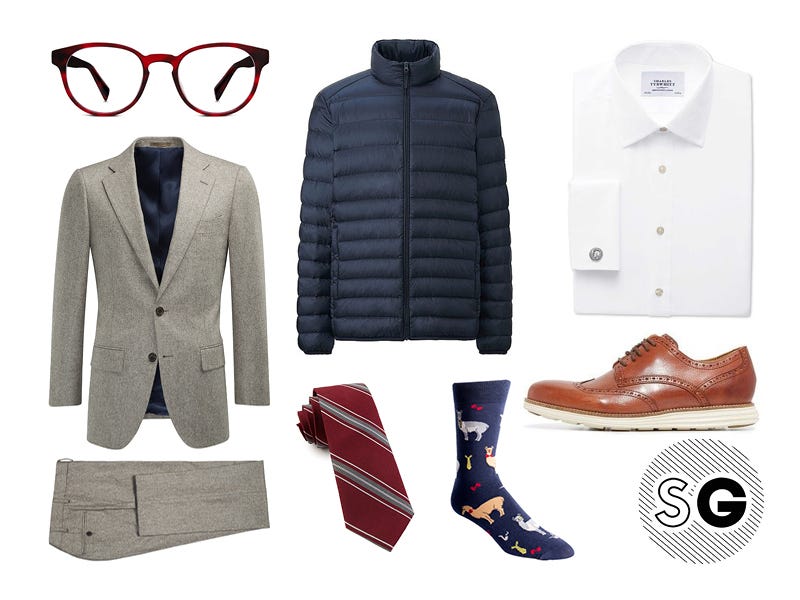 Wear it well: Add a dash of athleisure to your work look with a puffer jacket over your suit and a sneaker inspired sole on your oxford.
Option # 2: Upscale Outdoors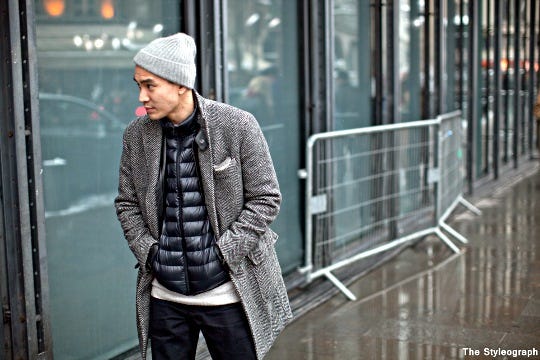 SG Says: Only men's stylist and fashion editor Eugene Tong could look so stylish when the weather looks so sh*tty. We can't tell if this is a vest or a puffer, but either way you can see that a puffer doesn't have to be that puffy. This one fits nicely under his luxe-looking topcoat, and doesn't drag the "fashionable" quotient down to the "functional" necessity by any stretch.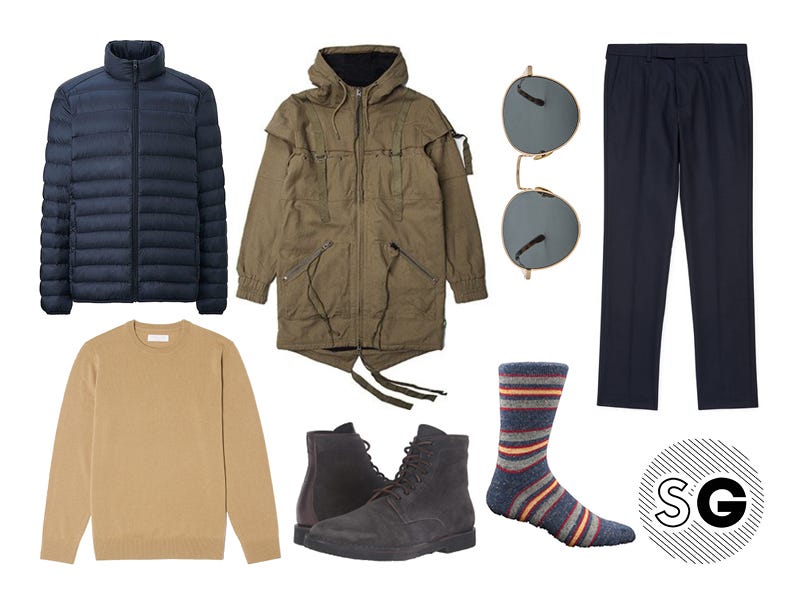 Wear it well: Your lightweight puffer can act as an invisible liner for your parka or raincoat.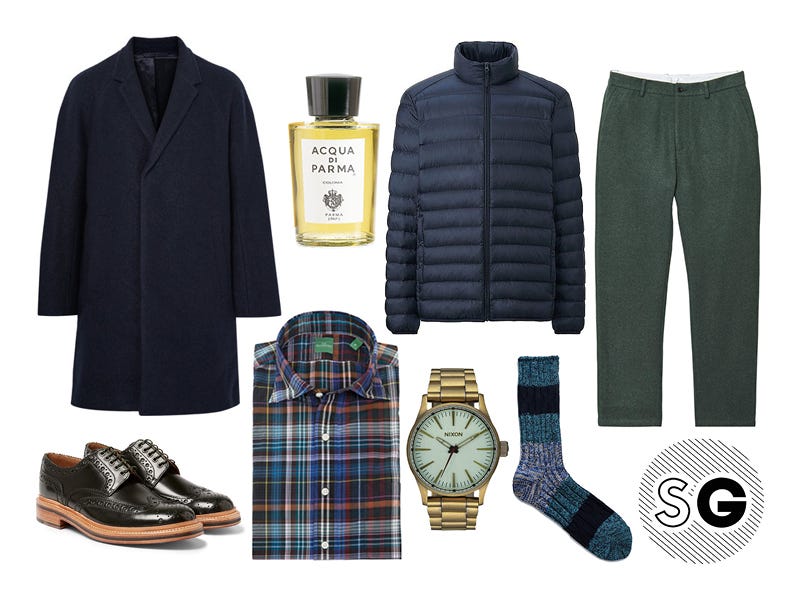 Wear it well: Layer your puffer under your overcoat to add extra warmth without losing style points.
Option #3: Downtown Cool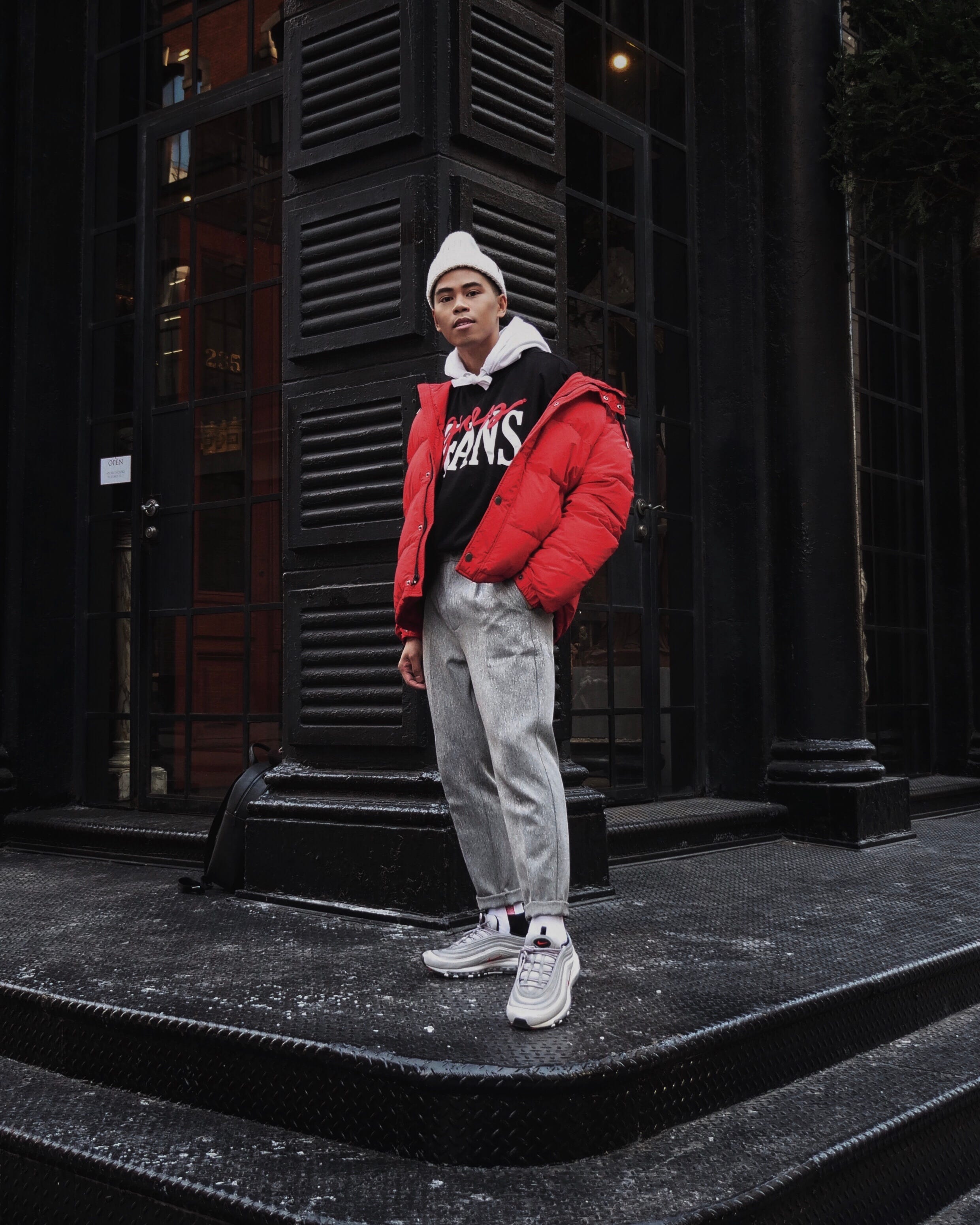 SG Says: Okay, okay, Anthony Urbano, the men's style blogger behind the punch of color look above probably dresses a little more trendy than you do. And that's okay. What's important to pay attention to here is the dose of style that red topper gives him.
You don't have to wear yours with trousers, sneakers, and a hoodie like he does, but don't default to black or navy just because you feel like you want something neutral. A little brightness on a snowy morning might make it easier to get yourself out into the winter wonderland that is your commute to work.
How to replicate the look: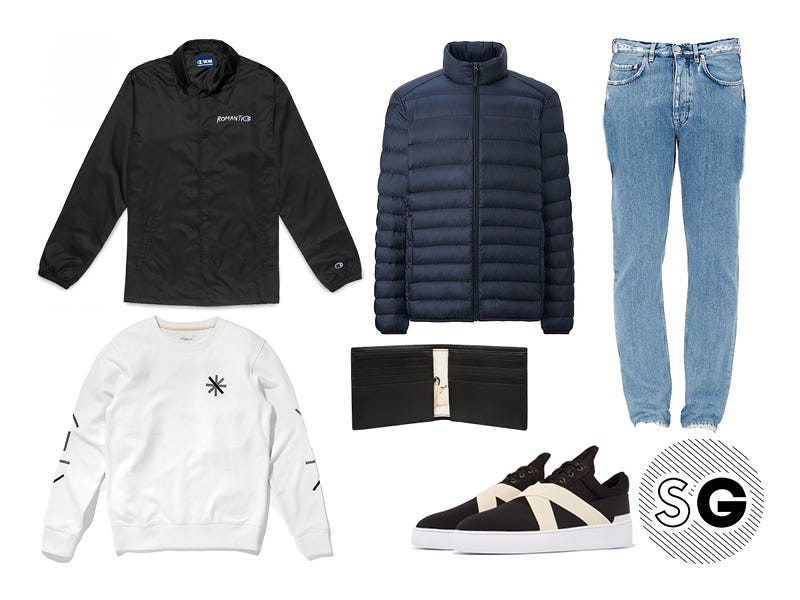 Wear it well: Add visual interest by layering a mandarin collar puffer under your favorite collared coach jacket.
***
How to wear a puffer vest
What about other puffed outerwear? SG's got you covered there, too!
Quilted vests are great because they tend to be a little less bulky than a puffer vest. Want to wear one in more of your outfits? SG's got you covered.
Wear a quilted vest with a suit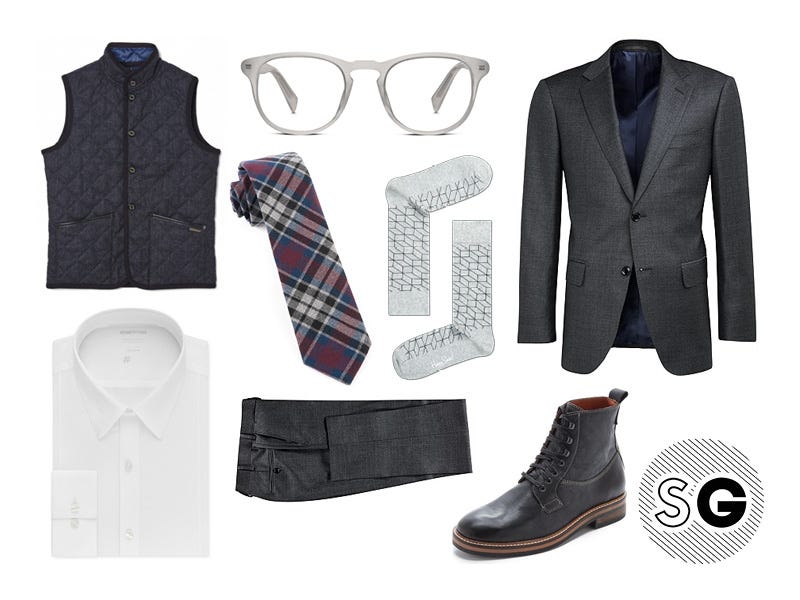 SG Says: Vests won't keep you all that warm in low outdoor temperatures, but you will feel comfortable wearing it under your suit jacket all day.
So if you're darting out of the office for coffee, or to your car and onto a meeting, you might be able to skip a coat.
Wear a puffer vest with a sweater and jeans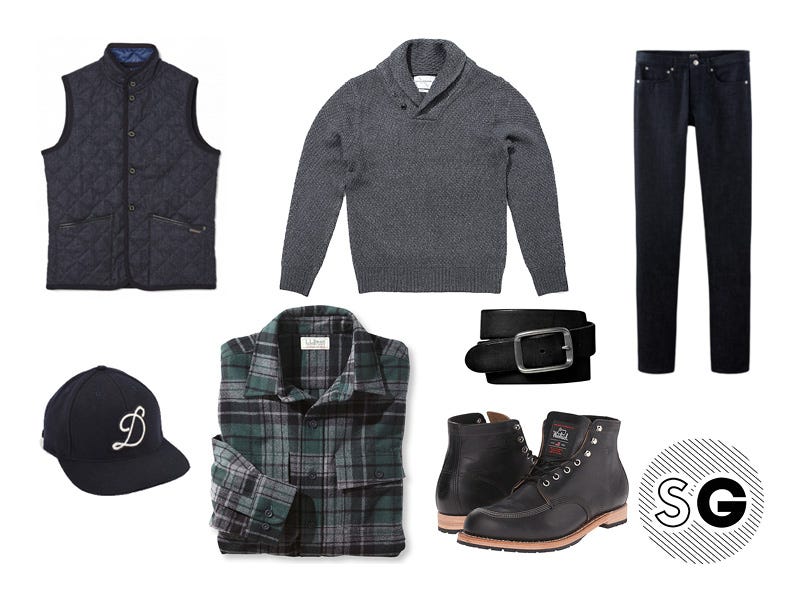 SG Says: Can't go wrong with a rugged casual look, like this one with a flannel shirt, shawl collar sweater, and sturdy boots.
Wear a puffer vest under a raincoat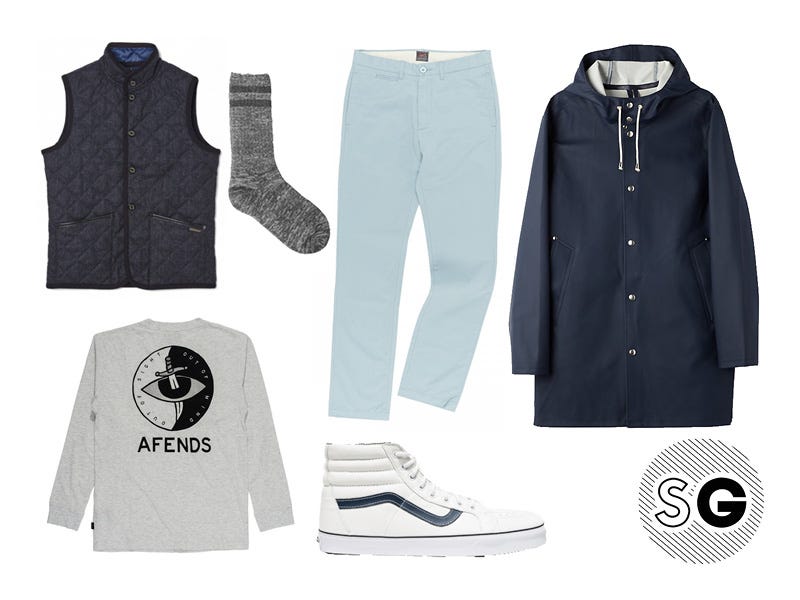 SG Says: You don't have to relegate your quilted vest to winter. It's also a great piece for transitional weather, like early spring or late fall.
If it's rain you're dealing with, you want to stay dry without overheating. A quilted vest hides perfectly under your slicker.
***
How to wear a quilted jacket
What makes quilted coats such an interesting choice for fall and winter is that they're cra-a-zy versatile—the same look can literally go from barn to the office to a night out on the town.
Quilted jacket style tips:
A quilted jacket can be a stylish swap for a more costly leather jacket—it shares the shape and some of the detailing without the expensive materials. The choice looks purposeful, not a trade-down.
Unusual thread work can provide all the lift necessarily for a plain silhouette. Look for quilted patterns in diamond shapes, diagonal lines, even circles.
Quilting is a way to add visual interest to your look without necessarily changing up the color. It makes sense that you'd want to keep your outerwear in a trusty neutral like navy or black, but the quilting keeps it from getting boring.
Wear a quilted jacket to work
SG Says: With retro sneakers and a leather bag, you can absolutely get away with wearing a quilted jacket to a corporate casual office.
Wear a quilted jacket on a date night
SG Says: Sleek sweater? Check. Trousers that make your butt look great? Check.

Ready to add some new outerwear to your closet?
If you've decided it's time to level up your style game, but you dread the thought of shopping…why not let Team SG shop for you?
Let us rescue you from shopping fatigue and sartorial apathy. With our online personal shopping service, we can promise the kind of dedicated attention that will make you feel like the best, most stylish version of the awesome guy you already are! We'll also help you figure out how to wear your new clothes with the things you already own.
If you're ready for a shopping plan that'll save you time, energy, and your sanity, give us a shout.
Taylor Davies splits her time between NYC and Sun Valley. She loves writing about menswear, overpriced martinis in dimly lit hotel bars, and cross-country skiing. Not necessarily in that order.