This Is The World's Most Perfect Outfit for Guys
A 1-2 Style Punch
I saw this tweet from a friend and had to agree that, yes, this combo does make for the best outfit for men.
Wearing god's most perfect outfit: shorts and a long sleeve tee.

— Myles Tanzer (@mylestanzer) September 14, 2020
And while so many of us are still working from home, there's no better time to keep the party going on the bottom with shorts.
The ingredients for the perfect fall outfit for guys
Any long-sleeve top will do, so get creative! Add a long-sleeve pocket tee for a laid-back look. Or dress things up with a button down to look and feel a little extra put-together.
From there? The sky's the limit.
You could be comfy, cozy, and cool in a sweater or a turtleneck. (That's right, it's turtleneck season, babyyyyy!).
If the weather's especially warm, swap in a knit polo and soak up the Vitamin D outside as long as you can.
Check out six ways to wear the world's best outfit for men:
outfit #1 Turtleneck + athleisure shorts + slip-on sneakers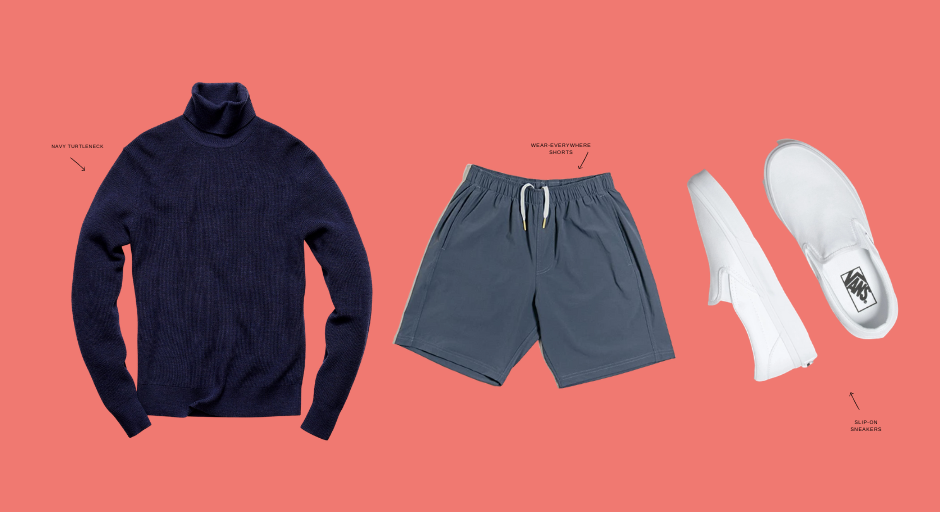 turtleneck: Todd Snyder | shorts: Olivers | sneakers: Vans
SG Says: Don't be afraid to pull out your turtleneck with shorts! It's the perfect mix of dressed up on top and getting your yaya's out on the bottom.
With slip-on sneakers, this high-low mix just works.
outfit #2 Hoodie with a message and pull-on shorts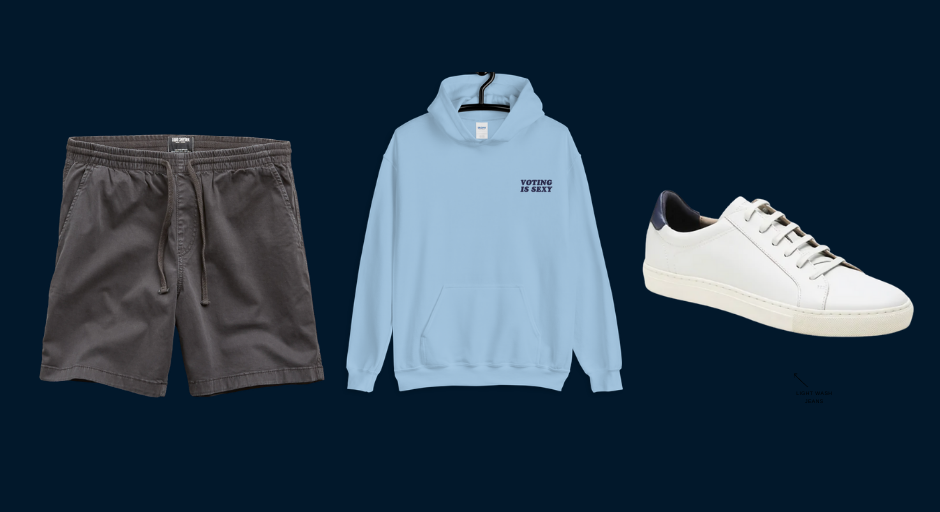 shorts: Madewell (similar) | sweatshirt: Voting is Sexy | sneakers: Banana Republic
SG Says: A baby blue hoodie would look great with drawstring shorts and a classic white sneaker.
Want to dress this outfit up? Throw a collared shirt underneath, or a structured coat like a Harrington jacket or jean jacket on top.
outfit #3 Rich colors and a wool sneaker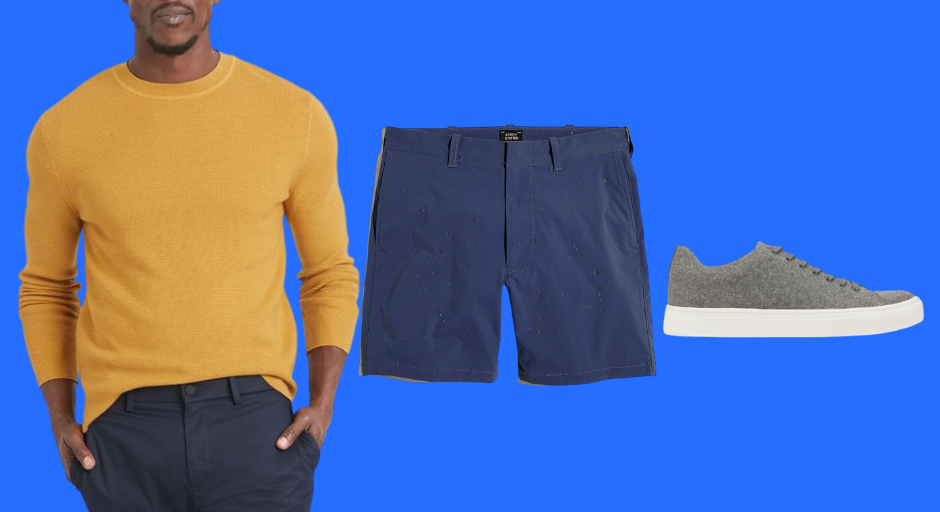 sweater: Banana Republic | shorts: J.Crew | sneakers: Kenneth Cole
SG Says: Our team is obsessed with this rich marigold-colored sweater from Banana Republic. The price is right (under $100!) and the merino wool will keep you warm all winter long.
With chino shorts and a wool runner, you can take on the day knowing you'll look fashionably respectable on Zoom and IRL.
outfit #4 Comfy layers with athleisure shorts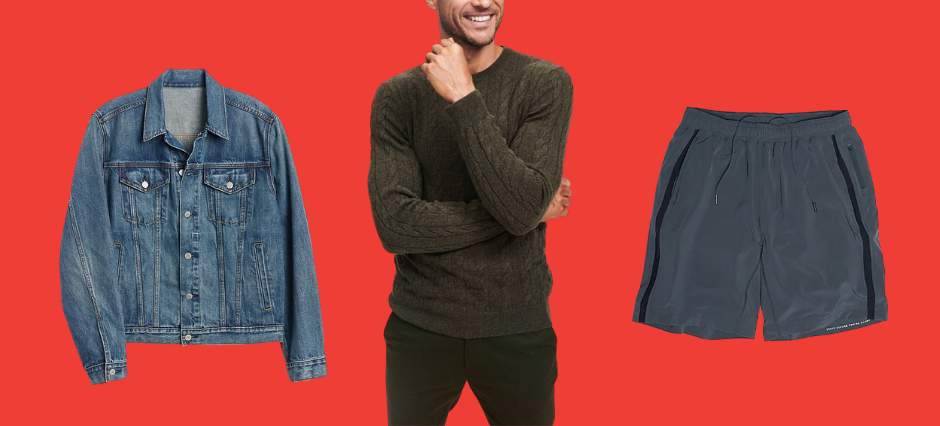 denim jacket: Levi's | sweater: Naadam | shorts: Fourlaps
SG Says: It should go without saying, but a denim jacket would look good with all of these outfits.
Pairing it up here with a cable-knit crewneck sweater on top feels like quintessential cool weather style.
The shorts on the bottom? That's all 2020 living.
outfit #5 A classic OCBD with hi-vis sneakers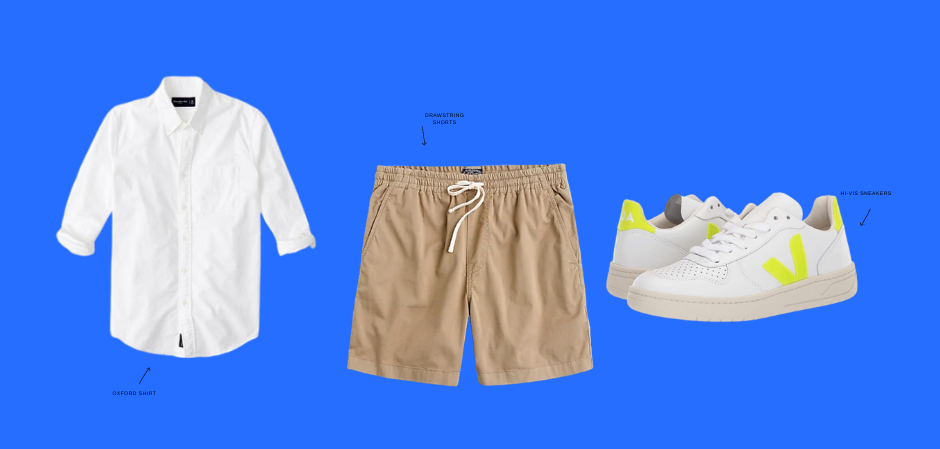 shirt: Abercrombie & Fitch | shorts: Banana Republic| sneakers: Veja
SG Says: Easy. Breezy. Done.
outfit #6 Drawstring shorts and a neutral-hued sweatshirt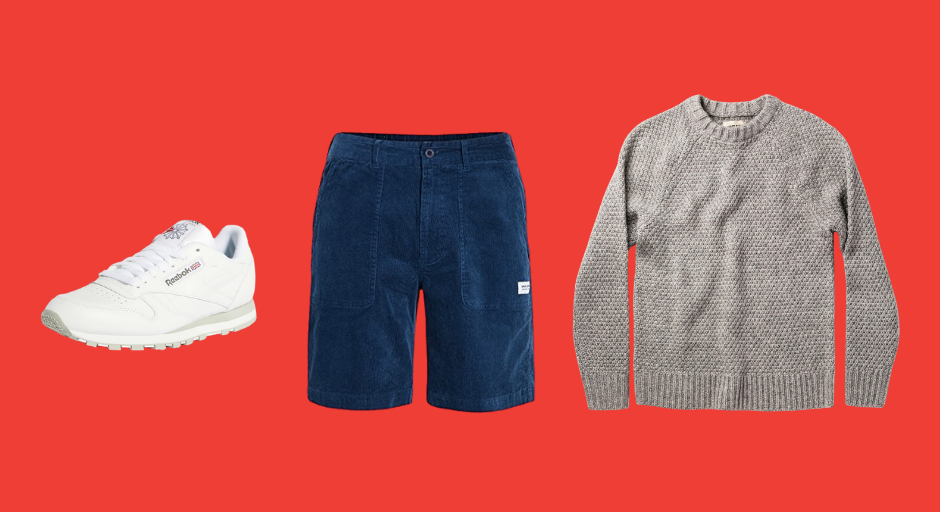 sneakers: Reebok | shorts: Banks Journal | sweater: Taylor Stitch
SG Says: Corduroy shorts, you might ask? Yes! Corduroy shorts! This Banks Journal pair is a favorite of Chris Pine, and who are we to disagree with Chris Pine?!
A soft sweater and throwback sneakers makes for an easy way to round out this outfit, but you could also go with a button-up shirt and something trendy for footwear.
Like Birkenstock sandals with socks, or these clogs that I swear are cool for guys.
I run Style Girlfriend, helping guys develop and grow their personal style, all from a friendly and supportive female perspective.