SG Hall of Fame: The Best Men's Tops of 2021
The best of the best in shirts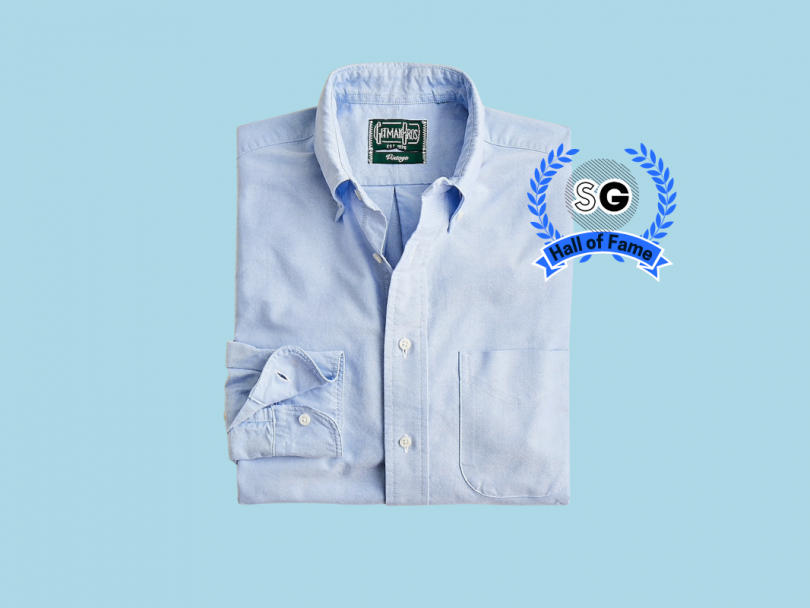 This is the Style Girlfriend Hall of Fame. The clothes and accessories we recommend to guys over and over again. In this installment? The best men's tops to wear in 2021.

Rock and roll has one. So does baseball. Today, the Style Girlfriend Hall of Fame joins their ranks as the definitive honorary home for everyday menswear icons.
Okay, okay, that's maybe a little over-the-top, but seriously—we wanted to create a hub for those pieces we recommend all the time. The styles our favorite brands stock year after year.
Real five-star stuff.
To kick things off, we're starting from the top. Literally. With tops!
Shirts, tees, sweaters… These are the ones you can invest in now and wear forever.
Below, check out some of the best men's tops, now and probably forever:
The Best Men's Oxford Shirt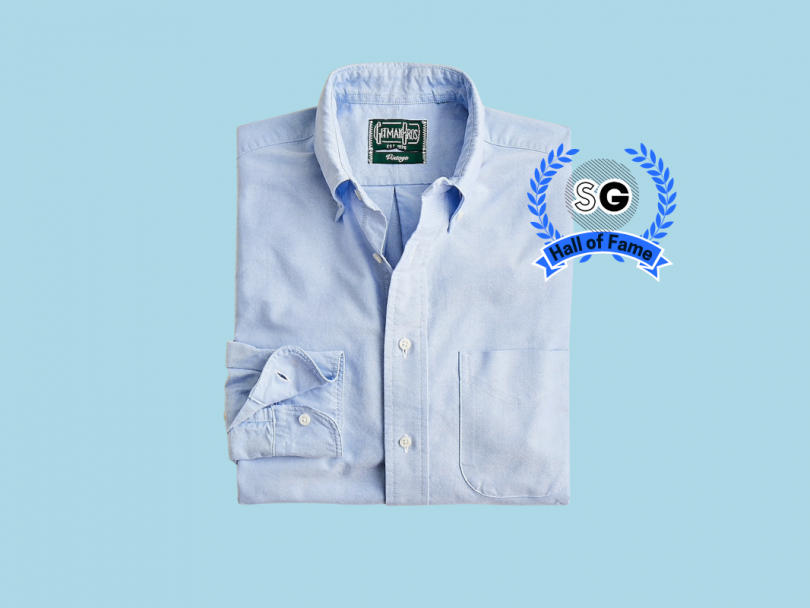 brand: Gitman Vintage
price: $180
Why we love it on guys: Rumpled and a little wrinkled? You're a Kennedy, fresh off the sailboat. Crisp and freshly washed? You're the star student, the DILF, the most capable employee at the company.
Plus, blue is a universally flattering color on guys, and if you happen to have blue eyes? Fuhgeddahboutit.
How to wear it: A classic oxford like this is a year-round workhorse in your closet—it looks good with literally everything.
An outlandish statement, I know, but seriously. Black jeans, chinos, shorts…
Layered with a sweater, bomber jacket or blazer…
I could go on but I think you get the picture.
The Best Henley for Men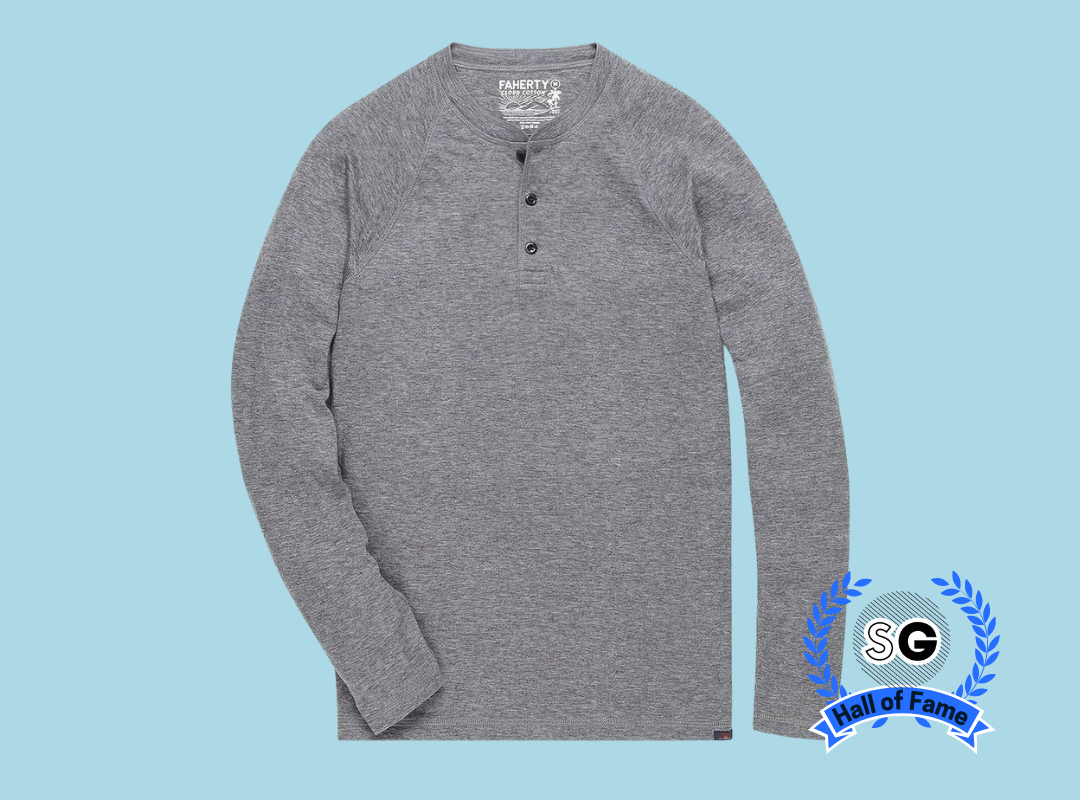 brand: Faherty
price: $98
Why we love it on guys: A best men's tops list without our beloved henley? Please. Not possible.
This Faherty henley feels like your favorite t-shirt, but sexier! (Psst, you like buttons undone and so do the ladies!)
Henleys have the amazing effect of making your pectorals stand out just a l'il bit, all while keeping you super comfy.
How to wear it: Another year-round essential, you can easily go full-lounge and wear it with joggers and sneakers.
Or dress it up for a weekday out-and-about with jeans, brown boots (Chelsea or lace-up, pick your poison) and a chore coat.
The Best Men's Sweatshirt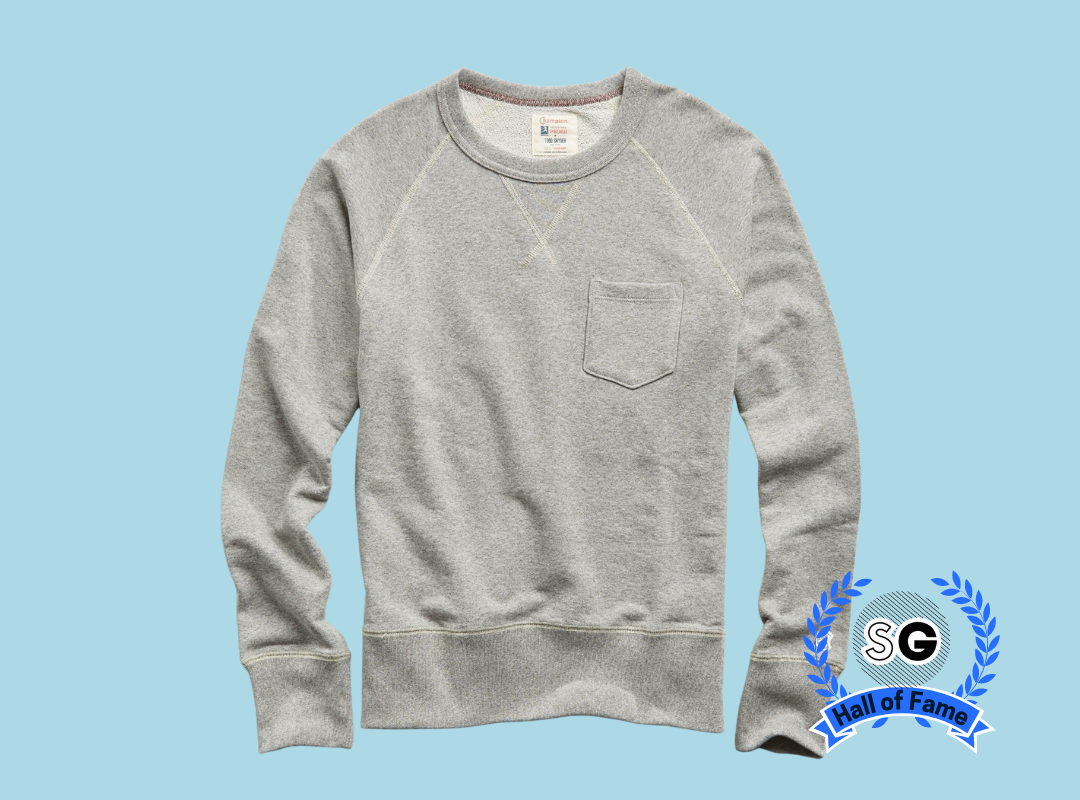 brand: Todd Snyder
price: $98
Why we love it on guys: Sloppy sweats are a thing of the past!
A structured pocket sweatshirt like the absolutely perfect style above from Todd Snyder keeps the comfy but loses the bulk.
How to wear it: With joggers, sure. But this slim-cut sweatshirt is absolutely good-looking enough for a casual office or a casual date night.
Layer it over a tee with slim jeans and white leather sneakers. Add a great jacket—like a leather bomber or crisp Harrington jacket—for extra credit.
The Best Men's T-Shirt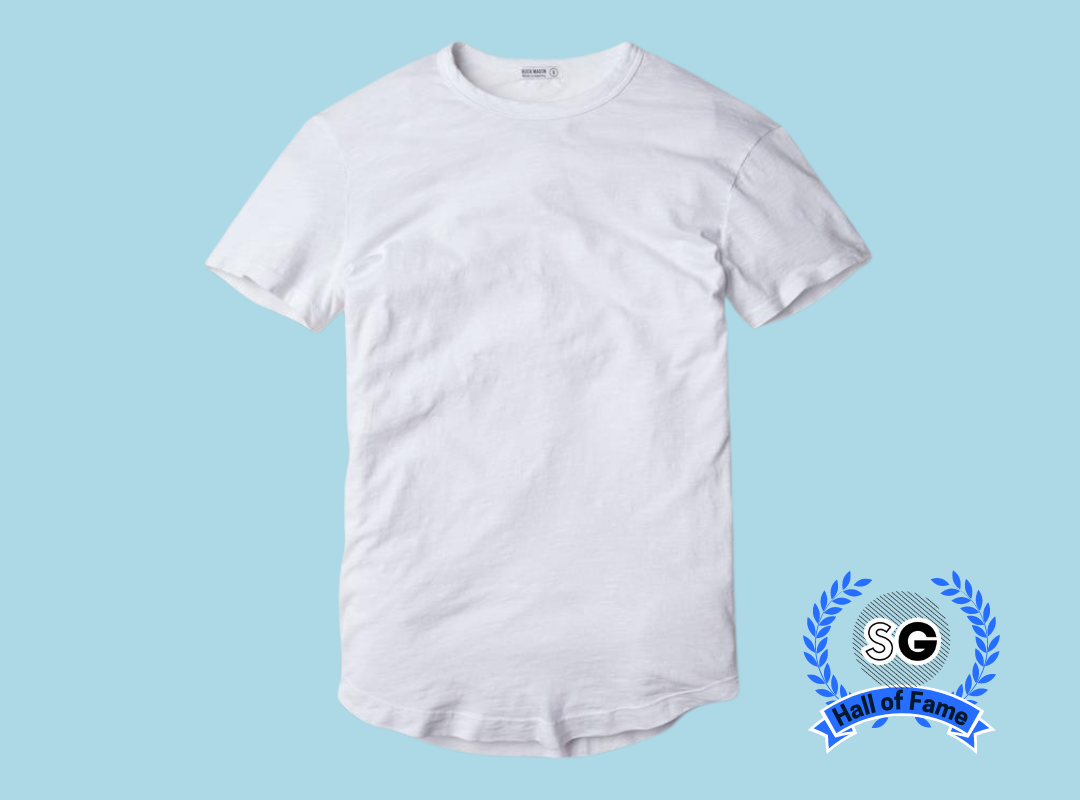 brand: Buck Mason
price: $35
Why we love it on guys: It's the curved hemline for me!
This small detail from Buck Mason makes this affordable basic more elevated than a Hanes 3-pack, since you can wear it untucked and still look like you care about how you're dressed.
How to wear it: I don't feel like I should really have to tell you how to wear the most timeless and essential basic in your wardrobe… But why not get festive!
Try it under a cozy shawl collar cardigan. Or with cuffed chinos and Birkenstocks (clogs or sandals, depending on the season).
What about with jeans and leather boots, you James Dean wannabe…
The Best Men's Crewneck Sweater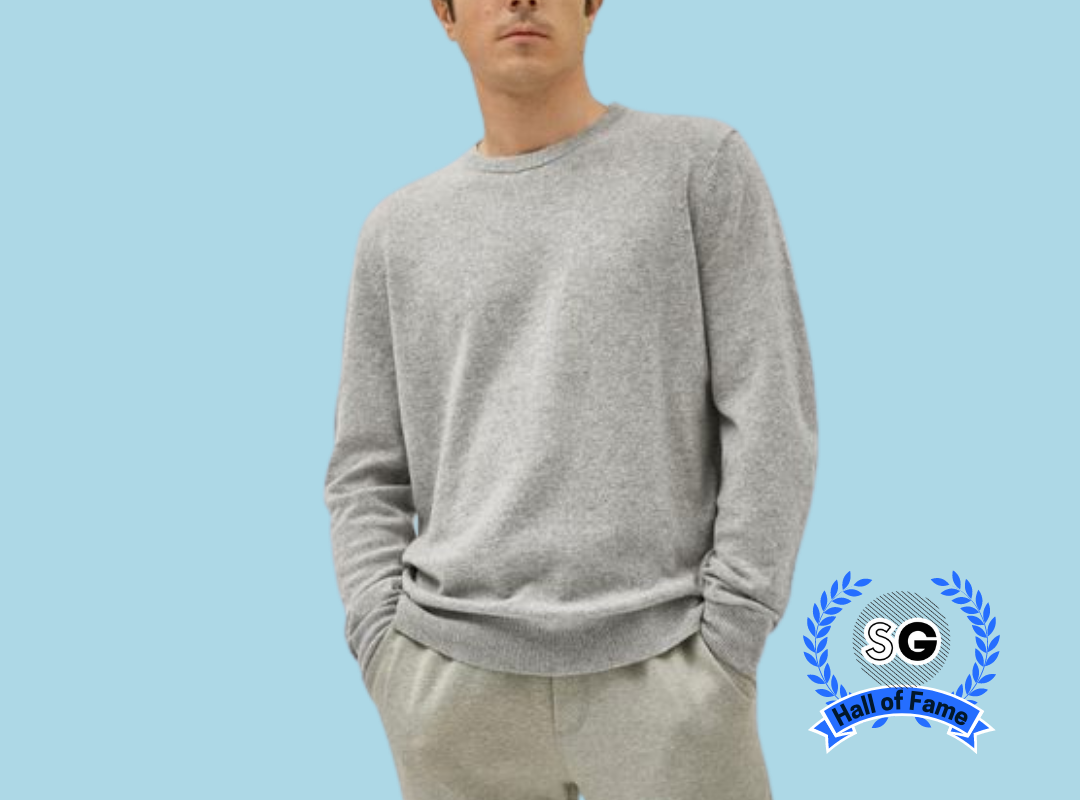 brand: Everlane
price: $130
Why we love it on guys: Cashmere has become so affordable in the last decade, you have no excuse not to treat yourself to this soft, soft goodness.
Plus, women will want to touch your arm exactly 38% more than they already did. A statistically significant style upgrade!
Everlane's crewneck remains a best-seller for it's easy fit and lofty hand-feel. (That's fabric-speak for oh-so-cozy.)
How to wear it: Even super-soft fibers like cashmere can irritate the skin, so wear an undershirt or tee underneath this sweater for a simple look.
Want to take your layering game up a notch? Pair it with a button-down shirt (I like this patchwork style in corduroy right now).
The Best Polo Shirt for Men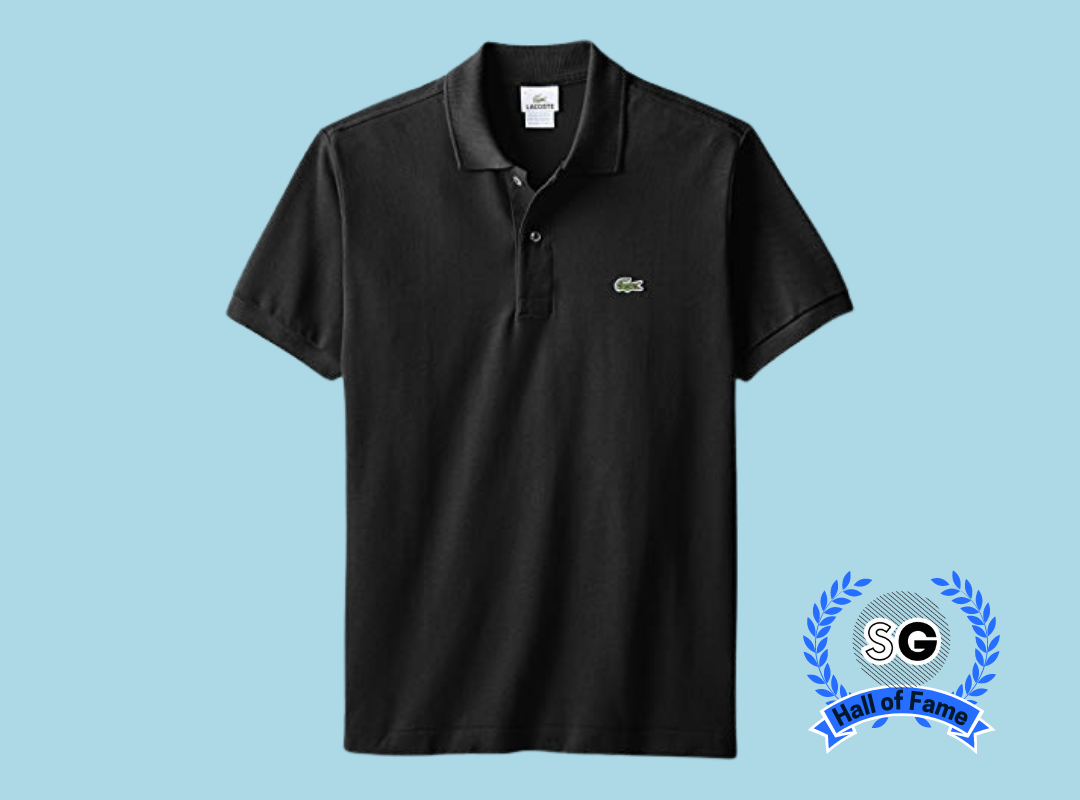 brand: Lacoste
price: $95
Why we love it on guys: Lacoste is timeless, and this iconic 'gator polo comes in every color of the rainbow.
Wildly colorful polos feel a little more golf goon than cool cat these days (no shade to golf).
Classic black, on the other hand, feels very low-key sophisticated. Which is a good vibe to be going for!
How to wear it: Treat a black polo like the slightly more mature older brother to your favorite tee. Great with shorts, great with jeans.
The key to wearing it well? Just make sure the fit is on-point! Slim, not tight through the arms and torso.
The Best Men's Dress Shirt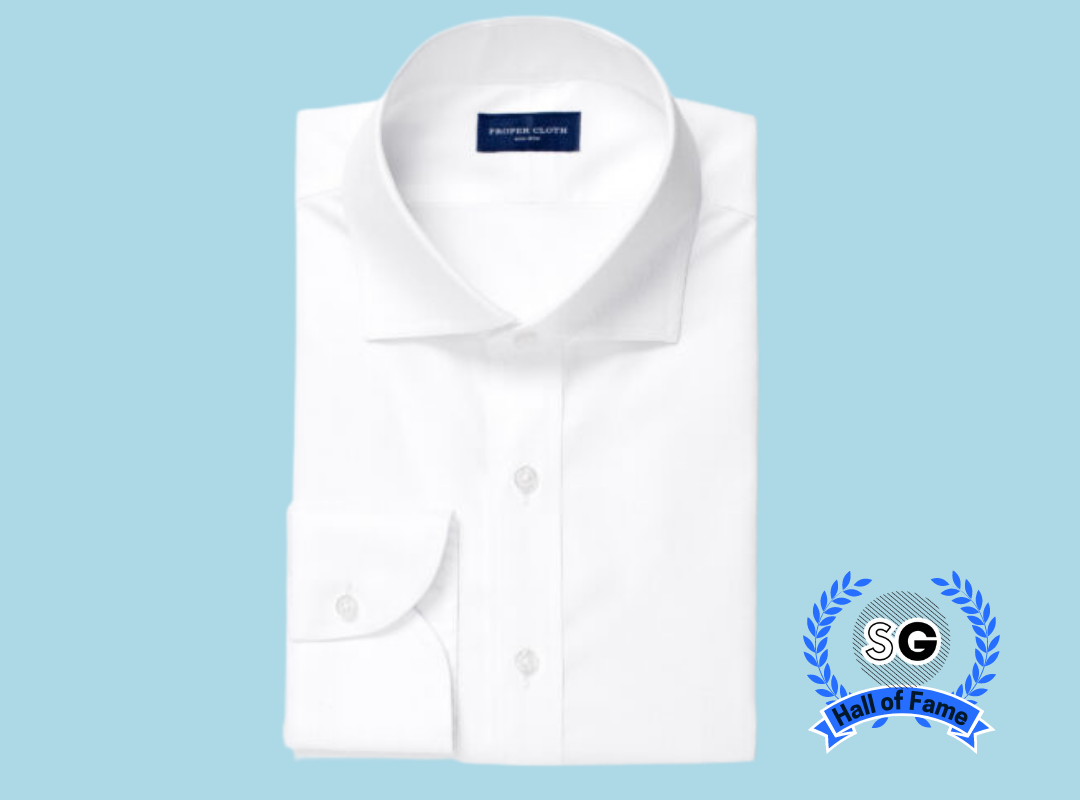 brand: Proper Cloth
price: $95 – $175
Why we love it on guys: One of the best evolutions in the world of menswear in recent years has been the more to make custom shirting more affordable and accessible.
Proper Cloth offers tons of options for sizing and color, so you're guaranteed to get a perfect, super-flattering fit.
How to wear it: With a suit! Or just suit pants and oxfords, but pretty much nothing else.
Dress shirts are dressy, okay?
The Best Men's Casual Shirt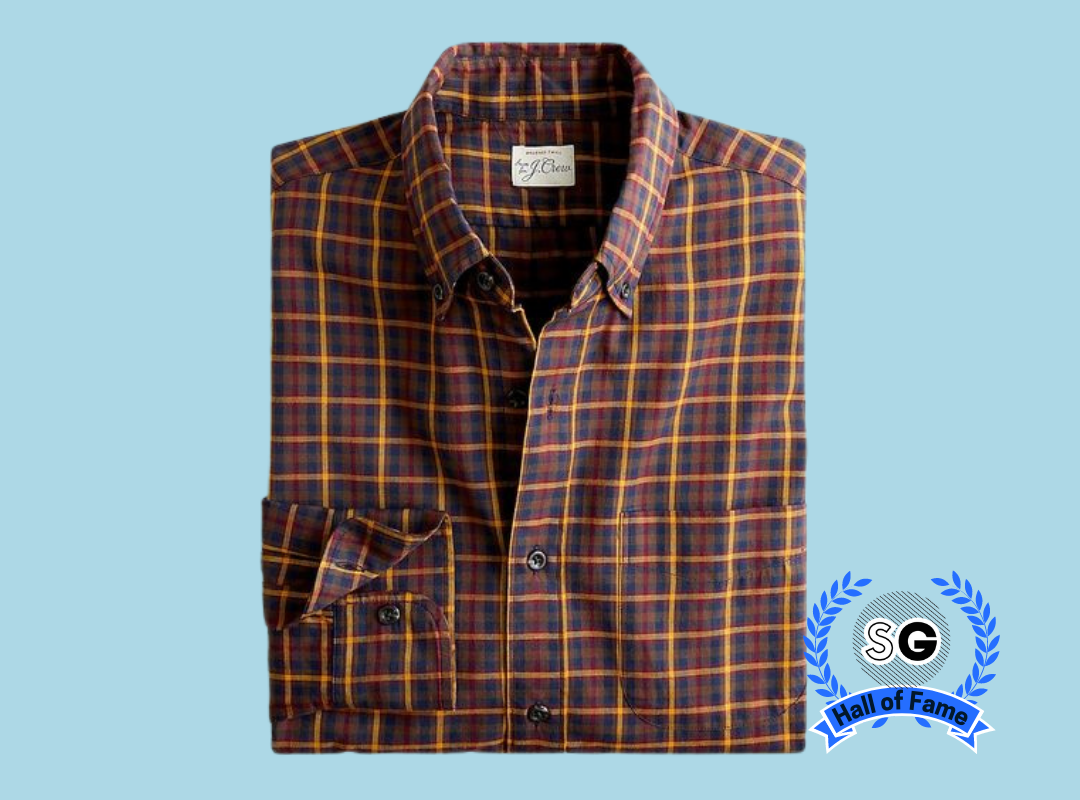 brand: J.Crew
price: $80
Why we love it on guys: It's not this shirt so much as all casual shirts by J.Crew that deserve a spot in a "best men's tops" list.
No, they don't just make gingham (though okay, yes, they still do that too…) , they've got an—ahem, solid—range of solid colors, seasonal prints and fabrics like corduroy and chamois.
Reliable sizing and quality means you're pretty much always going to get a flattering, well-fitting shirt, and honestly what more can you ask for in this life?
How to wear it: We don't have to tell you how to wear a shirt, right? Line up the buttons and give those sleeves a casual cuffing. But for fun, let's suggest playing with colors when you add a new shirt to your rotation: try a sage green shirt with olive green pants for a tonal take. Or a lavender button-up with black jeans—the perfect summer-into-fall color combo.
The Best Men's Short Sleeve Button Up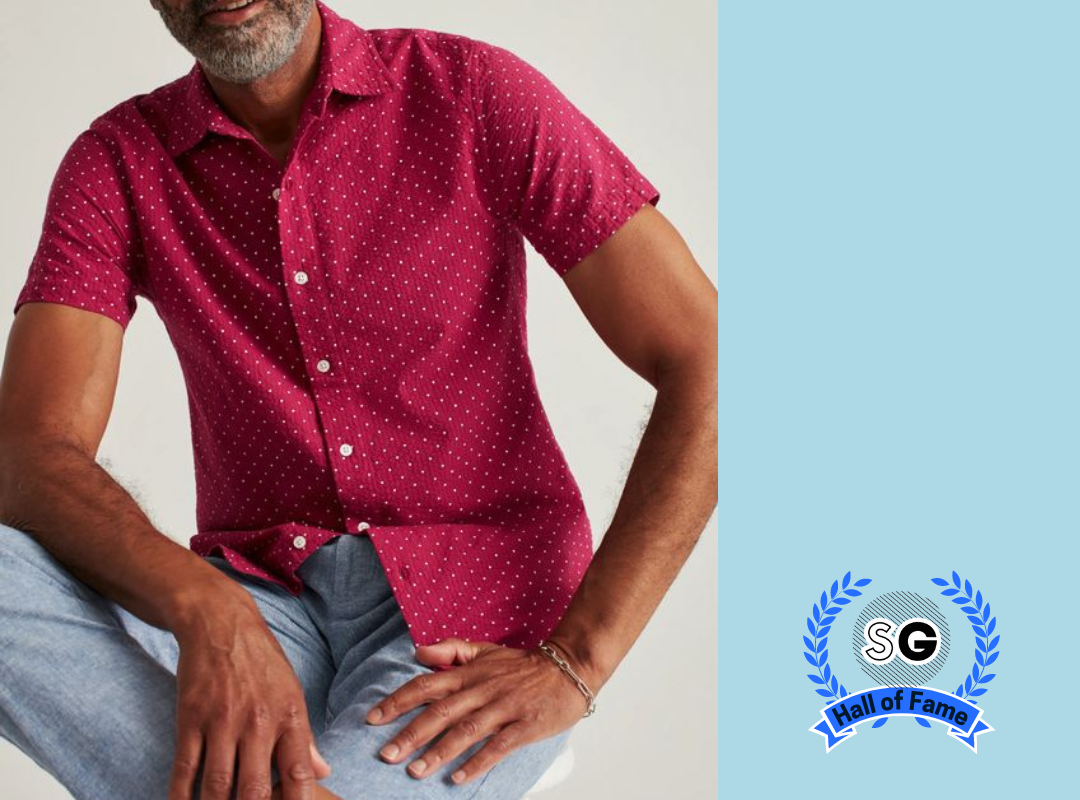 brand: Bonobos
price: $79
Why we love it on guys: The Riviera shirt from Bonobos is basically iconic at this point, so obviously we had to include it in this list of the best men's tops in 2021.
The brand releases new patterns and colorways each year, so you can start a collection. Which we highly encourage, btw. It's that good.
How to wear it: This warm-weather essential should be your go-to with crisp chino (or pull-on!) shorts or light-wash jeans. Sneakers or Birkenstocks for a finishing touch… Dealer's choice!
The Best Men's Camp Shirt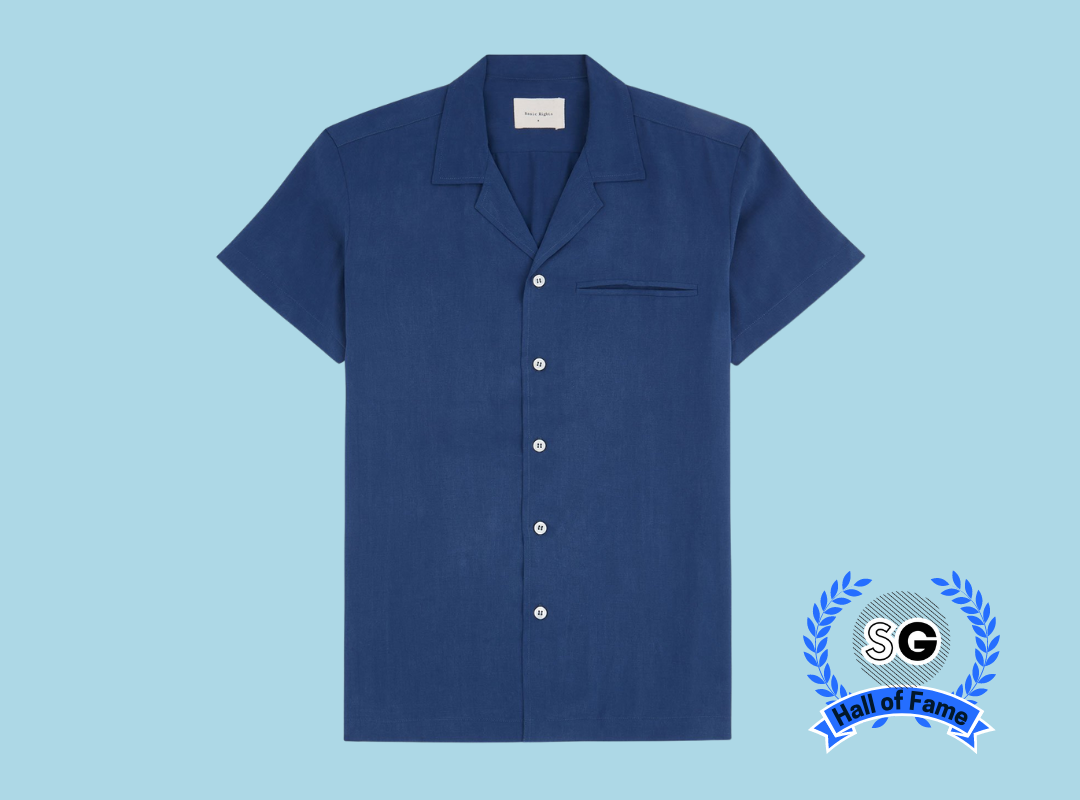 brand: Basic Rights
price: $110
Why we love it on guys: Easy and elegant! In classic navy, the playful lapel of a camp shirt becomes sophisticated and wearable enough for a nice dinner al-fresco or a day at the beach.
How to wear it: For dinner al-fresco? Just add linen pants and a watch. For a day at the beach? With your most fun (and no longer than 7″ inseam) trunks and a pair of sunglasses.
Taylor Davies splits her time between NYC and Sun Valley. She loves writing about menswear, overpriced martinis in dimly lit hotel bars, and cross-country skiing. Not necessarily in that order.