Black Friday Shopping Picks From Team SG
Your holiday style, covered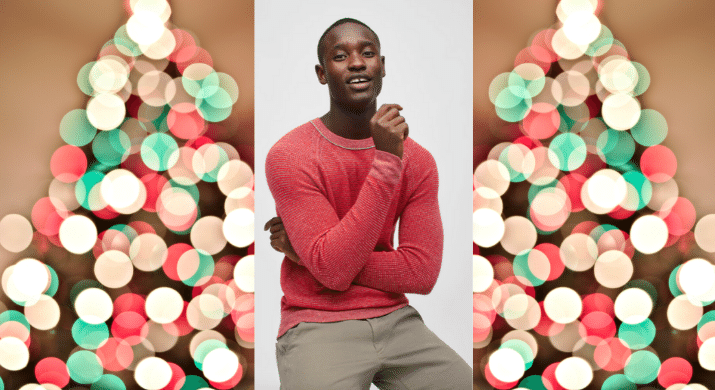 Disclosure: This feature was created in partnership with rewardStyle and Bonobos. Thanks for supporting the brands that make Style Girlfriend possible!

Right around this time every year, my family engages in the same, time-honored holiday tradition. We pick Secret Santas for Christmas using a terrible website we all collectively despise. 

My sister found the site, called Elfster, years ago as a way of automating our annual gift exchange. It was built, I believe, using Geocities in 1998 and the user interface hasn't been updated since. Think of Elfster like fruitcake. An annual, holiday-themed tradition that no one particularly likes, but no one's willing to do the work to come up with a better alternative, either. 

Aside from drawing names, the site also allows you to upload your holiday wish list, though everyone winds up sending theirs over email because Elfster's upload feature remains – year after inexplicable year! – almost comically clunky.

Which means now I'm currently a) gearing up to shop for [ahem, RELATIVE'S NAME WHO MAY READ THIS REDACTED] and b) compiling a wish list to send my loved ones, hoping that someone good (read: someone who doesn't pay attention to the group-imposed price limit) got me. I'm also prepping my wardrobe for the cold winter ahead.
It just hit 20 degrees in New York this week, and let me tell you, I was NOT prepared.

Finding yourself in an end of year, mad-yet-festive dash of your own? Let SG help you dress for the cold weather AND check off "write wish list" for those bugging you for holiday gift ideas!

Our pals at Bonobos are kicking off their Black Friday festivities early, and I for one couldn't be more excited. While our team lo-o-o-o-v-e-s their office style staples, they've also become a low-key go-to for easy breezy, off-duty wardrobe essentials perfect for holiday fun.
Think: slim-fitting stylish hoodies, jewel-toned pants, and luxe-yet-quirky sweaters. 

And for the entire week of Black Friday—aka, this week!—they're offering 30% off everything online and in their Guideshops (see if there's one near you here). 

Meaning? You and your secret Santa can sleep in the day after decimating second and third helpings of Thanksgiving dinner.

Below, check out 8 #SGapproved cozy pieces for curling up and turning out in this season: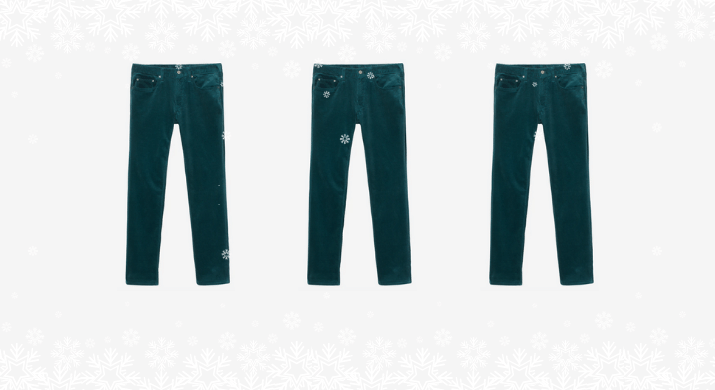 In ivy green, these 5-pocket corduroy pants are festive enough for a holiday party yet lowkey enough to wear in a corporate casual office. Even better? They come in tailored, slim, and athletic fit for a "made just for you" feel.
Clean track pants (jeans if you're feeling chipper), a cozy henley, and a hooded zip up sweatshirt.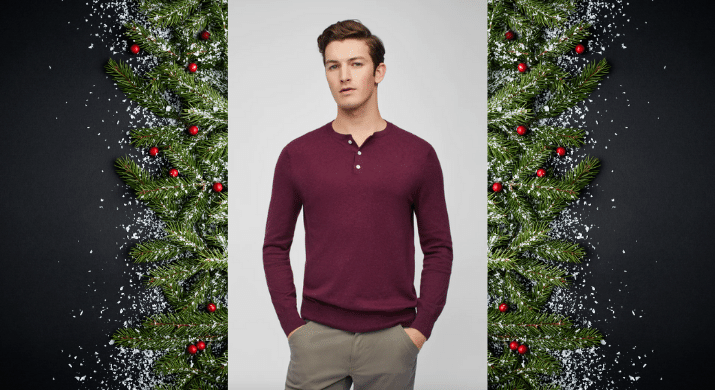 This henley-slash-sweater was knit from a yarn that uses all-natural fibers from sustainably sourced wood pulp for a moisture-wicking and breathable feel. It's kind of like you're your own walking fireplace. Kind of.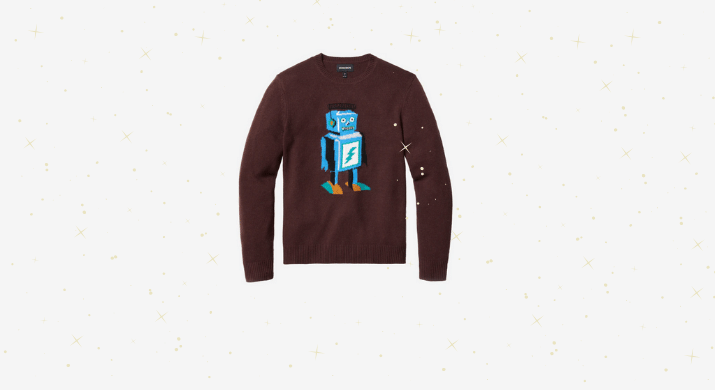 Hello, what more do you need to know? Robot. Sweater. 'Nuff said.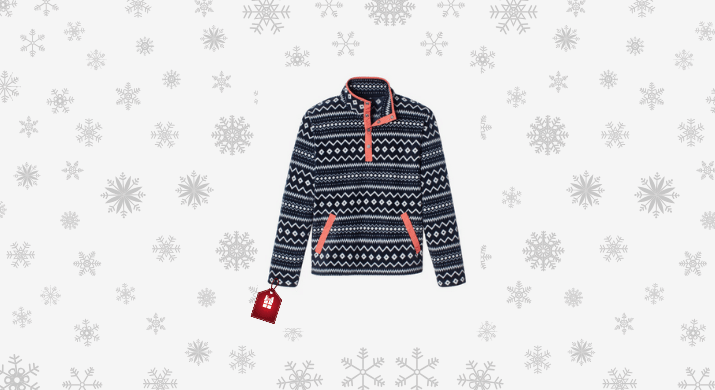 I loved this cozy popover but wasn't quite sure where or how a guy could wear such a bold patterned fleece outside of a ski lodge, so I called in reinforcements. Namely, Team SG's Taylor who loves all things cozyboi style. Her response?

"At home."
"To coffee."
"On a plane."
"With jeans."
"With joggers."
"Over a swimsuit."

…She went on, but I feel like you get the picture. It's versatile! Case closed.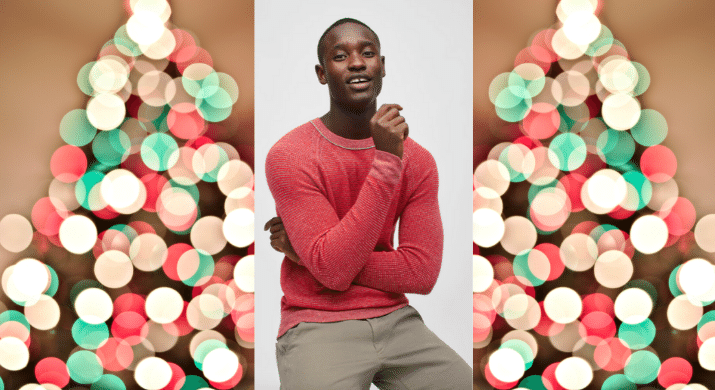 Cashmere is a great gift to ask for when you want something functional but also worry you'll feel resentful of all the fun everyone else is happening when you unwrap, I don't know, a new space heater for under your desk. Like, yes, you wanted that, but does it really feel like a present?

Instead, add items to your wish list that you know you'll use – like a new sweater that looks as good at work as on the weekends – and just amp up the luxe levels. In this case, a waffle stitch donegal cashmere sweater in a holiday cheer-worthy color.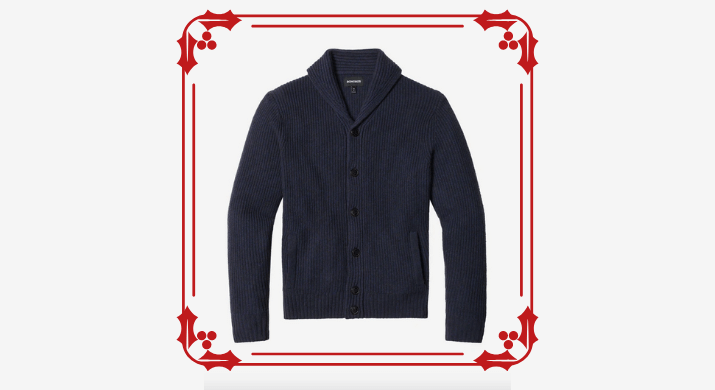 A sturdy cardigan is really a holiday all-star. Wear it with jeans and a t-shirt on your travel days, then spiff it up with dress pants and a button-front shirt for outings with the family. You could even swap out a dinner jacket and wear it with tuxedo pants or something patterned like…these for your office holiday party.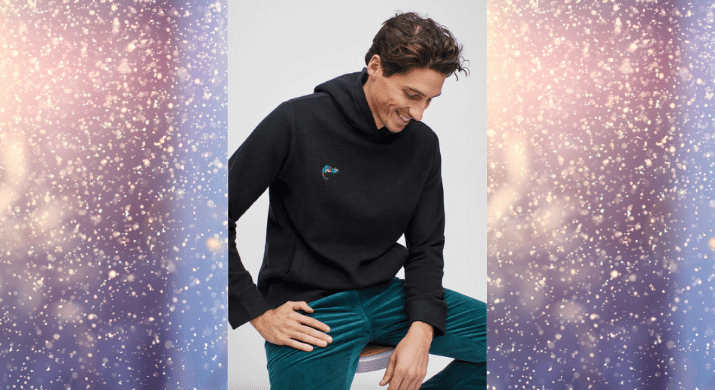 This cozy hoodie is made from a lightweight fleece, which means it's super-soft and comfy enough for lying on your couch…pretty much from Thanksgiving through New Year's. But! The dark color palette and quirky chameleon embroidery on the chest also makes this sweatshirt stylish enough to wear out of the house meeting pals or for a casual date.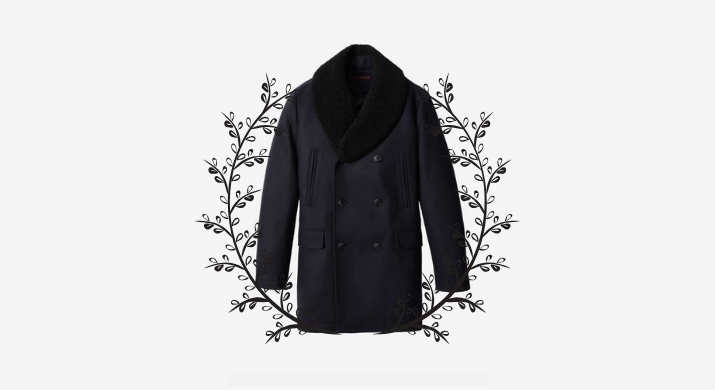 Looking to really treat yourself this winter? Or maybe you've got a rich uncle who always says "you remind me of me when I was young" you want to slip a gift idea to? This coat is the move. With a water-repellent wool, quilted lining, and removable (faux) shearling collar, you'll look fresh as hell all winter long and stay as warm as it, too.

***
Want more Black Friday shopping picks? Follow SG on Instagram