V of BTS is the Most Stylish Man of 2022
The K-Pop Group's Fashion Plate Takes the Top Spot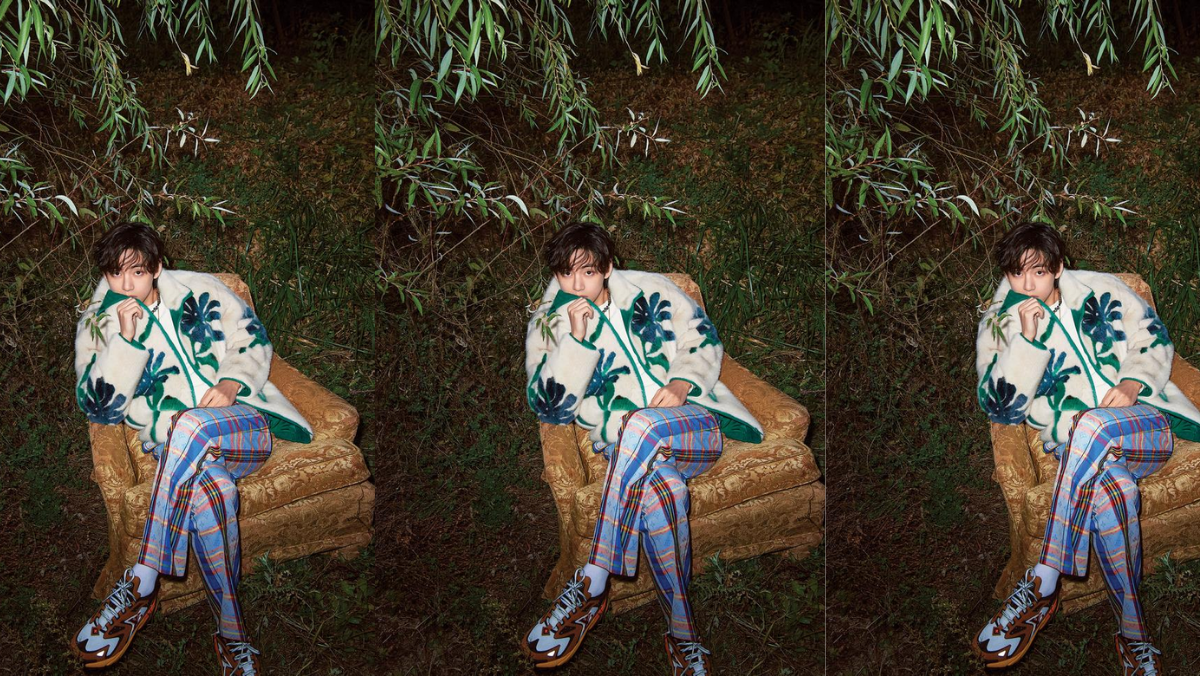 And the best-dressed man of 2022 is…V of K-pop group BTS!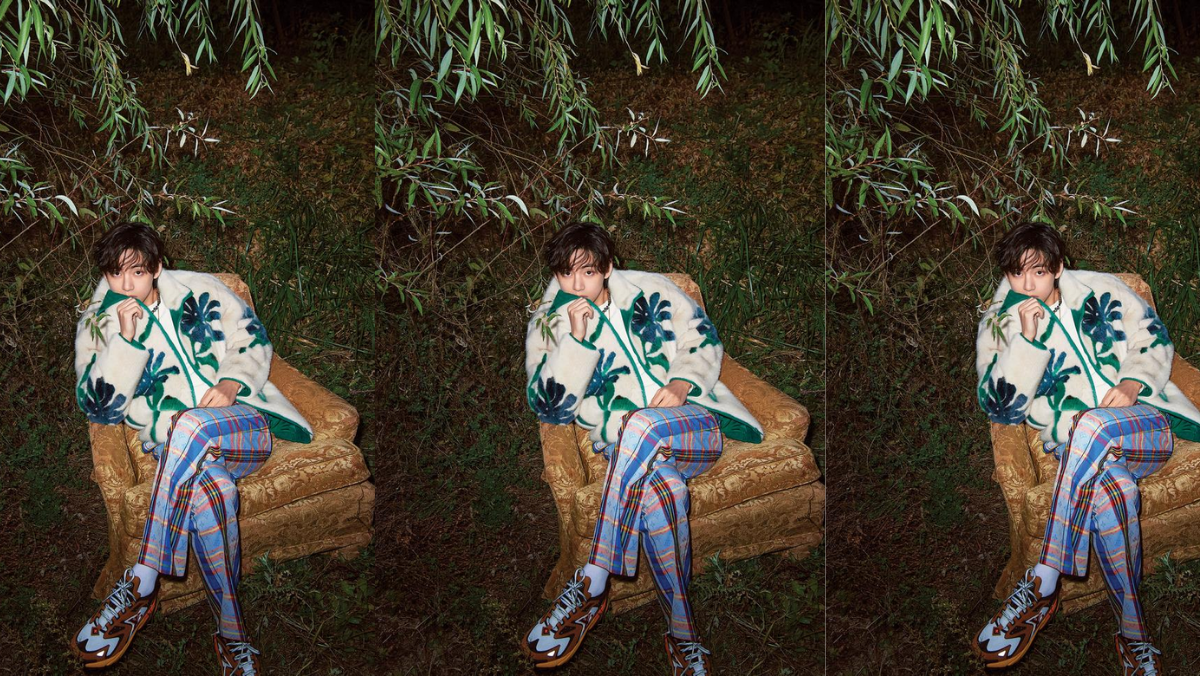 As the Venn diagram of BTS fans and Style Girlfriend followers is actually two separate and distinct circles, positioned at opposite ends of a regulation-sized soccer pitch, let me give you the rundown.
BTS, short for Bangtan Boys, is the name of a K-pop group with a very dedicated fanbase.
Calling themselves ARMY, many of these fans express passion for the band and its seven members—Suga, J-Hope, RM, Jimin, the aforementioned V, and Jungkook—to a degree that I have never shown for a musical act, sports team, alma mater, or frankly, my own family.
Did ARMY's skillful social media mobilization, where SG Madness celebrity style face-offs go down, help V to victory?
Absolutely. But after shaking off the disappointment that my own pick for this year's top spot, Tom Holland, got bumped in the Sweet Sixteen, I embraced the idea of a BTS fan-fueled championship.
And not just because it's been great for engagement on SG's Instagram, though…wow. Like I said, these fans are dedicated.
But because, more importantly, an SG Madness title for V, née Kim Taehyung, gives us the chance to spotlight someone whose personal style feels pretty different than the aesthetic we usually feature on Style Girlfriend.
BTS style hits the SG Madness bracket
It would be silly to ignore the impact the South Korean boy band has had on pop culture in the last several years, whether you're ARMY or otherwise.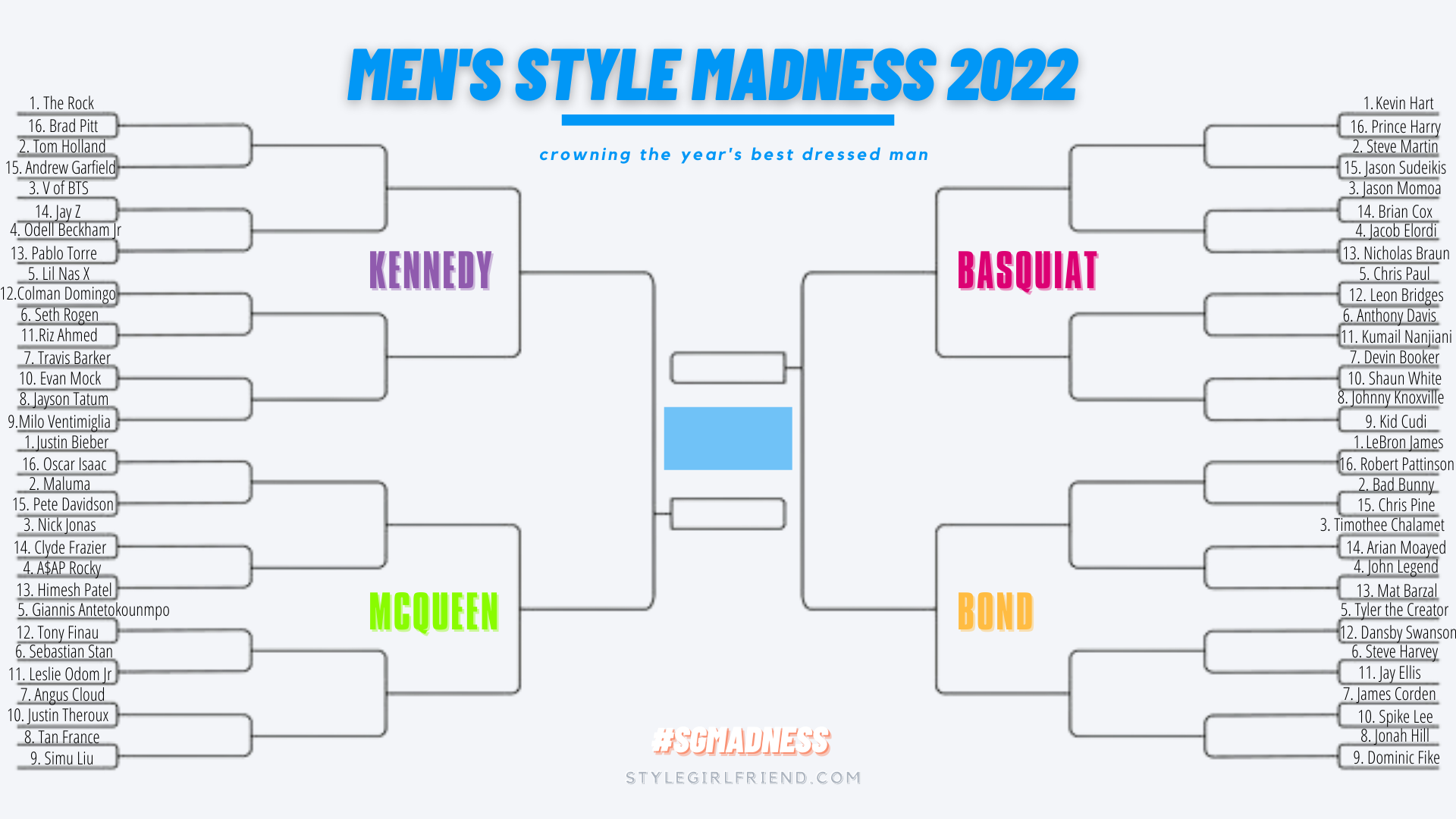 So when selecting this year's SG Madness contenders, it was a no-brainer to include V, the group's designated fashion plate.
Distinguishing the boy band's boys
That said, the group usually appears all together, wearing coordinating outfits from whichever design house they're currently serving as global ambassadors.
Which for me, has meant a steep learning curve in learning who each member is.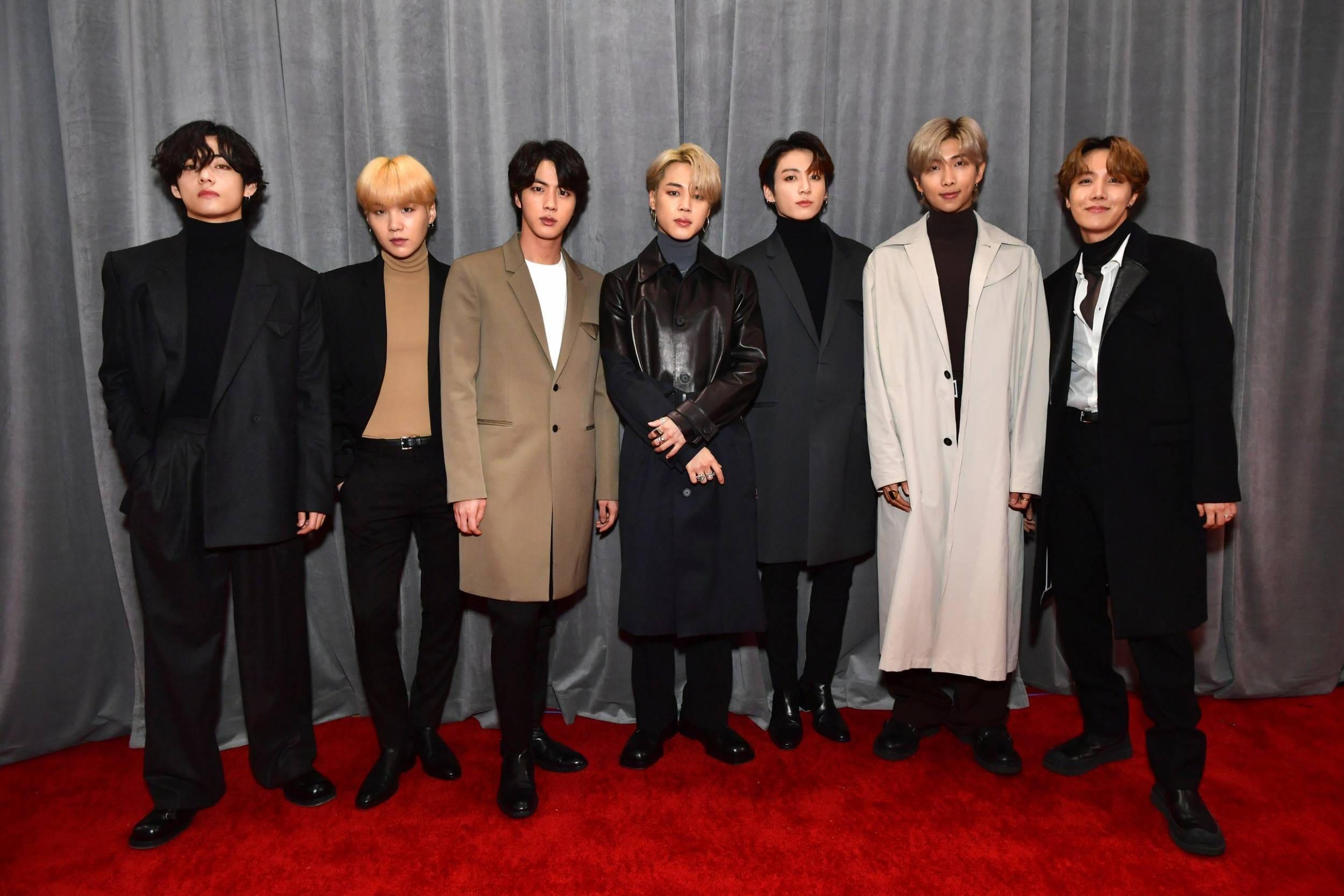 Despite mainlining Boy With Luv, BTS's upbeat collaboration with Halsey, almost non-stop while training for a race pre-pandemic, I still was only vaguely familiar with the group's individual members.
So when I realized V was headed straight for the championship title, I realized I needed a crash course in BTS and BTS style.
I knew a couple. J-Hope I recognize easily, with his sweet and slightly goofy smile that reminds me of a Sesame Street muppet.
RM is the only one who speaks fluent English and has therefore become the default spokesman for the group on red carpets and late night talk show couches around the world. He's got the demeanor of a friendly park ranger, or a non-creepy youth pastor.
But the rest? I needed BTS flash cards.
I'd like to defend myself—I can't tell the (white!) brothers of Bridgerton apart either!—but to be honest, the work of putting each member's face to memory has made me painfully aware of my own-race bias (ORB), the cognitive phenomenon that shows people of one race have a harder time readily recognizing or identifying individuals of another.
Social scientists chalk up ORB to the lack of meaningful exposure to other cultural and racial groups. Just because I'm not outing myself as a bigot, though, doesn't make the confession any more palatable.
Obviously I'm so glad we're finally seeing more diversity in celebrity culture.
I'm also painfully aware that celebrating these kinds of "firsts" in 2022 (I see you, SG Madness Final Four contender and Marvel's inaugural Asian superhero Simu Liu!) needs to make way for normalizing representation, period.
One final caveat (doth I protest too much?), I also think my lack of familiarity with BTS is a factor of no longer immersing myself in pop culture the way I did when I was younger. I can't even watch any award show on MTV anymore because I only recognize the celebrity winning the lifetime achievement award (they're usually around 35).
So if you don't know who V is, or can't tell BTS from Backstreet Boys, know you're not alone here.
But! I hope you take it as an opportunity to broaden your personal style perspective. And go listen to "Boy With Luv." It's a bop!
Below, 4 BTS style lessons to take away from the band and V himself:
1. Coordinating has come a long way since junior prom
You may not have a red carpet to walk, but take it from a K-pop septet adored by literal millions, dressing in sync is a vibe!
Not matching, but coordinating outfits can look really, really good.
The lesson: Don't be afraid to check in with your significant other when getting dressed for an event.
Even a small touch like a pocket square that brings out the colors of your date's jewelry is a low-key flex that communicates a united front and looks great.
2. Have fun experimenting with trends
SG's not suggesting every guy trade in his slim-fit chinos for a relaxed silhouette suit (though if it's from Louis Vuitton, you've got our blessing), but it can be helpful to look to trendsetters like V and BTS to see examples of how to try a trend.
these are some of the best fitting suits I've seen on a red carpet in a whiiiiiiiiiiile. notice how they all have a break in their pant!!!! because that's correct!!! pic.twitter.com/CCsGUm0A9C

— Caroline Reilly (@ms_creilly) April 4, 2022
The lesson: Check out fashion-forward celebrities for inspiration on trying new trends. BTS style changes from season to season, and yours can too!
No shame in the personal style growth game.
3. Take care of your skin!
I'm extremely into the freedom that V and his bandmates have in playing with stereotypical beauty standards.
I know it's become a trope to talk about the intensity of Korean skincare routines (so many steps!), but these guys' faces look like glass. What are they using, and can I buy some?
And yes, they definitely wear some makeup. In an era where Harry Styles has started a nail polish line and Pharrell is hawking eye cream, then V and the rest of BTS are simply keeping with the times.
The lesson: It's time to adopt a proper skincare routine, if you haven't already.
And if you want to try a little highlighter on those cheekbones? Go for it.
4. Embrace the effort
At the risk of sounding like a valedictorian at Euphoria High, my hope for the future is that more guys—specifically of the cis, straight variety—feel comfortable dressing in the way that makes them feel their best, most confident selves.
I hope if you want to dye your hair, or get Botox, or wear a Cuban heel, you do!
V and BTS' style might not be what Style Girlfriend followers are used to, and I know it's easy to be dismissive of pop culture you're not personally into, but it's good to embrace change when it comes knocking down your just-for-fun annual style competition!
SG Madness 2020 winner Harry Styles put it perfectly when he defended the popularity of boy bands to Rolling Stone:
"Who's to say that young girls who like pop music – short for popular, right? – have worse musical taste than a 30-year-old hipster guy? That's not up to you to say. Music is something that's always changing. There's no goal posts."
Styles is right. Music is always changing, and so is style. So go on and listen to the teens. They're taking over anyway.
The lesson: We're not making fun of anyone anymore for making an effort with their appearance, or trying something new or different. It's 2022, and we're not playing that game anymore.
If it makes you feel better about your appearance, and more confident taking on your day, then it's #SGapproved.
Congrats V!
***
Want more celebrity style? Check out fashion lessons from past SG Madness winners Barack Obama and Harry Styles.