The Best Denim Shops Pick Your Next Pair of Jeans
we called around so you don't have to
I love a good specialty denim shop. You walk in, confident you'll be leaving with the perfect pair of jeans for you: right fit, right finish, and, undoubtedly, tailored to a T (some stores include those tweaks complementary, but if not, it's always worth the extra cash). I mean, we live in our jeans—it's worth putting time in to seek out the perfect pair.
That's why I asked six of North America's best denim shops (I couldn't skip Tate + Yoko in Toronto—that pic above is from their denim-heavy Instagram) for the standout pair from their fall collection. I specifically asked them for jeans that might push the style envelope a tiny bit (if you just want another pair of bootcuts—well, you know where to find 'em).
Here's what they had to say:
Self Edge picks: The SG 5109
Kiya Babzani, co-owner of Self Edge, with destination denim stores in San Francisco, New York, and Los Angeles says, "We really love Strike Gold's jeans. They've mastered the art of denim production with their newest fabrics.  They produce a beautiful, unsanforized indigo denim that has a short slub weft yarn, used to give the denim a very unique look that ages very well over time with regular wear. They've taken every detail into account—like using iron and copper rivets, so that they rust and patina like a vintage jean, as they're washed and worn over time."
In another words, if you're looking for a pair of jeans that would let you throw around some big, denim-fetish words like "unsanforized" (aka, not pre-shrunk) and "weft yarn" (as opposed to the warp yarn, giving the denim a unique look) this is a good brand to try. Try the SG 5109 (above) with its slim, tapered cut.
Tate + Yoko picks: Naked & Famous Skinny Guy in reflective denim
From Tate + Yoko in Montreal, a suggestion for reflective jeans. Yes, you read that right.
"Our most out of the box creation for fall is our reflective denim jeans," says Kari Svarc. These Naked & Famous Denim jeans are gray, which is already an unexpected way to go, while added technology gives them a cool boost: "The entire jean reflects light due to a coating of thousands of micro, glasslike beads, which reflect light back to the source," Svarc says. "These jeans are great for nighttime biking or skateboarding—or just for looking rad in general." I always support looking rad in general, so I support these jeans.
Reserve Supply Co. picks: Railcar Spikes
Reserve Supply Co. is my favorite jeans shop in Texas—a state that obviously knows from denim. Co-owner Heather Bruen chose a style from Railcar, a three-year-old line based in Arcadia, California.
"They make several different styles of raw denim in a variety of weights," Bruen says. "Our bestseller is the Spikes—the cut is a nice, modern, slim-straight—but it's not too slim, which can scare guys off."
Dutil picks: Quintessential Lean
If skinny is just too skinny, Jennifer Campbell from Dutil—with shops in Vancouver and Toronto—has the solution. "A slim-taper is our pick because it's flattering to most guys' body types and looks great with a dress shoe, sneaker or boot, depending on how you style it," says Campbell, who picked out the raw-denim Quintessential Lean. "Because the slim-taper style follows the line of the leg, it appears tailored to your body. It's a versatile and more sophisticated version of the skinny jean." In other words: skinny but not scary-skinny.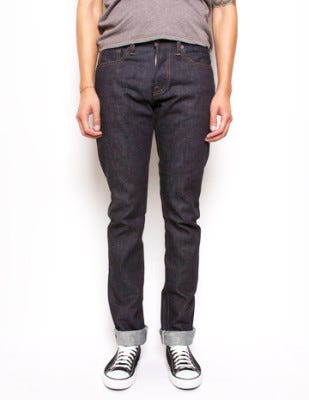 General Quarters picks: Rogue Territory SK
Blair Lucio, owner of the four-year-old General Quarters in L.A., had this suggestion: the Rogue Territory SK in the 14.5-oz. Japanese denim. "The fit is the perfect mix of slim, tapered, and comfortable. It's understated, with very few branding details. The fit and product sells the denim, not the label, and that's rare."
Mister Freedom picks: The Californian
Finally, the Californian. A nod to Marlon Brando and his denim-loving ways, this pair comes from L.A. boutique Mister Freedom, a legend in the industry thanks to owner Christophe Loirin's commitment to stocking raw, non-distressed jeans.
"The fit [of the Californian style] is a nod to Brando's BRMC [Black Rebels Motorcycle Club] in The Wild One, [from] before denim tights were invented," Loirin says. "These jeans are only available in their most environmentally friendly form: unwashed – as in – not distressed by a factory. You personally get to wear them out." Expect a mid-rise and a gently tapered leg—no extra fabric to get in the way of rebelling all over town.
Tell me:
Which store's pick is your favorite and why?
Looking for more shopping ideas? Check 'em out here and here and here.