What to Wear to Work When You Can Wear Whatever You Want
Real Life Style: The Start-Up Founder Without a Dress Code
Presented by Mizzen+Main
East Coast Startup Style by Way of Western Canada
***
I met my friend Matt Friesen when he pitched Style Girlfriend on his first startup, an online shopping aggregation tool, during a trip to New York. He had flown in from Vancouver, and we grabbed coffee somewhere forgettable in midtown Manhattan. My Midwestern brand of nice shares much of the same DNA with his Canadian-born version, and we quickly hit it off.

The tech Matt's team had developed was beyond SG's needs back then, but we stayed in touch as he built his business and I built mine.

After the company was acquired a few years later, Matt moved to New York and immediately flung himself into the next thing (no rest for the weary-yet-motivated entrepreneur!). That next thing turned out to be Social Studies, recently named one of the fastest growing influencer agencies in the United States by AdWeek.

With the move and the new gig came a newly-upgraded sense of personal style…so much so that I didn't even recognize him when we re-connected here in the city (more on that later).

Running an agency at the apex of digital influence in New York City means being the boss while maintaining street cred with a super-fashionable roster of clients and brand partners. For Matt, that means a wardrobe that's ready for on-the-street run-in's and regularly scheduled client meetings alike. Think: slim-cut silhouettes in dark colors, lots of layers, and lots (and lots) of tattoos.
Read on for Matt's take on creative professional office style: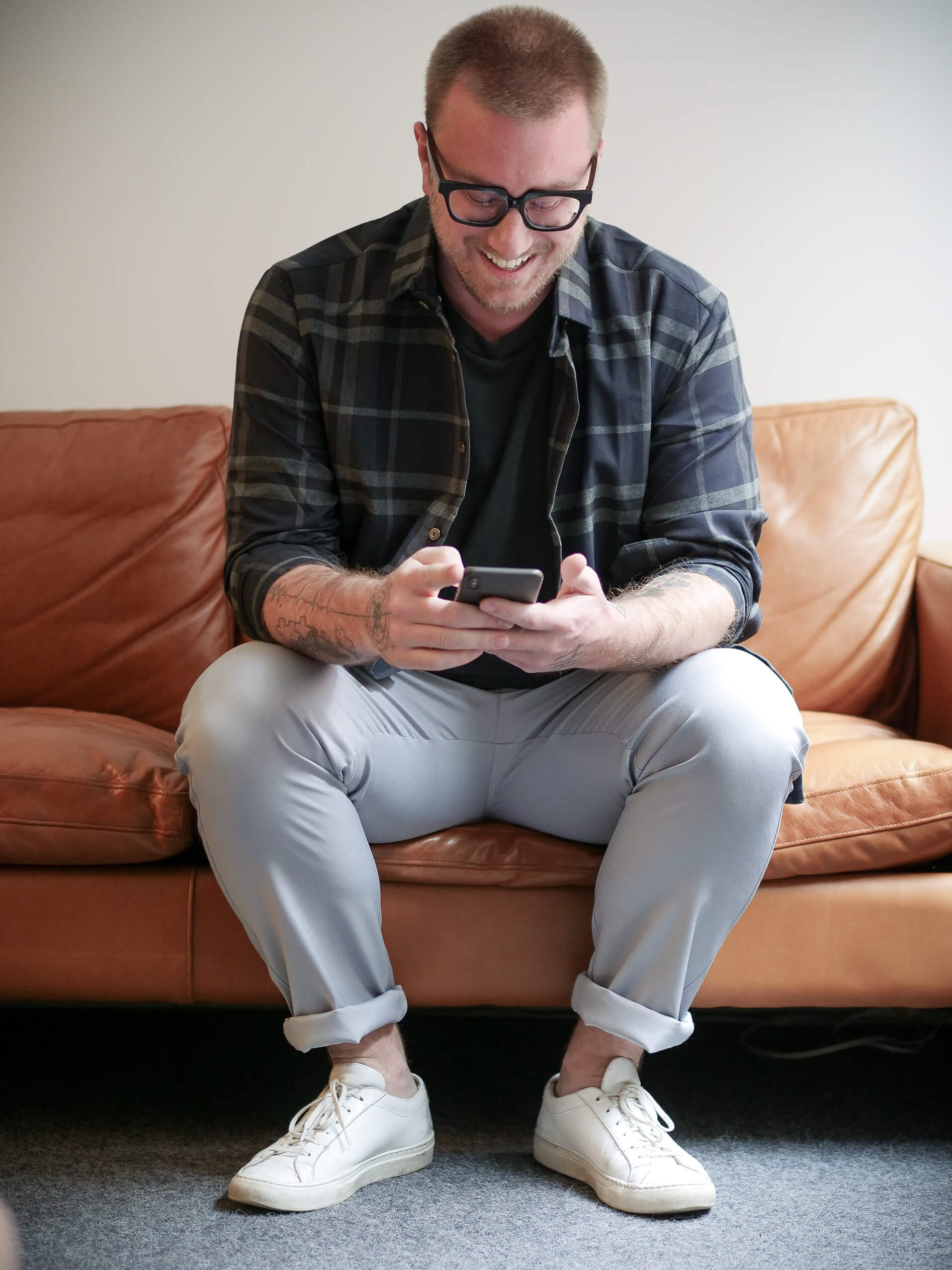 You've been in startups for over a decade. Have you ever had a dress code?
Never. I've never had a dress code. Before I was an entrepreneur, I was a software engineer. So there was no dress code there, either.

As a founder, how do you think about setting culture at your company vis a vis your work wardrobe?

It's super important! How you look and feel—and act—in a lot of ways does set the culture for your team. It's who you are, and I think as a personal brand, clothing and style establishes the tone.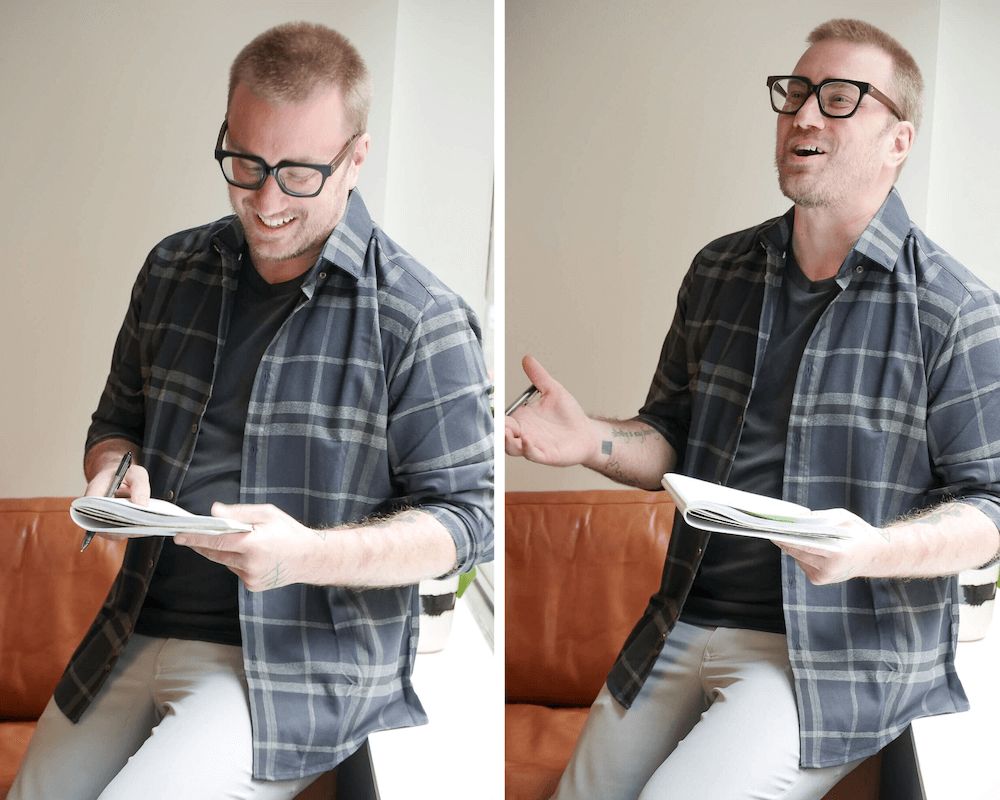 Your co-founder is stylish, too, but your wardrobes are very different. Have you two talked about that? Is it on purpose at all?
We both have very unique styles from each other. And I actually think it represents who we are individually, as well. He's a little more buttoned up; I'm probably a little more street. And it works really well.

But we never really talked about it. We've had a couple moments that are kind of funny where we'll have a meeting, and I'll show up and he'll go, "Phew, good. I was going to tell you to wear pants today." And I was wearing pants!

You generally know, depending where you're going, what you need to do and how you need to dress for it, but I get it. Especially in New York, all bets are off.
How did your style change when you moved to New York?
Oh, hugely! For sure it did. I don't know if you remember this, but one of the times we saw each other…that coffee shop on Bond Street? Remember? …You didn't recognize me.

Oh yeah!

Do you remember that? So I would say New York City has been a huge influence on me, style-wise.

If you come from a small town—Vancouver's not a small town, it's an international city, for sure—but the style there is…different!

You think of the west coast culture, right? So, San Fran, and the tech culture there, influences Vancouver far more than a fashion-centric city like New York.

Oh, and my color palette completely transformed! I don't wear color anymore. So that's another big thing.

What hasn't changed is that I still want to be pretty casual and to feel comfortable. I take more chances, and put more of a spin on my outfits, but I have to feel good in what I wear.

What's the biggest difference?

Probably the color. But my style has definitely evolved a lot. It's a lot sleeker, probably. More 'street.' I don't know how else to define it. It's changed a lot, for sure.
In his own words
My style in 3 words or less

Bougie casual street

My first "fashion" memory

I was a child model! Five years old at the local mall in fashion shows. How ridiculous is that? I remember having a huge crush on one of the models. Still to this day, I can picture the dress she was wearing. We were doing a wedding show. She was the emcee and she had this big poufy dress on.

A man's personal style is important because…

It represents who he is. It's the external visualization of how you think and operate.
Shop Matt's creative professional office style
Matt is wearing…

***
> Check out more real guys' style here