December 2015 Letter from the Editor
A Good Reminder on the Importance of Making an Effort

The December letter from the editor comes to you with a splitting headache and a side of ibuprofen, because, well, I'm a little hungover.
But that's okay! Because I attended a really great dinner the night before sitting down to write this and had maybe just a little too much fun. The red wine-induced throbbing is just reminding me of the good times.
My friend Sharifa Murdock, co-founder of the trade show Liberty Fairs, invited me to a "Ladies in Menswear" dinner, full of badass chicks crushing it in the menswear industry. You know, and me.
The meal was delicious (held at a very nice steak house in midtown started by Cameron Mitchell, a celebrated chef from the Midwest!); the company, even better. To be surrounded by women who understand what you do, who want to help solve your problems and celebrate your wins – those who see you as an ally, not competition, well..that's still too rare in the fashion industry.
I walked in slightly nervous but not just because my go-to emotional state at events or parties is finely calibrated to "socially acceptable anxiety" (consider it a middle school lunchroom "Will they like me?" tick, which I'm hoping will go away somewhere around, oh, 40 years old maybe?). As a somewhat successful lady in menswear, I totally belonged there! I was a catch of a guest, even!
So then why did I feel so uneasy? Because I couldn't stop thinking about my hair.
Hear me out. I hadn't washed it in a couple days, which is normal for me, but I knew I had this dinner on my calendar. I had an early morning dance party workout, and a full shower was just not in the cards.
Now, you fellas might not understand this, but I have fine hair (others may go so far as to call it "thin" but that's the only instance calling a woman any part of a woman thin is considered rude), so to go from wet to dry in a way that gives the whole look some life – "body" – it takes a village. We're talking: hair rollers, no less than three kinds of product, from thickening spray; to mousse; to heavy-duty hairspray; and an intricate web of back combing, the likes of which you'd wish you didn't know existed.
All that to say, I hadn't washed my hair that day, and it was looking a little greasy.

Beyond that, I didn't love what I was wearing. In the panic to get out of my apartment in time for my weird 6am pre-work dance party, I'd grabbed a default look – black on black, aka the fashion industry uniform – which I'd normally be fine with. But the top was just….meh. A sheer black long-sleeve number, it keeps making it through my rounds of purging even though I don't really like how I look in it and I always wind up feeling less-than-great when I wear it.
On top of that, it was raining. By the time I walked the three blocks from the subway to the restaurant, I was…damp. Not soaked, not even wet, really, just…damp.
So I walked into this great event with an attitude of, I don't look good, I don't feel confident, everyone's going to be grossed out by my greasy hair, and I definitely don't feel like a million bucks. And why am I even here, they're going to be sorry they invited me…the style-induced spiral went on. I mean, I'd brought heels which I changed into on the train, which helped a little but not enough.
What I should have worn was something that made me feel amazing and powerful and in control, like my white business lady blazer. I should have figured out something to do with my hair and then left it like that, instead of fiddling with it, putting it up, then taking it back down, then putting it up again. Constantly running your hands through your hair? Yeah, it doesn't help the grease factor.
I ended up having a great time at the dinner – everyone was so nice and I left having made some new friends, but it took a solid twenty minutes to shake the feeling of regret, of negative self-talk.
The lesson?
Having super-fresh, bouncy hair and a killer outfit isn't going to make me a more interesting person, but it will help me be more engaged and present in the moment. Making an effort with my look gives me confidence and lets me focus on having a good time.
Especially at the holidays when our calendars are jam-packed with parties, what can you do to make sure you're making enough of an effort? Here's three ways to ensure you show up feeling your best, and with the right attitude: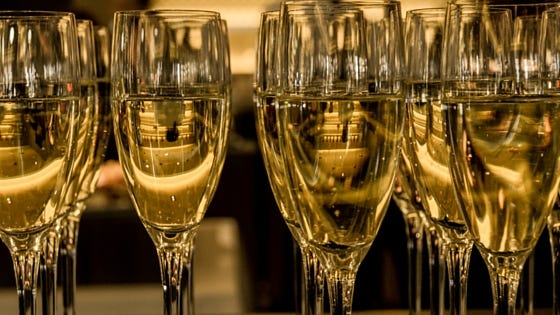 1. Check yourself
Arm yourself with all the information about the party or event you're attending so that you can make an informed decision about your look. Is it formal? Casual? Festive? Dress accordingly.
2. Prepare
This is where I goofed. If you need time to go home and take a shower after work but before your party, do it. If you need to wake up extra early to get a workout in so you feel okay about that second glass of mulled wine (and, err, third cookie), do it. You'll thank yourself later.
3. Surrender
So you showed up to a party and you feel underdressed? Forget about it. You're there, and telling every person you meet, "I feel so underdressed," just points out to them that, yep, in fact, you are underdressed..and seemingly nervous or uncomfortable to boot.
After the salad course at my dinner party, I excused myself from the table, went to the bathroom and took a good look in the mirror. I did not, in fact, look like a wet dog. After pulling my hair off my face and securing it in a tight topknot (foolproof girl hair move), I went back to the party, got myself a glass of wine (okay, another one), and officially stopped worrying about how I looked.
And guess what? I had so much fun after I did that.
TELL ME: 
HOW DO YOU PREPARE FOR HOLIDAY PARTIES?
Guys! Have a question for SG HQ? Use #AskSG on Twitter or leave your style questions right here in the comments, and you just may see it answered in our new newsletter.