The Under $250 Gift Guide For Her
One and done gifts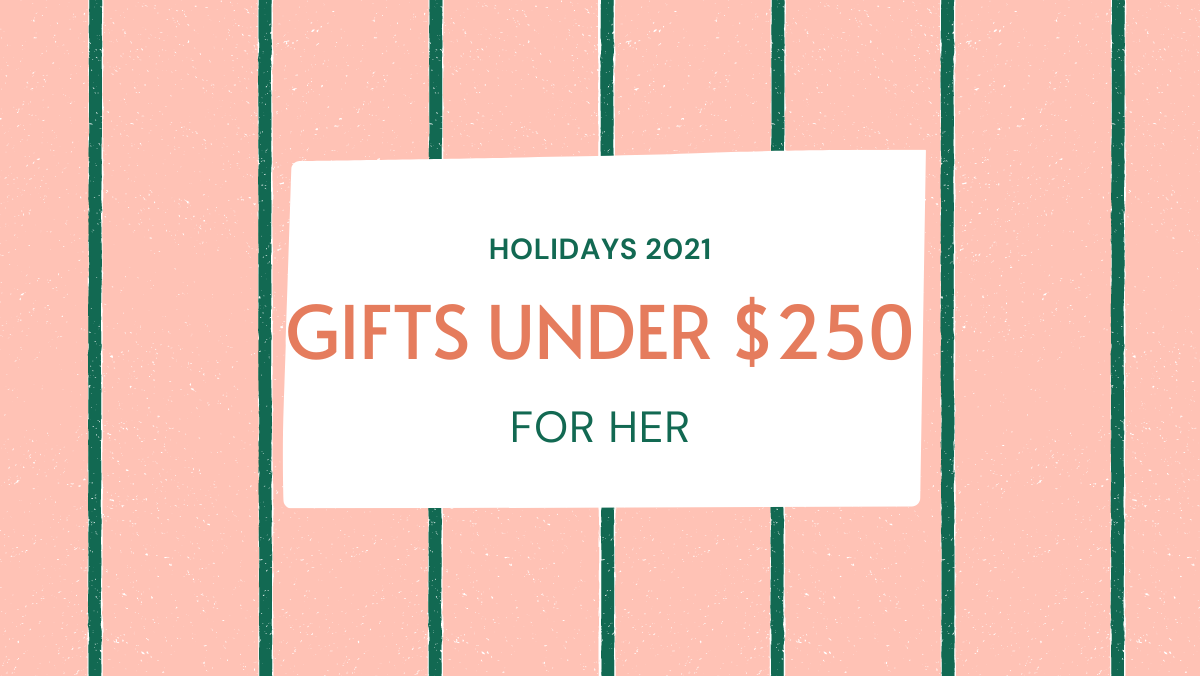 During uncertain times, it's good to go back to the basics. That's why this year, we went heavy on feel-good fashion in our annual gift guides, like this list of the best gifts under $250 for her.
All items featured on Style Girlfriend are independently selected by our team. However, when you buy something through our retail links, we may earn an affiliate commission.
---
There'll be plenty of time for beauty sets perfect for playing, and sparkly evening wear worthy of a big night out. This holiday season, you'll find stylish picks here on Style Girlfriend that will have you and your loved ones looking and feeling like a million bucks.
Think: cozy WFH-wear and luxed-up basics.
Whether you're an OG part of the SG community, or new around here (welcome!), get ready to knock out your holiday wish list and your shopping list.
Check out gifts under $250 for her:
top row: left to right
1. Everlane sweater, $195 — How cozy does this turtleneck in bright green look? Festive, too!
2. Dr Martens Chelsea boot, $150 — Chunky Chelsea boots are bringing out our inner riot grrrls. If your wife, girlfriend, sister, mom (??) has been blasting Olivia Rodrigo's album all year, these boots are the perfect present for her.
3. Skin x J.Crew robe, $210 — We almost got away with all under $200 picks for this gift guide…and then we saw this robe (and matching eye mask!) from the coziest collection with Skin for J.Crew.
So, if a lady in your life is robe lover, you can't go wrong with this decadent around the house wrapper.
middle row: left to right
4. Madewell crossbody tote, $188 — A good purse is like a good man…plenty of pockets to stash your things for you.
This Madewell bag makes a great gift who carries the world on her shoulders, and needs a place to put it all.
5. Karen Mabon pajama set, $195 — Our team loves how loud and fun and luxe-looking these pajamas are. A perfect holiday upgrade for your wife or girlfriend who constantly steals your old tees at bedtime.
6. Aurate signet ring, $150 — Aurate is one of our favorite destinations for ethically sourced fine jewelry. Designed and crafted in New York City, you get to gift beautiful, have it forever baubles without busting your holiday budget.
bottom row: left to right
7. Sorel boots, $130 — She'll be stomping her way into a (hopefully better) new year in these cozy, sherpa-lined boots.
8. Abercrombie & Fitch overshirt, $140 — If you haven't stepped foot in an Abercrombie store in awhile, now's the time. Affordable, stylish clothes perfect for millennials (yes, really!) like this plaid overshirt await.
9. Something Navy cardigan, $165 — Cardigans are back…if they ever really went away in the first place. This classic cable-knit cardigan is one of those closet staples she'll wear for seasons to come.
---
And a few more women's gifts under $250 for her from last year that are surprisingly still available this holiday season!
Why it's a great gift: Joggers aren't always sweatpants material, as this Paige pair shows.
These pants are great for when she wants to make a little effort, but still feel comfy as hell. A sentiment we are all waking up to more and more these days.
..
Why it's a great gift: Look at the model and what a fun time she's having in this sweater!
Plus, it comes in a few colorways, in case she's less into head-to-toe black than Team SG.
.
Why it's a great gift: We don't want to name drop, but Meghan Markle wears Rothy's. So…yeah. They're worth the splurge for getting her feet into royal-adjacent territory.
.
Why it's a great gift: We've been pushing this puffer in our "Gifts for Her" collection since the first cold snap.
With good reason! It's cute and fun and warm and proves our theory that Abercrombie & Fitch is totally back, babyyyyyy.
.
Why it's a great gift: We've said it before, and we'll say it again: matching sets FTW!
.
Why it's a great gift: Help her take on the January climate in cozy boots.
***
Shop all our 2021 holiday gift guides here!
I run Style Girlfriend, helping guys develop and grow their personal style, all from a friendly and supportive female perspective.