Her Perfect Proposal: Engagement Ring Shopping Guide
What Women Want You to Know About Ring Shopping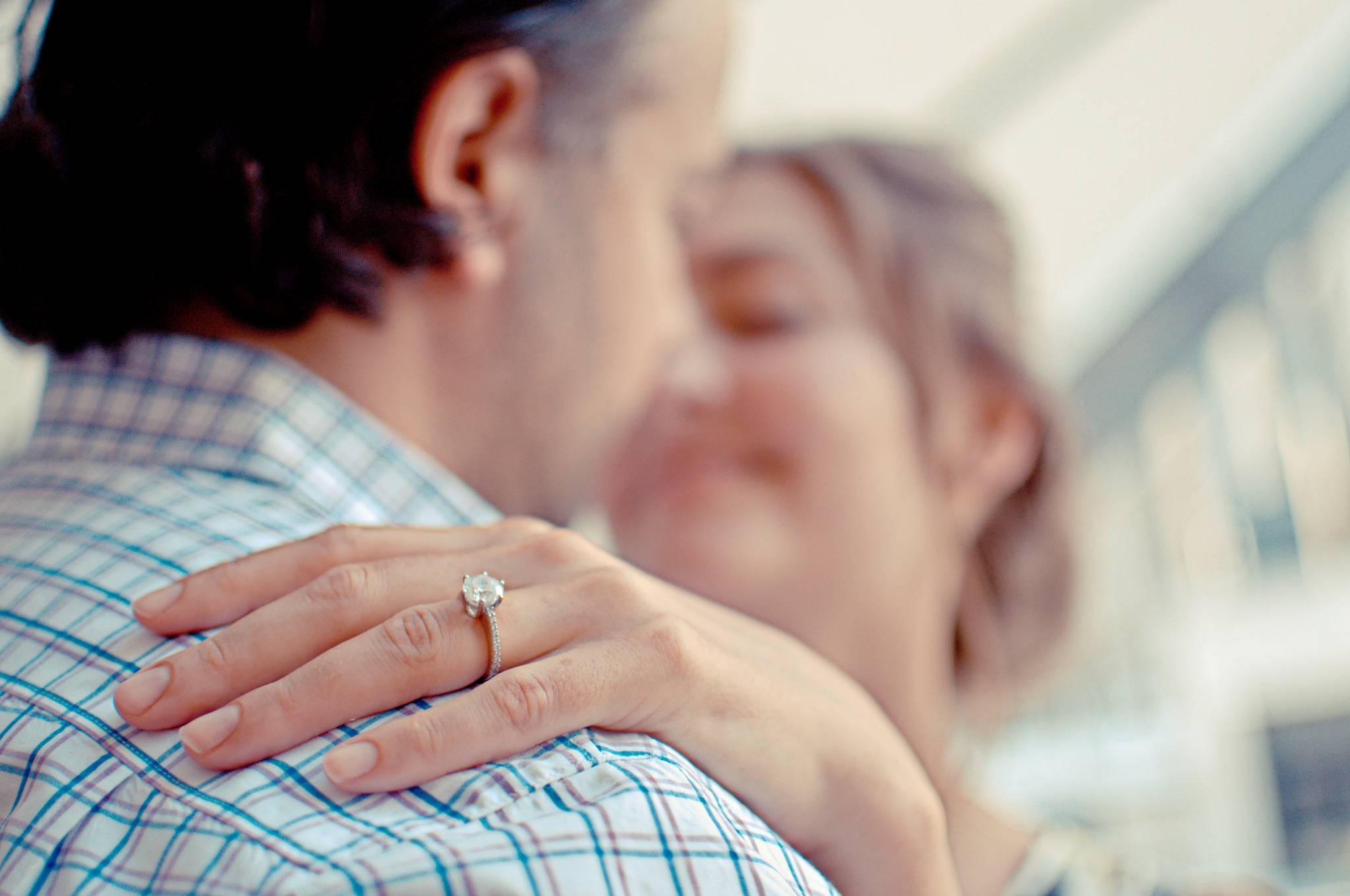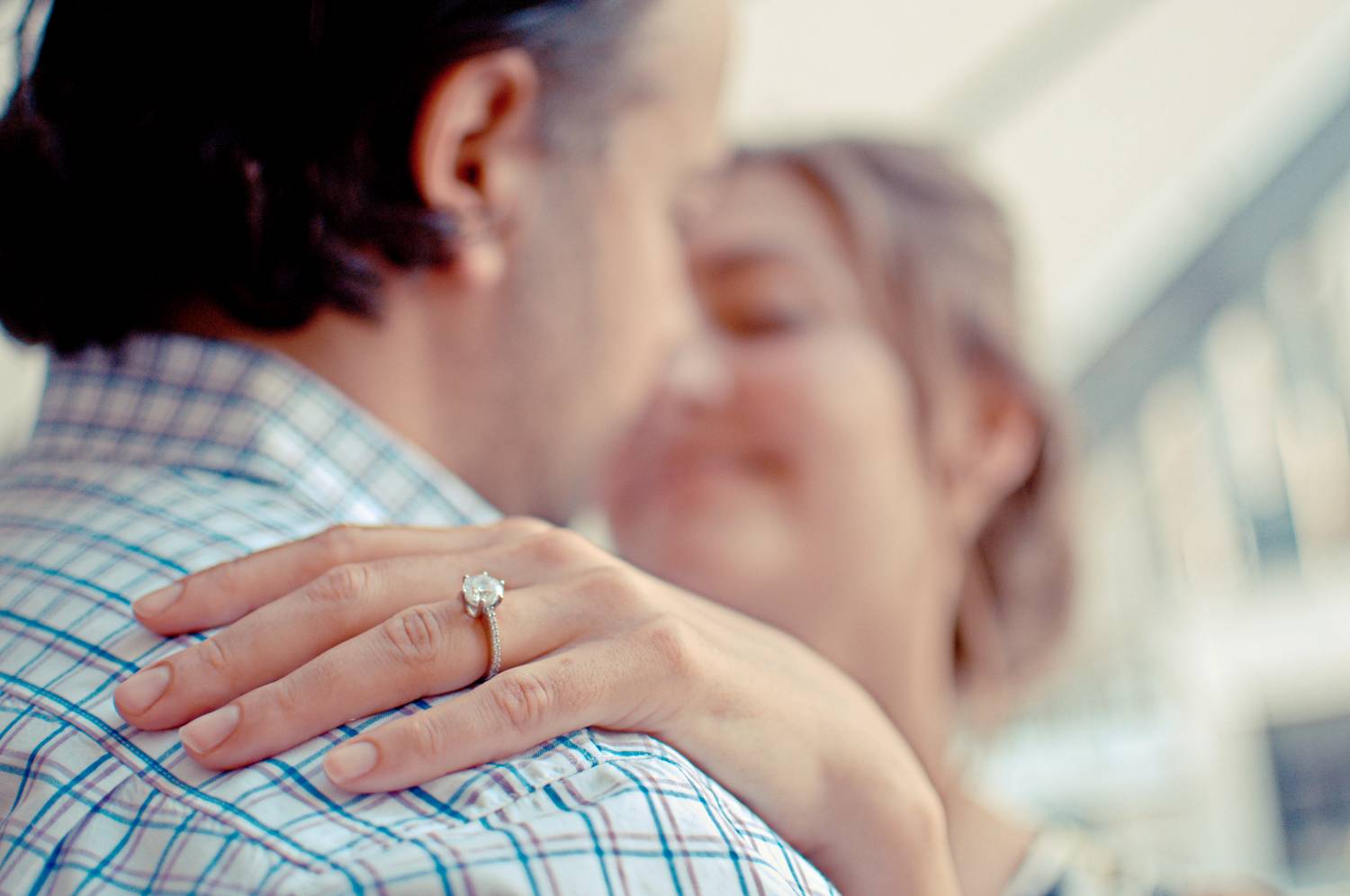 Thinking about making it legal with your lady? Then there's some engagement ring shopping in your future.
If your blood pressure's spiking simply thinking about standing in front of a sparkly tray of rings that all look essentially the same AND cost thousands of dollars, take a breath. We've got you.
Planning a proposal is stressful enough; choosing the right ring doesn't need to pile on more anxiety. So we asked real women–from a professional jeweler, to our friends, and even our moms–what they want men whose minds are set on marriage to know before ever setting foot in a store.
Of course your future fiancée is a unique flower, but some things are universal, so let these ladies help you seal the deal with your love, and get the right ring on her left hand.
Below, a leveled-up engagement ring shopping guide:
What to buy? Snooping is encouraged
This ring will (hopefully) be on your lady love's finger for the rest of her life, so it's pretty important that it reflects her style. Duh. Now, for the million-dollar question: What is her style? Don't panic. There are lots of ways to figure this out without giving away your pop-the-question plans.
First and easiest step? Observe. What kind of jewelry is she wearing right now? Is it delicate and simple, or does it make a statement–as in, can you see it from across the room? Is it gold, rose (pink) gold, silver, or white gold, which looks like silver and is the norm for cool-colored metal rings? Secretly sneak a peek in her jewelry box and take stock. Chances are you'll start to see a pattern of the type of jewelry she prefers.
Fit tips:
As long as you're poking around her jewelry, use the opportunity to figure out her ring size. The last thing you want is do is propose with a ring that won't slide onto her finger—that would really ruin the moment.

Try to find one she wears on her ring finger (since different fingers are different sizes) and trace the inside on a piece of paper so your jeweler can measure it.

Remember, you can always have a ring adjusted after the fact, but it's much easier (and cheaper) to make it smaller than it is to add metal to the band, so err on the large side if you're unsure. This is the one and only time you're allowed to OVERestimate her size.
If you need a second style opinion, seek out your girlfriend's sister, best friend, or mom, and let them in on your plans. Not only will they feel super special to be in the loop, but chances are they've had at least one (if not hundreds) of conversations about what your girlfriend wants in a ring, and can fill you in. They might even volunteer to hit up the jewelry store with you and point out some good options which will make your job that much easier.
And finally, if you really want to be positive she gets the ring she loves, Danielle Mainas, Founder of Little Bird, a diamond and engagement ring consulting company, says, simply, "Ask her!"
Think of it this way

:

If you're in a serious relationship, your girl has definitely thought about marrying you, so why not just bring it up? It doesn't mean that the when and how of the proposal can't still be a surprise, but getting a general idea of what she's looking for in a ring (from her!) could avoid so much grief for both of you.

Debbie Linton, who's been married for nearly 40 years, points out that shopping together is actually a chance for even more romance, "I think the idea that a prospective spouse would like to be surprised with a ring during the proposal is a myth. Going to the jewelry store as a couple can be a romantic experience, and choosing the ring together will ensure that it meets their hopes and dreams."
Consider the source
You want to know the symbol of your happy marriage was mined responsibly. Thankfully, the diamond industry has been making major strides on that front, with social impact programs helping communities where they do business.
Case in point: Diamonds Do Good, a platform dedicated to celebrating those companies working to promote sustainability, health, and education in diamond-producing countries.
Like the DiamondEmpowerment Fund, a non-profit organization providing scholarships for youth in regions that might otherwise never have access to higher education, or community outreach programs, like sports teams for Russian children in partnership with diamond miner Alrosa, mentorship programs in India from diamond company Rosy Blue, or diamond miner De Beers' small business development in Southern Africa.  
So what can you do? Choose to buy a diamond from a reputable company who treats its workers well and holds itself accountable for its environmental footprint.
Alrosa, for instance, employs miners in the town of Mirny—the center of Russian diamond production—year-round despite freezing cold conditions that often shut down work opportunities at other companies, with salaries that are several times what an average Russian worker earns, and they have three month of paid vacation to boot (which seems pretty necessary when working in a place that has "permafrost" whatever that it).
Shop smart
First, consider going vintage. Since diamonds literally last forever, shopping for an antique bauble means you not only get to repurpose a stone that's already on the market (instead of supporting possibly questionable mining practices), you also get a ring with a history. Indeed, many women would prefer to have a unique, one-of-a-kind ring with a previous owner who loved it as much as they will.
Jewelry designer Anna Sheffield points out that, just like your bottles and cans, it's always smart to recycle your ring components. "Any instance where the stones can be antique or estate, reclaimed and the metal recycled," is a chance to not only get a great ring, but also feel good about what you're buying.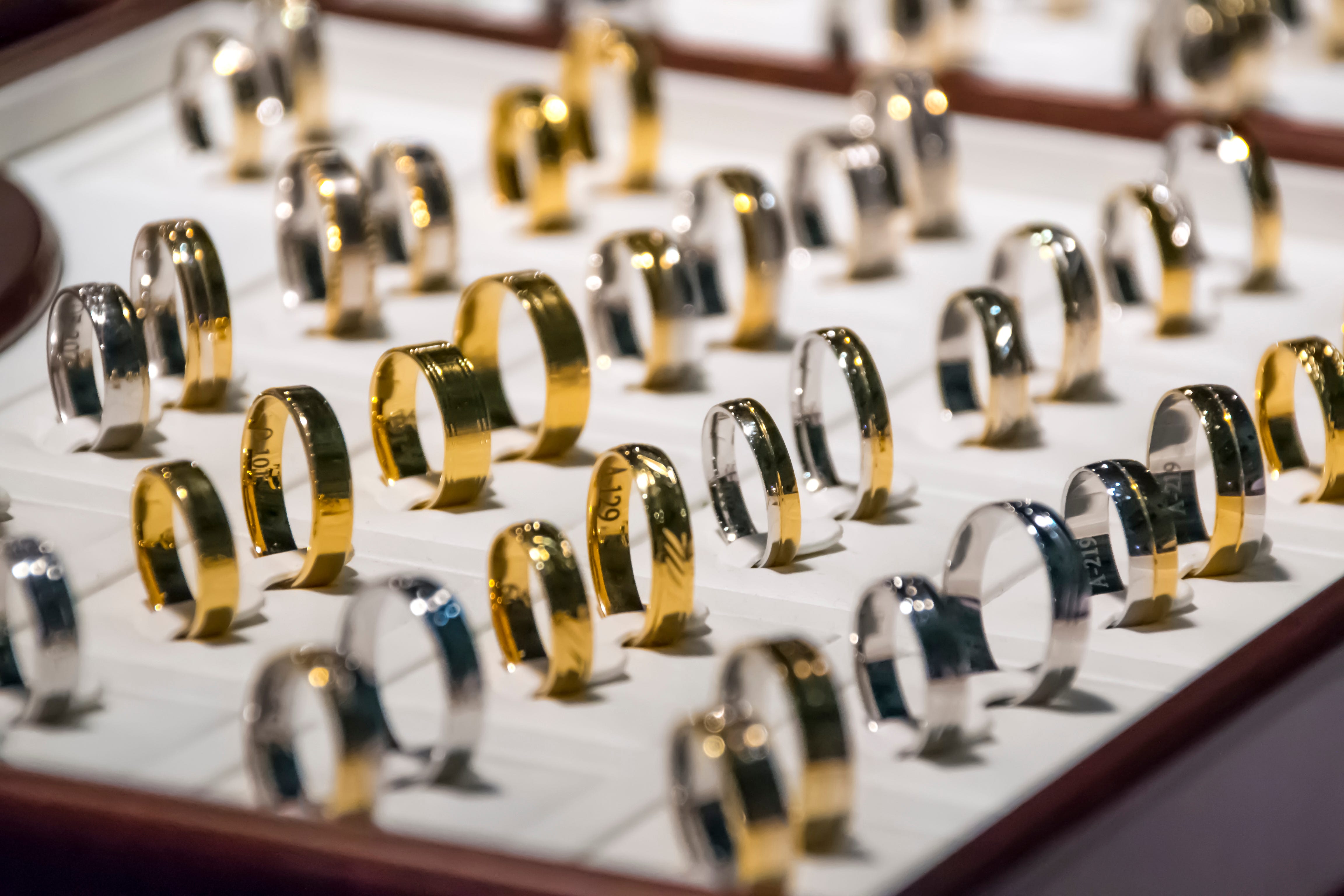 Maybe you lucked out and your mom recently pulled you aside to ask if you "needed to use" Grandma's ring anytime soon (hint hint). Let us tell you right now: the answer to that is always yes! Even if it's not your style. Remember, any jeweler can transfer the diamond from Grandma's ring into another setting that's more appropriate for your future fiancée.
If you want to stick with a modern ring, make sure to do your research. Turns out, simply relying on the label of "conflict-free" isn't quite enough since the term isn't always regulated.
Talk to your jeweler and ask that any diamond he shows you be sourced from a reputable company because spending your diamond dollars on the right rock is super important.
This is an emotional purchase, and it's worth a little extra effort to make sure the ring you buy is good for you and good for everyone else who touched it along the way. As Katie Oren, 33, a California-based sales manager married for four years told us, "Shopping with diamond responsibility in mind says that you have a vested interest in things bigger than just the ring."
It's not all about the size (or price)
Your girl is smart enough to know that the size of her diamond doesn't equal the size of your love. There are lots of tricks to getting a beautiful ring on a budget. Let's start with the big C, carats. Diamond size is classified by carat weight, and each bump in weight means a bump in price. So how do you avoid that price jump? Stop short juuust before the bump. Maines says if you're trying to save money, always pick a stone just shy of the next tier–it won't look that visually different, but it will be much cheaper.
"The major carat weight marks [are].5, .75., 1, 1.5, 2, etc," she says, "So a 1.37 carat is going to be a way better deal than a 1.5 carat."

A few more things…
Another trick? Combining several diamonds rather than one big one. "If you have a super tight budget, seek to spread the carats out into multiple smaller diamonds or gemstones for a funky, badass, cluster look" says Mainas.
Just as you always suspected, it's truly not the size that counts but the quality. Mainas says, "Is the number of carats important? Nope. Not. At. All. But the way a diamond spreads out and reflects light back is super important. So, choose high cut grades. The term "good" is almost never okay when you are looking at a diamond certificate." The minimum you should consider according to Mainas? A classification of "very good." Sounds–ahem–pretty good to us.
And the old adage that dictates you should spend two month's salary is horribly out of date, phew! These days, there's no longer a set amount you "should" spend. With so many styles of rings available, the one you choose should have more to do with style, not simply hit a max price. Of course you want to get your girl a beautiful ring, but you should never feel pressure to spend more than you comfortably can.
Little Bird's Mainas always gives this advice to her clients, "Before you even say a number out loud, think about what is truly a-okay for you to part with right now. Don't get a loan. And don't spend an amount that she would be freaked out by if you plan to share finances in the future."
Kristin Wyosnick, a Chicago lawyer who's been married for five years, agrees. "I would be pissed if I found out he spent a ton or drained his savings on it." You're a team now (or will be soon enough) and it's important to be responsible with your cash, even when buying something for the other person.
Jewelry designer Sheffield points out that not everyone wants a huge, hulking diamond ring. "I feel like beauty is in the eye of the beholder, when it comes to shape and size. Diamonds are a spectacular material, they can be perfect and perfectly imperfect. In this day and age, [it] should be a consideration of the scale of the finished ring you really want to wear every day."
And remember…
Don't forget that this ring needs to be comfortable and easy to wear all the time (while doing everyday tasks like typing or driving) so bigger is not always better. Anne Helen, a homemaker from Chicago, told us she had to lower the setting in her engagement ring, because the diamond was set too high. "When I ruined my fifth sweater, I decided to take action." Turns out for some, a smaller stone is good for both her hand and your wallet, so rejoice!
Feeling calmer? Stronger? Ready to shop? You may never understand the giddy fervor a few sparkly rocks can create among the ladies, but a little knowledge can help you approach the jewelry store counter with confidence, leave with some cash left over, and know that you made an ethical choice that your lady can wear with pride.