Stylish Holiday Outfits for Guys
Look festive without going overboard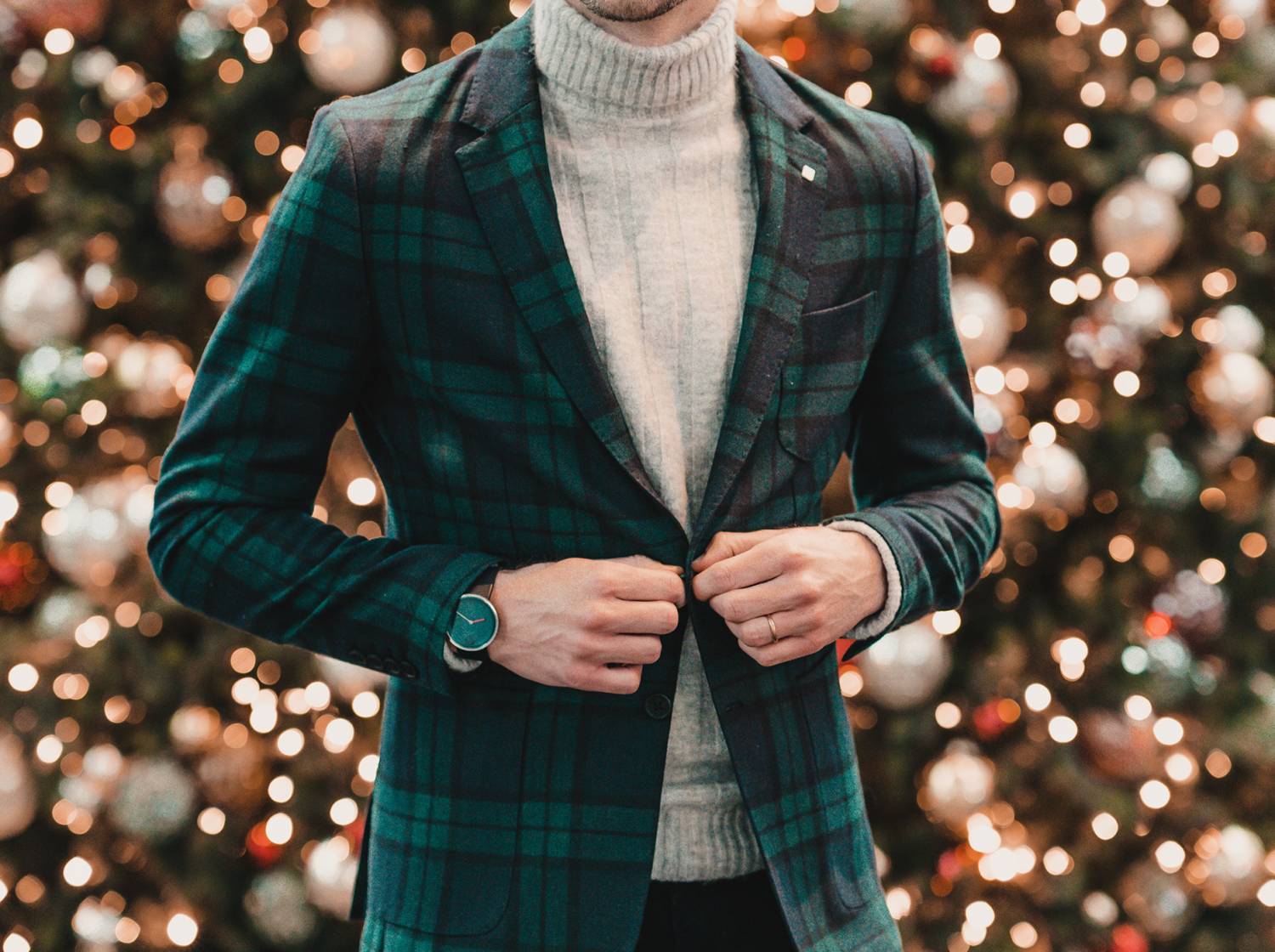 Putting together a holiday outfit for guys can feel like a daunting task. How do you like festive, yet appropriate? Dressed up, yet comfortable? Don't worry, Style Girlfriend's done all the hard thinking for you.
Below, check out stylish and festive outfit ideas for guys this holiday season:

Holiday outfit idea: Wear a Fair Isle sweater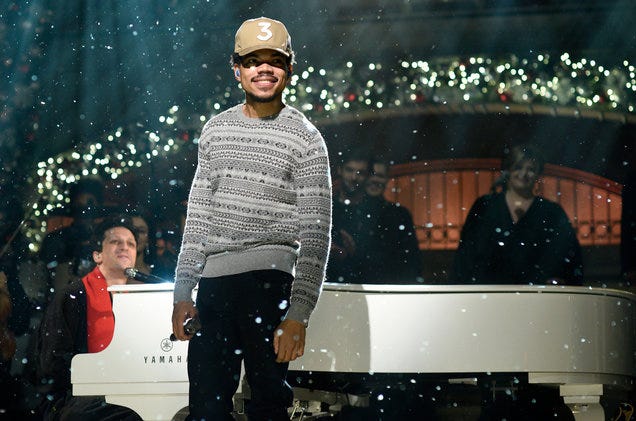 Chance the Rapper knows that Fair Isle is always a good idea at the holidays. Layer in cozy and colorful additions with a patterned shirt and colorful accessories.
Embrace the festive patterns and textures of the season in an office holiday party outfit no one will forget.
How to wear Fair Isle in a holiday outfit
Of course, embracing the spirit of the season doesn't mean you want to look one sleigh short of becoming Santa's little helper—nailing the holiday vibe is all about elevating the typical party look, and wearing your look with confidence. Very important when you're wearing plaid pants and a velvet bow tie.
How to nail a holiday party vibe
The reason these looks work is when the colors are festive without turning obnoxious. Sure, you're rocking a lot of green, but it's forest green. Yes, you've got red velvet on, but you look sophisticated, not cheesy. Way more subtle, no? And if that dinner jacket called to mind Santa's suit, you might be in trouble, but as it is, the whole ensemble reads sophisticated yet seasonal.
What to wear to your office holiday party
This year, be the talk of your office holiday party…in a good way (looking at you, Larry from accounting who drank the entire punch bowl of egg nog last year). Embrace the festive patterns and textures of the season in an office holiday party outfit no one will forget. 
Holiday outfit idea: crushed velvet blazer
SG Says: Nothing says festive like a forest green velvet sport coat, amirite?
Sure, you'll be trading gifts with friends who'd love you even in your Christmas morning jammies, but that doesn't mean you should schlep out. Go hard or go ho-ho-home!
What to wear for a family holiday get-together
A festive outfit for your family dinner doesn't require raiding Cousin Eddie's closet or buying a yearly "this is my holiday sweater" sweater (not that we're knocking stylish annual knitwear purchases, though).
Instead, opt for a simple look that's serving up enough layers to hide your second, third, or fifth helping of holiday ham, while still looking stylish enough to steal the spotlight in your family photos.
Holiday outfit idea: Festive-colored cords
SG Says: Pops of red say "Let's celebrate!" while corduroy pants and comfy boots say "Pass the pie."
Think of it this way: You want to look like you tried, but also be able to go back for seconds.
Holiday outfit idea: All bundled up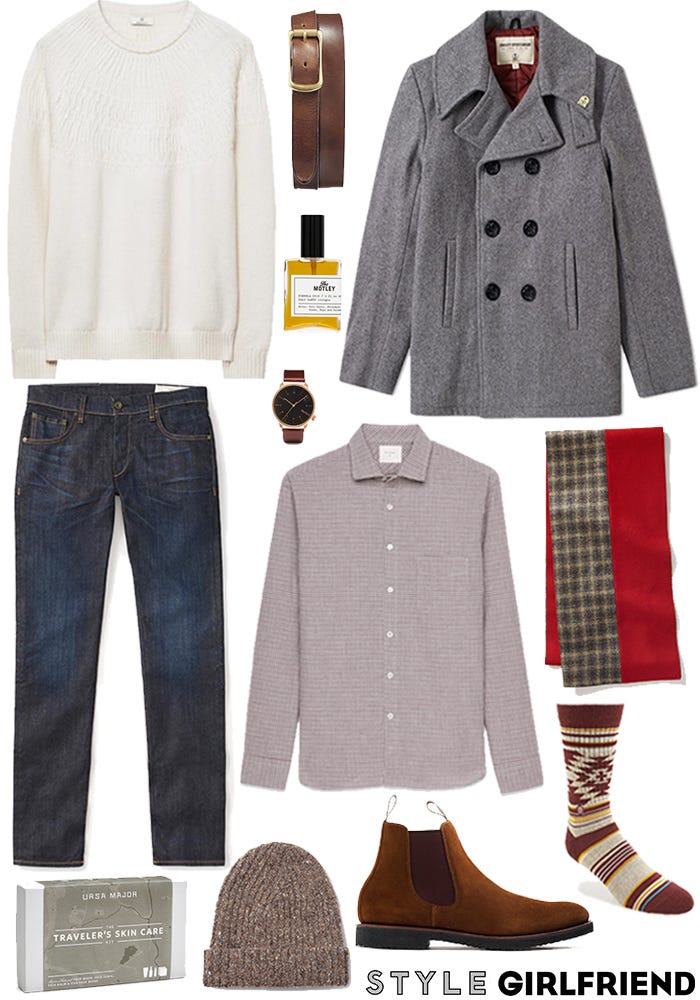 SG Says: This would make a great caroling outfit, or maybe to an outdoor ice skating rink (brrrr).
What to wear to a fancy holiday party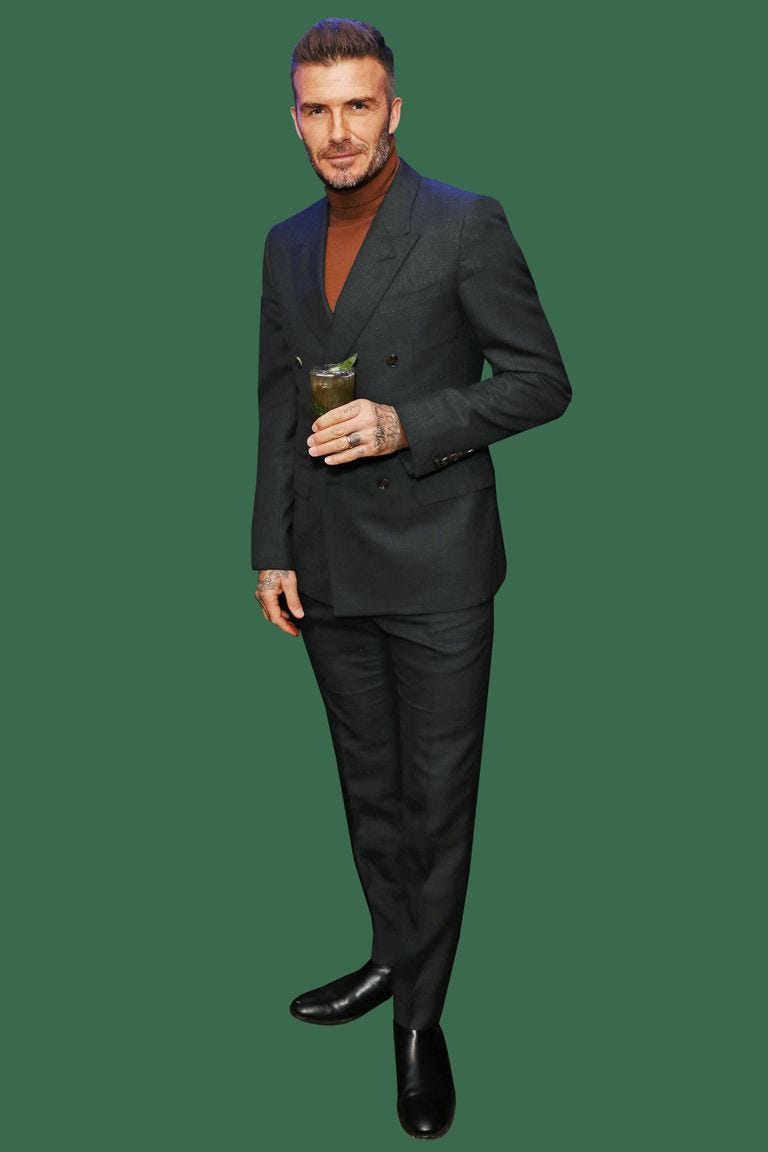 It's the most wonderful time of year again – you know, when friends gather for spirited celebrations full of libations and maybe a reindeer antler hat or two. This year, keep the champagne (and your look) popping with a festive plaid suit at your friend's fancy holiday party. You can consider this bold patterned suit your shortcut to elegant-meets-badass style that's ideal for any setting…outside of the boardroom.
Whether you're a pattern aficionado or just trying to kick your suiting game up a notch, you can easily style a plaid suit with a staple striped dress shirt and knit tie that you already have on hand. But remember – pair your suit with a shirt that has a smaller scale pattern in a complementary color to avoid clashing. When it comes to accessories, follow the less-is-more mindset and you'll look refined yet primed for a good time.
Holiday outfit ideas: Taking things up a notch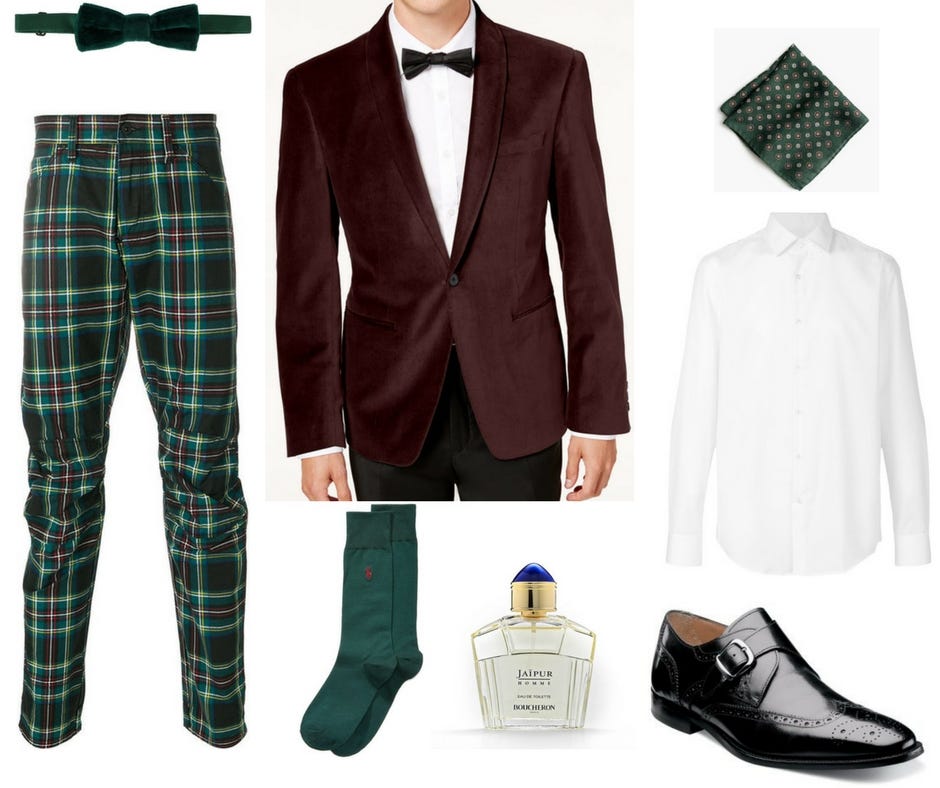 SG Says: Tailoring becomes a main focal point when patterns are added to the mix – especially when your festive look will draw a few extra eyeballs. A tapered and relatively slim silhouette will ensure you wearing the clothes, and not the other way around.
SG Says: Go all out in a patterned suit! If not now, when…right?
Pick out a patterned suit in a darker (think: brown, navy, or green background) wool plaid for the fall and winter months and save bright patterns for spring or summer.
While a slim fit is necessary to ensure an updated silhouette, it's also important that your suit has a contemporary cut meaning a natural shoulder, tapered pant, and light construction.
Holiday style tips
Lean on re-wearable pieces. Instead of one-time-a-year outfits, go for basics that looks festive when paired together but regular ol' stylish when apart.
Now go and belt out Mariah Carey's "All I Want for Christmas is You" with Jan from project management like we know you want to.
***
Want help putting together your own holiday outfit for guys? Team SG can put together a customized shopping plan for you this season!