Welcome to Reboot Month on Style Girlfriend!
Let's kick off the new year in style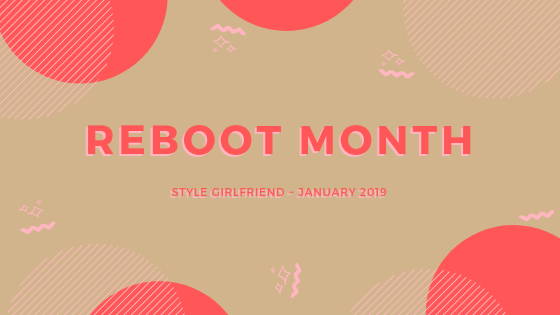 Welcome to No Jeans January, and our inaugural themed month on Style Girlfriend!
If you're a regular reader, you know that the first of January kicks off our annual denim detox. Thirty-one days to just say no to jeans in favor of…pretty much anything else, all month long.
Let's be real. Every single one of us has been guilty of falling into a style rut, especially in the winter months. When you wake up in the dark and the temperature clocks in just below "Donald Trump trying to grab his wife's hand," jeans just feel easy. Easier, certainly, than really thinking about what you'll feel comfortable in and look stylish wearing that day.
But here at SG HQ, we've found that the more you throw on "whatever," the more "whatever" you feel in (and about) your life. Indeed, making just a small extra effort—we're talking, chinos-level effort—yields a dose of confidence that takes you from whatever to "What's up motherf*ckers, are you ready for me to kick this day's ass or what?!"
So we're detoxing from our denim habit to reboot our style in the coming year—and we want you to join the challenge.
How to improve your style, and more, in 2019
But this month isn't only about refreshing your wardrobe. This year, we're using the New Year's resolution-adjacent motivation as a springboard to challenge you to think more broadly about how to "reboot" your life in 2019.
The interesting part of No Jeans January has always been the reflection it reflexively causes. Because it's not just about "not wearing jeans." It's about figuring out what else from your closet you want to wear. What makes you feel handsome and cool and excited to leave the house.
> Check out our tips on how to dress well in 2019
When jeans aren't an option, you wind up pulling old pants from the farther reaches of your closet. Sometimes these old pants still fit you, your body, your personal fashion sense, your lifestyle, and you've made a great discovery.
…And sometimes, well, sometimes they don't.
Which is okay too! Finding out what doesn't work for you and your lifestyle any longer helps you free up room in your closet for clothes you'll like more and feel more confident wearing.
By removing your go-to option, you're by default forced to reassess—and reboot—your style with more intention in 2019. No more letting old pants fester in your wardrobe that don't serve you.
Which brings us to a bigger question:
What are the "old pants" in your life that aren't, y'know, actual old pants?
Maybe it's a job that no longer suits you. Or a relationship that's run its course. Perhaps that relationship isn't one with another person, but the one you have with eating. Or exercise. Or self-care.
If TV reboots are having a moment, we say it's time for your own in 2019. If you're ready and willing, we're giving you the green light to proceed past pilot and go straight to series. This is You: 2019! How big and badass can it be? Only you can write the script.
So this month, we'll be focusing on reboots big and small, from our team and from you, dear reader.
We've been gleaning wisdom on what a reboot looks like when it comes in the form of a layoff you didn't see coming, a weight loss journey that kicked off a whole smear of other life changes, fresh pics for your dating app profile, and way, way more.
Stay tuned, because it's going to be good.
Oh, and if you wanna, let us know in the comments below what themes you want to see us tackle in 2019.