How to Wear White All-Year Round: The Guy's Guide to Style
A snowy hue to sport 365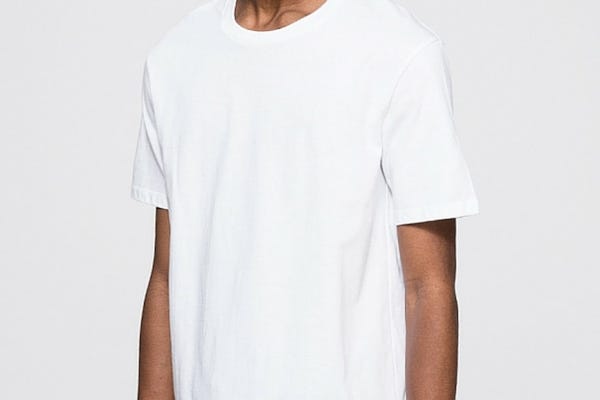 Prime your closet for more color with this series of guides for bold shades. SG HQ is breaking down how to wear stylish hues (like how to wear bright white!) with easy color combinations and outfit ideas for guys.
---
Catch up on bluebird blue, amber orange, lavender, army green, salmon, slate, blood orange, sharkskin, gold, teal, khaki, merlot, red, evergreen, cobalt blue, mint green, orange sorbet, yellow and navy.
---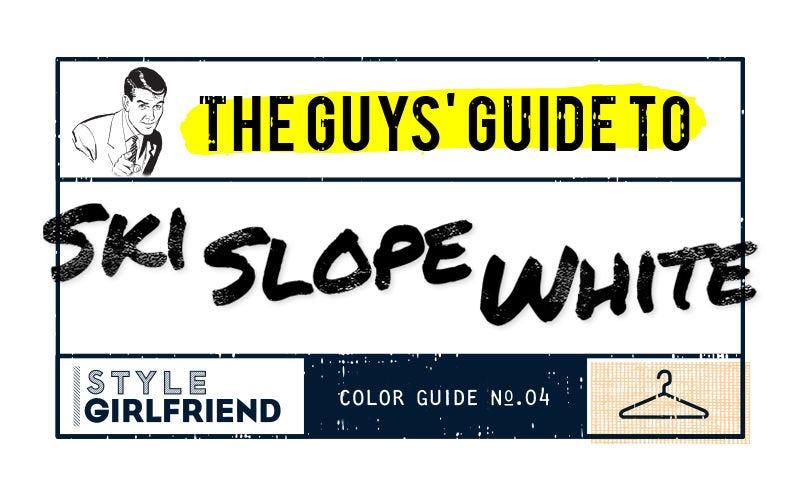 How to wear white
Yes, white is a scary wardrobe color. It attracts every dirt particle and errant drop of mustard within a four-mile radius. Of course, we're all adults now, so perhaps it's time to learn to wear bright (think freshly powdered ski slopes) white without fear…and without making a total mess. After all, white is the neutral of all neutrals. Meaning? It's a killer color to build an outfit around.
Below, what colors to wear with white: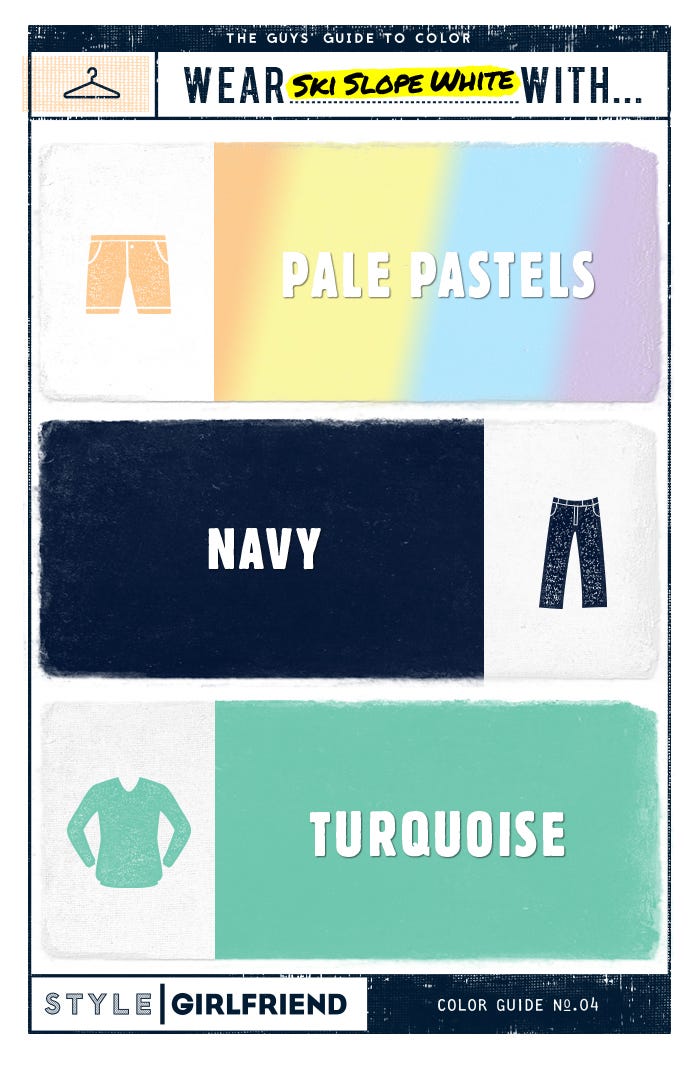 What to wear with white
A spankin' clean white works pretty much any time. It's all about choosing the right pieces, in the right weights.
Of course you can use a plain white pocket tee, but to make it #fashion, look for one with a slightly weightier knit than your standard Hanes—it'll hold its shape better in the long run and stop you from looking like you left the house in an undershirt. And what about sweaters? Do you trust yourself? If so, you'll want one for winter, and one for summer. Denim, too.
Are you excited? We're excited. So let's get going.
// How to wear white jeans in the summer //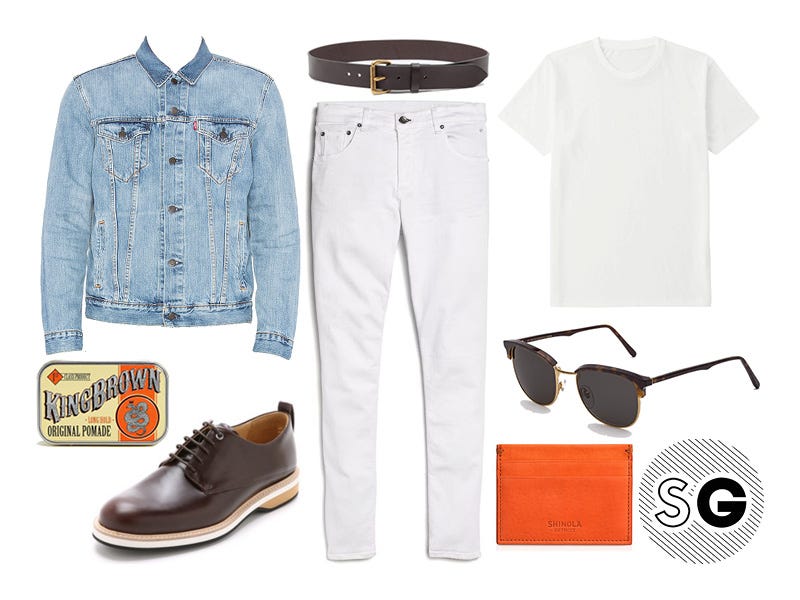 SG Says:
// How to wear white jeans in the winter //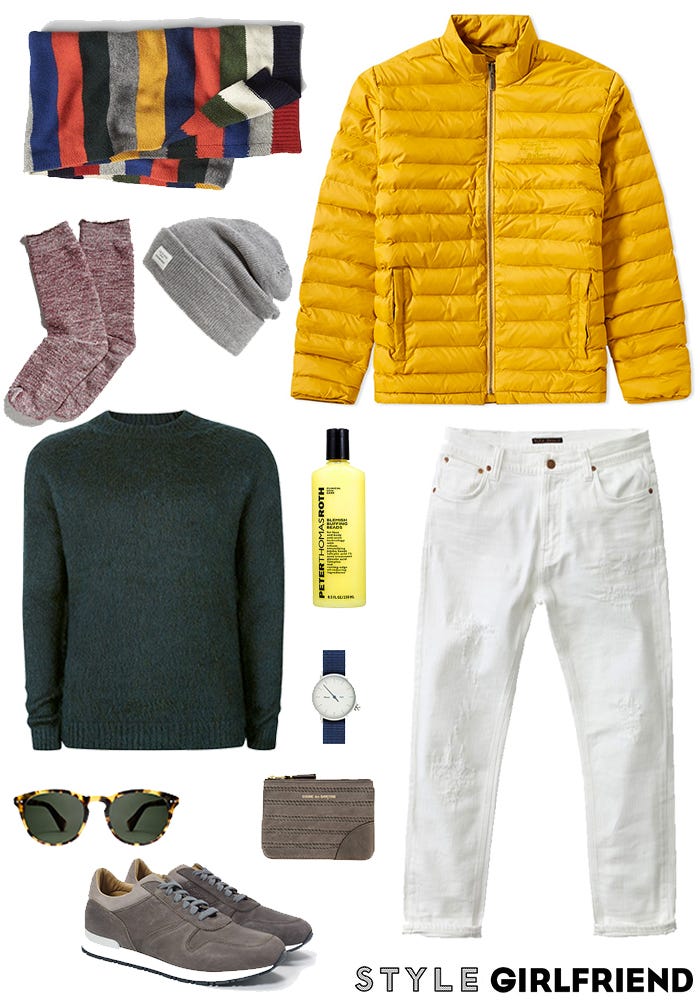 SG Says: Yes, you can wear white jeans in the winter, too. How to do it without looking like you wandered away from a Jamaican getaway? The material. If your summer whites are more lightweight, it would be a good idea to invest in a second pair for cold weather. This pair should be made a little sturdier (denim or twill pants both work) than your summer pair of white jeans.
You can even go for a pair that's a little off-white to ensure you don't give off a "confused about which season it is" vibe.
// How to wear a white sweater in the summer //
SG Says: Sure, okay, this sweater has a faint oatmeal stripe to it, but let's just agree to call it white. Notice how the weave looks nice and lightweight? And paired with a brown belt and navy pants, it looks totally appropriate for work or a weekend date.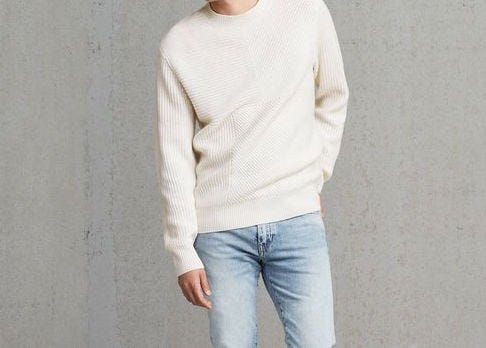 SG Says: Now that's a winter white sweater. Notice the heftier weave…it just looks more cozy than the sweater above it, doesn't it? This thickness is what separates your summer sweaters from your winter ones. Even if you don't know much about fashion, you'll be able to tell which is warm enough to wear in sub-zero temps as soon as you pull it on.
SG Says: Here's another great winter white sweater. The cable knit really gifts it a hefty, hearty feel.
// How to wear a white polo shirt in spring and summer //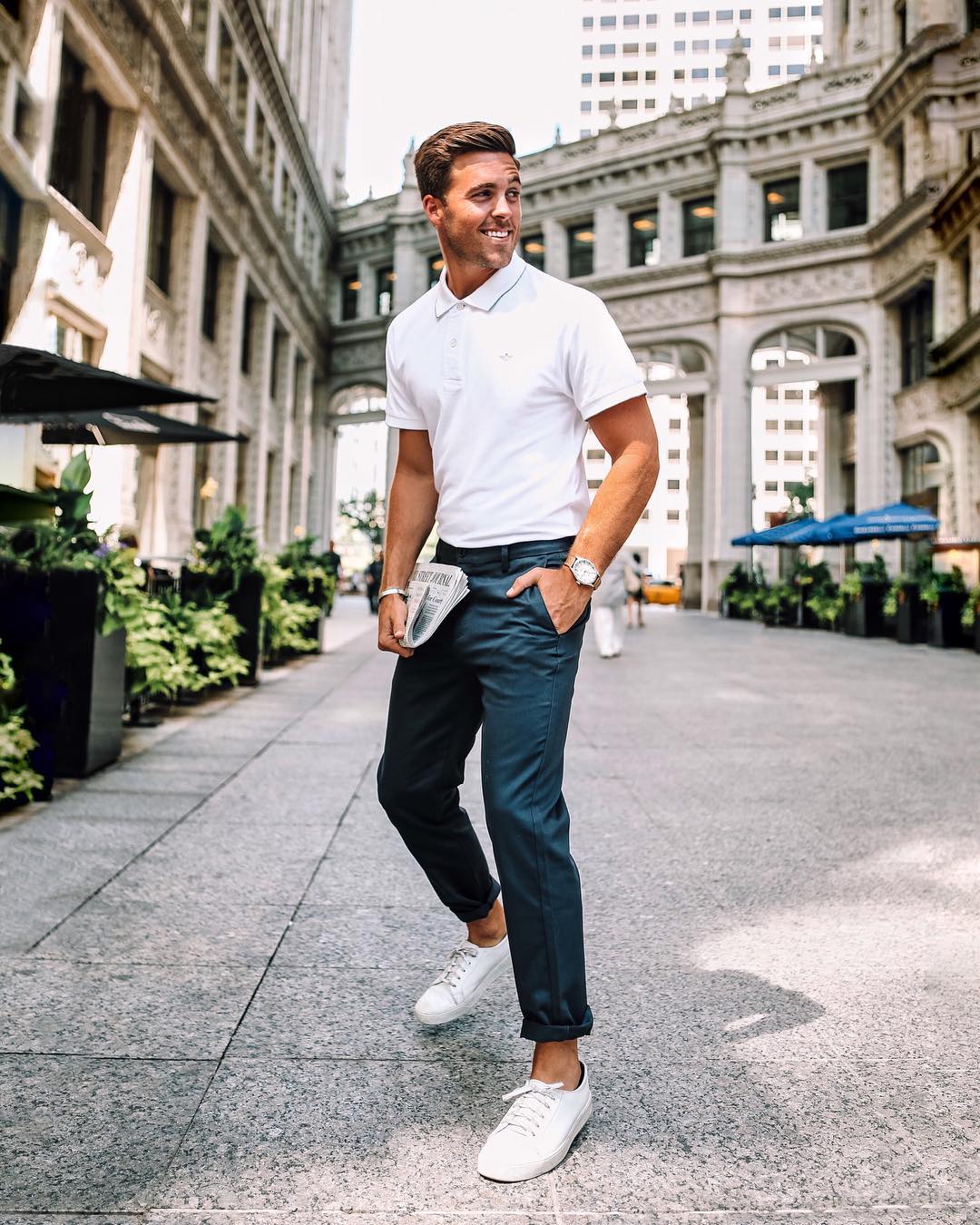 SG Says: Keep a white polo on hand for casual Fridays or upscale brunch, and remember you can never, ever go wrong with a lightweight white linen button up and a pair of broken in jeans. Fashion blogger John Phillip shows how it's done, above.
// How to wear white at the office //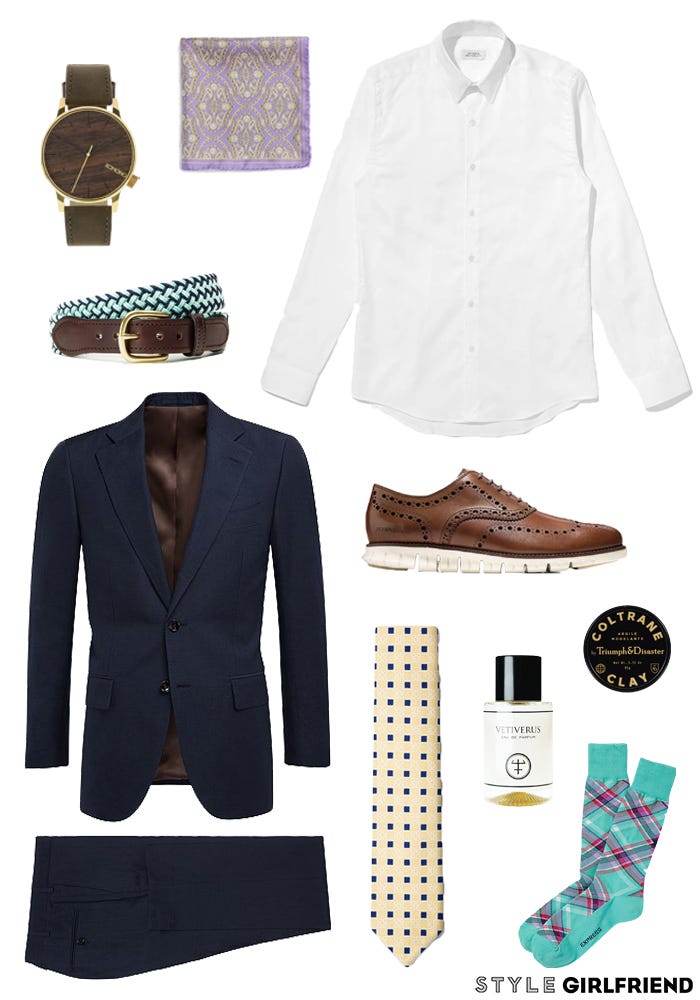 SG Says: Like we said: White is the reigning king of neutrals, so you the possibilities are endless. Where are a few hues we recommend you challenge yourself to incorporate in the coming months like navy, turquoise, and anything in the pale pastel zone (nope, not just for Easter!).
A classic white shirt of any style works perfectly with a colored pant, too: We're digging a mint chino these days—and you can always mix things up with a colorful printed pocket square or a solid skinny tie.
// How to make a white t-shirt look more interesting //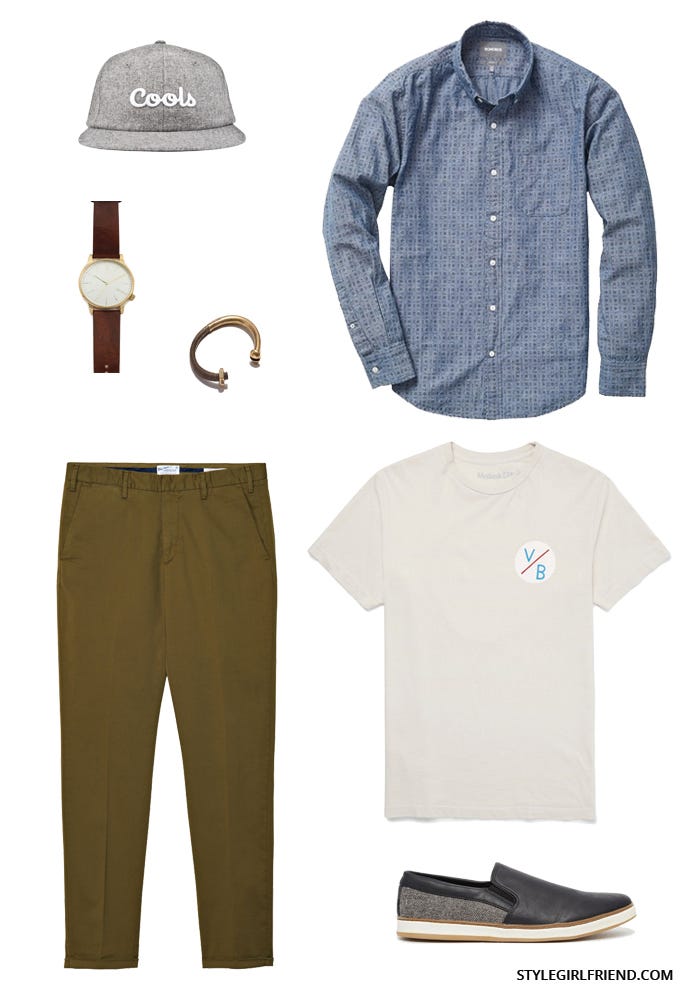 SG Says: Mix unexpected elements like cropped trousers and an eyelet chambray shirt to make a basic white tee feel anything but.
// What to wear with white sneakers //
SG Says: This one is a no-brainer: White—in basic wardrobe staple styles like tees, collared shirts, and casual button ups—can go anywhere.
The one time you might reconsider that rule is if you know for certain sloppy sauces, the arch nemeses of clean clothes, is going to make an appearance. But barring a barbecue, you're good to go from weddings to weekdays.
***
Ready to freshen up your style?

If we've convinced you it's time to level up your color game, but you dread the thought of shopping for new clothes…why not let Team SG shop for you?
Let us rescue you from shopping fatigue and sartorial apathy. With our online personal shopping service, we can promise the kind of dedicated attention that will make you feel like the best, most stylish version of the awesome guy you already are! We'll also help you figure out how to wear your new clothes with the things you already own.
If you're ready for a shopping plan that'll save you time, energy, and your sanity, give us a shout.
***
Want more everyday style? Listen to Style Girlfriend's Undressed podcast (and subscribe!).