Introducing: The Uniqlo & Style Girlfriend 2018 Spring Style Guide for Guys
This is big.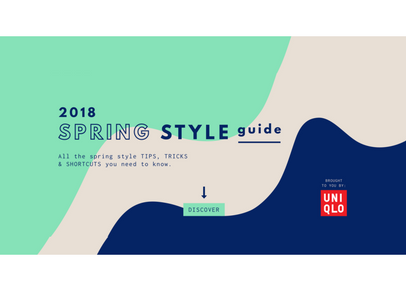 Guys!
Guys.
GUYS.
I am so excited to share with you our 2018 Spring Style Guide for guys.
Presented in partnership with our friends at Uniqlo, this thing is chock full of tips, tricks, and shortcuts to nailing your wardrobe for spring. From prepping your closet for new purchases, to wearing the color of the season (*looks right, looks left…it's LAVENDER*), SG has you covered.
Over the last month, our whole team has been working really hard to make this project come together. So please, go check it all out and let us know what you think.
Personally, I'm crazy about how it looks, aren't you?
The whole shebang was designed by the very talented Holly Whittlef, a friend and designer based in the Midwest (because #Midbest).
We've got Gabi throwing down a 5 Days 5 Ways feature, a fan favorite I know you guys love. She's showing off one of our favorite fabrics for spring, while Taylor pulls up with a hot take on spring break style for our college readers, and another for our golf fan fanatics.
You'll find a few color guides highlighting how to wear our fave hues for the spring season to work/school and on the weekends. And of course I'm mixing it up in here, opining on one of my favorite topics: light outerwear. Are we talking jean jackets? You bet. Sporty parkas? Uh huh. An iconic Harrington jacket or two? You better effing believe it.
If digesting all of this juicy spring style goodness at once is too much for you, don't worry. I mean, I get it. I too have only so much time for one online destination's #content before moving on in my daily rotation (NYMag, The Ringer, and TechCrunch..all while playing The Daily in the background…yeah, it's a lot) before heading out the door for the day.
We'll be bubbling up these stories here in your feed over the next two weeks because we know that you, like Steven Tyler, don't want to miss a thing.
Peruse at your leisure, and a huge thank you to Uniqlo for helping us put this great stuff in your eyeballs!
x, Megan
***
Feeling spring style overwhelm? SG can help

If you're ready to upgrade your style for spring (and summer, too!) but dread the thought of shopping for new clothes…consider having Team SG shop for you! We're obviously biased, but clients tell us we're really great!
Let us rescue you from shopping fatigue and sartorial apathy. We can promise the kind of personal attention and care that will make you feel like the best version of the awesome guy you already are! Ready to seriously improve your closet and your confidence? Give us a shout.
> Follow Style Girlfriend on Pinterest for all our best tips and tricks!