It's Not Goodbye, It's Just See You Later
A bittersweet farewell from the summer interns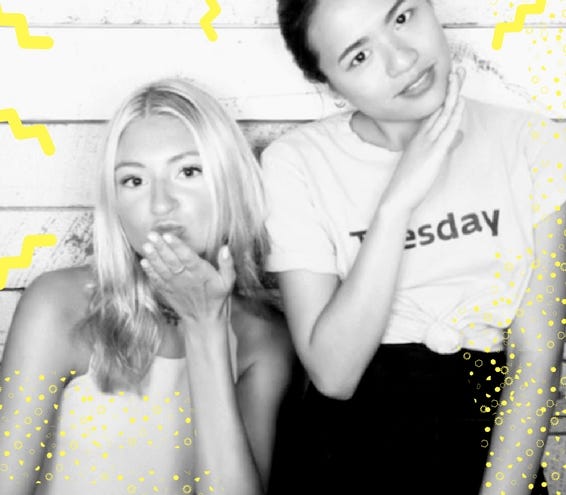 Hi guys!
It's your summer interns here: Amanda and Bettina. With heavy hearts, we're closing our computers and heading out of Style Girlfriend HQ for the LAST TIME. *Cue the waterworks* we know!
We wanted to share our favorite memories of our time with Style Girlfriend, drop knowledge on what we learned along the way and of course, make a video montage set to a killer song (thanks for your recs last week!).

And remember: it's not goodbye, just see you later…
AMANDA
Oh, where to begin…I've learned so much from my first day here at Style Girlfriend in May. From learning the in's and out's from Brittany to getting to crash fashion shows and attend the coolest events all over the city. #TBT to when Bettina and I got to practice our form and have our first TopGolf experience with Linksoul (and actually did surprisingly well towards the end!)
Besides getting to play golf and go to concerts, I also learned a lot about men's fashion (omg, shocker!) and got to impart my new knowledge on my brother and friends. I discovered a few direct-to-consumer brands that I absolutely love, like Everlane, and M.Gemi; I also loved getting to see the behind-the-scenes of the Youtube videos SG put out this summer (thanks to professional camerawoman and video-editor extraordinaire Bettina). Nothing warmed my heart more than getting to know our AWESOME readers in the comment sections of our articles. Our reader spotlights will always be some of my favorite SG features because of all the encouragement and style-support I got to read from you guys every time a fellow SG reader was highlighted.
THANK YOU for showing me that not every corner of the internet is filled with creepy, mean-spirited trolls! Anyway, that's all from me. Thanks for coming with me on this journey and make sure to keep your eye out for our cool, new, college ambassadors on social media- as I was given the responsibility to be in charge of them this upcoming fall semester.
BETTINA
I came into this world with nothing but a razor scooter and big dreams, searching for a creative outlet that could better serve the people in dire need of dreams bigger than mine—the desire to become a better man, a better person even.
I found Style Girlfriend on the coldest day of Summer, trembling in my wet camper boots under the blue sky of my umbrella waiting for my BIG BREAK.
They saw my potential and decided to take me in as their new Padawan. And for that, I am grateful. Since that day, it's been quite the roller coaster ride. From the daily poolside work to the events I had to attend all over the city, I made my way through the summer learning more and more about the art of social media content creation/networking.
Well here we are, on my last day, trembling in my very (dry) loafers in preparation for my departure. Oh, how times have changed. I will forever treasure our moments together, like when Amanda and I went to Topgolf, frolicked from show to show during NYMD, interviewed couples on the High Line and ate Thai food everyday till our stomachs gave out.
This has been such a creatively fulfilling experience for me and I will miss you all. I loved being your digital intern. Let's hope that the videos and podcasts could maintain its comedic flare without me! If you still desire my presence in your life in the near future, I'll still be there—just on my own platform. Peace out!
*drops mic* *picks it back up to check if it broke*