Style in Real Life: Thierry Augustin of Genteel Flair
From med school to menswear
I met up with my pal Thierry Augustin in Vegas recently to talk guys' style in a very appropriate venue – surrounded by a bunch of men's clothes. In the city of sin for PROJECT, a gigantic retail menswear trade show, we talked street style and silk pillowcases (just hang in there).
You're the first full-time "menswear" person I've talked to for this series. Talk to me about how you started writing about guys clothing for a living. What's the good? What's the bad?
The downside is a potential for repetition. I've seen way too many people who describe themselves as "classic but contemporary" (laughs). It gets a little annoying at times.
Myself, I started off on a totally different path. I was in medical school, then took some time off to clear my head and see what road I wanted to take. In that year off, I started writing. A friend of mine from high school contacted me; he was into photography, and wanted a public platform for that but also wanted to chronicle his experiences growing into manhood. We were both about 21, and after a series of good and bad decisions, we felt we had a considered place to speak from. A lot was based on relational etiquette, ethics, some religious posts…but I also always loved fashion.
How much of developing your personal style is wrapped up in becoming a man, do you think?
It's intimately tied. I think one of the most attractive traits a man can have is confidence, and that's totally attached to your style. You can walk out of the house in what you're wearing and look great, and then you feel great. Though, I think some people take things too far in the menswear community..
Like being too "fashion-y?"
Exactly.
But there are some things that are basically, aesthetically pleasing. And if it fits well, you already look good, so I think that sets the basic template.
Of course, play with colors and textures, materials, but the focus really, is fit. For me, my focus – like every urban teen in New York – I went from really, really baggy to really, really super skinny tight. And I had to find my happy medium as I grew into being a man.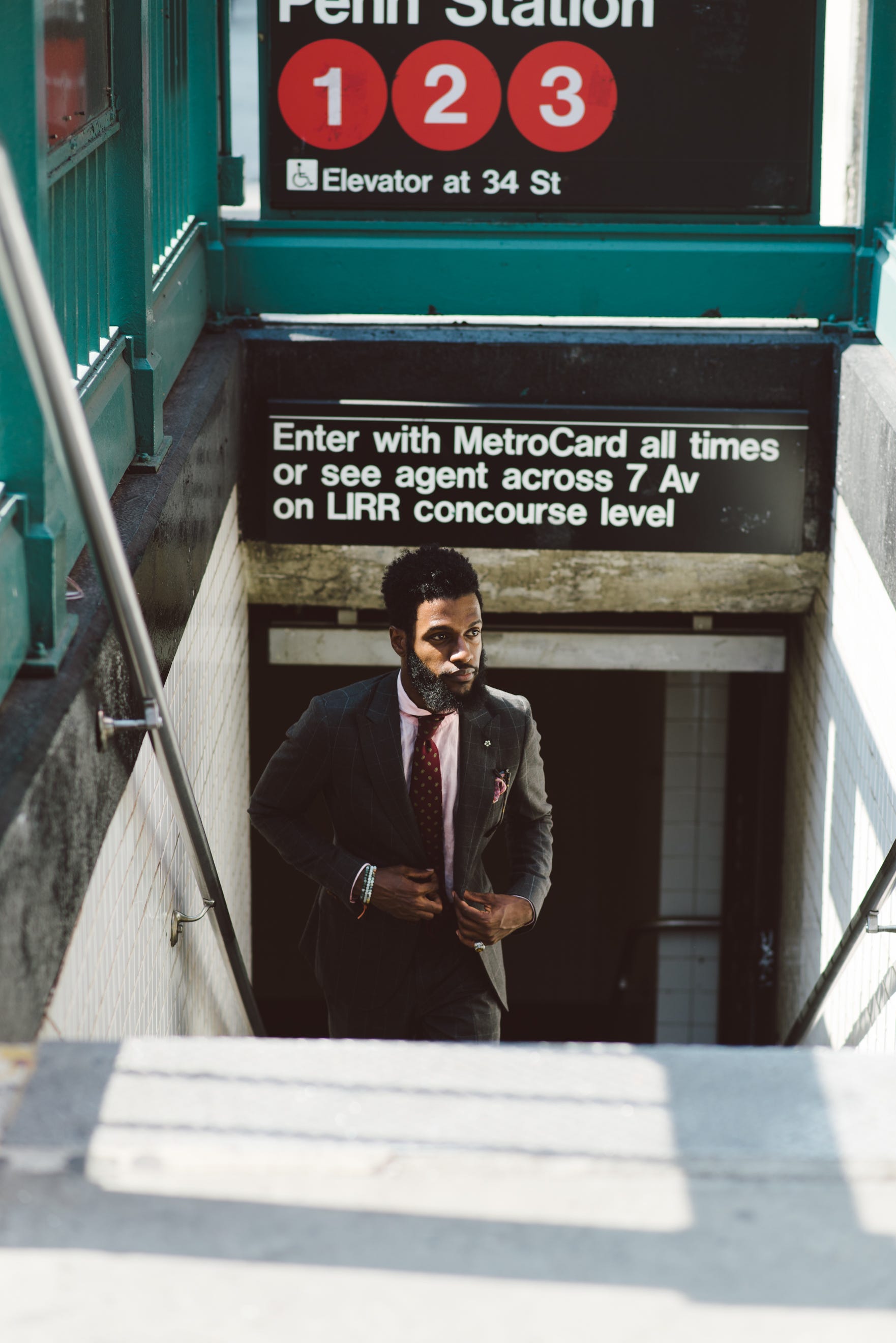 In terms of finding the happy medium, I'd argue it doesn't happen naturally. You could have stuck at baggy, or stuck at skinny. What was it that made you continue to push your personal style journey forward?
Exposure and mentorship. If you never see better, you won't really know what "better" is. But you also need guidance in how to craft your better. When I first started discovering menswear, I was talking to people – and you go up to people who you have no business going up to – but you go up to them anyway, and you ask them, "How does your style define you?" Part of that learning is, hearing how they speak about what they put on, and seeing there's a way to craft your image.
How much is "crafting your image" a good thing? Do you ever worry about going overboard and veering into that fashion-y territory that can feel so obnoxious from guys who are into menswear?
You have to be intentional. You have to know how to present yourself professionally – and professional might mean different things in different settings and on different occasions – so you'll be able to navigate those different landscapes effectively. Not always in a suit, not always in sweats, not always in khakis.
You have to think 1) is it true for who I am, and 2) how will wearing this reflect on the people I'll be with?
Part of my style stems in a big way from that second part. I grew up with only my mom, and she would say "You're going to look like you don't have a mom" if I were to try to leave the house in a wrinkly t-shirt. There's a level of accountability every time you're out there. You're accountable to your peer group, your family..it's not just you you're representing.
Switching gears – tell me about your grooming routine. 
First thing is, find a great barber. I'd say if there was a staple for any guys out of a great watch, or a really amazing pair of shoes, I'd say it's finding YOUR barber. So essential.
Beyond that, I've really found that diet affects my skin and hair. So I do my best to eat as many greens as possible and drink a lot of water. Also, finding a product that works for you – I've been working with Stubble & Stache; they have a face and beard wash, and a moisturizer for after that, and that really sets the tone.
It has all-natural ingredients, and I think that's key – if you're putting something on your face that you couldn't feasibly eat, you may end up having some issues.
Up top, that's been a path of self-discovery (laughs). I started growing my hair just because I wanted to. It was the first time – I left the medical school environment, so I wasn't pinned down to a close-cropped haircut or facial hair. The beard and the hair kind of…grew together. My hair is naturally curly, so in the mornings, I wet it, add gel, and let it do what it does. Any kind of gel. I will take all comers.
For shampoo and conditioner – I look for products with jojoba oil or Moroccan oil – a ton of moisture, oils that really seal it in. And they've gotta smell great.
Also, little known fact – sleeping on a silk pillow case.
REALLY? I feel like I read that in women's magazines all the time, but I don't know anyone who actually does it. But you do?
Yeah, Restore Silk. They're marketed towards women but it's super effective, You can trust that your skin and your hair will be friction-free, so you're not  waking up with tangles, stretched skin, and dry skin! That was one of the biggest things I noticed when I slept on cotton pillowcases – my beard, my skin, and my face would all be dry when I woke up. You have these sleep lines on your face – it makes your morning routine a lot longer when you have to stop looking like you just woke up.
Thierry's tips and styling tricks
Try to be as simple as possible. A man looks his absolute best in a tuxedo that fits. And that's only black and white. So

 

you don't have to go so crazy on the color spectrum, at least starting out. So start by going more tailored – a basic navy suit and a white shirt – that'll take you through pretty much anything.
Take care of your shoes. Have a shoe guy. Go get them shined. Get them tapped. Don't let them wear down too much, and invest in good shoes. Cheap shoes only last a season, and they look cheap. You can SEE bad leather. No square toed shoes.
Everyone should build a complete wardrobe, no matter what, so you have options. I hate people who ONLY have one type of clothes. If you don't have any variety in your wardrobe, you won't be ready for the opportunities that come your way.
You can never go wrong being overdressed. That's a level of comfort that comes with doing your best – and that's across the board: in a speech you give, in what you wear, you want to be sharp. If I got a late call to a lunch, I wouldn't feel the need to say, "Let's push it back so I can go home and change." In that sense of being "overdressed" it means I'm always available for any opportunity. It's about being physically comfortable and mentally comfortable. Sure, you might feel most comfortable in sweatpants, but if you show up and everyone's in a suit, you'll feel uncomfortable because you're underdressed.
Thierry's style profile
My style in three words (or less!)
Thoughtful, versatile, sharp
My first "fashion" memory (a favorite outfit from childhood, your mom taking you back-to-school shopping, etc)
It'd have to be purchasing my first suit. I had a wedding to attend and I went for a classic grey sharkskin with a slight taper. The fit and combinations are a bit more exciting now but that purchase was a great foundation and allowed me to explore how to augment a basic canvas.
Party outfit go-to
White button down shirt, slim fit selvage, and cognac brogues. Simple staples but such a clean look.
Favorite "splurge" clothing brand
Anything custom or bespoke. I don't have a single go-to yet but I'm a huge fan of Alexander Nash.
Favorite "steal" clothing brand
Old Navy, hands down. Sometimes you just want to be in a t-shirt and sweats.
A man's personal style is important because… 
…it shows how much he values himself and those around him.
Like Thierry's style? Go check out more over on Genteel Flair and A&H Magazine.
Then, tell me:
Who do you hold yourself and your style accountable to..at work? at home?
(Images: Stephen Obisanya, Isaiah Johnson, Nicholas Nicholas)