Guys' College Style: From Coast to Coast
Nail your college look no matter what school you call home
Did you know your girl Taylor went to one of the wildest party schools in the country? It's true. I attended the iconic, illustrious even University of Arizona in a desert oasis known as Tucson. Back-to-school season in the Southwest meant wearing mini skirts and Ugg boots to class and going to pool parties every weekend. (It was 2006! I was in a sorority! I'm not sorry!)
Even though Autumn in that part of the country feels like summer does in a lot of other regions, I still felt that familiar pull to BUY ALL THE FALL THINGS as soon as the September issues of my favorite magazines arrived at the doorstep (in August!).
When you're in school, September feels like January for lame-o adults: a chance to start a new year as a refreshed, better-dressed version of yourself!
So in partnership with our friends over at ASOS, Team SG is ready to school you on our favorite guys' college style finds. Not in a teacher-y way, though, you know? We're not professors. We're like that fun TA who just happens to know the course material really well and wants to help you ace the class… And will totally get a beer with you after final exams.
From the Northeast and the Midwest to SoCal and the Northwest—we're taking a sartorial road trip from coast to coast, sharing back-to-school hot takes of men's college clothing for every region. Pencils down, let's do this!
QUIRKY AND CASUAL IN THE NORTHWEST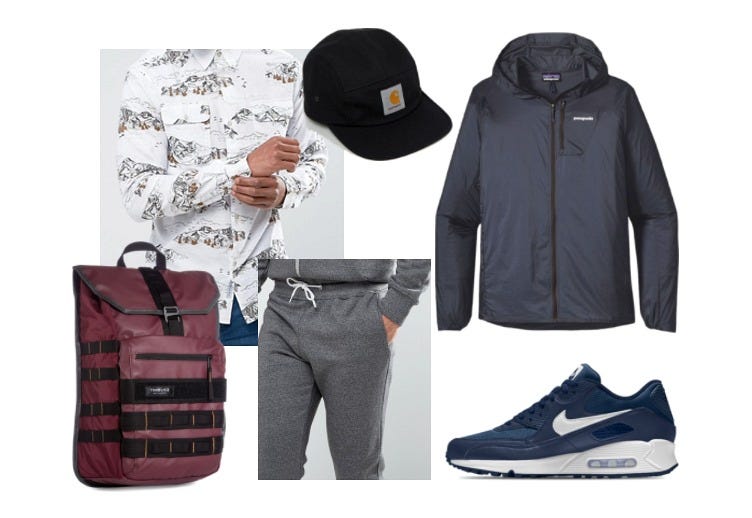 ASOS New Look joggers, $29 | Patagonia jacket, $99 |  Bellfield print shirt, $64
Nike Air Max 90 sneakers, $130 | Carhartt hat, $48 | Timbuk2 'Spire' backpack, $99
If there's one word you might use to describe style in the Pacific Northwest, it's casual. Residents of Washington, Oregon and Northern California tend to let their laidback nature seep into their closets in a big way.
On campus, that means you can follow suit—but don't forget to add a little quirk, too. Layer a funky printed shirt with a rain-ready jacket, joggers and sneakers, then top it all off with a 5-panel hat. And since you'll probably be spending as much time out in nature as you do in class, a backpack that can do campus to campground duty is a must.
Riding a fixie to class? Optional.
(SORT OF) SURF-INSPIRED IN SOCAL & SOUTHWEST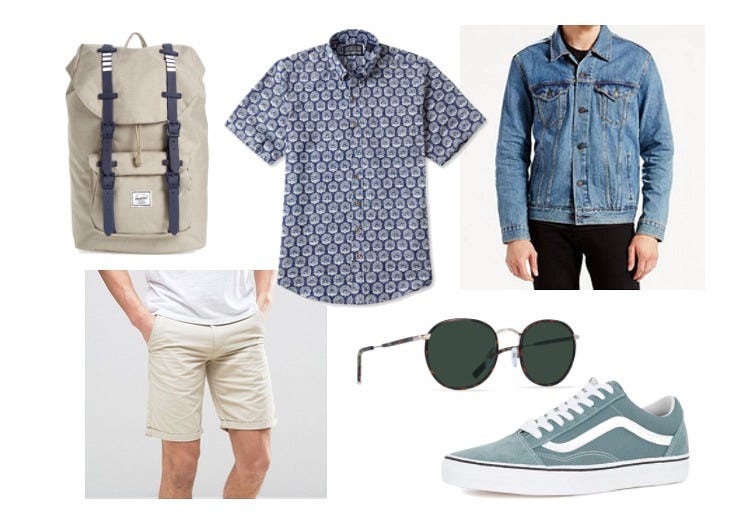 Reyn Spooner shirt, $98 | ASOS shorts, $40 (similar here) | Vans sneakers, $63
Raen sunglasses, $200 | Herschel Supply backpack, $105 | Levi's denim jacket, $90
Dude, bro, chill. The vibes in Southern California and the Southwest are totally mellow. (I'm allowed to tease my own kind, right?)
Warm temperatures well into the winter and near-constant sunshine means that fall style and men's college clothing in this region has more to do with color and texture choices than your flair for layering. Think muted burgundy, navy and tawny browns mixed with suede and canvas elements. And try just a nod to the surf culture rather than full-on appropriation—an authentic Reyn Spooner shirt and a pair of Vans kicks should do the trick.
When a cool breeze finally does arrive (I'm looking at you, November) just throw on a denim jacket, and you're all good, brah.
A FRESH SPIN ON TRADITIONAL IN THE SOUTH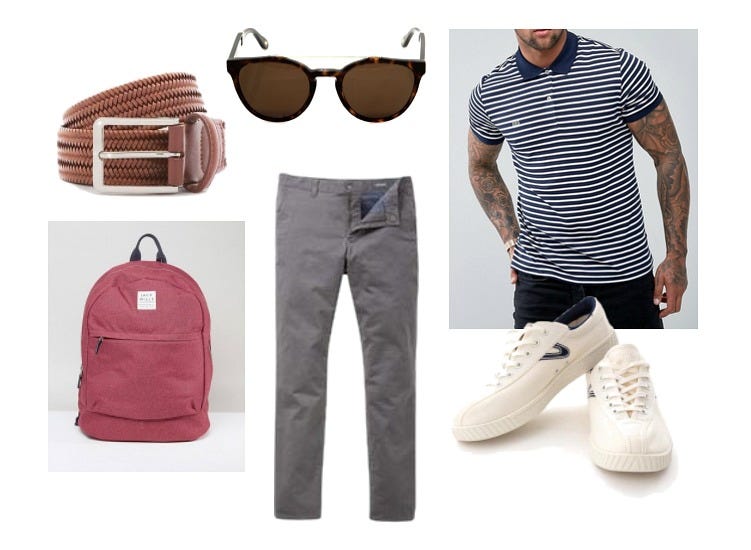 Reds sunglasses, $195 | Bonobos chinos, $98 | Lacoste striped polo, $127
Tretorn 'Nylite' sneakers, $65 | Beltology leather belt, $85 | Jack Will backpack, $71
I have it on good authority (god bless college interns!) that most of the guys on campus throughout the South tend to dress almost identically—in khakis, golf shirts, and loafers. Now, I'm not suggesting you have to completely break the mold this fall, but I'd like to nudge you towards a slightly more versatile, less sport-oriented take on that men's college clothing uniform.
Trade out your khakis for chinos in another color like grey or blue. Give up the golf shirt for a knit polo and a braided leather belt. But don't worry, you can keep your precious Reds shades—those are legit.
ELEVATED LAYERING IN THE MIDWEST & NORTHEAST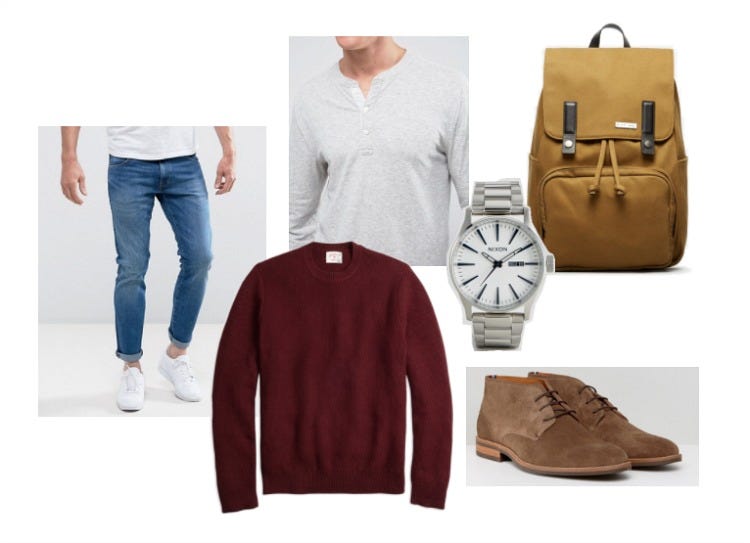 Wrangler jeans, $127 | Everlane backpack, $68
Abercrombie & Fitch long-sleeve henley, $30 | Brooks Brothers knit sweater, $70
Nixon stainless steel watch, $253 | Tommy Hilfiger boots, $207
The best thing about attending school in the Midwest or New England is that you get a true fall. Leaves change colors on the quad, cider's served at football games, and you can use the word "crisp" to describe anything from the weather to the apples you just picked to the pages in your copy of The Rules of Attraction.
Embrace the season's flexibility through layering, letting a peek of a heathered grey henley show under a deep green knit. Opt for denim in a mid-wash rather than the usual deep, dark blue (save that for winter), and accessorize with a watch that mixes old school cool and New England prep.
***
Now, don't feel like you have to completely overhaul your wardrobe in preparation for the new school year. Similar to pulling an all-nighter before finals, it'll just leave you feeling burnt out and overwhelmed. Aim to introduce a handful of new, super-versatile items of men's college clothing that will in turn give all the stuff you wear regularly a renewed role in your closet.
Got all that? Okay. Class dismissed!
TELL US:
WHAT'S THE STYLE VIBE AT YOUR SCHOOL (OR ALMA MATER)?
We're headed back to school with ASOS for a month-long series sharing everything college guys need to know to look and feel great on campus this year. 
Taylor Davies splits her time between NYC and Sun Valley. She loves writing about menswear, overpriced martinis in dimly lit hotel bars, and cross-country skiing. Not necessarily in that order.