Handsome Home Decor: Juju Hats
Globally-inspired art for your walls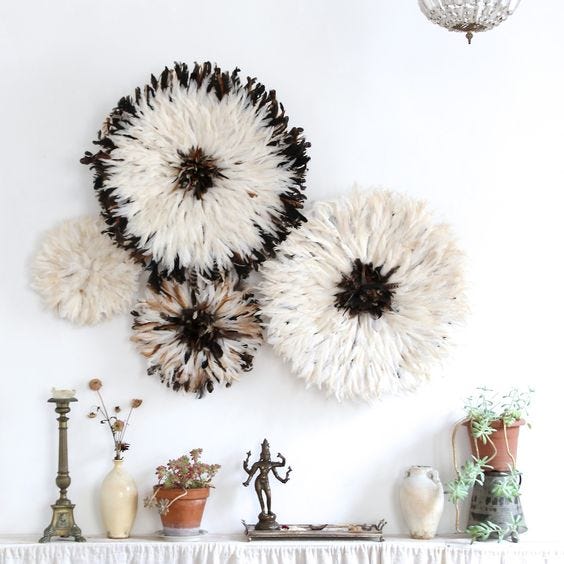 I've got this new thing with hats. Nope, not this kind. Not those either. Lately, I just can't get enough of Cameroon Juju hats. I recently put one up in my New York City apartment and am on a mission to tell the world about these stylish home accessories.
Below, everything you need to know about juju hats as home decor:

What's a Juju hat?
Originally worn as headdresses during traditional ceremonies by the Bamileke tribes in the Cameroon region of Central Africa, the Juju's reach has gone global in recent years, with interior designers and savvy amateur decorators alike installing the feathered pieces in the home as eye-catching wall hangings.
Jujus symbolize prosperity, and each one is unique, taking artisan weavers up to three days to complete.
The word "juju" also has a spiritual element rooted in witchcraft in West Africa. We get good juju from doing good deeds (and bad juju from the opposite). And really, who doesn't want to boost the juju in their home, and beyond?
Why juju hats make great home decor
When decorating, I have a tendency to get so hung up on artwork (ha, art joke) that I forget that there are plenty of other types of art to put up on the walls.
According to Danielle and Elise Douek, sisters and founders of online retailer Juju Boutik, the Juju trend owes its virality to its decorative versatility.
"Jujus make an exotic focal point and add texture or a pop of color to any wall, from a bedroom to a bathroom. They're eclectic, without feeling over the top. Too often, handicrafts from abroad can wind up looking 'theme-y' in the home, but Juju hats blend as seamlessly into a modern condo as an industrial loft, as a rustic cottage. They're a good conversation piece and a great way to make a big impact (on a small budget)."
How to Decorate with Jujus
Jujus make a great balance for men and women decorating a home together, especially in natural colors like off-white and brown that offer a more grounded feel.
Plus, no two are exactly alike, so you won't go through that "Oh I love that, where's it from? West Elm? Oh, cool. And what about this…oh, that's West Elm too? Got it…" conversation with visitors.
Shelly Lynch-Sparks, head of commercial design for Homepolish (and designer of my last apartment!) says: "A Juju hat is a unique way to add art to your space, giving the wall three-dimensional texture, making for great, conversational art. They can be styled as a centerpiece over a fireplace or in an entryway. They are amazing to have as collage over a bed or in a nursery over a day bed or crib."
You can use one large juju as a focal point for a wall or a room, or create an interesting look with a cluster of Jujus in different sizes and colors.
Keeping Your Juju 100
Aka, how to ensure you're buying an authentic product.
Authentic Juju retailers go to great lengths to deal directly with artisans in Cameroon and ensure that customers are receiving authentic products. Keep in mind these two tips from Juju Boutik's Douek on what to look out for when buying a Juju
Price Point: Each hat takes 2-3 days to make, with significant costs incurred to bring the hats from Cameroon damage-free. From there, a process of cleaning, treating and fumigating the feathers is crucial to its lifespan. Expect to pay $200-350 for a Juju that's about 30" in diameter. If the price sounds too good to be true, it probably is!
Too Perfect: As each Juju hat is handmade from natural products, there will be variation in the color, feathers, and size of each wall hanging. If it looks too perfect, or too white, it may not be authentic.
How to maintain your juju
When I received my Juju hat, I thought I'd been sent the wrong size; the box seemed so small. Turns out, Jujus come all folded and wrapped up, making for a very fun unboxing process.
To prep your Juju for hanging, just push the raffia base from behind and it will splay open like a flower blooming. Arrange the feathers to get them exactly how you want them, then hang on the wall. Every few months, treat with a commercial or natural cedar spray for additional protection and preservation.