Real Guy Wardrobe: A Week of Casual Men's PNW Style
What a Portland creative director wears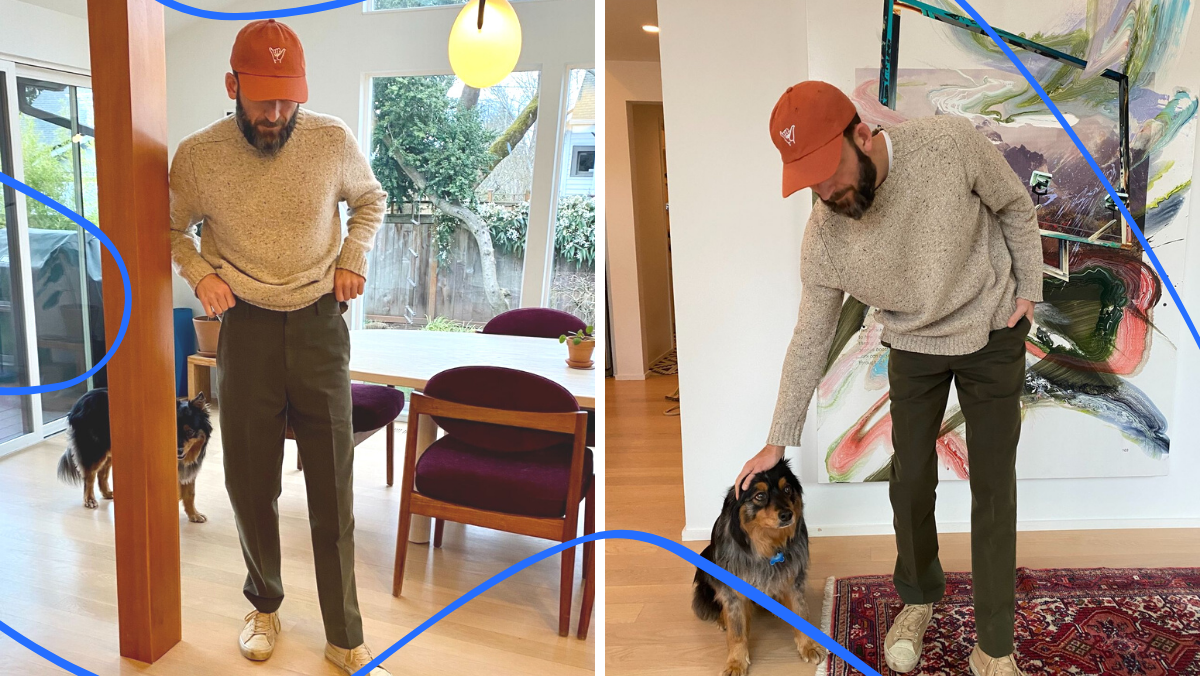 Have you ever visited a restaurant, or read an article, and later met the owner of said-restaurant, or the author of said-article and thought to yourself, Yes, okay, it all makes sense.
That's how I felt meeting Alan Stuart, the creative brains behind Pair of Thieves, one of Style Girlfriend's go-to brands for fun (but not, like, FuN!) men's socks and stylish yet reliably sturdy underwear.
Stuart's unique aesthetic comes through in the site's off-beat visuals and ever-so-slightly quirky clothing designs.
So naturally, I asked the Portland, Oregon-based creative director to document a week in his wardrobe.
Each outfit is chock full of casual men's PNW style, perfect for WFH inspo.
Check out his laid-back looks and accompanying color commentary below.
Monday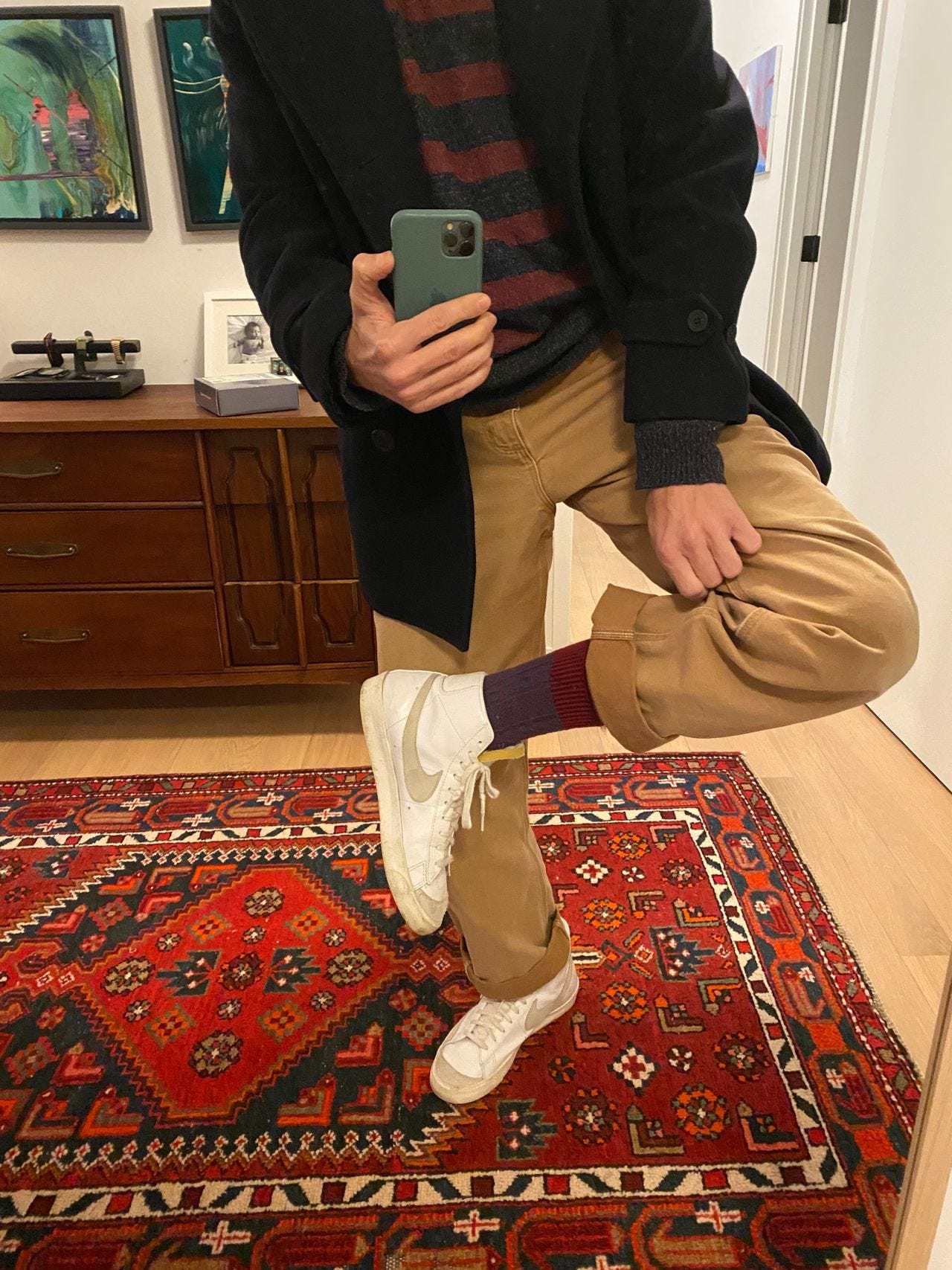 pants: Carhartt | sneakers: Nike | coat: Schott (similar)
Am I the only one that feels bad for clothes that haven't been worn in a long time? I haven't reached for this sweater in years because it never looks great on my shelf, but then I always like it on.
The pants are a vintage pair of Carhartts that I just got for $30. I'm on a kick lately to try and buy less new stuff. The sneakers work with almost anything, although wearing them with shorts is a pretty advanced move that I'm not sure I can pull off (unless I'm in NYC maybe?).
RELATED: The Best High Tops to Wear Right Now
Magically, these Pair of Thieves boot socks and the sweater vibe together, and that makes me happier than it probably should (on the inside, modeling is serious).
It is a colder day here in Portland, so I wore this peacoat that I got at Topshop in London many years ago, before it came to the U.S., so it still feels like a rare find to me.
It's survived many closet purges and will survive many more.
Tuesday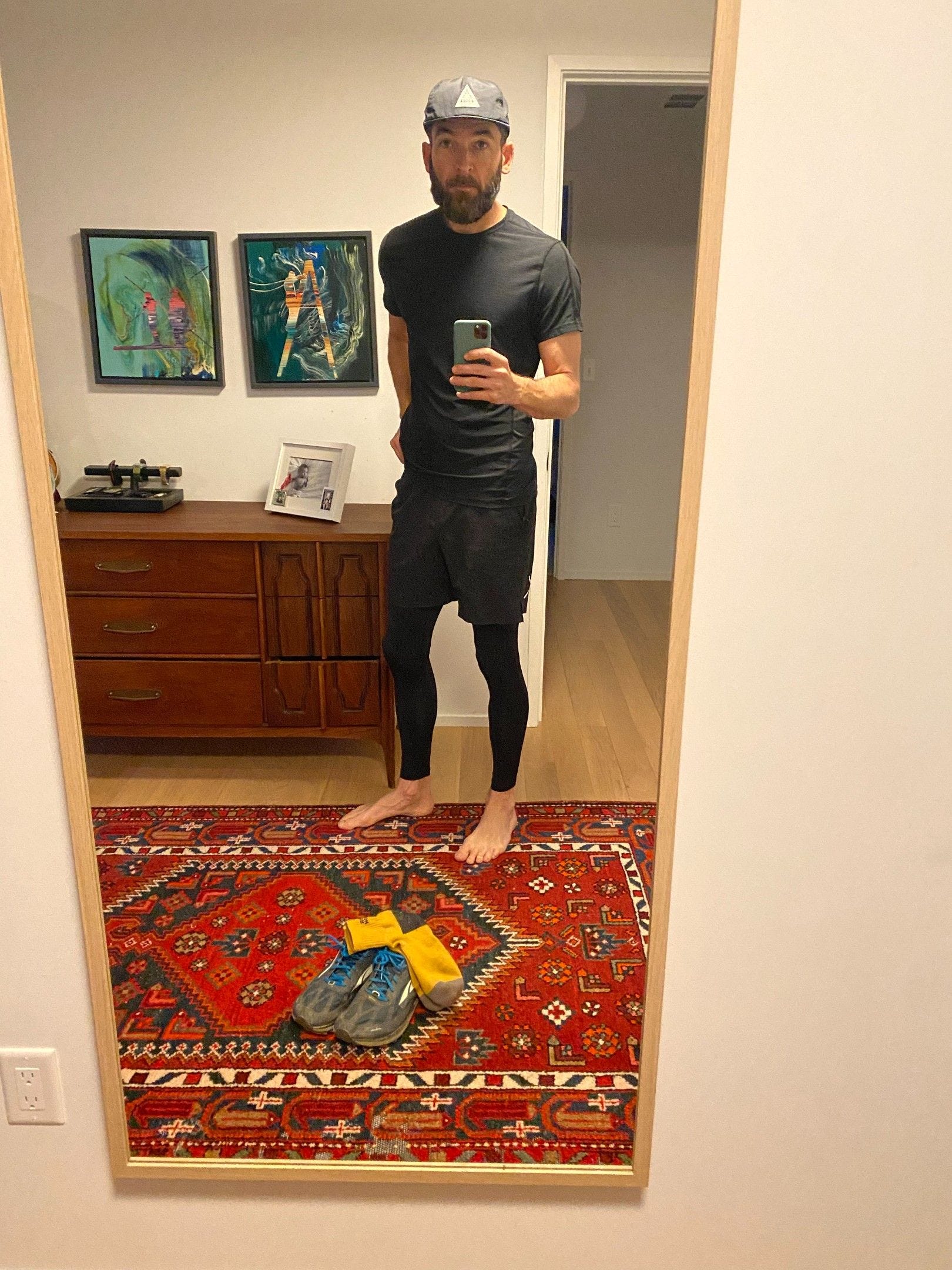 shorts and shirt: Ten Thousand | base layer: Pair of Thieves
I'm not an "athleisure" guy and never will be, so I haven't put much thought into my workout gear over the years, but that also resulted in me wearing a bunch of mismatched colors, brands, and stuff acquired for free after races.
This then led me to my only real workout wardrobe tenet: just buy black stuff.
I don't like a lot of branding and for that reason have liked stuff from Ten Thousand, which is the shorts and shirt here.
The base layer bottoms are our very own Pair of Thieves SuperFit, which I begged our head of merchandising to make for years. They work for all the things: skiing, trail-running, cycling, SUPing, yoga, extreme pogo-sticking and I love them (thank you, Mona).
For socks, I'm usually wear-testing a new product of ours, and these are some secret ankle socks coming out in the fall. They are amazing, but that's all I'm allowed to say.
Wednesday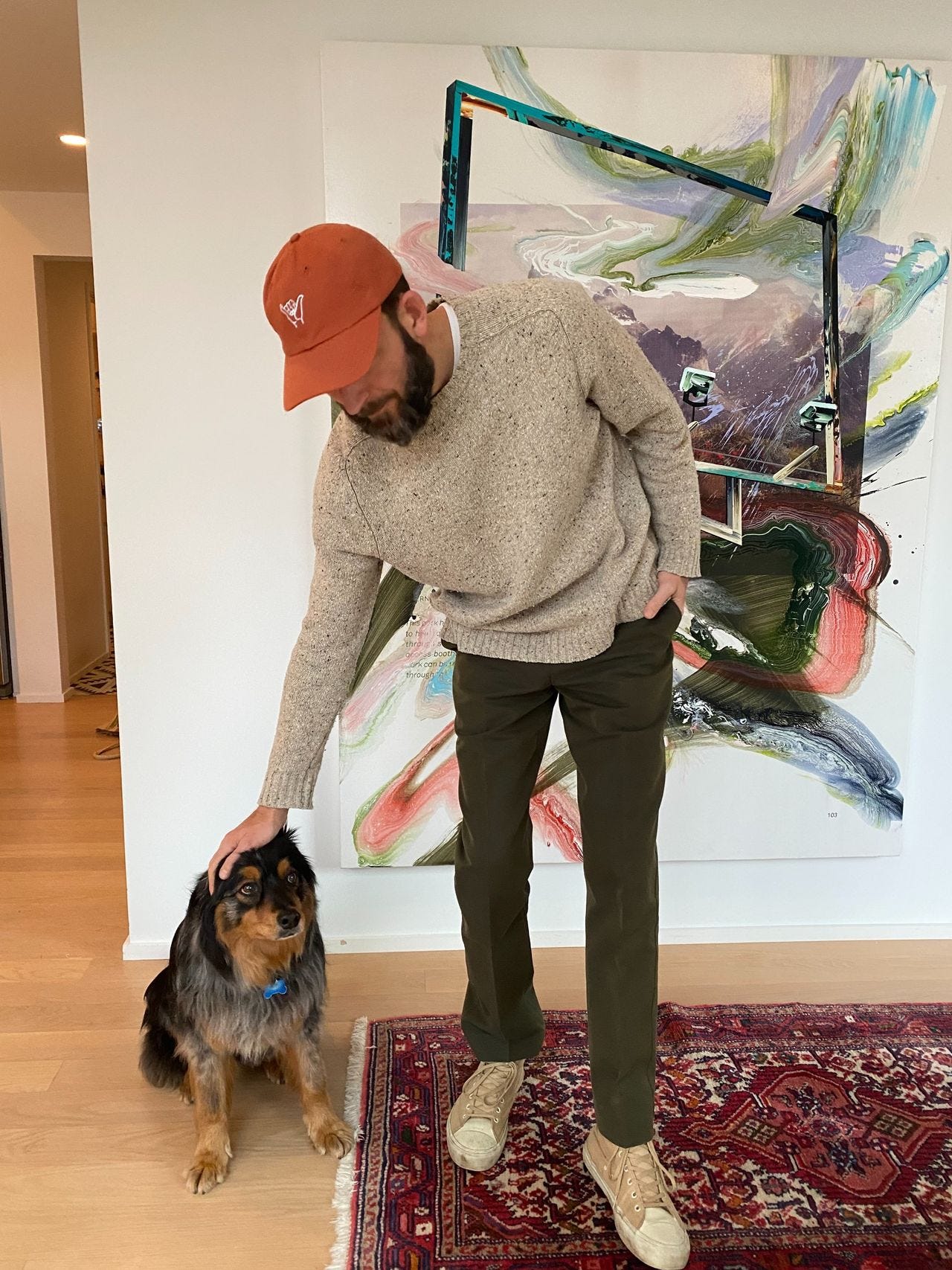 pants: Acne | sweater: Mollusk | sneakers: Straye
These Acne pants are probably the most expensive I own, but each time I wear them it divides the cost by the number of wears. And that's how math helps us as adults.
I also love this sweater because it can be dressed up or down.
Since these two things together get me a bit too close to a country club look than I'm comfortable with, though, I throw on a hat (I was also running late and my hair was fluffy), and some dirty shoes. These ones are by Straye, and I dig them because the founder is a friend and they're also not Converse or Vans.
Izzy can be seen here, and always, wearing a perfect tri-color merle fur coat.
Thursday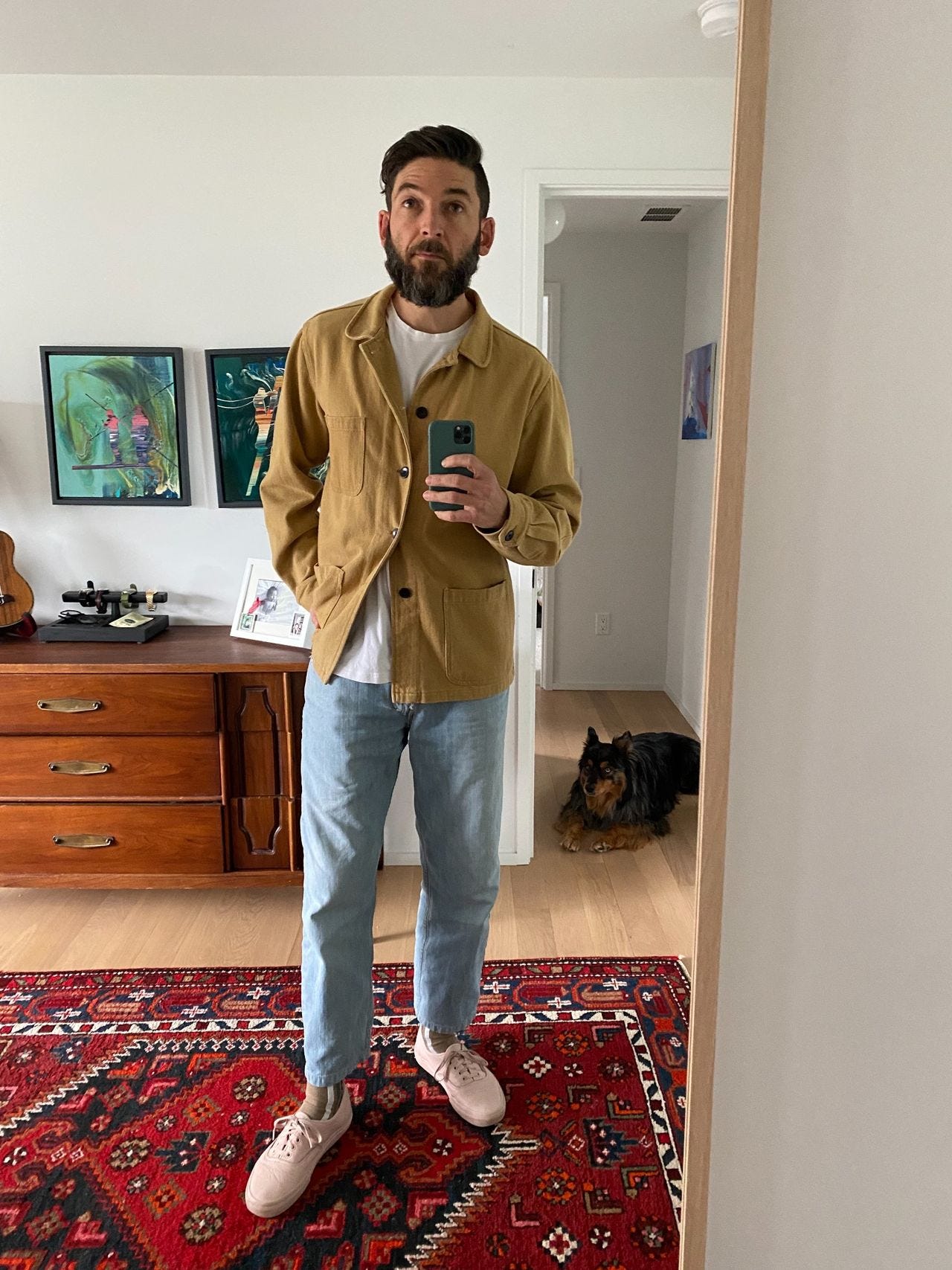 jeans: Levi's | shacket: Madewell (similar) | sneakers: Vans
OK, perfect spring day today, so the white tee is in full effect. There's a 65% chance I spill ramen on it later, but luckily we make them and I keep backups at work.
I just got these jeans from Levi's Secondhand program, which I think is a super cool way to promote circular fashion… pretty sure these were my jeans in the 90s and I just bought them back.
The shacket (is that really what it's called?) thing is a great weight for the season.
I was having trouble deciding on the shoes, but my friend says always go with the more fun option, and she has a lot of fun, so I went with the pink leather Vans.
Socks are PoT, obviously.
Friday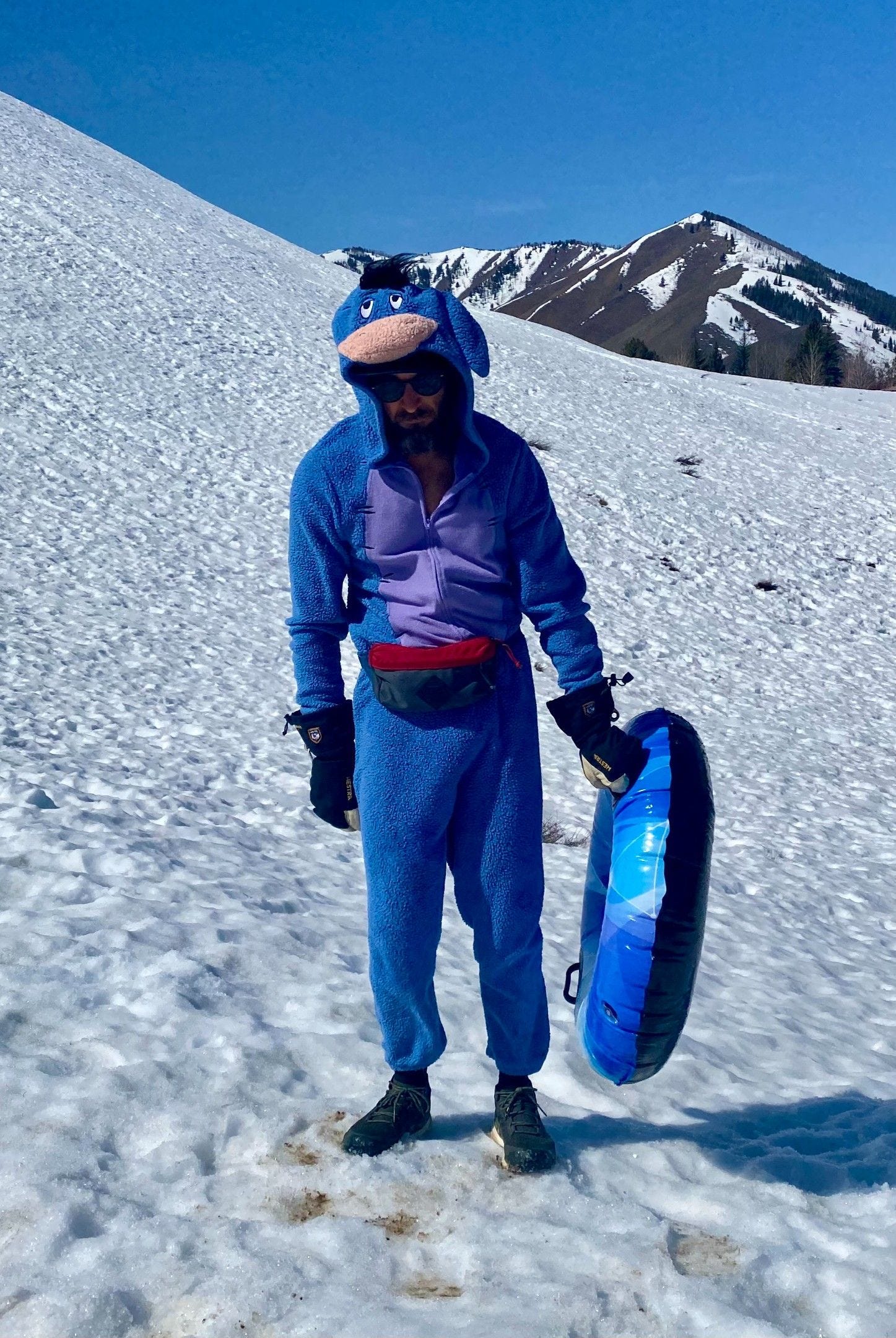 onesie: Amazon | gloves: Hestra
For me, the arrival of spring is lovely for many reasons, but one of those is definitely hitting the mountain in a onesie.
Do I own all characters of Winnie the Pooh? Yes. Does it embarrass my children? Yes. Would we all be sad if I skipped a year? Also yes.
Gloves by Hestra because they are the best and a fanny pack because fashun. If you're not having fun, you're doing it wrong.
Alan at a glance
My style in 3 words (or less!): Ready. For. Everything.
First fashion memory: My mom owned a kids' clothing store when I was young, so I had to model all the clothes.
Very natural…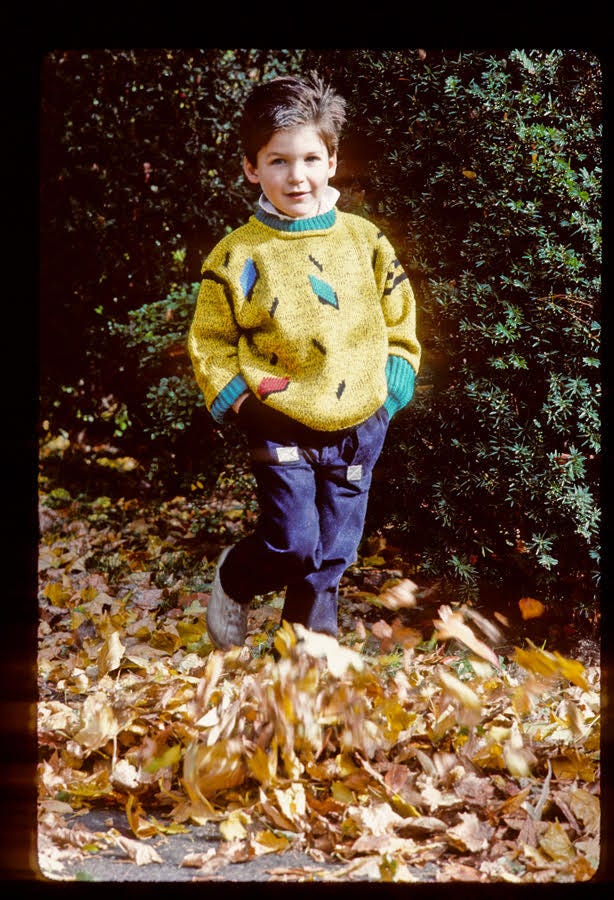 Favorite "splurge" clothing brand: Acne Studios
Favorite "steal" clothing brand: Levi's
A man's personal style is important because… It's the closest thing we have to brightly colored feathers.