Men's Style Hacks: Swap This For That
Wardrobe upgrades that pack a punch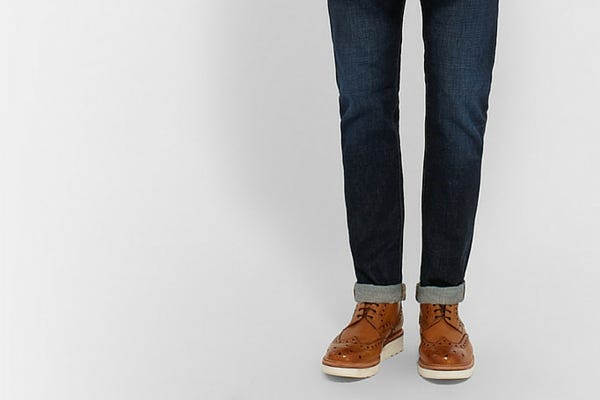 Improving your style isn't about creating a new wardrobe from scratch. It's the small yet integral changes that make an immediate difference in the next outfit you pull from your existing closet collection. This is where strategic swaps come in – and the math behind it looks good:
(One swap + an instant upgrade) x your extra confidence = infinite compliments*
*editor's note: this is a very official, very Good Will Hunting-level of mathematics.
Since there are swaps aplenty for any wardrobe, this round-up features a few of the most eyebrow-raising pieces that you can trade-up regardless of your age or budget. Have ideas for more clothes or accessories (or anything!) you want to see leveled-up? Drop it in the comments below, and you just might see it covered in the next installment.
Our can't-miss stylish swaps:
Graphic tees, please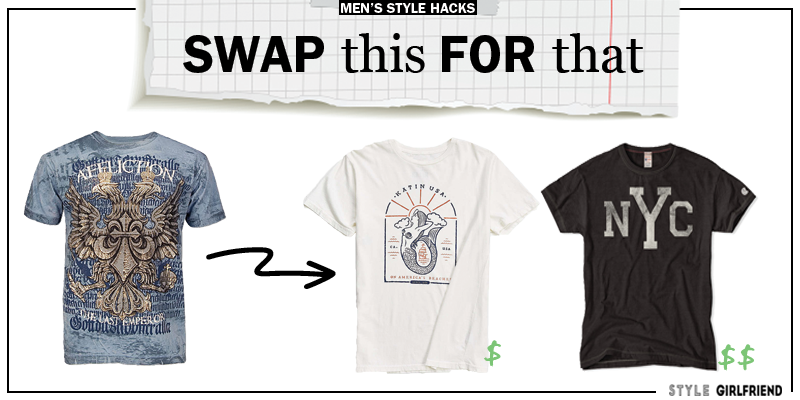 Case and point: You become a walking billboard for whatever is plastered on your graphic tee. Sure, we all can appreciate an occasional ironic slogan or enjoy a good "I'm with stupid" t-shirt photo, but when you're doing adult things (or just leaving the confines of your home) a little extra thought on your tee choice goes a long way. 
Since there is a seemingly endless graphic t-shirt selection, knowing what to avoid will keep you feeling casual yet looking refined:
Rhinestones, studs, metallic appliqués, anything Andre from The League would choose. I think we're all on the same page on why this is not an ideal look…

Ironic slogans or strongly worded opinions. Because there are better (literally any other) ways to express your thoughts, right?

Multiple graphics galore. If a graphic tee features overlapping oversized images (or multiple women posing in bikinis) it's time to retire it for a toned down staple you'll be able to pair with polished outfits. 
---
5 ways to style your graphic tee.
---
Washed and worn jeans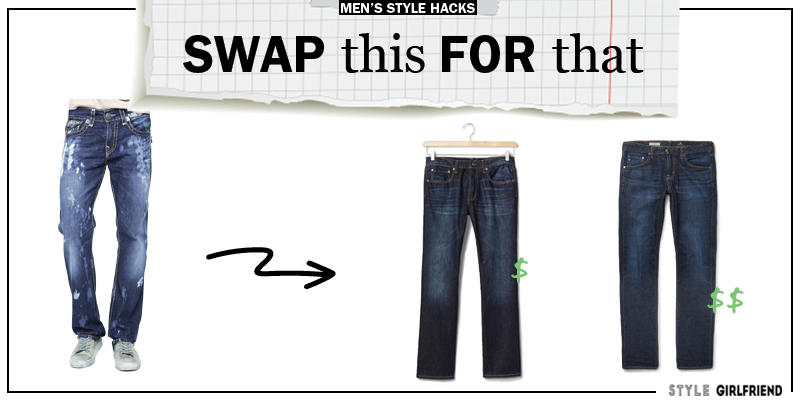 Jeans arguably get the most airtime in a guy's wardrobe, but here's the thing about jeans: they shouldn't steal the spotlight from the rest of your outfit – and there's almost nothing more distracting than aggressive stitching, excessive fading, or an acid wash. You can still get the laid-back stylish "oh these old things?" look with slightly distressed denim that has minimal whiskering near the pockets and a barely there fade. Do keep in mind that your naturally faded jeans will only fade more overtime as you wear and wash them, so those distressing treatments will multiply.
The four-part way to round out your denim collection:
Naturally faded jeans. Play close attention to how their treated and how the fabric actually feels because this casual staple will be the weekend warrior that you'll want to last.
Dark denim. For dressier occasions or jean-friendly work environments, stick to dark indigo as it will act as a neutral base for the rest of your look.
True blue. Think medium blue with close to no fading. A simple true blue pair of jeans are the ideal midpoint in your work wardrobe between dressy dark denim and too casual of faded jeans.
That fun trendy pair. Jeans are a great way to branch out and try new styles because you can find them at reasonable price points, so go ahead and try a bleach washed, white, or bold colored twill jean. Trust.
A better briefcase
British Belt Co., $160 | Frank Clegg, $1,250
If your briefcase made it's debut at a sponsored event or is clinging on to dear life by its exploding seams, there's no time like the present to outfit yourself with a polished upgrade. You can't go wrong with a luxe leather style that can easily last a decade, but the style and price options don't stop there. A classic Filson or waxed canvas briefcase will look just as sleek, and this is definitely a purchase worth splurging on.
Statement Sunglasses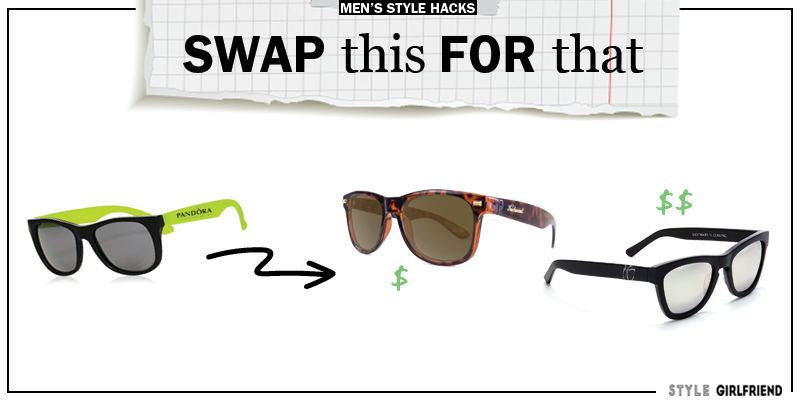 Knockaround, $25 | Westward Leaning, $185
If your neon glasses with a charming corporate logo were handed out in bulk during a recent conference, we can promise you that the company handing them out wasn't concerned about how well they'd fit into your stylish wardrobe. I get it, they're lightweight and more importantly they were free fifty. But that's setting the bar a little low – and we're about that leveled-up game.
Upgrading your shades doesn't have to break the bank either. New brands are constantly popping up that cater to those who want reasonable prices and stylish options to boot. If you're anything like me and have lost temporarily misplaced more than a few pairs, you'll find this especially exciting.
---
Choose the best sunglasses for your face shape.
---
Slick Hoodies
The last few seasons have left the lines between athletic apparel, activewear, and athleisure a Monet-level of blurred. A vintage sports jersey can look sleek with a pair of jeans, sneakers and zip-up hoodies can work with suits, and wool pants have been made into joggers – it's a lot to digest. While these trends started as the more comfortable – and unique – alternative to traditional styles, they actually take more mental power to get right. Especially when it comes to hoodies.
Even the most athleisure-averse guy may call on a hoodie when the casual occasion arises, so here are a few tips to picking out a dapper version:
Fabric is everything. Avoid the thick cotton P.E. style or hoodies made specifically for exercise. Instead look to a breathable cotton or turn it up a notch with cashmere.
Keep it thin. Traditional hoodies in thick fabrics add extra bulk, so they won't fit in with any layered looks.
Limit logos. Whether it's centered across the chest or peeking out on the sleeve, a visible logo immediately dresses down a hoodie.
---
See how to wear a hoodie with your suit.
---
Polished Polos
I think you guys know where this is going. Oversized pocket logos are one of the biggest detractors in any wardrobe. But that doesn't mean you have to stick to completely nondescript polos. You can go bold in a melange or color-blocked polo at work and on the weekend alike. More keen on subtle detail? Make Jon Hamm proud by channeling a retro style with thin contrasting piping or a shorter sleeve.
---
How to style your polo at the office.
---
Cool in khakis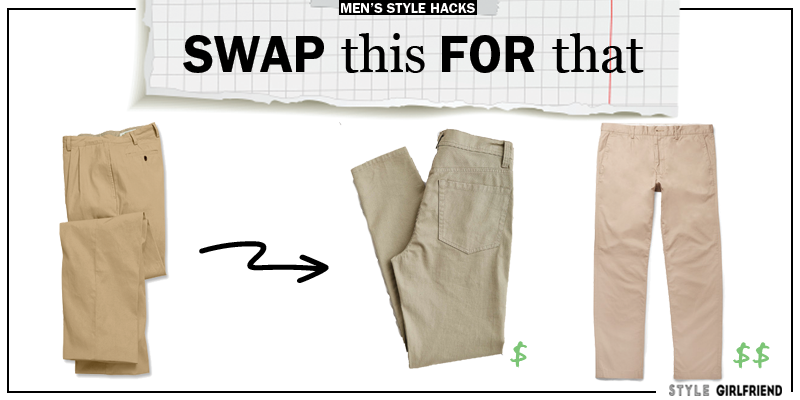 Standard Cloth, $30 | Club Monaco, $90
A pleated ill-fitting khaki pant is the dark spot we'd love to wipe out in every closet. Luckily, designers have reinterpreted this business casual staple enough ways that any guy can find his ideal pair. While the cuts may vary between standard or slim, always stick to a flat front pant in shades or khaki or sand – and never a "relaxed fit" pretty please. Another great way to wear this workplace favorite is by infusing them in a classic 5-pocket twill jean. You'll be able to style them appropriately for work in a more unique way.
Sneakers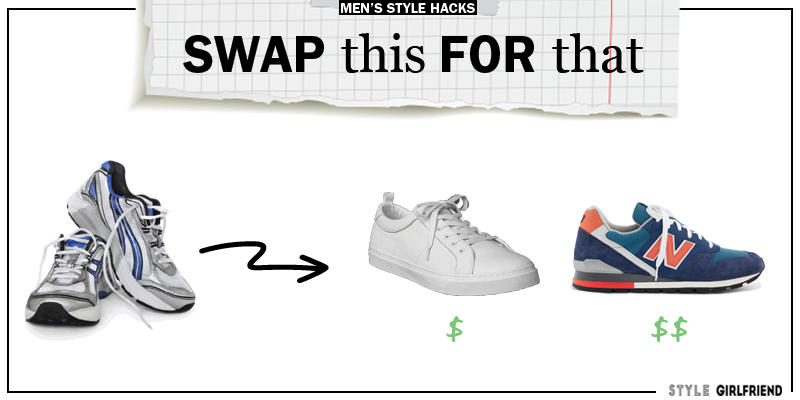 I had to double back on writing "wear literally anything else" in exchange for sneakers that are exclusively running shoes, but only because seeing rubber flip flops with an otherwise sleek outfit would be just as concerning. A simple way to select the sneakers you pair with a non-exercise outfit: don't choose a pair that you'd comfortably run a marathon wearing – or that look like you've actually ran multiple marathons while wearing.
The stylish sneaker styles that will take you far (outside of the gym):
The minimal low-top. A simple lace-up pair of Vans or an all white version will enhance any wardrobe and heads will turn in a good way when you pair them with a tailored suit.
The non-running, running shoe. The New Balances of the past in redesigned colors and fabrics is the perfect addition to casual outfits.
The slip-on. Nothing screams "I'm breezy" like a patterned or crisp preppy slip-on, and did I mention the comfort factor?
Adult Backpacks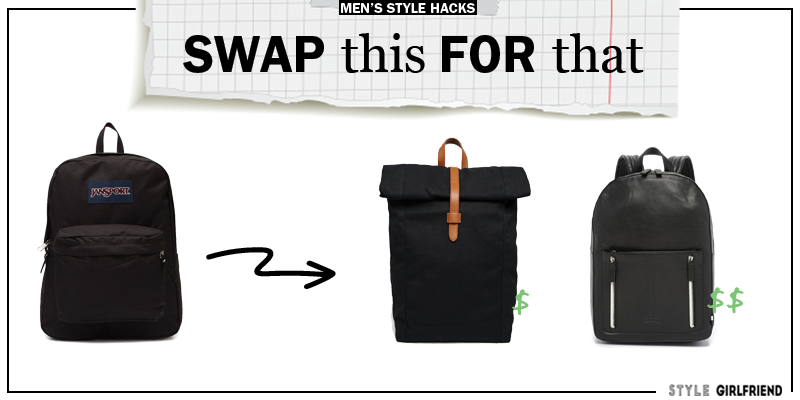 Moving to New York brought me a newfound appreciation of an utilitarian backpack – nothing, I mean nothing – is better than being hands-free when you're traversing down a crowded and rain-drenched subway staircase. I learned this after very publicly crashing down a staircase within my first week. Although backpacks are undoubtedly handy, they also can look like you're on your way to the lecture hall as a 9th year senior. Enter a simple adult backpack upgrade.
Look for a unique texture like waxed canvas or leather, this will add a layer of formality and thoughtfulness to a traditional backpack style. If an attention-grabbing texture or pattern isn't your thing, switching up the style with a roll-top or no-pocket satchel will keep you on-the-go and looking stylish.
---
Stylish backpacks to get you where you need to go.
---
TELL ME:
WHAT ARE THE SMALL CHANGES YOU'VE MADE?
Let SG slide into your inbox with shopping picks and style tricks, each week.