Men's Style Madness: Final Four
Disney Dudes and Jurassic Park vs James Bond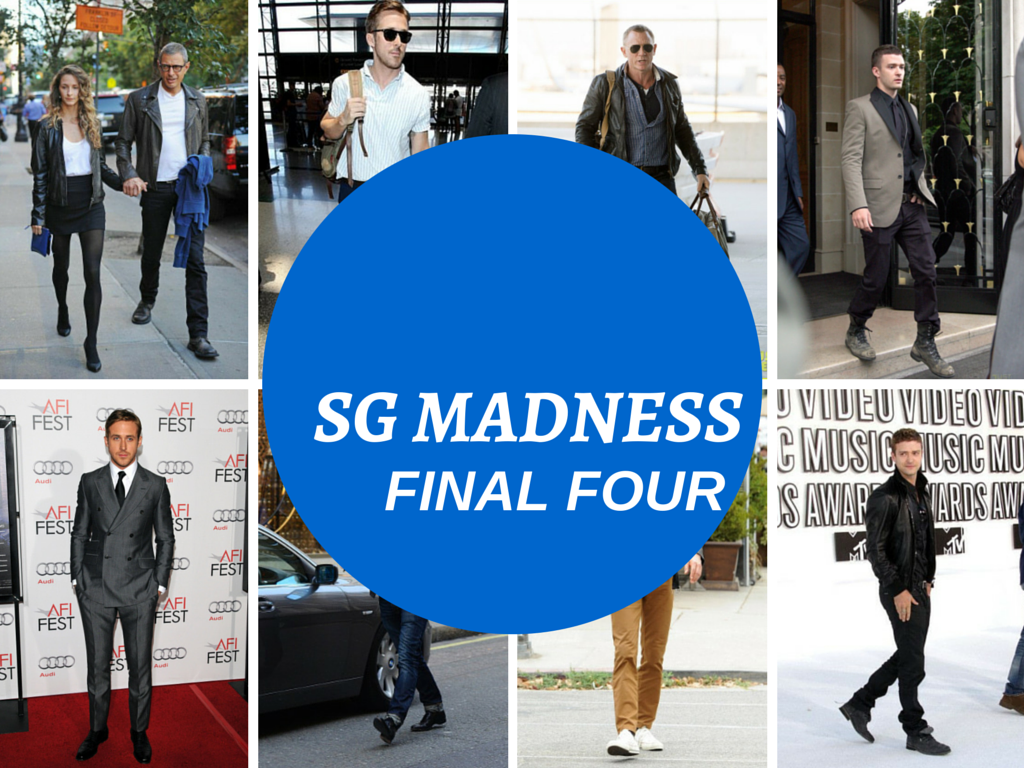 These will be your last votes before the Final Four – can you believe it?! Make sure to vote before 9PM EDT tonight.
---

This tournament is brought to you by the custom menswear experts at Indochino. Why custom? Because nothing looks or feels like clothing made just for you. Join the ranks of these stylish competitors today.
---
KENNEDY vs McQUEEN
*IMPORTANT TO NOTE FOR THIS MATCH UP: BOTH OF THESE CONTENDERS WERE ORIGINALLY CREATED BY DISNEY, AND FOR THIS REASON, WE CANNOT BE SURE THAT THEY AREN'T STILL BEING DEVELOPED BY DISNEY.*
RYAN GOSLING
Gosling never doesn't take tailoring into consideration. Like sure, you could have just rolled your jeans up for convenience so that you can more easily pull your boots on after the TSA agent thoroughly pats you down because they want to be able to tell their friends they touched Ryan Gosling, but you could have also just worn sweatpants like most people – or even looser jeans – but you're Ryan Gosling and you don't know that those are other options? Are you so stylish because you don't know that being not stylish is (unfortunately) an option? That could be a future award winning mockumentary of his life, just sayin'.
JUSTIN TIMBERLAKE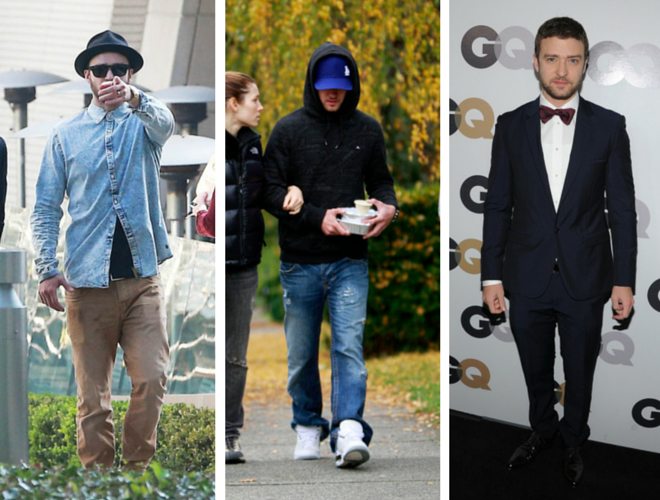 Is it just us, or does Timberlake still dress like a boybander? Sure, he cleans up nice, but his daily style can run kinda sloppy. It could just be that Jessica Biel is a bad style influence (you guys are honestly so lucky you didn't see her in the middle pic before it was cropped…) or it could be that he has a really good red carpet stylist but doesn't care the rest of the time. We may be nit-picking, but it's the Final Four so it's now or never: put the phone and wallet or various other square things in the back pocket – if you have four weird square things that you need to carry everywhere you need a backpack or something.
…RYAN OR JUSTIN?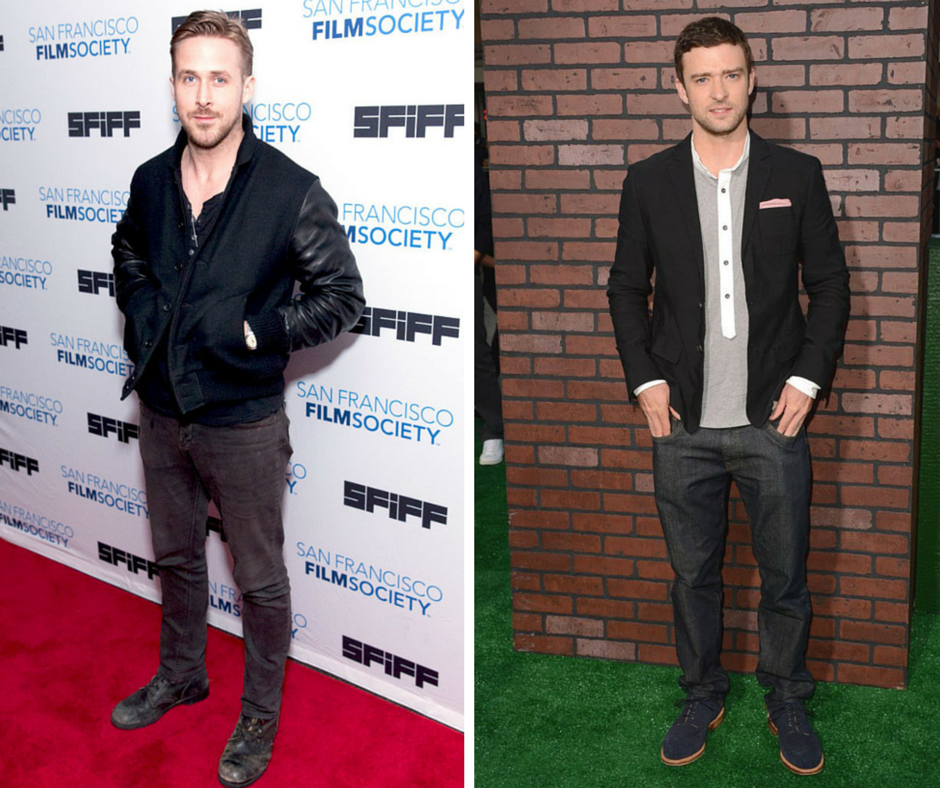 [socialpoll id="2262840″]
BASQUIAT vs BOND
DANIEL CRAIG
What Daniel Craig lacks in sartorial creativity, he makes up for in common sense. Craig understands that tried and true classics – slim straight jeans, a perfectly cut suit, the color black – generally always make for a good look. And while his life as James Bond is obviously fascinating, it's hard to say the same about his style – taking chances is a natural part of developing a personal style, even if it backfires sometimes.
JEFF GOLDBLUM
Someone on the internet once said that you should retire your leather jacket after 30, but I'm pretty sure Jeff Goldblum singlehandedly proved that wrong. He doesn't feel confined to stick to old man societal standards like pleated pants and boring, basic button-ups, but still experiments with colored chinos, hipster hats, and cool sneaks. He can pull off a young man's style with grace and ease at the ripe age of 62, and make it look better that actual young men.
…CRAIG OR GOLDBLUM?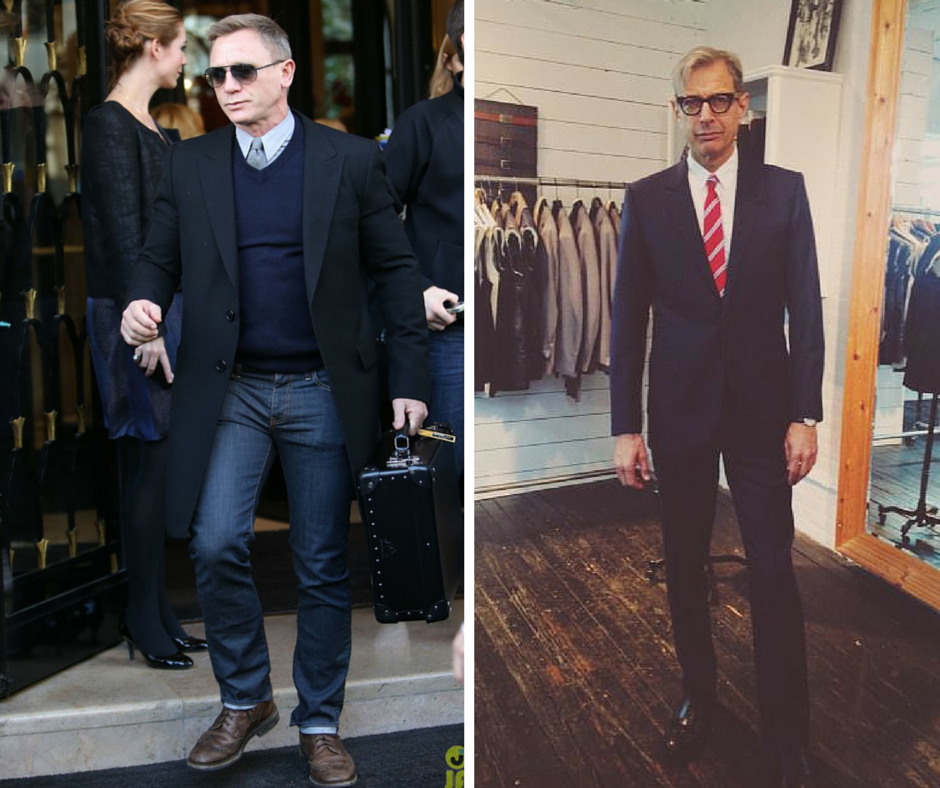 [socialpoll id="2262841″]
Who is going to the Finals?
 Live in NYC and want to sweat with SG? Join me next Friday, April 10 at 7:30pm for a "Cyc Night Out"spin session hosted by yours truly! Mark your calendars, and sign up to secure your spot on Monday (don't worry, I'll remind you). Hope to see you there!

Like a phoenix rising from the ashes, Gabi Meyers went from Team SG's first-ever intern to a trusted fashion editor and stylist. She currently lives in Chicago with a very cute dog.