5 Suit Separates Outfits for Guys to Wear Right Now
The future of fashion features a drawstring waist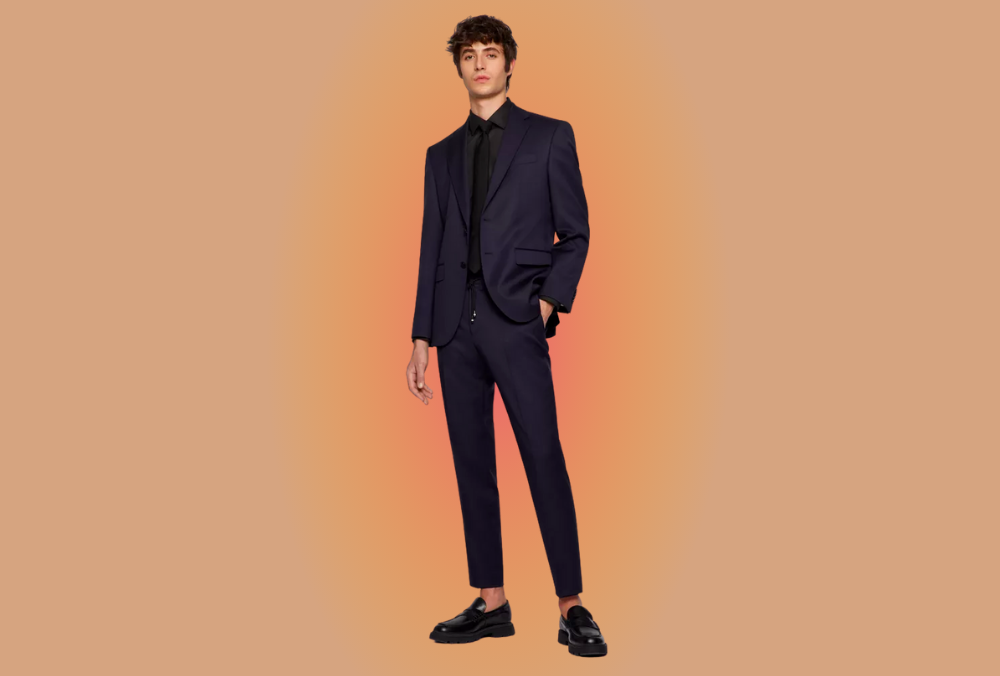 It's official, guys. We've made it to the future. Here, you can be dressed up and comfortable. Tailored without the tightness. Polished without the pulling.

Enter: men's suit separates. 
Don't worry, I'm not talking about the leisure suit of our forefathers. You know the ones. They came in garish patterns with those pointy collars and flared pants (though for the record, your vintage-loving girl fully supports those, too).
In this brave new world, you'll find the smooth lines of your favorite structured suit with the stretch⁠—and adjustable, relaxed drawstring!—of your favorite WFH sweats.
So it's time to think differently about how you wear your suits, and what you wear with them. Like an untucked t-shirt, a (French-)tucked sweater, or a sweatshirt. Yes, really. And on your feet? Sneakers and espadrilles are now fair game.
And yes, you can wear this suit together or broken into different outfits.
Bottom line?
Style is all about having fun with your look and feeling good in what you're wearing. And suit separates are a go for both.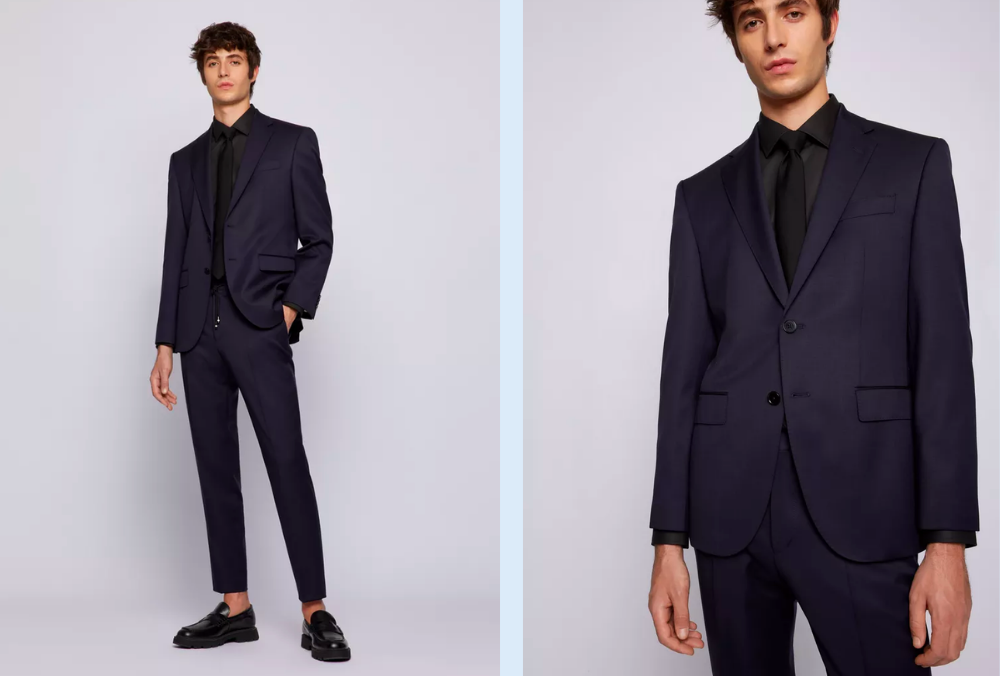 Shop the suit separates: jacket: Hugo Boss, $645 | pants: Hugo Boss, $248
About the suit: What we love most about this style from Hugo BOSS is the quality.
Both the jacket and the pants are made from at least 60% responsible and certified wool, and even the drawstring has delightful stripe detailing. 
You can opt for navy, black, or dark grey, all of which are timeless and plenty versatile for whatever the future throws at you.
Below, five suit separates outfits to wear right now:
Monday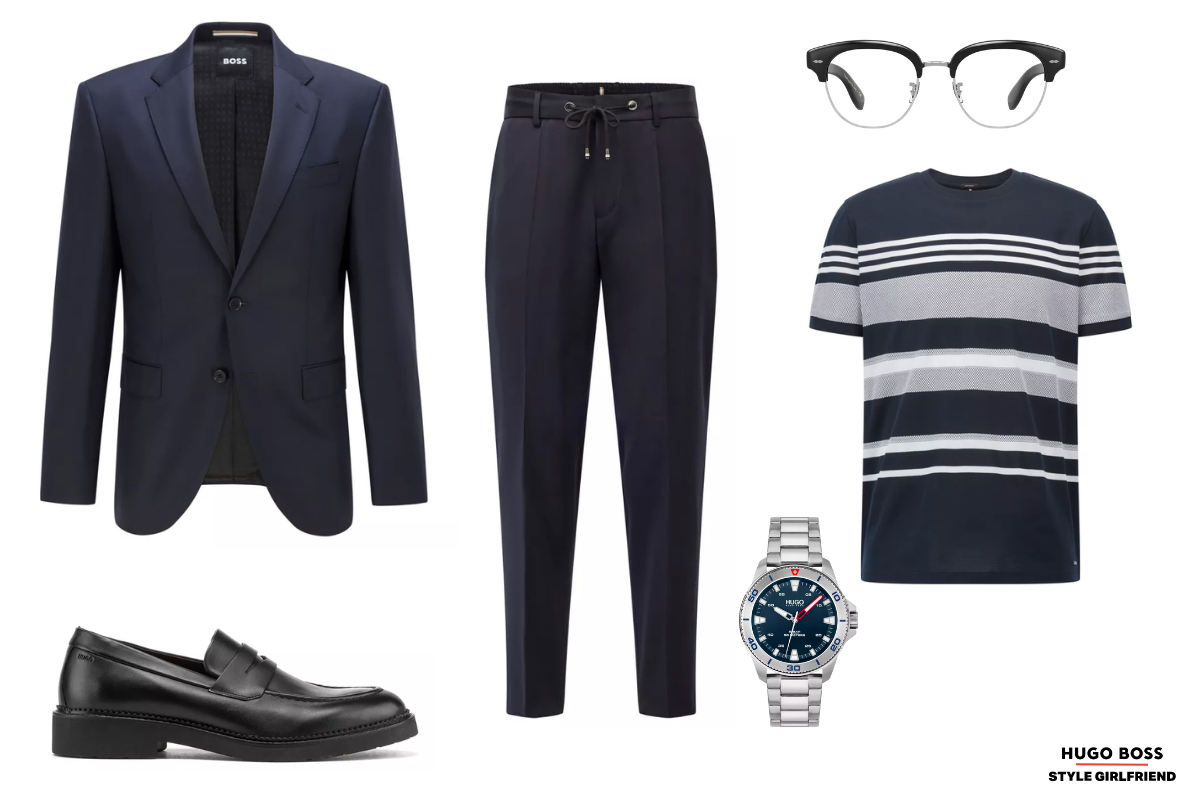 jacket | pants | striped tee | loafer | watch
Start the week in an effortlessly elevated look. The ultra-soft striped tee looks and feels as sumptuous as a sweater, so don't worry about looking too casual.
Paired with penny loafers, this outfit of men's suit separates worn together is the wardrobe equivalent of "Work smarter, not harder."
Tuesday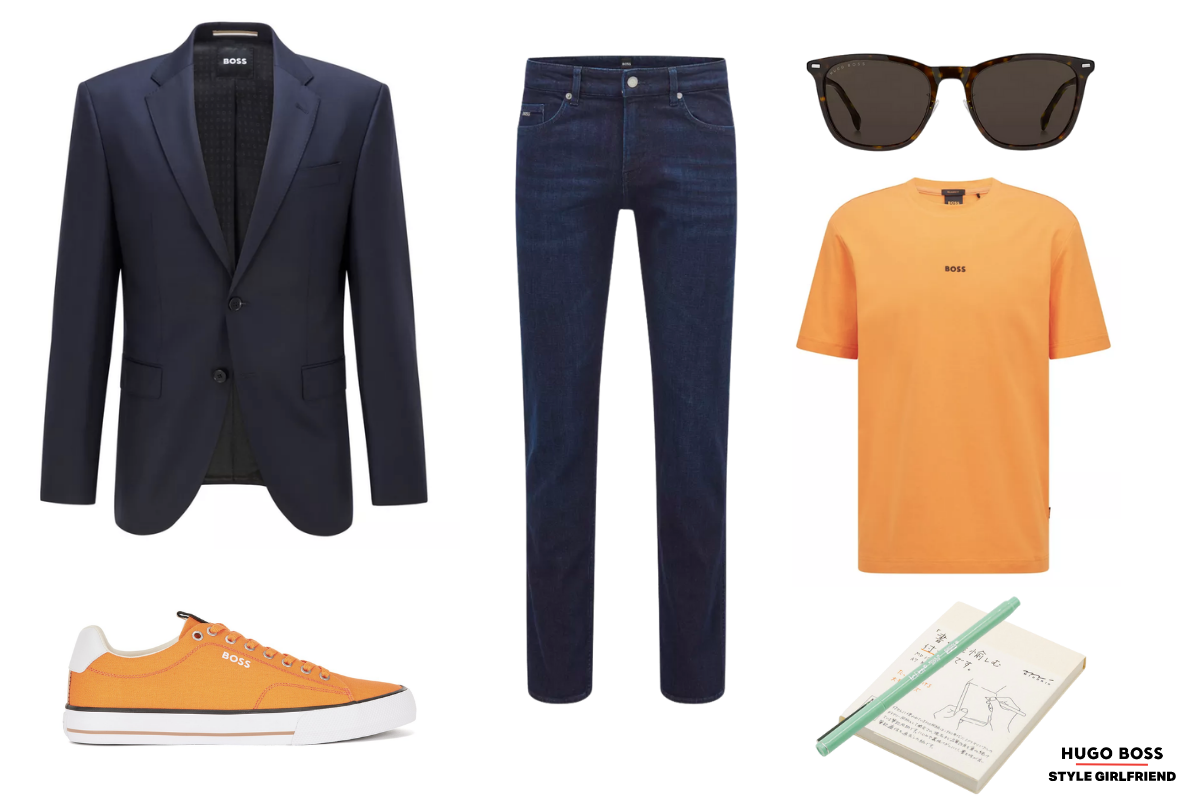 jacket | t-shirt | jeans | sneakers | sunglasses
Complementary describes the relationship between this outfit's striking blue and orange combo. Compliments are what you'll be getting in this fit.
A highlighter tee and coordinating kicks add some fun to your Tuesday Night Trivia look, while the jacket keeps things pulled together in case you're seeing anyone you want to impress. 
Oh, and those words are called homophones, in case it comes up in trivia.
Wednesday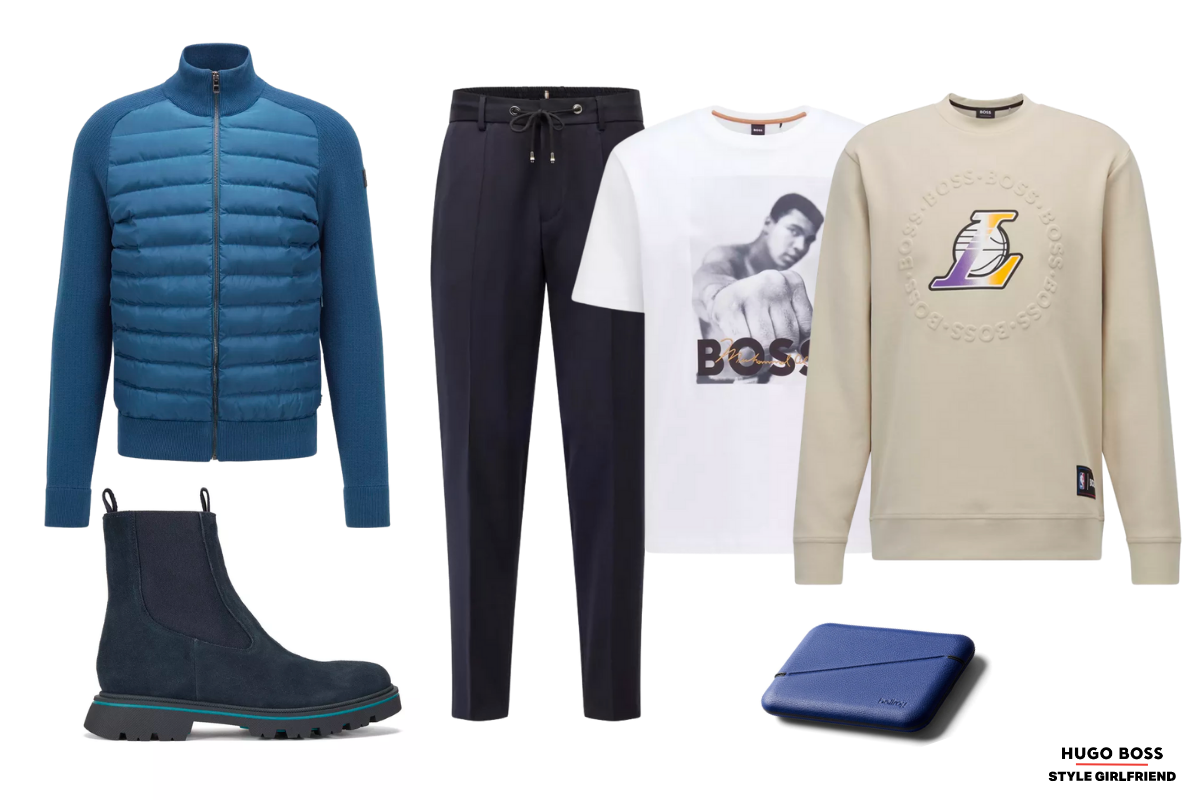 jacket | pants | sweatshirt | boots | Muhammad Ali tee
Don't be afraid to wear a sweatshirt with a suit. Yes, really. Just make sure it's one with structure and heft, like this style from Hugo BOSS's cool collab with the NBA. 
Think you might need to de-layer as the day goes on? Wear a graphic tee that packs a punch underneath.
Thursday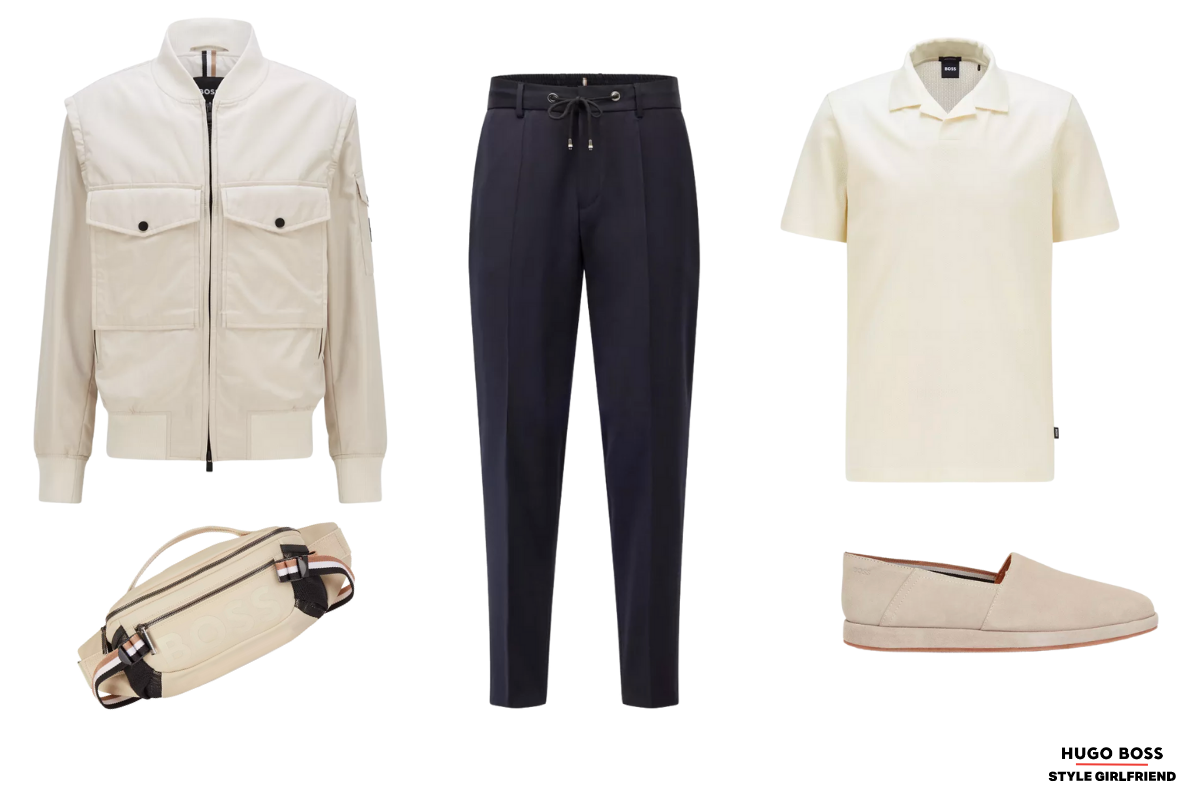 pants | jacket | polo shirt | espadrilles | belt bag
You guys know how much I love cargo pockets, so imagine my delight when I spotted this khaki-colored cargo jacket.
Leave the blazer at home and tuck in a short-sleeve shirt to show off the drawstring on the pants. Finish off the look with casually cool espadrilles.
Friday
jacket | pants | polo shirt | sneaker | backpack
Revamp Casual Friday with a different kind of suit-without-a-tie look. An ultra-bright polo and elevated sneakers supercharge your look so you can power through the day and straight into the weekend.
***
Thank you for supporting the brands like Hugo BOSS that support Style Girlfriend!

Like a phoenix rising from the ashes, Gabi Meyers went from Team SG's first-ever intern to a trusted fashion editor and stylist. She currently lives in Chicago with a very cute dog.