Men's Wardrobe Essential: Navy Grenadine Tie
For the love of finishing touches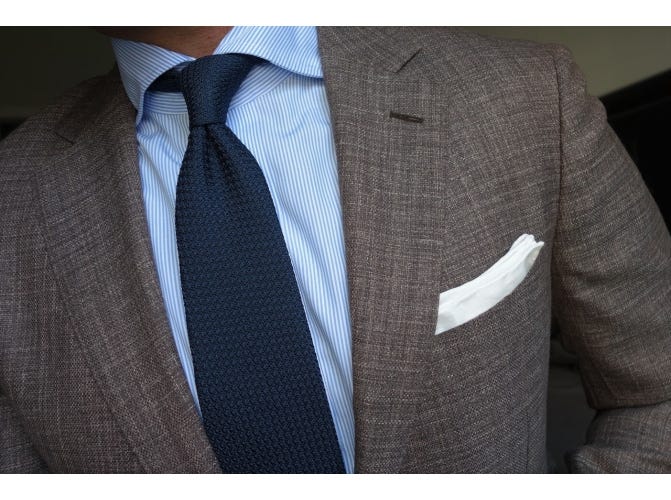 Some style points are non-debatable and neckties are one of them: every man should own one (and yes, know how to tie it). While you may not use yours every day, you will have moments in your life that require the finishing touch that only a necktie can bring.
There are millions of different types of neckties in a wide range of fabrics, but one rises above them all: the navy silk grenadine. It's the one tie that's got a little bit of everything for everybody, which is exactly what makes it an essential in a grown man's wardrobe.
How to wear a navy grenadine tie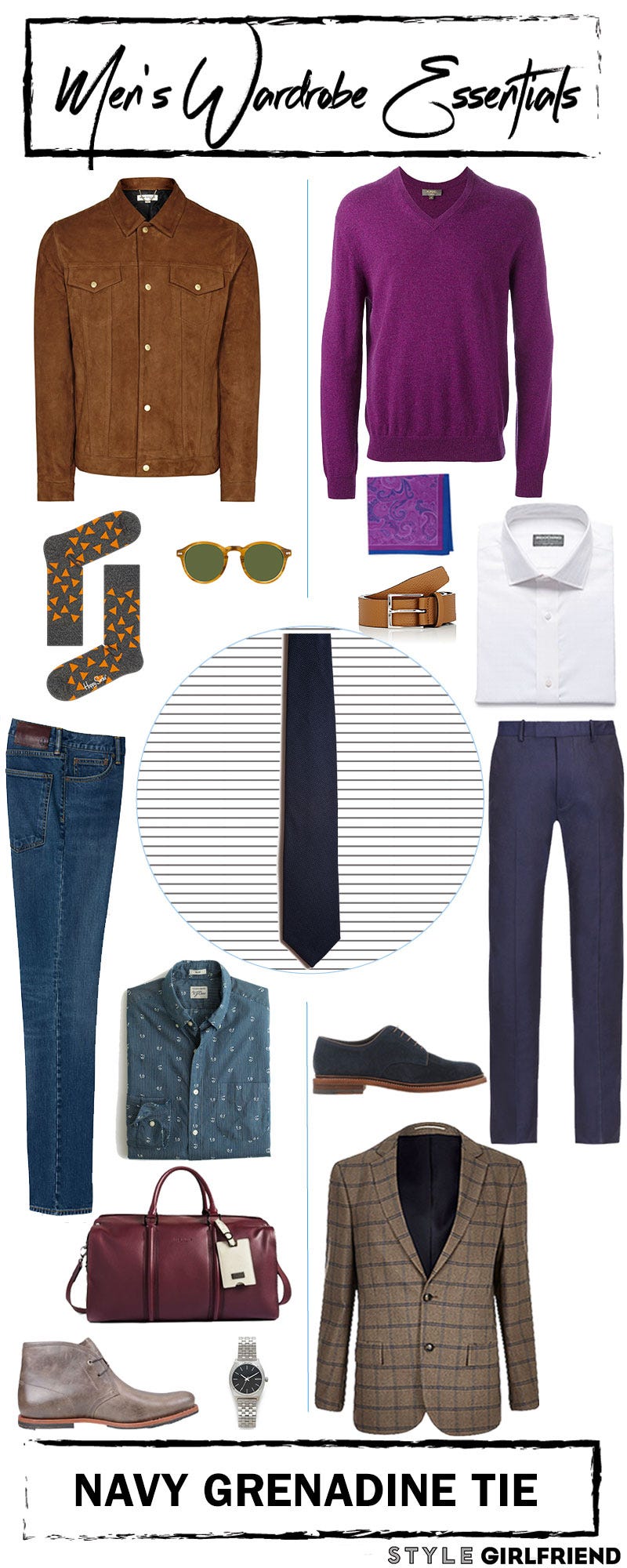 Obviously, the navy silk grenadine is for collared shirts only but it doesn't have to be all serious. Of course you will look great in a  suit or blazer, but try it with an OCBD, cardigan, khaki chinos and  sneakers for a smart casual look.
Have a casual wedding to go to? Your grenadine tie will look great with dark jeans, a white dress shirt, and a blazer. Really, in any outfit that can accommodate a tie, this style will be right at home.

Why a navy grenadine tie is an essential
Not familiar with grenadine apart from its appearance in that Singapore Sling you had on vacation? In addition to being a bar staple, grenadine is also a type of weave. Characterized by its light, open nature and visual intrigue, when silk is woven into a grenadine, its texture is not dissimilar to a golf ball.
It's this texture that makes the navy silk grenadine tie so interesting. Subdued enough to look at home in more formal affairs like weddings or business meetings, it's also interesting enough to serve as a conversation starter. It's the sort of thing that makes girls want to touch it because it's so unique, and who wouldn't want that kind of attention.
How to knot a grenadine tie
Much like terrible shoes can ruin a great outfit, a terrible knot can ruin a great tie. There are dozens of ways to tie a tie knot, and the vast majority of them are useless.
There are only two knots that you need to know how to tie to get the perfect look: the four-in-hand/simple knot and the double four-in-hand knot. It's simple.
Step 1
Place the tie around your neck with the wide blade about 1 ½ – 2 inches below the slim blade and

 

wrap the wide blade over the slim blade 
Step 2
Bring the wide blade behind the small blade 
Step 3
Bring the wide blade around and through the loop you've created
Step 4
Tighten desired amount

For the double four-in-hand, give yourself and even longer wide blade and wrap it around the slim blade twice. To finish off the knot, make sure you situate a nice little dimple at the knot before you tighten it.
What's the best grenadine tie color? 
Navy is the new black. It's a color that's been around for a long time and for a reason: it goes with everything. Navy beats out every other color for the best grenadine tie shade because it goes with black, brown, grey, literally everything. Even navy! It's so incredibly versatile… Also Sean Connery wore it as James Bond.
Shop #SGapproved navy grenadine ties
---
Is your closet full of wardrobe essentials?  Here's why you need an OCBD shirt. 
---
TELL US: 
HOW OFTEN DO YOU WEAR TIES? WHAT'S YOUR GO-TO KNOT?