SG's Most Stylish Man of 2019 Round 2: The Fashion-Forward and Fancy Brackets
Musicians face off, superheroes battle, and more in Round 2
Ready for Round 2? It's time to choose who gets one step closer to being named the most stylish man of 2019. You'll notice we're switching things up this year. To keep things apples to apples in the beginning (as opposed to Bieber to Beto), we've grouped heats by celebrities' personal style.
Check out all of the Round 2 face-offs, then vote in the Fashion-Forward and Fancy bracket match-ups below before polls close at 5p EST on Saturday, March 30th.
SG Madness Round 2: The Fashion-Forward and Fancy Brackets
Fashion-Forward Bracket
Sam Rockwell v. Sterling Shepard
The Giants' Sterling Shepard made suckers of the Jonas Brothers in Round 1, easily beating them both here and in our Instagram Stories poll (…you're following SG on Instagram, right?). We're excited to see how he matches up against style maverick Sam Rockwell, who similarly breezed by Travis Scott to make it to Round 2.
[socialpoll id="2543597″]
Hasan Minhaj v. Timothée Chalamet
We get it. You guys are very into Hasan Minhaj's whole thing. The perfect hair, the swaggy sneakers. We're already cooking up some stories for spring, heavily inspired by Mr. Minhaj.
Not so much on our radar? Graphic floral print suits, like the one Timothée Chalamet wore to the London premiere of Beautiful Boy last fall, above. But who knows? You guys never fail to surprise us here at SG HQ, so maybe we start a draft of "So You Want to Wear a Large-Scale Floral Print to Work" now…
[socialpoll id="2543596″]
Pete Davidson v. Lakeith Stanfield
Another thing we learned in Round 1? BTS fandom has not yet hit the Style Girlfriend audience yet. Or maybe you just feel like you can't pull off their bowl cuts. Either way, Pete Davidson breezed through to Round 2.
A narrower win, yet decisive all the same, saw SG Madness newcomer Lakeith Stanfield toppling Chadwick Boseman, who made it to last year's quarter-finals. Honestly, if I had to guess, I'd say it was the Oscars lewk that did him in. But hey, there's gonna be a hell of a lot of press for Black Panther 2, so I'd say this isn't the last that SG Madness will see of Boseman.
[socialpoll id="2543598″]
Dan Levy v. LeBron James
What was so funny in Round 1 was hearing from so many of you, outraged that "this guy I've never heard of" was beating Pharrell.
Funny, mostly because I have been slurping down seasons of Schitt's Creek on Netflix like sparkling water, so I feel like Dan Levy and I might be best friends now?
But does the bespectacled Canadian have what it takes to topple King James? That's up to you.
[socialpoll id="2543599″]
Fancy bracket
Mahershala Ali v. Henry Golding
Honest to god, I don't even know how I'm going to vote on this one yet, so I don't know what to tell you guys. Go with God, I guess…
[socialpoll id="2543600″]
Jay Z v. John Legend
Another tough one! Jay has really had a comeback year. The suits he's been wearing for the On The Run II tour, the hair, the jewelry…it's all working. And I want to reward him for the effort.
Legend, on the other hand, is always dependable when it comes to style. Argh, it's the Oscars Best Actress race all over again!
[socialpoll id="2543601″]
Tan France v. Michael B. Jordan
Hot damn, look at these two stylish stars facing off. Newcomer Tan France always looks just right, and well understands how important tailoring is to a smaller frame.
On the other hand, Jordan looks 10/10 all the time, no matter his size…which is not nothing, considering how he's changed his body for the Creed movies, and Black Panther, too.
So, whose tailor gets top credit for moving their client to the quarter-finals, Tan's or MBJ?
[socialpoll id="2543602″]
Chris Evans v. Winston Duke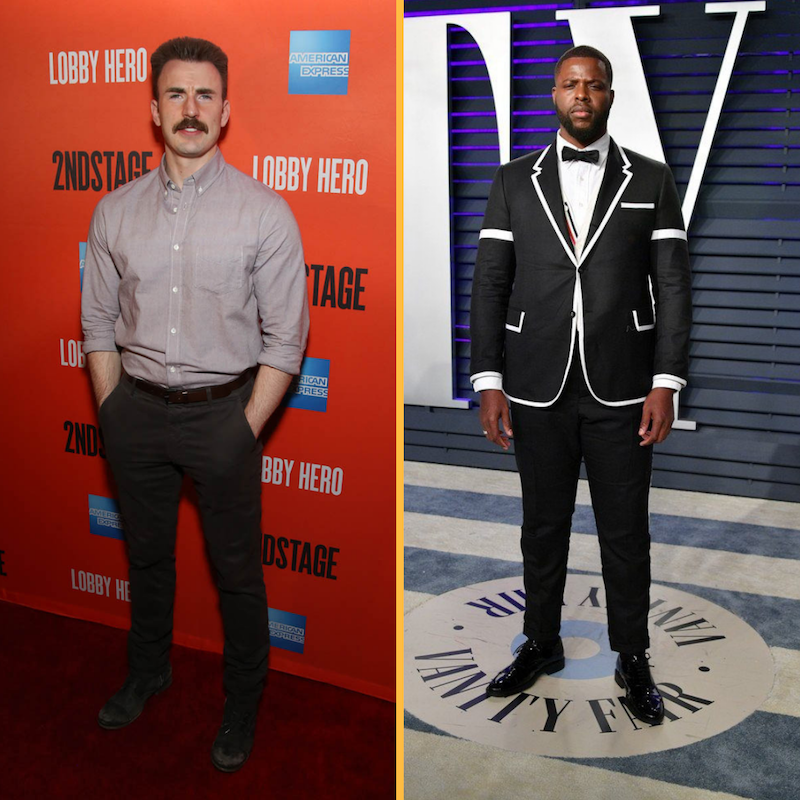 It just feels right to end on these two superhero stars looking surly, doesn't it? Evans, with that policeman mustache he grew for his starring turn in last year's Lobby Hero play on Broadway. And Duke, with his "big guys can wear Thom Browne, too" tux after this year's Oscars.
Like I said, it's already getting tough, guys! Good luck with this, and all the picks.
[socialpoll id="2543603″]
***
Vote in these eight match-ups above, before Saturday, March 30 at 5pm EST! And don't forget to weigh in on the Classic and Committed bracket face-offs, too.
***
Ready to build your own SG Madness-worthy wardrobe?

Clothes make you feel like a million bucks does wonders for your confidence, but a closet full of clothes you love and feel great wearing can feel like a slog to build. If you're ready to invest in some new clothes for your wardrobe but dread the thought of shopping for them…consider having Team SG shop for you! We can curate an online shopping list just for you that fits your budget, your body type, and your lifestyle.
Let us rescue you from shopping fatigue and sartorial apathy. You'll receive personal attention and care that will make you feel like the best version of the awesome guy you already are! Ready to seriously improve your closet and your confidence? Give us a shout.