Most Stylish Man of 2019 Championship
Whose style reigns supreme, Hasan or Idris?
This is it, guys. Only two of the best-dressed celebrities remain in this year's bracket hoping to be named the Most Stylish Man of 2019, and I've gotta be honest, it's not who I expected.
The SG Madness 2019 championship face-off: Hasan Minhaj v. Idris Elba
Don't get it twisted. I'm surprised, not disappointed, by your picks! Both Minhaj and Elba have perfected their own unique brand of personal style in the spotlight. A lot like Ryan Reynolds' win a few years back, my surprise comes more from the fact that their respective wardrobes feel very lived in and comfortable. Aspirational, sure, but accessible too.
While I'm sure both work with stylists (as most of the guys on this year's list do), they seem supremely confident in what they wear. They're not as flashy or showy than some of this year's other contenders, but that doesn't mean they ever look boring. Ultimately, both Minhaj and Elba's 'fits look like ones nearly any guy could pull off, and that's very cool.
But of course, only one celebrity can remain standing when all this is over. Vote below for your favorite here and on Style Girlfriend's Instagram Stories before voting wraps up today. You've got until 5pm EST, and that's it!
SG Madness 2019: Hasan Minhaj v. Idris Elba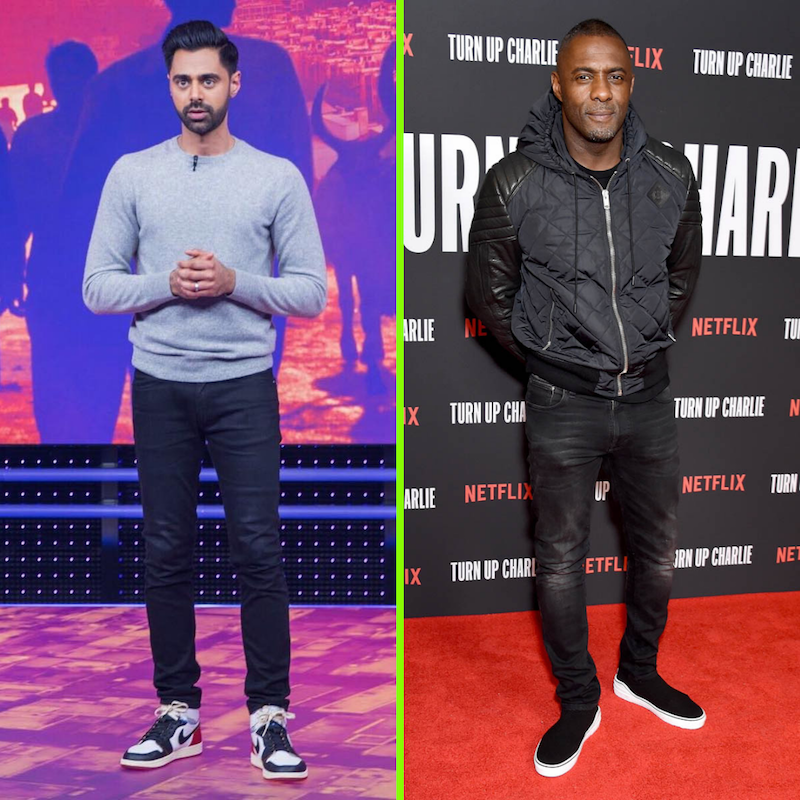 What I find most interesting is that they both really excel at off-duty style, though they seem to look and feel just as comfortable when dressed up.
Minhaj's Patriot Act wardrobe seems to build up from the shoes. A self-professed sneakerhead, you can see the care and dedication that goes into building an outfit that fits well (he's skinny, so anything too boxy would billow out on him) that still lets his footwear be the star.
Elba, on the other hand, has a decidedly more…European off-duty style? I don't quite know how to put it except that if you told me he's a DJ in his forties who seems to be succeeding possibly based purely off his looks and accent, I'd believe you?
That's not an insult, but rather more of a nod to the fact that it's a bit easier not to grow up when you're a celebrity (and they let you do it). If you were pushing fifty, could you get away with the quilted hoodie bomber and black jeans number above? Hard to say!
Interestingly, formalwear is where these two Freaky Friday their style. Minhaj prefers a more classic look, while Elba leans into a more fashion-forward vibe.
Whichever look you prefer, you've gotta give it to them both for looking just as comfortable in tuxedos as they do in jeans.
So, who to name the most stylish man of 2019 championship winner?
Gabi is Team Elba:
"As I've said from the beginning, the fact that Idris hasn't won SG Madness yet is maddening. He's made it so far so many times! He knows how to make red carpet styles his own without going crazy. And he looks good on a daily basis. He has an eye for detail, and when you're working with more classic styles that's what sets you apart—a contrast piping here, a nubby texture there. All SG madness has been leading up to this. He was sexiest man of 2018, now let's make him most stylish of 2019!"
While Taylor makes the case for Minhaj:
"Both of these guys deserve to be here, and choosing one of these incredibly handsome well-dressed man to get my vote is tough. But early on I came out for Hasan… and I'm SO pleased he's in the final round!! He really is one of the best-dressed celebs in the game right now. He has a genuine appreciation for clothes and for fit, and great taste. His wheelhouse is for sure 'making sneakers look acceptable with everything' and I'm down for that. Idris may have the suit game locked in—but Hasan is a man of the people! He dresses in a way guys can really identify with so let's MAKE HIM OUR CHAMPION!!!"
Well argued by both sides! So, who's it gonna be?
[socialpoll id="2545759″]
TELL ME:
WHO DO YOU THINK DESERVES TO TAKE IT ALL AND WHY?
***
Be your own best dressed man of 2019!

A wardrobe that makes you feel like a million bucks boosts your confidence big time, but shopping for all those clothes? Kind of a drain.
If you're ready to invest in some new clothes for your wardrobe but dread the thought of shopping for them…consider having Team SG shop for you! We can curate an online shopping list just for you that fits your budget, your body type, and your lifestyle.
Let us rescue you from shopping fatigue and sartorial apathy. You'll receive personal attention and care that will make you feel like the best version of the awesome guy you already are! Ready to seriously improve your closet and your confidence? Give us a shout.
***