The Oscars' Best-Dressed Men
Who won the red carpet at last night's Academy Awards
While I gave up after the first hour of last night's Academy Awards telecast, I saw enough of the red carpet to make my picks for the evening's best-dressed. Here's whose looks I liked best at the Oscars (and none that I didn't..being snarky and rude is what E! is for).
Read on, then weigh in with your best-dressed in the comments section below:
Michael Keaton
While Tim Burton's Batman lost out to Eddie Redmayne last night, Keaton at least gave him a run for his money on the red carpet. Everything fits, nothing's too long or baggy, and the lapel is just distinct enough from the rest of the jacket so as not to suggest a really dressy suit. Could he have unbuttoned the bottom button? Absolutely, but c'mon, he's Batman…and Birdman; I'm not going to tell him what to do.
Chris Pratt
If there was any question about Chris Pratt's rising "movie star" status, may I present the picture above.
Young Guys in Blue Tuxedos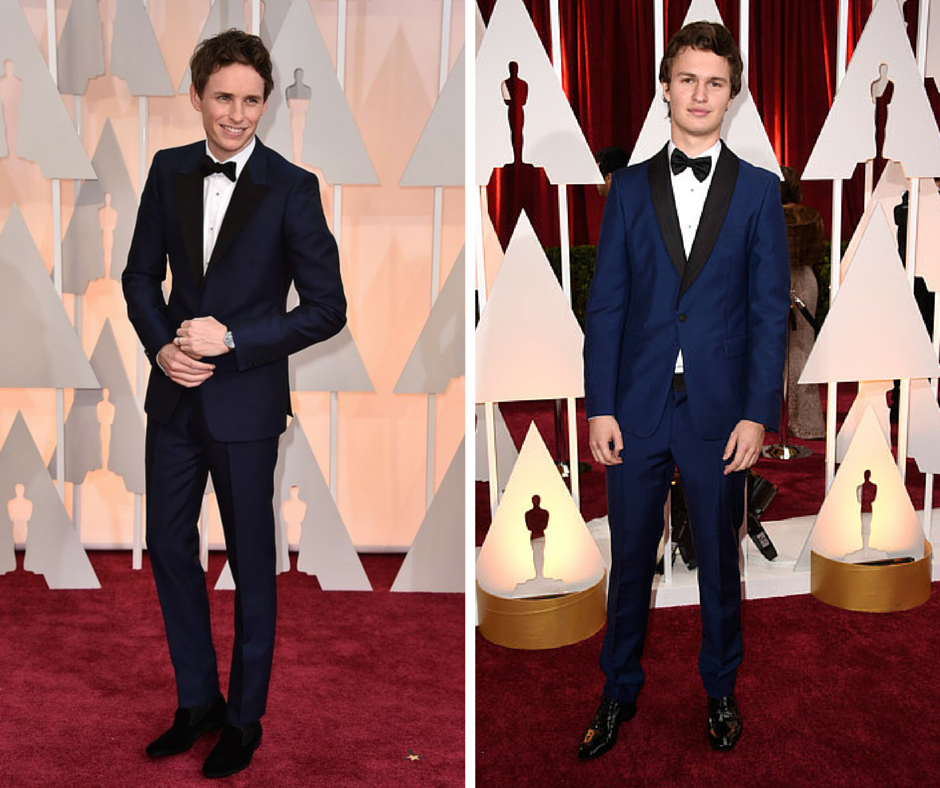 Of course Redmayne looked great. The man knows his way around a suit and has consistently sprung up at awards shows this season looking 10x better than everyone else in attendance. Last night, he went toe to toe (or should I say peak to shawl) with Ansel Elgort in midnight blue tuxedos. The Best Actor winner takes home the prize for best fit here, but both deserve credit for looking more at home in formalwear than men twice their age on the red carpet sporting conservative all-black tuxedos.
Andy Samberg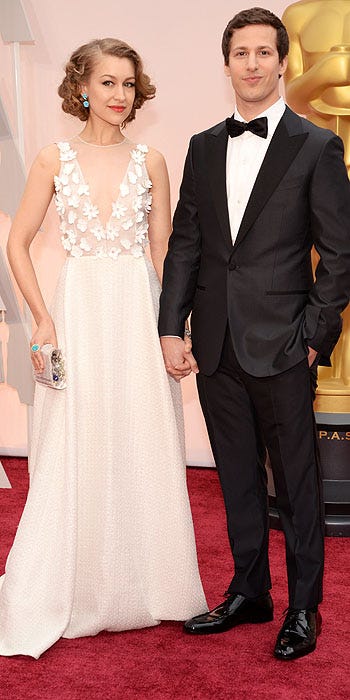 I've said it before, I'll say it again: the men of SNL know how to dress.
David Oyelowo
Maybe if David Oyelowo had worn this attention-grabbing yet elegant tux earlier in the award season, the academy would have noticed him and his amazing performance in Selma and rewarded it with a Best Actor nomination.
Steve Carrell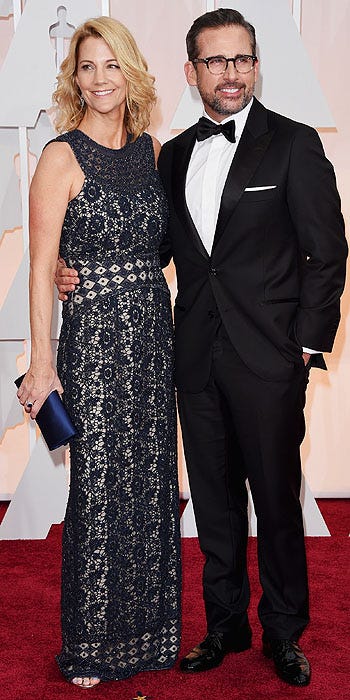 Did I ever think I'd be including The Office's Michael Scott in a list of best-dressed, and as an Oscar nominee to boot? No, but – apart from a pant leg that's a little too long – Dunder Mifflin's most notorious manager looked great last night. I appreciate the inclusion of a peak lapel in an otherwise conservative black tux; too many guys end up looking only one step up from a funeral-black suit in their formalwear when they opt for a notch lapel.
Benedict Cumberbatch
Married life looks good on The Imitation Game star, as does the just-barely-off-white dinner jacket he wore to the awards ceremony.
Tell me:
Whose look did you like best on the Oscars red carpet?
Want more celeb style coverage? Check out SG's best-dressed picks from this year's Grammys
SHOP THE STORY: