The #SGApproved Guide to: Portland, Oregon
Travel Weird
I'd like to think I am a well-traveled person. I brag, rudely, that my parents took us kids on educational vacations growing up. I've visited every monument and museum in Washington, D.C, seen Lincoln's home in Springfield, Illinois, and watched historical reenactments in colonial Williamsburg. I'm lucky to have seen quite a lot of what makes our country our country.
That's why I only recently realized the one glaring blind spot in my (continental US) travels, and that's the Pacific Northwest. We're not a very "outdoorsy" family—which you can tell by my putting that word in quotations like it's not a real thing, so hiking Mount Rainier or exploring Crater Lake probably just didn't register very high on my parents' hit list.
So it was with excitement that I made a pilgrimage to Portland, Oregon right before the holidays in my first ever mileage run (yes, I'm one of those people now).
What I found was a city that lives up to its weird name, in the best way possible.
Below, the #SGapproved Portland, Oregon travel guide:
Hit the town
Shop like the locals claim they don't
In Portland, there's plenty of shopping, and also plenty of eye rolling about where to shop. To me, it all felt a bit like complaining a band has "sold out" while humming along to their song on the radio. So here are the places I shouldn't recommend to you but am going to anyway because I liked them.
Portlanders make fun of this neighborhood, calling it "Trendy-Third," but NW 23rd Street has lots of great shopping (and some good restaurants, too). It's definitely not the classic hipster Portland scene, which you'll find more in northeast and southeast Portland. 
The other area that seemed plenty busy to me but gets a lot of flack is the Pearl District, home to former factories-turned-loft apartments aplenty, and that now boasts endless breweries, a Whole Foods (because of course), and fancier galleries and shops. Yes, it's a bit bro-tastic, but also lovely and great for an afternoon of walking around, shopping and beer sampling. So.
Shop like the locals definitely do
Of course, when in Portland, you're free to take part in the legal purchase of recreational marijuana, and if that's your thing, you've got plenty of options. Here are just a couple of shops with friendly, knowledgeable staff:
> The Green Remedy, 12507 SE Powell Blvd
> Oregon's Finest, 1327 NW Kearney St
> Farma, 916 SE Hawthorne Blvd
Where to stay
The Hi-Lo Hotel is part of Marriot's Autograph Collection, making it great for savvy travelers who want to stay somewhere with a local feel but also use reward points. From amenities created in collaboration with local businesses including chocolate, coffee, and even a signature wine, to the chic, well-appointed rooms, to modern Mexican at Alto Bajo (Spanish for "high low"). Hot tip: don't sleep on the restaurant's hanger steak mole. 
More boutique-y are the Kimpton Hotels, of which there are two downtown and one on the waterfront in Portland. I like the Vintage on SW Broadway. Its art-adorned lobby is narrow but sprawling, while the rooms have an "Oregon Trail" transplanted in the 21st century rugged-yet-modern vibe that feels right at home in the quirky city.
The staff is also super friendly and pointed me in the right direction when I came down with the worst cold and asked where I could find some pho nearby (of course, I can't remember now..but if anyone wants to know I'm sure I could find out again!).
Airbnb is another great option if you're looking for something a little more cozy. The SF-based Marine Layer used to rent out a loft space above their store on NW 23rd St (that ramshackle-looking house above), but that's not there anymore. They still have one above their Chicago store, though! 
Where to eat
Eat breakfast…and lunch (all at once) at Tasty n Alder.
My pal, the comedian Max Silvestri, performed in Portland right after I'd left, and I saw on Instagram that he'd eaten at Tasty n Alder while he was there. Twice. Because of that cold I caught, I wound up flying back to New York early and missed this spot, even though it had been on my list. He's a big foodie (do people still say foodie?), so I emailed him to get his recs:
"Joe Mande was like, you have to go back and order the pan-fried halibut sandwich. Which would not normally be my breakfast move. But it was the best thing I ate there.
The lemon ricotta pancakes are super light. On the other side of the spectrum, the Korean fried chicken bowl with with eggs and kimchee and rice [above] is a real gut-busting hangover cure."
So yeah, that seems like enough options for at least two meals. Maybe more.
Shortcut your Pok Pok experience.
I don't want to brag, but a girl I went to high school with, her boyfriend started Pok Pok and I once ran into her on the street in New York (where they've since moved and he's opened an east coast companion restaurant) and she said I should totally go and I want to but I still haven't because I'm the worst. I know.
However! I can now highly recommend the original version, in the city where I don't even live, that is across the country from me. Head to the smaller location, Pok Pok Noi in northeast Portland, for a shorter wait. And try the fish sauce wings.
Grab breakfast at Blue Star.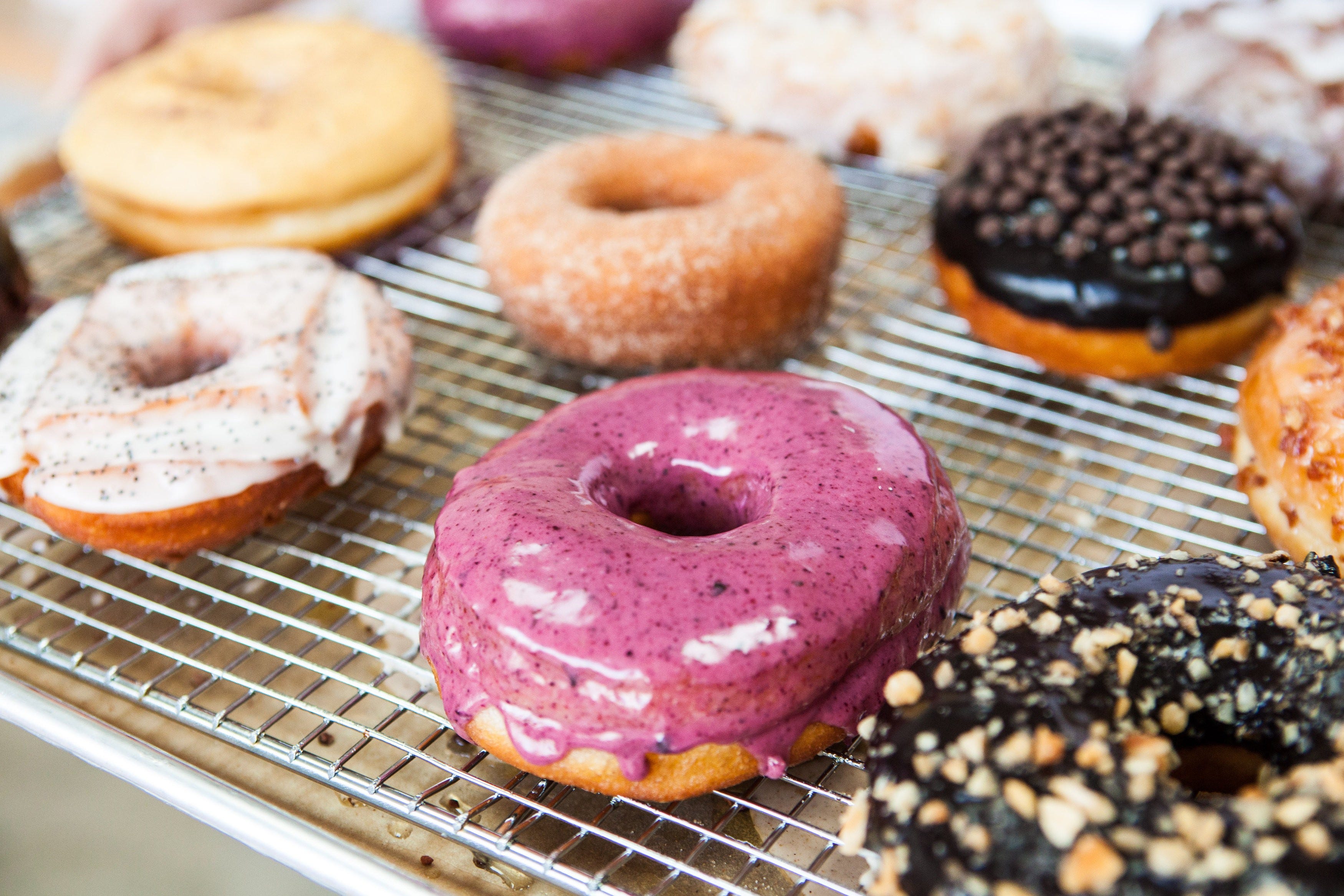 Come at me Voodoo heads! (I just made up that nickname, I don't think anyone calls themselves that).
The donuts at Blue Star may be less revered than their uber-famous Portland counterparts, but they reminded me of my favorite doughnuts in NYC at Dough – a lighter, more brioche-style offering that doesn't weigh you down quite so much. Which, sure, they're still doughnuts, but you've gotta save some room for all the beer you'll be drinking later!
Have a drink (and discover your spirit animal!) at Paymaster Lounge.
This NW dive bar boasts an Instagram-ready wall outside and sells mystery "spirit animals" in a paper bag. Literally what's not to like? Oh, and the nachos are bomb.
Where to get cultured
Go see Hamilton! In March, the every-single-award-winning musical heads to Portland for a two-month stint at the city's Keller Auditorium. If you go and can snag tickets while you're there, you are..probably much richer than me. Worth it.
Visit the McMenamins Kennedy School, a former elementary school that's since been converted into a hotel-slash-bar-slash-movie theatre-slash-go hang out there space.
If you've got a connection..or even a connection to a connection of a connection, try to rustle up an opportunity to tour the Nike campus. The sprawling space is ground zero for sneaker heads and sports enthusiasts alike. With buildings named after
Of course, there are far more "outdoorsy" things to do in Portland, and if you're someone who owns hiking shoes and/or some kind of tactical windbreaker, I suggest doing them! 
TELL ME:
WHAT'S YOUR 'VACATION BLINDSPOT'?