Quarterly #SGF05: What you Missed!
What's in the box? What's in the box?!?!
I can't believe we're into year 2 of the Style Girlfriend x Quarterly collaborations! If you haven't signed up by now, I hope this latest offering convinces you to sign up for the next one.
This latest Quarterly package was all about celebrating the spirit of the spring season. If you're anything like me, the sights and smells of nature's renewing and warm weather returning turns you into a grinning, flower-sniffing fool.
As I said in my letter to subscribers, I can never decide which season is my favorite – it's a perennial tie between fall and spring. Which is funny, for me. As someone who's terrible with change (I'm still not over The Fresh Prince of Bel-Air swapping in a new Aunt Viv after three seasons, as if we wouldn't notice!), I nevertheless love the changing of seasons year in and year out.
But after such a cold, miserable – and worst of all – lo-o-o-o-o-n-g winter in NYC this year, I decided I had to give the tie-breaking vote to spring. No longer having to layer on a jacket…over a sweater…over a long-sleeve shirt…over a short-sleeved shirt…over long underwear before leaving the house each morning is, of course, refreshing when it comes to your style. Plus, not being, y'know, cold all the freaking time is pretty great, too.
Of course, ask me in September after a long hot summer, and we'll see which season wins that round.
To herald in spring's arrival, subscribers to the #SGF05 Style Girlfriend x Quarterly "Spring Senses" package found the following in their mailbox:
Lapel flower
A rose is a rose is a rose…and this one's going on subscribers' lapels. SG readers know that a jacket buttonhole is a great – and underutilized – area for expressing personal style when it comes to suited-up looks. These wool lapel flowers from Noble Breed will brighten up any outfit, not to mention draw much-deserved attention to a handsome face.
Plus, they come from one of my favorite Brooklyn brands, Noble Breed, started by designer Eric Feliciano. Right now, the company is working on expanding the brand to include a line of accessories for kids, called "The Little Gentlemen Collection." And yes, that sound you just heard was my ovaries exploding.
Lip Balm
#SGF05 subscribers should be prepared for the positive side effects of Spring Fever when wearing this very inviting lip balm, from Stewart & Claire. The subtle scent of jasmine will be met with happiness by whoever's (or is it whomever's? I never know…) lips are touching theirs. The point is: Lips soft. Smell good. Ladies like. You dig?
Floral notebook
I have a bad habit of using notebooks that I get for free – from the bank, at a business conference, found at the bottom of a gift bag. It's, how you say…not so chic, yes?
Whenever I pull some grossly, corporate logo-branded number out in front of other people, I feel like I have to apologize for my cheapskate ways. What's more, I use a notebook every day, so this happens a lot! I religiously jot down my daily to do's, and I'm diligent about always carrying one with me wherever I go (it's not that I'm tech-addled, I just write faster than I can type with my thumbs).
That's why I was happy to nab this notebook, by Scout Book, out of my own Quarterly box when it came in the mail. Featuring richly-colored poppies by Perrin, a designer and illustrator whose work has been featured in both The Saturday Evening Post and Buzzfeed (so you know she's got range), it fit the spring theme just right.
Body Wash
Started in the UK, ManCave prides itself on sourcing natural ingredients for its unapologetically masculine line of grooming and skincare products. This is no easy task, considering the ingredient list in most products found in bathroom cabinets these days reads like a chemistry lab's shopping list.
I've been using this body wash for the better part of a year, and it never fails to refresh. Over the winter, the forest-y cedarwood fragrance made me feel like my shower came after chopping wood in the great outdoors, rather than running on a treadmill at the gym.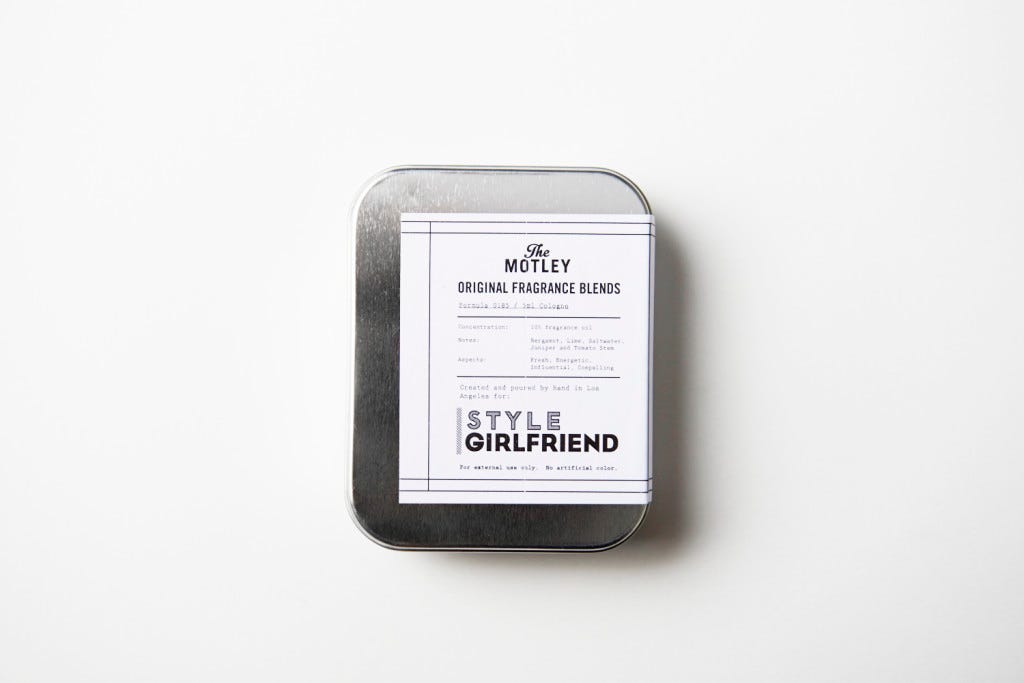 Fragrance
Did you think I'd get away with a spring-themed Quarterly box without including a fragrance boasting floral notes? Fat chance. This cologne, from the cool kids over at The Motley, features bergamot, juniper, and petigrain, as well as some more offbeat nostril tempters like lime, saltwater, tomato stem, and even cut grass. In case you're not familiar, petigrain is made from the leaves of the Citrus Sinesus – that is, the orange blossom tree, and gives off similar olfactory-pleasing properties as neroli oil (another fragrance favorite).
Pocket Square
This floral pocket square was made exclusively for the Style Girlfriend Quarterly subscriber, by Austin, TX-based design shop Fox & Brie. Which, beyond the awesome floral print, is pretty cool. This isn't any ol' pocket square that can be purchased by any old Joe Schmo off the street.
Started in 2010 by designer Jess Decelle, Fox & Brie "creates menswear in homage of the gentleman—whether it be man or woman—and for those who still believe in quality & kindness." From the first cut to the final stitch, the limited-edition fabrics are hand-chosen and handmade, which – obviously – I love, and hope you do, too.
Tell me:
What are you hoping to find in the next package, #SGF06, shipping in August?
And if you haven't already, sign up to receive it!

Like a phoenix rising from the ashes, Gabi Meyers went from Team SG's first-ever intern to a trusted fashion editor and stylist. She currently lives in Chicago with a very cute dog.