Style Girlfriend Reader Spotlight: Jacob from D.C.
This librarian has serious style
Time for another installment of our Style Girlfriend community spotlight series!
You guys know, it's you—the SG community!—who are the lifeblood of Style Girlfriend. Without all of you showing up here every day to check out what's new, shop our picks, and even work with us on updating your wardrobe, all of us here on Team SG would just be shouting "HOW ABOUT TRYING SOME CHINOS?!" into an empty void.
Below, a Style Girlfriend community spotlight on Jacob: 
Name, Age, Occupation, City
Jacob Nadal, 40, I'm actually taking a new job in a couple weeks, so let's go with "Librarian, Washington DC."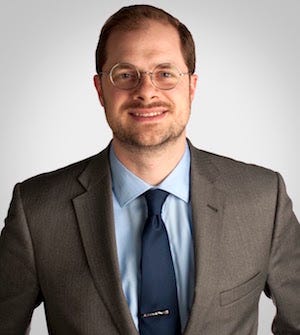 When did you first discover Style Girlfriend?
I had come across SG once or twice just from links here or there, but I really started reading regularly and chiming in with the community last winter. It's been fun, first and foremost — a swell group of people and a nice diversion — and also good encouragement to pay attention, to dress well, stay fit, and all that. I'll do my duty as a librarian and sum up my thoughts on Style Girlfriend with a literary citation from Patrick O'Brian, that "any innocent pleasure is a real good: there are so few of them."
Can you describe your "aha" moment about the importance of personal style?
My family tells a story on me that a cousin gave me a hand-me-down sport coat when I was about six, and I would put it on every day when I got back into the house. This would have passed without notice if we lived in some Edwardian manor, I suppose, but I grew up way out in the sticks in Clark County, Washington, with cows handily outnumbering people in my neck of the very literal woods.
What does dressing well mean to you?
It's a balancing act. I want to wear the clothes that are right for the occasion, comfortable for me, and that manage to have some interest without drawing attention. I actually squirm a little at the idea that clothes are a way to "express myself," but maybe they're a way to express my sense of the occasion. When I get it right, I suppose it feels like a gesture of respect, a way to say that I'm fully present and paying attention to the whole picture of who's here and what we're doing together.
What was your first million bucks moment?
Oh, hard to say. I had these great hippie neighbors growing up who made me a Batman costume for a birthday present one year – a mask and armbands – and my mom helped me make a cape to match. I haven't really stuck with "roguish nocturnal crime fighter" as my go-to look (…or have I?) but it's a hard one to beat. More seriously, you all recently helped me out with a combination that had a lot more happening than I'd normally dare to try on my own: blue checked shirt, colorful pocket square, burgundy tie. I felt great all day in that, like I'd passed Style Girlfriend 101.
Quick Hits:
Favorite "splurge" and "steal" clothing brands?
I'm going to answer these together. I don't really have brands I chase, and I pretty much buy everything off season and on sale. I think part of it is that I'm 6 feet and change and built more lumberjack than beanpole. Most fashion labels are comically undersized on me. I did get a couple Hugh and Crye shirts recently, though, and they're a great fit.
I've tried to be pretty conscientious about ethically sourced clothes the last few years, too, thanks to the influence of a friend who has done some great work in sustainable manufacturing, so I think that after my next round of replacements, all my suits will be made in the USA: Joseph Abboud, Hickey Freeman, Hart Schaffner Marx. That was not a quick hit. I'll pick it up.
Grooming product you can't live without?
Ah, here I do splurge: Baxter of California.
The oldest piece of clothing you have in your closet?
Oh, this is not a quick one, either. I have a beat up blue linen shirt that has been on literally every continent I have been to, and in all of the most uncomfortable situations, to boot. It must be twenty years old now. Here I am wearing it during an archives salvage project in Liberia, about twelve years ago:
Night in or a night out?
First the one, then the other.
Signature drink?
Wine from my homeland.
First celebrity crush
Audrey Hepburn.
Summer wardrobe staple:
I have this blue linen shirt…
Celebrity style inspiration:
Let's give it up for Sir Roger Moore this week, right?
***
P.S. Are you still waiting for your own style upgrade-prompted epiphany? Then allow us to loudly toot the horn of shopping with Team SG! Honk honk, it's the best!
Let us rescue you from shopping fatigue and sartorial apathy. Work with us to style upgrade ya, and we promise you'll get a promotion at your job…No just kidding. We obviously can't promise that. But we can promise the kind of personal attention and care that will make you feel like the best version of the awesome guy you already are! If you're ready for a lewk to change your life, or simply jump right to the end of the shopping process, give us a shout.
> Want to get in touch with Team SG? You can always tweet at us or slide into our Instagram DMs!