Shop the Store: Stantt
Semi-custom shirting is the wave of the future, guys.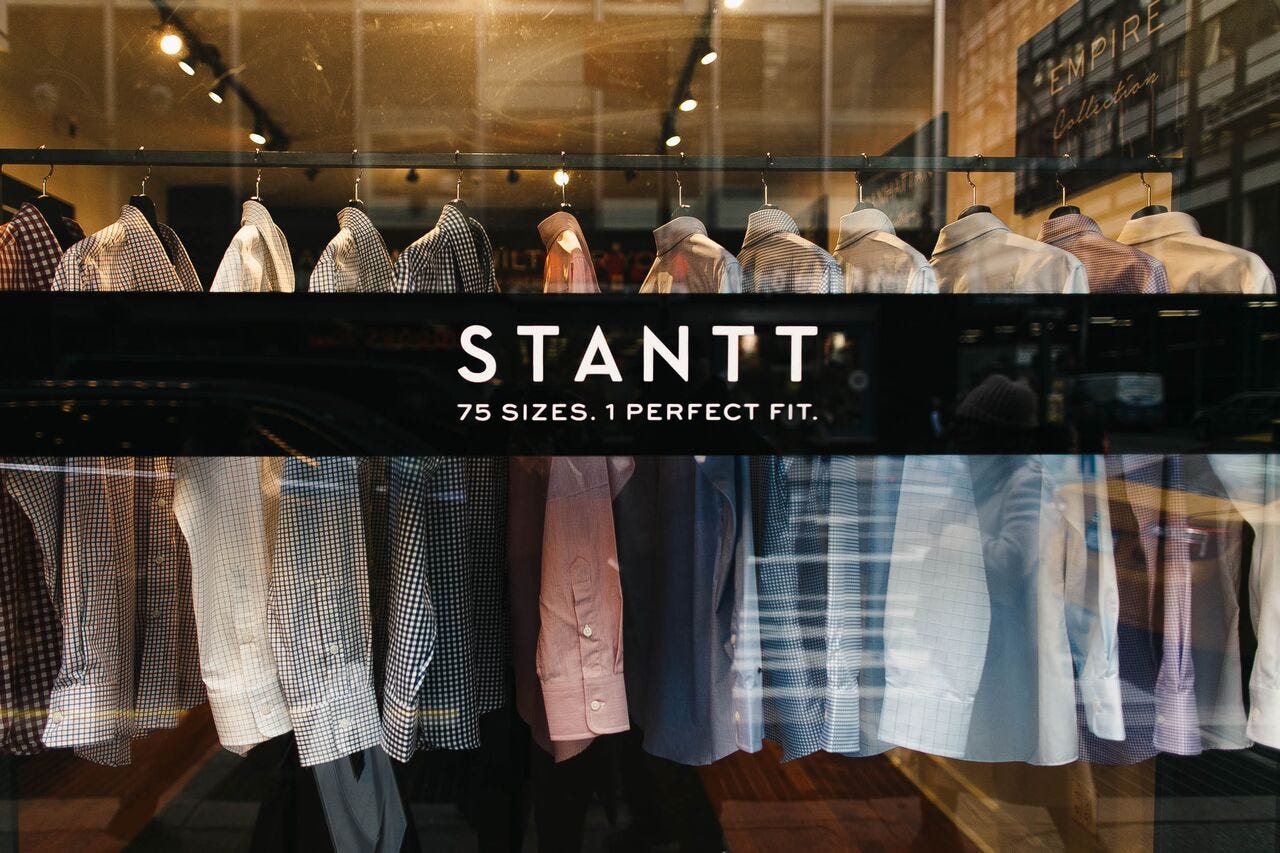 Presented by Stantt. Thanks for supporting the brands that make Style Girlfriend possible!
Here's something I bet you didn't know: traditional menswear sizing as it is now has been around since about 1865, you guys. Like, the hot trends in those days were women in hoop skirts and men in top hats on the reg. Fashion and menswear have obviously evolved since then, so why not sizing?
Why indeed! Menswear brand Stantt is gunning to move menswear sizing – specifically for shirts – firmly into 2017 and away from the limiting "small, medium, large" system we've been using for more than a century.  Their answer is a range that more accurately reflects an obvious reality: Dudes' bodies come in a plethora (yes, a plethora I said!) of sizes and shapes. Their semi-custom approach to shirting has put the perfect-fitting shirt within reach for guys who don't want to shell out for a fully custom look but can't find a flattering fit off-the-rack.
HOW IT STARTED
"The industry is basically split into two areas: off-the-rack (OTR) and custom. Why couldn't there be something in the middle with the benefits of both and none of the stuff that sucks about either?" says Kirk Keel, one of Stantt's founders. The benefits being a great fit and a reasonable price, and the deficits being costly and time-consuming trips to the tailor or a seriously ill-fitting shirt that doesn't reflect your physique or your grasp of style.
That question, explains Keel, formed the genesis of the semi-custom shirting brand he started with Matt Hornbuckle in 2013. The two met on a shuttle bus that took them from Hoboken, NJ to their jobs at Johnson & Johnson, in Princeton. With no prior experience in fashion and apparel (they both worked in marketing at J&J), Keel and Hornbuckle decided to go into business together.
Turns out the guys were really onto something, and the Kickstarter campaign they launched working nights and weekends while still putting in full-time hours at their real jobs turned into $125,000 in pre-sales in just six weeks, putting them in the top 1 percent of Kickstarter projects, ever.
Kirk attributes much of Stantt's success to their lack of familiarity with the industry. They approached the market from a tech and data-driven perspective, rather than say, putting fabrics and fashion first. "We took 10,000 3D body scans of guys of all shapes, sizes and ethnicities," said Keel. The resulting data from these scans yielded some serious fit and sizing intel.
What they found was that the typical sizing guide for dress shirts—using collar measurements—had little to no correlation to the rest of a guy's body. Armed with all this information, they set out to create a wide range of size offerings without the rigmarole of a completely made-to-measure experience.
HOW IT WORKS
Stantt uses three easy measurements of your chest, waist and sleeve (as in, so easy you can do them at home with one of those soft tape measures) to calculate a semi-custom size for you. There are 75 possible sizes in every Stantt shirt, and each one is named after a street in Manhattan, which as an adopted New Yorker, I find very charming.
So once you know your street name, you can forgo the measurements and order new shirts just by punching in "Mercer" or what have you, with a couple of clicks. Your shirt is made just for you, and arrives in 7 to 10 days. I've waited longer for a call back from my parents.
Along with their at-home measuring and online ordering format, you can also try on and order Stantt shirts in-store at select boutiques and even at a few Saks Fifth Avenue locations around the country.
WHO IT'S FOR
The typical Stantt customer is "a guy that wants to dress well but doesn't want to spend a lot of time figuring out how to do that," says Keel. Sound familiar? He "isn't the guy who goes typically custom—he wants a smaller amount of customization to make it easier. Our model speaks to the younger guy, maybe even someone newly out of school and just starting his career. He wants shirts that make him look good that he doesn't have to think about."
Keel believes that having access to clothes with a superior fit can totally change a man's perception of himself (Team SG agrees!), which means a lot when you're first entering The Real World. See also: for the rest of your life.
With price points between $58 for knit t-shirts (oh yeah, they also make semi-custom t-shirts… I know, right??) to $150 for dress and tuxedo shirts, Stantt is right in that sweet spot that's going to set you back a bit more than mass "fast fashion" retailers, but way more affordable than a fully custom shirt. The result? A small investment in your wardrobe with a huge return.
Fun fact: 98 percent of customers report that their Stantt shirt has a "perfect" fit. I don't know about you, but I have a limited budget and can be a real fit freak, so an $88 shirt that I don't have to get further tailored and that can go to work, on dates and out for brunch on the weekend seems like a pretty sweet deal.
SHOP THE STORE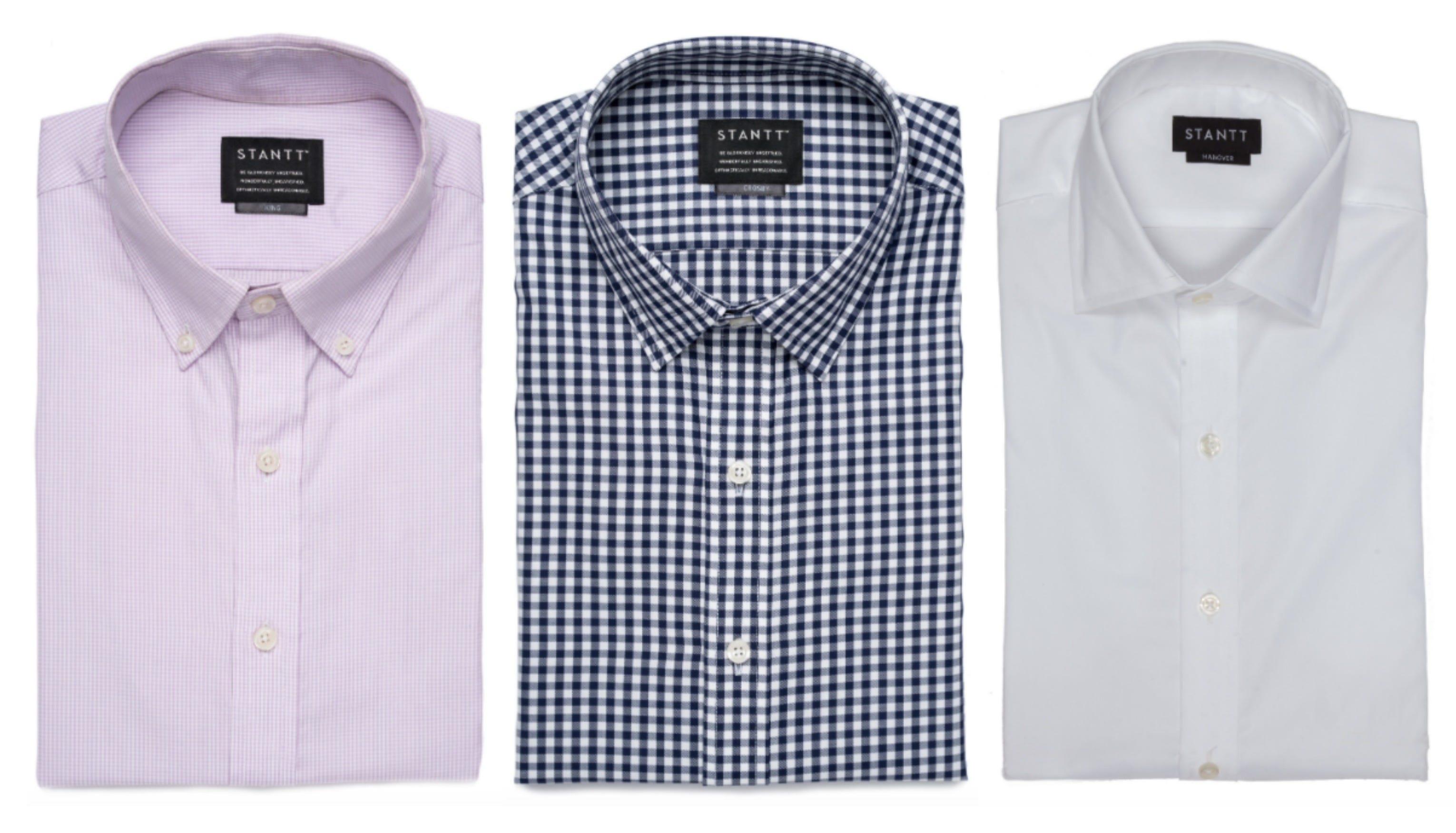 Stantt 'Manhattan' collection dress shirts, $98
One of the most common complaints the Stantt guys heard when they asked other men about shirt fit was the dreaded "balloon effect."
You know what I'm talking about—that thing where you tuck in your nice work shirt and the excess fabric sort of balloons out above your belt. It's not a good look. Their DataFit technology provides the fix by accounting for both your chest and waist measurements so you have exactly as much fabric as you need for a modern, comfortable fit that sits properly (and looks great untucked, too).
Stantt woven short-sleeve shirts, $88
For summer, Keel and the Stantt team are most excited about their knit polos and short-sleeve shirts. "I am over the moon about our short-sleeve wovens," he proclaimed. "They used to be sort of taboo, but it's a summer-must have for every guy now." His favorite of these Egyptian cotton button-downs is the Barre stripe—a summery horizontal pattern in washed-out blue and white. I like it too, wink wink.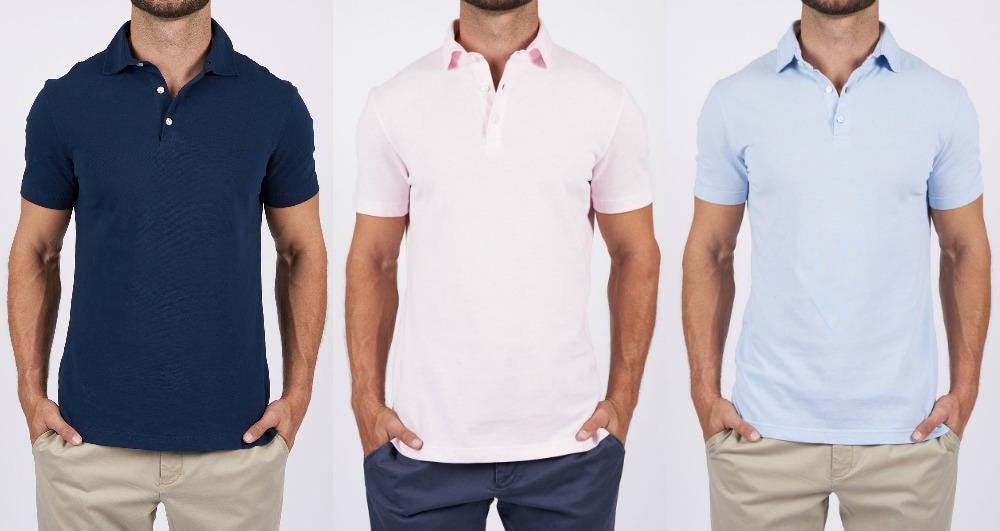 Stantt Knit Polos, $88
And I wouldn't sleep on Stantt's knit polos, either. As far as Keel and Hornbuckle know, they're one of the only companies in the world offering semi-custom knits, which is pretty awesome – and that includes both crew and v-neck tees, by the way. Applying the same measurements and precise sizing to knits means that even on your most casual days you'll be looking sharp as hell.
While Stantt is currently only on that shirting game, Keel hinted that we should watch this space. "The technology we created can be applied to a lot of other apparel, too—like blazers and pants, which many men also have fit issues with. I definitely wouldn't say we're 'just a shirting company,' no."  You heard it here first…
TELL ME:
WHAT SHIRTS WILL YOU BE WEARING ALL SUMMER? 
Taylor Davies splits her time between NYC and Sun Valley. She loves writing about menswear, overpriced martinis in dimly lit hotel bars, and cross-country skiing. Not necessarily in that order.