SG Madness 2019 Elite Eight
These are gonna be tough
Ready for Round 4? It's time to choose who gets one step closer to being named the most stylish man of 2019. This is the Elite Eight, meaning we're not playing around anymore. These are the toughest match-ups you've seen so far, and fair warning: making your picks is not going to be easy.
Who will move onto the Final Four? That's up to you. Vote in the four remaining match-ups below, both here and on SG's Instagram Stories before voting wraps up at 5p EST, Thursday April 4. Yeah, that's tomorrow. So don't waste any time hemming and hawing over your picks!
Here's where we're at in the SG Madness 2019 Elite Eight: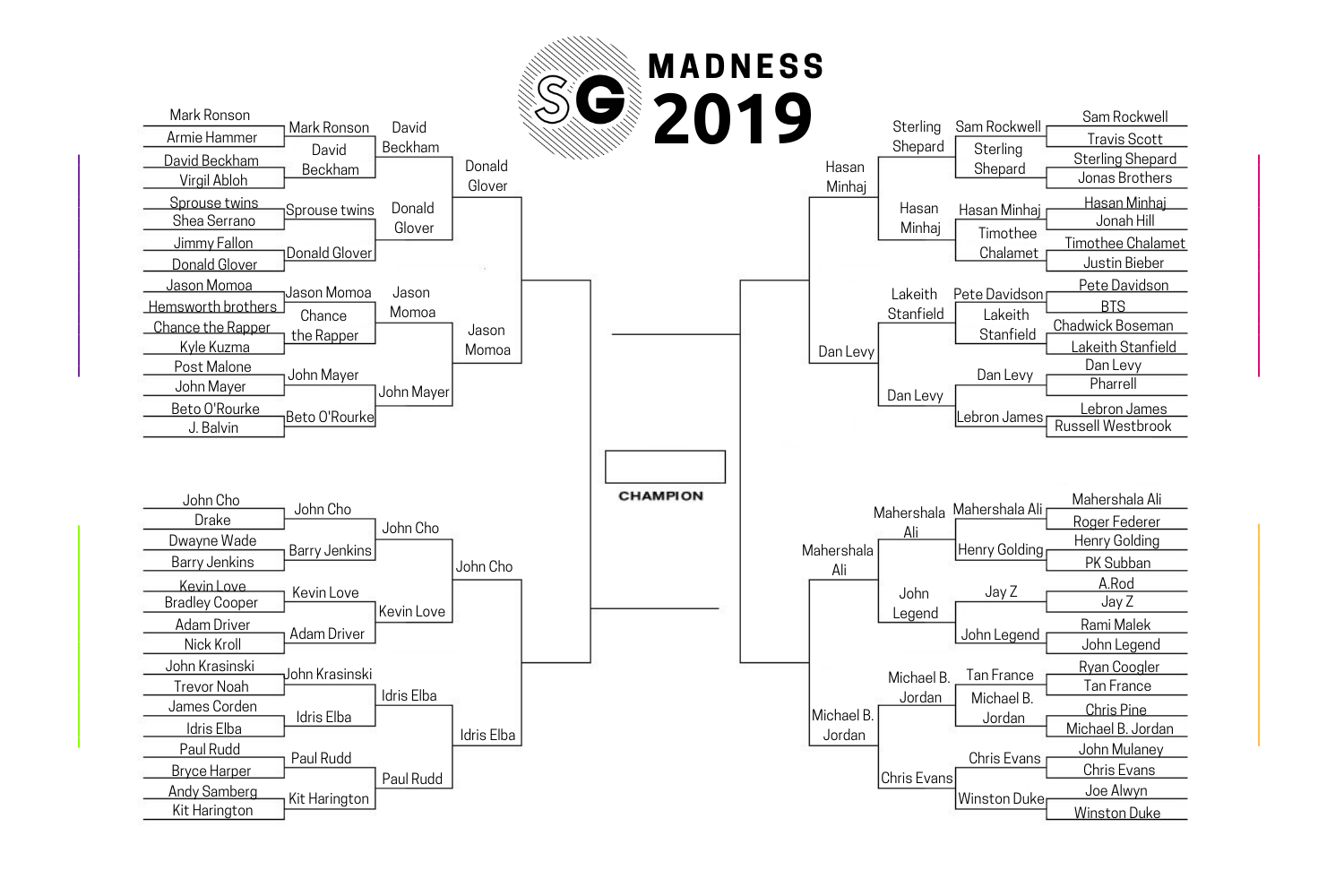 Below, vote on the SG Madness 2019 Elite Eight:
Fashion-forward Bracket
Hasan Minhaj v. Dan Levy
Both these guys are surprises to us that they've made it this far. Not for lack of style cred, but they've blown past some far bigger names on their way to the Elite Eight. Dan Levy, particularly, has us intrigued. Sure, our whole team is obsessed with Schitt's Creek, but that's not it (not entirely, anyway). The Canadian actor/producer/showrunner rocks a look that's "classic with a tweak" like the suit coat swapped for a leather biker jacket from some Canadian awards show, above.
Is it enough to topple Hasan Minhaj's easy ride to the Elite Eight? That's up to you guys.
[socialpoll id="2545076″]
Fancy Bracket
Mahershala Ali v. Michael B. Jordan
This is gonna be another "Close our eyes and make a pick" kind of vote, we're thinking. Mahershala had a bigger year (he won an Oscar..yes, for Green Book, but still), but MBJ was out here riding the Black Panther train still and looking good doing it.
We told you guys this was going to be tough!
[socialpoll id="2545077″]
Classic Bracket
John Cho v. Idris Elba
If this is where John Cho's SG Madness 2019 journey ends, he deserves to be proud. He blew by his opponents, including Drake and Kevin Love, to make it to the Elite Eight.
Can he upset Elba? We're not placing any bets…
[socialpoll id="2545078″]
Committed Bracket
Donald Glover v. Jason Momoa
Oh god. It was always going to come to this, wasn't it? We may have stacked the Committed bracket with too many unique and interesting dressers. Glover vs. Momoa?! We have to sit down. Take a few deep breaths.
This is going to be tough.
[socialpoll id="2545079″]
Be sure to vote in the four remaining match-ups above, both here and on SG's Instagram Stories before 5p EST, Thursday April 4. And let us know who you think will face off in the championship on Monday below in the comments!
***
Ready to up your own style game?

A wardrobe that makes you feel like a million bucks boosts your confidence big time, but shopping for all those clothes? Kind of a drain.
If you're ready to invest in some new clothes for your wardrobe but dread the thought of shopping for them…consider having Team SG shop for you! We can curate an online shopping list just for you that fits your budget, your body type, and your lifestyle.
Let us rescue you from shopping fatigue and sartorial apathy. You'll receive personal attention and care that will make you feel like the best version of the awesome guy you already are! Ready to seriously improve your closet and your confidence? Give us a shout.
***