Vote in SG Madness 2019: Classic Style Bracket
Nothing boring about always looking appropriate!
Here we go, guys. It's time to choose your best-dressed man of 2019. You'll notice we're switching things up this year. To keep things apples to apples (as opposed to Bieber to Beto), we've grouped the second heat with the best dressed, fanciest celebrities of the year. These are the guys who look so comfortable and confident in a tuxedo, you'd think they walk around like that at home. Who knows? Maybe they do…
Check out all 64 contestants below, then vote in the next eight match-ups. And don't forget to weigh in on the stylish guys in the "Fashion-Forward" and "Fancy" brackets too, before voting wraps up at 5p ET on Saturday, March 23rd.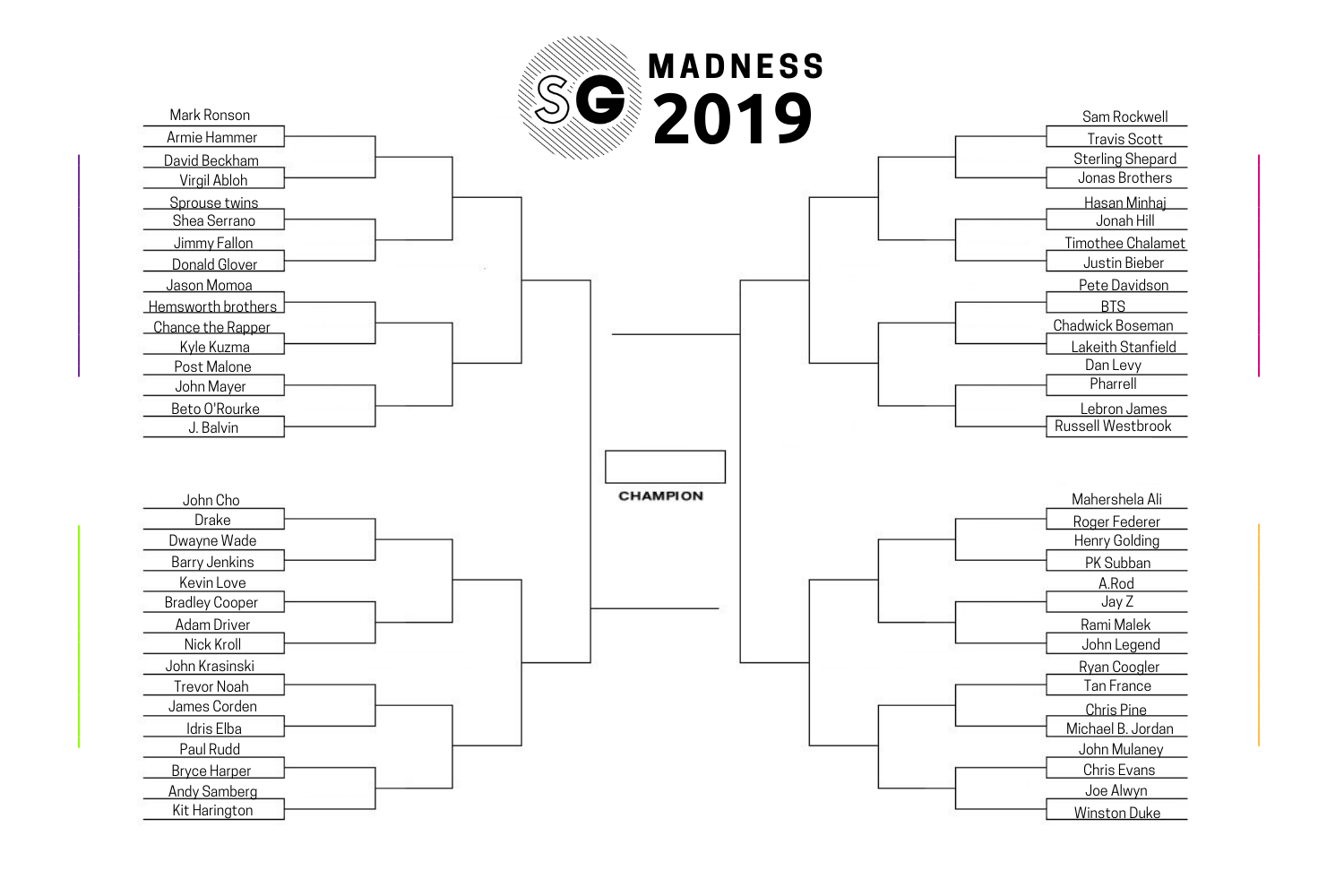 Below, vote for your favorite fanciest celebrities to face off in the next round of SG Madness 2019:
John Cho v. Drake
When it came out that Drake had a secret kid, it kind of made perfect sense, because truly, the rapper's been dressing like a dad for awhile now. Is his classic, structured style enough to best actor John Cho, who always shows up in "carpool but make it sexy" 'fits? That's something for you to decide.
[socialpoll id="2542969″]
Dwayne Wade v. Barry Jenkins
Could we have pulled a picture of Dwayne Wade where he wasn't in full "off-duty millionaire" mode with a baby on his tracksuit'd chest in a private plane? Sure, but don't you also kind of feel like this is the essence of Wade, right down to Gabrielle Union photobombing in the background?
He might have the name recognition, but don't sleep on If Beale Street Could Talk director Barry Jenkins. He always comes correct to movie premiere red carpets, and this behind-the-scenes photo on set shows he doesn't let up just because he's working. If anything, it's always a little extra impressive when non-celebs (a bucket which most directors fall into) have great style. You know they have to work a little harder for it, because they don't have the wardrobe budget, or the professional shopping help, these actors, athletes, and musicians do.
[socialpoll id="2542970″]
Kevin Love v. Bradley Cooper
Beep beep, Team SG's Taylor weighing in here with her pick to go all the way this year:
"So, I have to admit that much like last year's hard push for Armie Hammer, my campaign for Kevin is largely based around the fact that I find him to be so singularly attractive. He's also really passionate about advocating for mental health awareness, loves yoga, and has a cute dog. Oh, and he even helped design a collection with Banana Republic and literally has a body like a model that got put on a stretcher so he looks incredible in everything. It's not fair, but here we are."
Is it enough to beat Bradley Cooper, who, sure we could have used a photo of him in a suit or tuxedo from one of A Star Is Born's endless premieres and award shows lap? Of course. But is this one of him in a textured shacket, hits just right at the ankle joggers, and stylish-without-being-obnoxious-about-it sneakers probably a better representation of his true style? We'd guess yes.
[socialpoll id="2542971″]
Adam Driver v. Nick Kroll
Adam Driver's secret weapon? That hair. It's wavy and a little long without looking shaggy…no small feat.
Vaughn Accord, stylist and founder of men's grooming products line V76 by Vaughn, agrees. "The cut is definitely Adam's secret to looking put together. In addition to a great cut, he's using product that adds weight but breathability at the same time. Strands are controlled but there's movement and a touch-ability to them." He recommends a styling cream or grooming cream for managing and styling longer hair. V76 Styling Cream or Grooming Cream are great options for managing and styling longer hair.
As for Nick Kroll, the brains (and voice[s]) behind Big Mouth has been stepping it up big-time in the style department recently.
Exhibit A, from Taylor: "I saw Nick Kroll leaving the Bowery Hotel once and at first I was like, Whoa, who is that really sharply dressed guy? and then I was like, Wait that's definitely Nick Kroll, and then I texted Megan to tell her that I saw Nick Kroll and he was really well-dressed. He's a funny guy who makes wearing thoughtful outfits look really easy."
She rests her case, gentlemen.
[socialpoll id="2542972″]
John Krasinski v. Trevor Noah
Most of what John Krasinski had to do this past year involved playing plus-one to Emily Blunt on her Mary Poppins press tour. Here at SG HQ, we're not mad about it. He's another example of a celeb who's not necessarily breaking new ground with his style, but he always shows up looking appropriate and like he's enjoying what he's wearing.
Along with his fellow show hosts, Trevor Noah wears a suit to work, so seeing him all dressed up isn't necessarily a surprise. But when he goes the extra mile, like with this double-breasted tux he wore to the Oscars, you can see his personal style street cred creeping through.
[socialpoll id="2542973″]
James Corden v. Idris Elba
This one's…gonna be tough, admittedly. Idris Elba consistently makes it to at least the SG Madness Elite Eight without ever eking out a win. Could this be his year, or will James Corden—a perfectly well-dressed bloke!—stop him cold in the first round?
We'll….well, we'll see but tbh we doubt it.
[socialpoll id="2542974″]
Paul Rudd v. Bryce Harper
We'll let Eva Chen, director of fashion at Instagram, sound off on what we're all thinking:
Someone needs to give Paul Rudd a skincare line or contract because the man has not aged since Clueless & it's nothing short of miraculous

— Eva Chen (@evachen212) January 12, 2015
As for Bryce Harper, it's been a minute since an MLB player had us excited about their style…and no, A.Rod doesn't count. He wasn't dressing on point 'til after he retired!
Sure, we would have been stoked to see another Philadelphia sports star in SG Madness 2019, too, but we wish Harper luck in his first bracket appearance.
[socialpoll id="2542975″]
Andy Samberg v. Kit Harington
What can we say about both Andy Samberg and Kit Harington's style that isn't covered by their designation in the "Classic" bracket?
They're not necessarily making any groundbreaking fashion moves (though Samberg's champagne-hued tuxedo jacket ain't nothing), but they always show up looking extremely nice and well put-together and their clothes are tailored to their bodies.
All qualities worth striving for, guys!
[socialpoll id="2542976″]
***
Vote in these eight match-ups above, before Saturday, March 23! And don't forget to weigh in on the Fashion-Forward, Fancy, and Committed bracket face-offs as we roll them out this week.
***
Ready to build your own SG Madness-worthy wardrobe?

Clothes make you feel like a million bucks does wonders for your confidence, but a closet full of clothes you love and feel great wearing can feel like a slog to build. If you're ready to invest in some new clothes for your wardrobe but dread the thought of shopping for them…consider having Team SG shop for you! We can curate an online shopping list just for you that fits your budget, your body type, and your lifestyle.
Let us rescue you from shopping fatigue and sartorial apathy. You'll receive personal attention and care that will make you feel like the best version of the awesome guy you already are! Ready to seriously improve your closet and your confidence? Give us a shout.