Vote in SG Madness 2019: Fanciest Celebrities Bracket
Suit up and vote
Here we go, guys. It's time to choose your best-dressed man of 2019. You'll notice we're switching things up this year. To keep things apples to apples (as opposed to Bieber to Beto), we've grouped the second heat with the best dressed, fanciest celebrities of the year. These are the guys who look so comfortable and confident in a tuxedo, you'd think they walk around like that at home. Who knows? Maybe they do…
Check out all 64 contestants below, then vote in the next eight match-ups. And don't forget to weigh in on the stylish guys in the Classic, Fancy, and Committed brackets too, before voting wraps up at 5p ET on Saturday, March 23rd.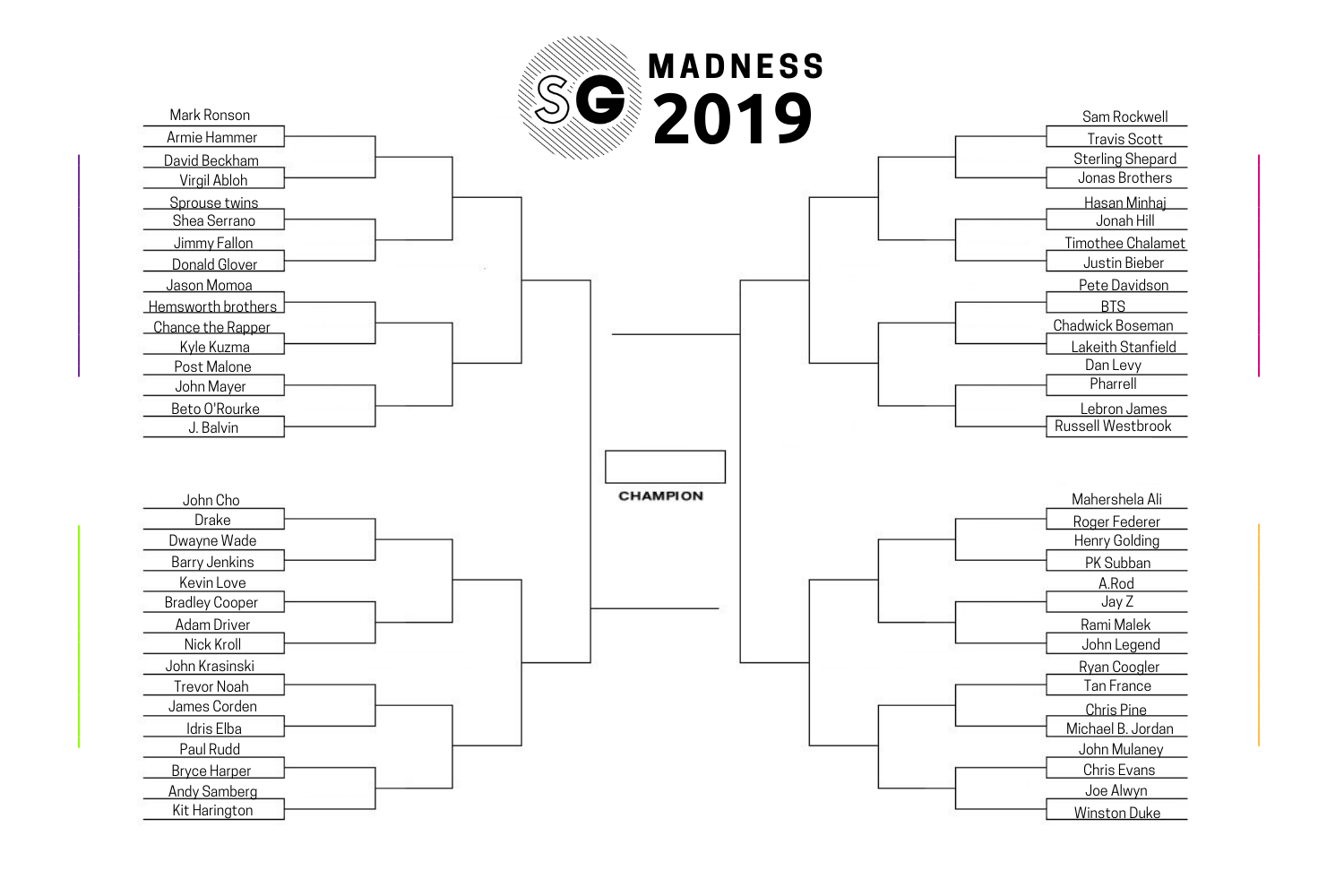 Below, vote for your favorite fanciest celebrities to face off in the next round of SG Madness 2019:
Mahershala Ali v. Roger Federer
We didn't know we were waiting for a "fancy beanie" renaissance until True Detective's Mahershala Ali started showing up wearing them to this year's award season run. He's in LA, so we know he's not wearing a hat to keep his ears warm, leaving us to get on board with the structure and irreverence of a hat that's not a top hat with formalwear.
Roger Federer has been making SG Madness for almost as many times as he's made the French Open. He's one of the OG athletes to show that you can (and should?!) look as good off the court as you do on it. It doesn't hurt to have Vogue's Anna Wintour as a personal bestie, either…
[socialpoll id="2542960″]
Henry Golding v. P.K. Subban
Holy cow did Henry Golding have a breakout year. For movies, sure, but also in establishing himself as a style star.
Over and over again, the former travel show host and new leading man showed up to red carpets (and interviews, and the airport) looking like he was angling for a "Who Wore It Better?" showdown in Us Weekly with Cary Grant. The guy's just got old Hollywood style written all over him. He wore white tie to the Oscars this year, for pete's sake! And he looked amazing!
Don't sleep on P.K. Subban, though. The Nashville Predators defenceman knows that when the pads come off, it's time to suit up. He's also got a thing for casual hats, which he manages to pull off on the red carpet (aka, with suits) and in more dressed-down outfits, too.
[socialpoll id="2542962″]
A.Rod v. Jay Z
In the last year or so, both A.Rod and Jay Z traded in their familiar sportswear (sweatsuits at the airport and on stage) for well-cut suits and classy af off-duty outfits. They look like rich second husbands who show up for b-plots on The Real Housewives of the OC, and we mean that as a compliment.
For some guys, it could look like their significant others dressed them. And could it be argued that Jennifer Lopez and Beyoncé deserve some credit for both of these stars' turnarounds this year? Sure. J.Lo and A.Rod turned a whirlwind romance (and new engagment! mazel!) into an international fashion show every time they left the house.
Mr. and Mrs. Carter's On The Run II tour and Everything Is Love album gave Jay an opportunity to flex his style muscles in suits every color of the sorbet rainbow.
Ultimately both A.Rod and Jay Z look like they love their fancy new styles, and we can't blame them. They look amazing, and honestly, this vote is going to be tough.
[socialpoll id="2542963″]
Rami Malek v. John Legend
Neither Malek nor Legend are newcomers to SG Madness. Both the actor and the singer (and sometimes actor) know how to work a red carpet, and even better, seem to have fun doing it.
While the newly minted Best Actor Oscar winner may be a bit more fashion-forward in his choices, Legend's no slouch in the risk-taking department, either. Ultimately, it may come down to whose fancy style you most wish to steal.
[socialpoll id="2542964″]
Ryan Coogler v. Tan France
We don't know how this happened, but we totally slept on director Ryan Coogler's style during last year's Black Panther press tour. Scratch that, it was because we were too busy looking at Michael B. Jordan.
But with the movie's award season run, we got to see more of the director and his unique red carpet style, and, well, we love it. Black Panther might have missed out on Best Picture at the Academy Awards, but we had to reward its director's style here on SG Madness.
Queer Eye's resident fashion expert Tan France, on the other hand, can make waiting for his Uber—in a Canadian tuxedo no less!—look like he's heading to the damn Oscars. The stylist understands the importance of dressing up, even when you're dressed down. And for that, he's more than earned a slot in this year's "Fancy" bracket.
[socialpoll id="2542965″]
Chris Pine v. Michael B. Jordan
Too lazy to look it up, but pretty sure these two have faced off before. And it makes sense, because they both consistently bring their style A-game to red carpets, global press tours, and paparazzi-trailed coffee runs.
And both are great examples of guys who look hella-comfortable dressed up in a suit or tuxedo. Do they work with smart stylists who know how best to suit 'em up? Probably. But don't discount the importance of good posture, attention to grooming, and confidence when it comes to pulling off a lewk. It's the whole package that makes both Pine and Jordan two of our "fanciest celebrities" bracket picks.
[socialpoll id="2542966″]
John Mulaney v. Chris Evans
John Mulaney's not the first comedian to make wearing suits his "thing," but he might just be the best-dressed doing it. He somehow manages to make looking like the world's most stylish accountant work for him as a vibe. And he's not afraid to take chances when it counts, as evidenced by that floral jacquard evening jacket by Pal Zileri he wore to the Oscars, above.
Is he up against stiff "fanciest celebrities" competition in "When I'm not wearing my Captain America suit, I'm in this blue velvet tuxedo jacket" Chris Evans? Sure, but that's for you to decide, not us.
[socialpoll id="2542967″]
Joe Alwyn v. Winston Duke
Two first-time SG Madness competitors face off! In one corner, we have The Favourite's Joe Alwyn, who also just happens to be Taylor Swift's boyfriend but we're sure that has nothing to do with his getting invited to the Oscars this year. In the other, Black Panther and the upcoming Us's Winston Duke.
Obviously, these guys have very different body types, but what we like is that they both look super at-home in a suit. Alwyn doesn't let being shaped like a literal beanpole stop him from taking some style chances in his formalwear, and Duke shows that a linebacker's body is just as well-suited for dressing up as a quarterback's.
Body positivity, y'all! Now, who's it going to be?
[socialpoll id="2542968″]
***
Vote in these eight match-ups above, before Saturday, March 23! And don't forget to weigh in on the Fashion-Forward, Classic, and Committed bracket face-offs as we roll them out this week.
***
Ready to build your own SG Madness-worthy wardrobe?

Clothes make you feel like a million bucks does wonders for your confidence, but a closet full of clothes you love and feel great wearing can feel like a slog to build. If you're ready to invest in some new clothes for your wardrobe but dread the thought of shopping for them…consider having Team SG shop for you! We can curate an online shopping list just for you that fits your budget, your body type, and your lifestyle.
Let us rescue you from shopping fatigue and sartorial apathy. You'll receive personal attention and care that will make you feel like the best version of the awesome guy you already are! Ready to seriously improve your closet and your confidence? Give us a shout.