SG Madness Most Stylish Man 2019 Sweet Sixteen
Superheroes face off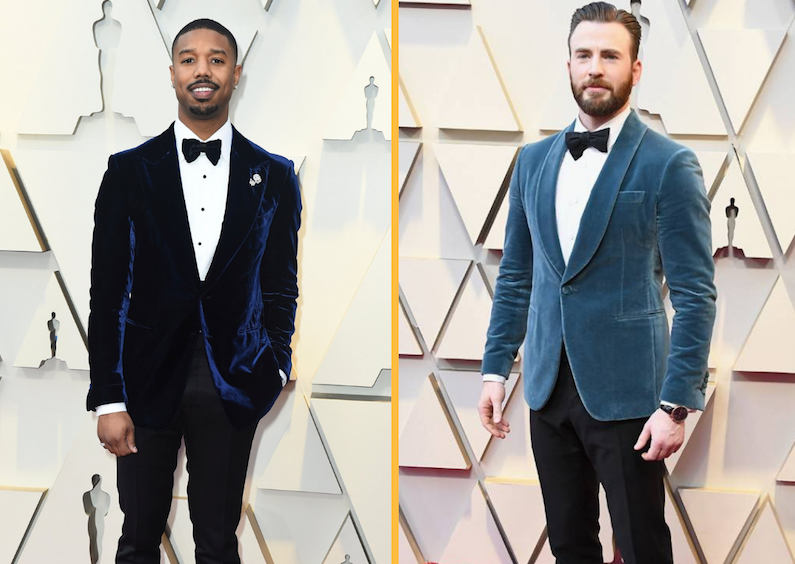 Ready for Round 3? It's time to choose who gets one step closer to being named the most stylish man of 2019. This is the Sweet Sixteen, making for even harder match-ups than you've seen so far.
Who will move onto the Elite Eight's quarterfinals? That's up to you. Vote in the eight remaining match-ups below, both here and on SG's Instagram Stories before voting wraps up at 5p EST, Tuesday April 2. Yeah, that's tomorrow. So don't waste any time hemming and hawing over your picks!
Here's where we're at in the most stylish man 2019 Sweet Sixteen standings: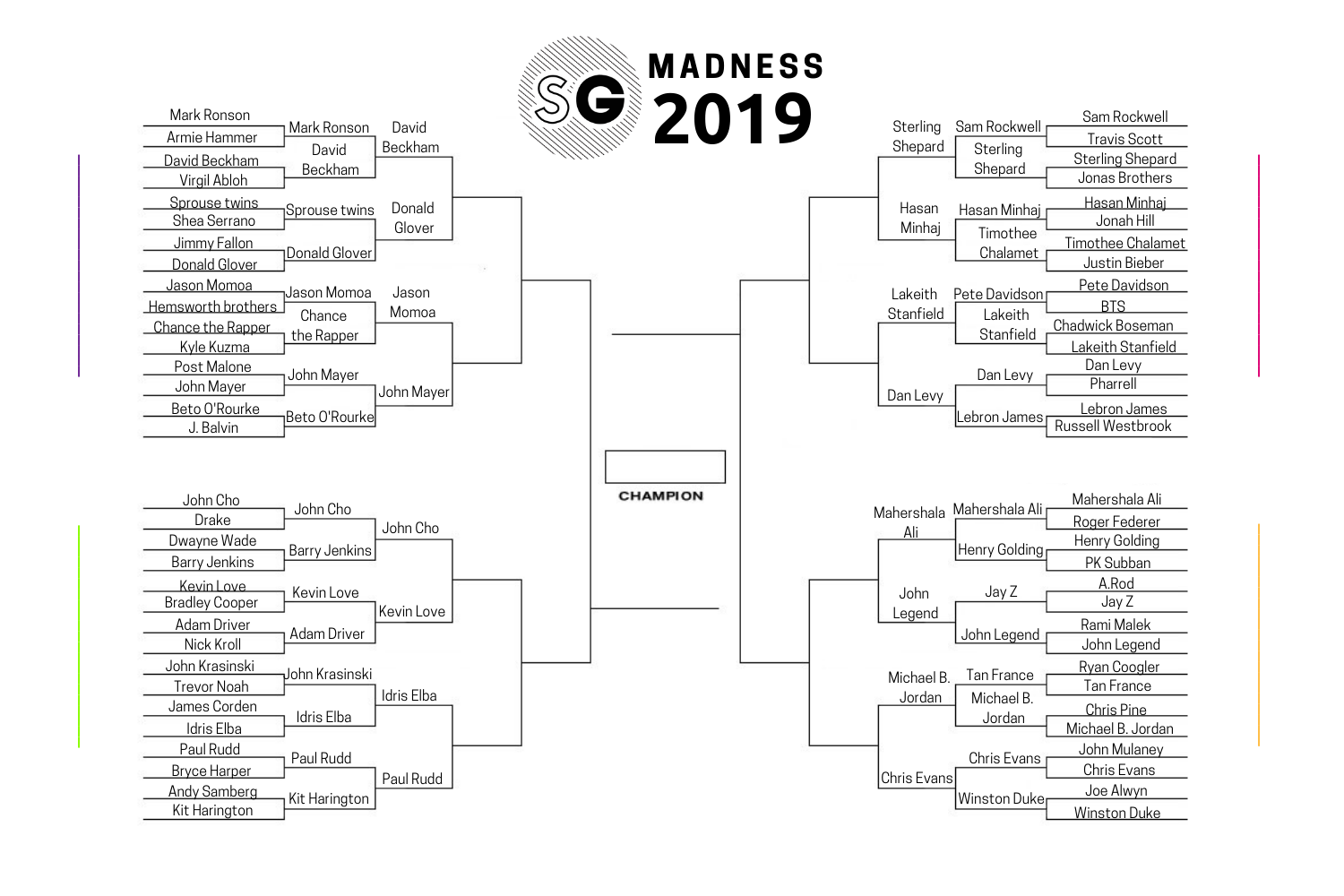 SG madness 2019 Sweet Sixteen
Fashion-Forward Bracket
Sterling Shepard v. Hasan Minhaj
The Giants' Sterling Shepard and Patriot Act's Hasan Minhaj vanquished their Round 1 and 2 competitors with similar ease. So who's going to come out on top in this Sweet Sixteen face-off?
[socialpoll id="2544697″]
Lakeith Stanfield v. Dan Levy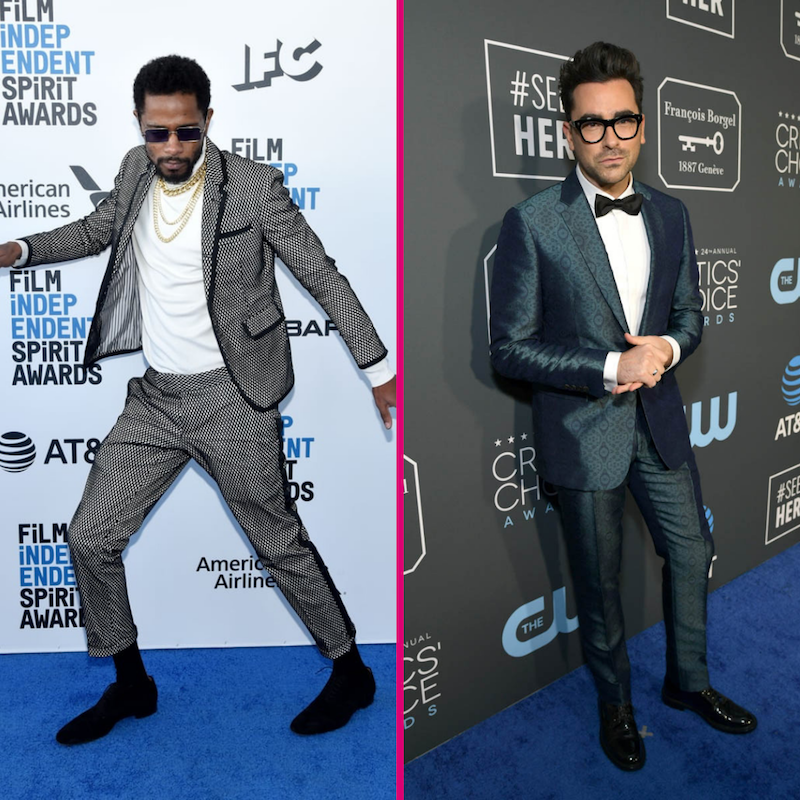 Gotta say, these two making it all the way to the third round of SG Madness has me really proud of you guys. It's the first year for both Lakeith Stanfield and Dan Levy, and made it past decidedly bigger names (hello LeBron and Chadwick) to get here. They're cool! They're a little offbeat with their style, and not afraid to take chances! And only one of them is going to make it to the #SGMadness Elite Eight.
So, who's it going to be?
[socialpoll id="2544698″]
Fancy Bracket
Mahershala Ali v. John Legend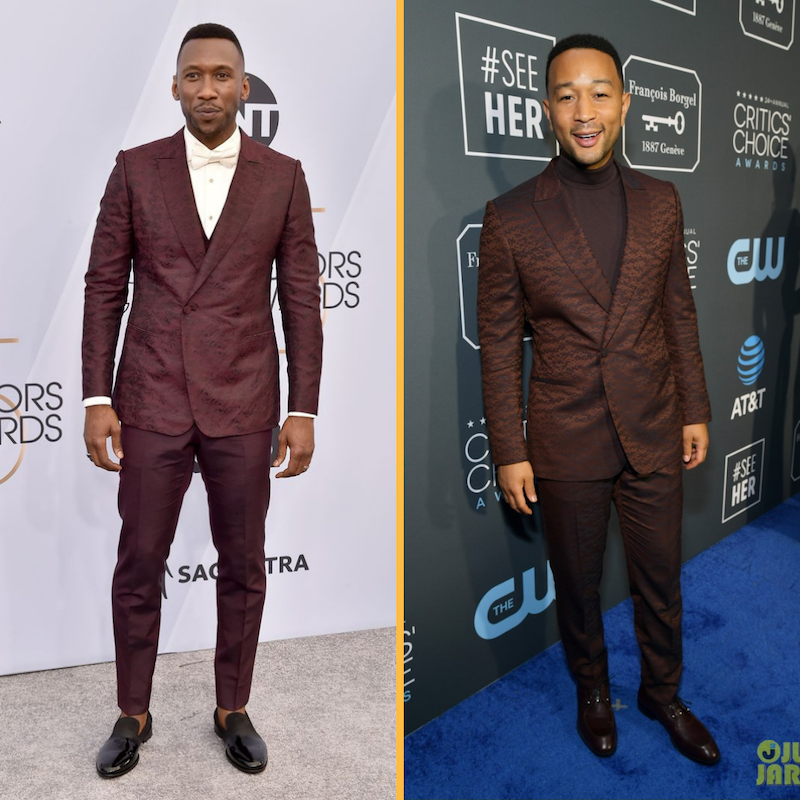 In Chandler voice, Could this vote be any harder?
While I'd argue that Mahershala Ali takes more risks with his style (I mean, we've all seen that Oscars hat by now), Legend never leaves the house looking anything but GQ cover-ready. Whose personal style will you reward with a vote onto the next round?
[socialpoll id="2544699″]
Michael B. Jordan v. Chris Evans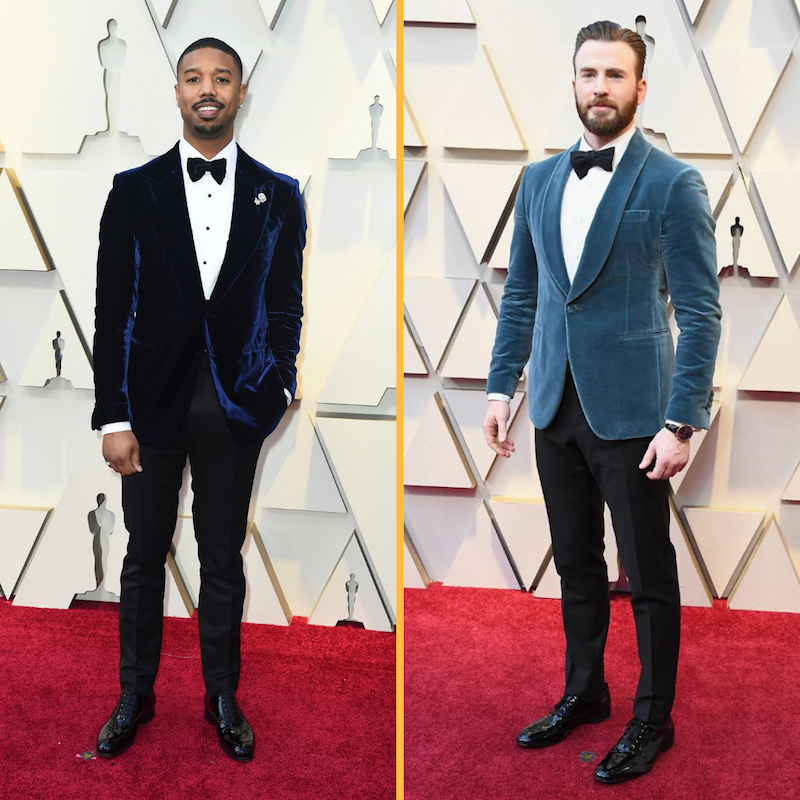 If I was a lazier writer, I would make some bad puns about how MBJ and Chris Evans have both played the Flame in the (terrible) Fantastic Four movies and now they're facing off in SG Madness. Whose style will flame out in the Sweet Sixteen? Whose red carpet looks will fan the flames forward to the Elite Eight? 
But I'm not going to do that. Nope, because I'm better than that.
[socialpoll id="2544700″]
Classic Bracket
John Cho v. Kevin Love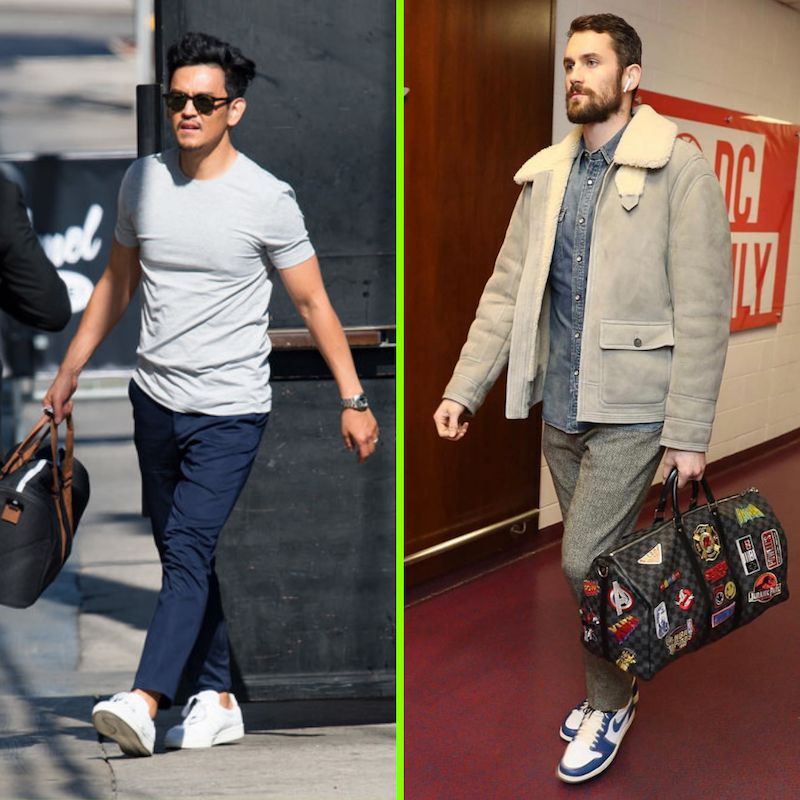 John Cho is another sort of surprisingly strong SG Madness 2019 contender. He works with Friend of SG stylist Jeanne Yang, who told me his look is "Tokyo/heritage with a touch of Korean grandpa," which I'm tongue rolling out of my mouth obsessed with. She went on to say, "John looks great in vintage-inspired looks with that touch of something a man of age and experience would wear." This totally comes through in his nonchalant, laid back style that somehow looks dressed up even in off-duty outfits like the one above.
Is it enough to best the Cavs' Kevin Love? Taylor's been hyping the NBA player since the beginning; will her stanning get him past the Sweet Sixteen?
[socialpoll id="2544701″]
Idris Elba v. Paul Rudd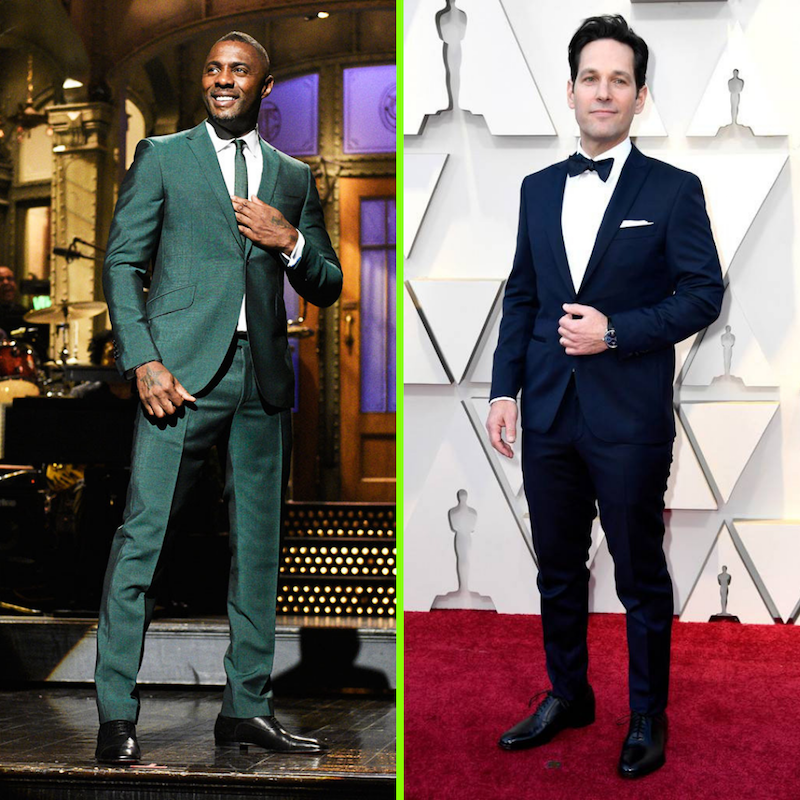 Feels like I know how this one's going to go, but hey, you guys have surprised me before!
[socialpoll id="2544702″]
Committed Bracket
David Beckham v. Donald Glover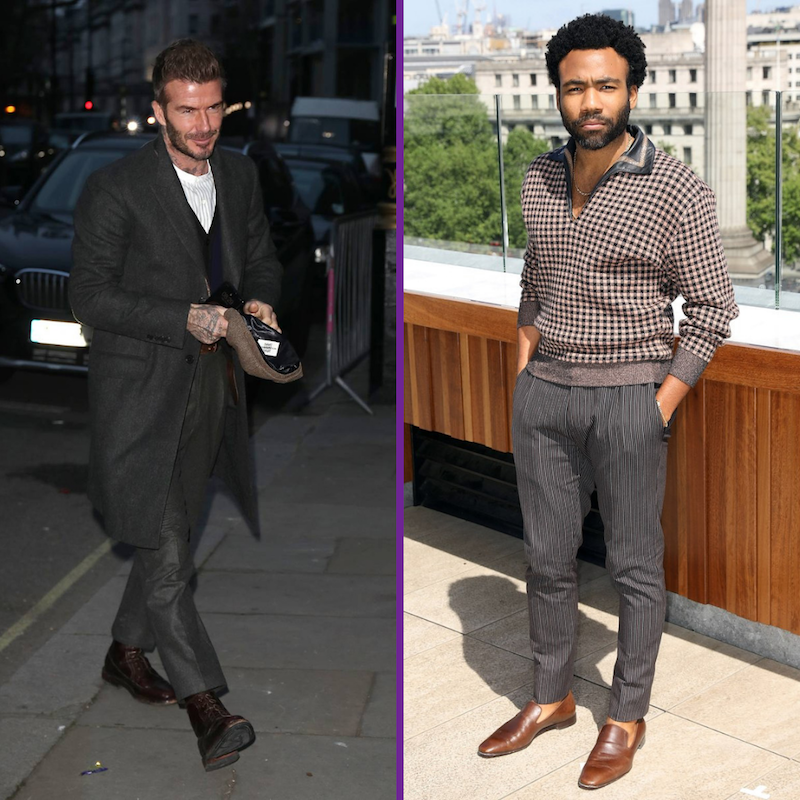 In the last round, Donald Glover trounced the Sprouse twins 91% to 9. Yowza.
Let's see how his margins fare when pitted against a more…formidable opponent like repeat SG Madness entrant David Beckham.
[socialpoll id="2544703″]
Jason Momoa v. John Mayer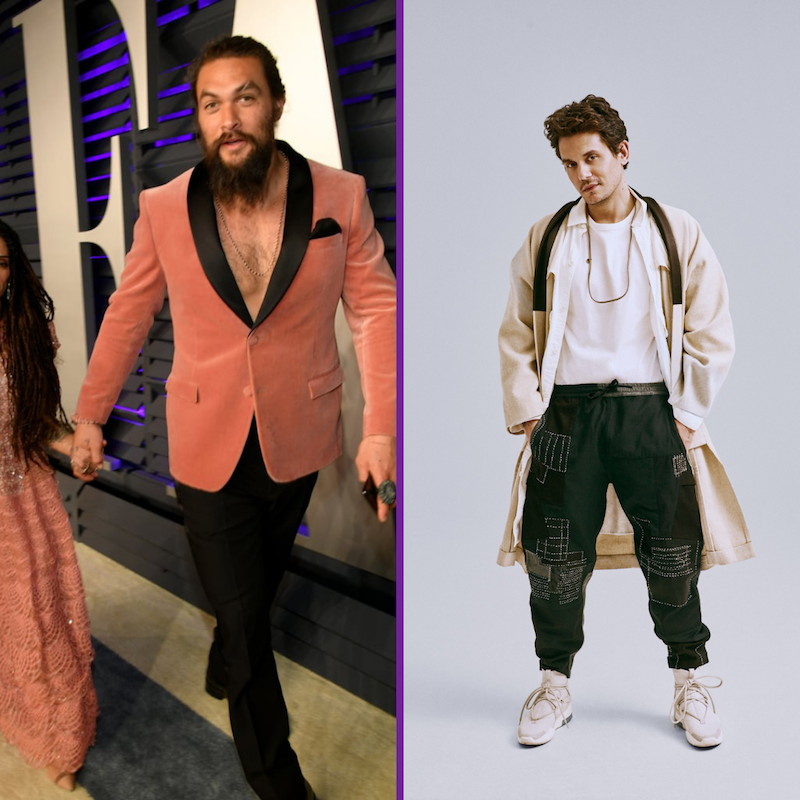 Can Aquaman beat the "I Guess I Just Feel Like" singer? Their styles are literally so, so so so different, making this either a really hard or a really easy choice. Let me know in the comments which it was for you.
[socialpoll id="2544704″]
***
Want to up your own style game this year?

A wardrobe that makes you feel like a million bucks gives your confidence a boost, but shopping for all those clothes? Kind of a drain. If you're ready to invest in some new clothes for your wardrobe but dread the thought of shopping for them…consider having Team SG shop for you! We can curate an online shopping list just for you that fits your budget, your body type, and your lifestyle.
Let us rescue you from shopping fatigue and sartorial apathy. You'll receive personal attention and care that will make you feel like the best version of the awesome guy you already are! Ready to seriously improve your closet and your confidence? Give us a shout.