SG Madness Final Four: Vote for the Most Stylish Men of 2019
Duke didn't make it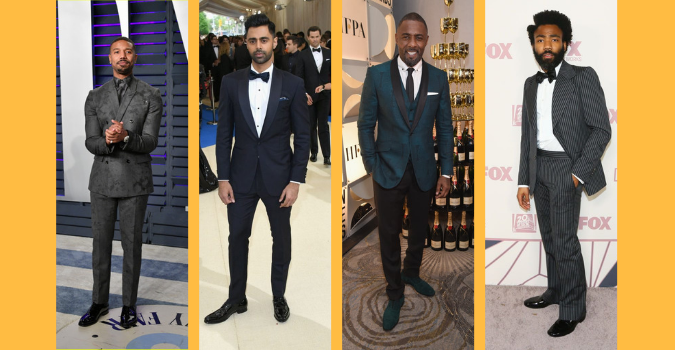 It's time to choose the men who make it one step closer to being named the most stylish man of 2019. This is the Final Four. Two fashionable match-ups, no take backs.
Which of these most stylish men of 2019 will move onto the SG Madness championship? That's up to you. Vote in the remaining match-ups below, both here and on SG's Instagram Stories before voting wraps up at 5p EST, Sunday April 7. Okay, time to play pick 'em!
Hasan Minhaj v. Michael B. Jordan
It seemed rude to put a picture of Minhaj in jeans and sneakers (albeit well-fitting jeans and super fashion-y sneakers!) up against one of MBJ in a tux. Double-breasted (and that texture!) at that.
So we went for the big guns. Formal v. formal. Whose style reigns supreme?
[socialpoll id="2545354″]
Idris Elba v. Donald Glover
Does anyone else feel like this is almost more like a championship battle royale? Were they not facing off now, I'm pretty sure they'd be facing off in the finals.
I suppose it comes down to how you decide to cast your vote. Are you rooting for a celeb whose style most closely mimics your own, or maybe more accurately, what you want it to be? If so, you'll probably go Elba (we already know Gabi is).
If, on the other hand, you're casting your ballot with an eye on aspirational style, someone whose lewk you might never try to emulate, but you respect the game, it stands to reason you'd have to give it to Glover.
Cast your vote, then let me know your reasoning in the comments below.
[socialpoll id="2545355″]
Be sure to vote in the four remaining match-ups above, both here and on SG's Instagram Stories before 5p EST, Sunday April 7! And let us know who you think will face off in the championship on Monday below in the comments!
***
Become your own most stylish man of 2019!

A wardrobe that makes you feel like a million bucks boosts your confidence big time, but shopping for all those clothes? Kind of a drain.
If you're ready to invest in some new clothes for your wardrobe but dread the thought of shopping for them…consider having Team SG shop for you! We can curate an online shopping list just for you that fits your budget, your body type, and your lifestyle.
Let us rescue you from shopping fatigue and sartorial apathy. You'll receive personal attention and care that will make you feel like the best version of the awesome guy you already are! Ready to seriously improve your closet and your confidence? Give us a shout.
***