SG's Most Stylish Man of 2019 Showdown: The "Committed" Bracket
Personal style perfection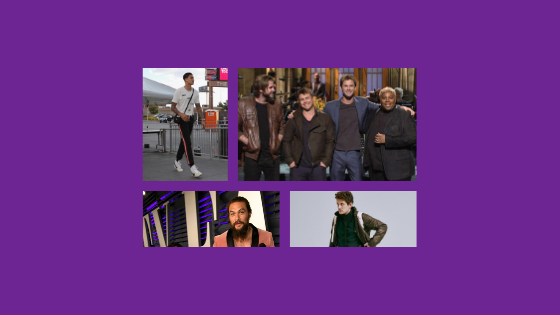 Here we go, guys. It's time to choose your best-dressed man of 2019. You'll notice we're switching things up this year. To keep things apples to apples in the beginning (as opposed to Bieber to Beto), we've grouped heats by celebrities' personal style. Our final first round bracket? The "Committed" bracket. A bracket for the stylish man whose personal style defies neat explanation. Guys who dress in a way that feels totally unique to them. For instance, it's pretty easy to imagine A. Rod and Roger Federer in the same outfit, but A.Rod and John Mayer (facing off against Post Malone below)? Never.
These are the best dressed celebrities with committed personal style of the year.
Check out all 64 contestants below, then vote in the next eight match-ups. And don't forget to weigh in on the stylish guys in the "Fashion-Forward", "Fancy", and "Classic" brackets too, before voting wraps up at 5p EST tomorrow, on Saturday, March 23rd.
Below, vote for who you think is the most stylish man in each face-off, to move your favorites to the next round of SG Madness 2019:
Mark Ronson v. Armie Hammer
Mark Ronson has always had great, style, but with his awards style run (the DJ/producer is a newly minted Oscar winner for A Star Is Born's "Shallow," which you will now hear ringing in your ears for the rest of the day..sorry) has reminded us just what a unique dresser he is.
Here's how Team SG's Gabi puts it:
"If I were a guy I would dress like Mark Ronson…vintage inspired, bold colors and prints, open to a variety of fits and a smattering of luxe materials. Every outfit I've ever seen him in could be in an advertisement and if I had the money I would buy all of them. He is personal style."
Armie Hammer had a great run in SG Madness last year, though we haven't seen as much of him this year. We have to respect, though, his continued commitment to Armie Hammer-y style.  Consider the look above, which he wore to a screening of Sorry to Bother You and not, as one might assume, a polo match on his great-grandfather's estate.
[socialpoll id="2543295″]
David Beckham v. Virgil Abloh
You would think we'd see less and less of an aging, retired soccer player but nope. David Beckham remains as relevant, and really f'ing well-dressed as ever. What's so interesting about his style is he seems equally comfortable dressed up (like this fly suit and turtleneck combo) as he does dressed down, like in the light wash jeans and combat boots above. The man can do it all, and if you give him enough time, he probably will.
Virgil Abloh is having a moment with a capital "M." The designer took over Louis Vuitton menswear, and his own Off-White line is coveted by Hadid sisters and big brands like Nike in equal measure (you can read more about it here).
Does he have enough star power to best Beckham? We shall see…
[socialpoll id="2543296″]
Cole & Dylan Sprouse v. Shea Serrano
For Team SG, Cole and Dylan Sprouse will forever be known as the twins who played Andy Samberg's kid in Big Daddy. To folks a few years younger, it's their starring turns on Disney Channel's The Suite Life of Zack & Cody. To everyone else, they're famous for one playing Jughead on Riverdale and the other…starting a meadery and bringing his model girlfriend Shake Shack at this year's Victoria's Secret runway show? A little unclear, tbh.
The point is, they might be identical twins, but their interesting and unique styles are anything but. And for that, they get a shared nod in SG Madness 2019.
Facing off against the young Sprouse twins, we have our wild card play-in winner, The Ringer's Shea Serrano. When I asked his wife Larami, a photographer, if he'd let her take a few head-to-toe shots for us to use here since most of what's on the internet of the writer is less than useful, she wrote back telling me that unfortunately, he "passionately declined."
So! Please do your best when weighing your options—two young celebrities at a red carpet movie premiere, and a slightly grainy photo of Shea in shower sandals and tube socks I found on the University of Oregon's journalism school blog.
[socialpoll id="2543297″]
Jimmy Fallon v. Donald Glover
There's nothing I enjoy more than a paparazzi photo of Jimmy Fallon walking to work (I know I know, paparazzi photos are bad, but also…small glimpses at stars' true style are really interesting! ugh, conflicted). My favorite part? The briefcase. Apparently he always carries it, even though it's pretty much empty save for a Nintendo Switch and snacks. It's just so old-school, much like The Tonight Show host's throwback style.
Donald Glover's style also feels like a throwback, just to a slightly later era. He's got a seventies vibe going, and here at SG HQ, we're as into it as we were to "This is America," last year's unofficial song of summer by Glover aka Childish Gambino.
This is going to be a really interesting matchup that I'm sure we'll be keeping close tabs on 'til polling closes (which, remember, is happening tomorrow at 5pm!)
[socialpoll id="2543298″]
Jason Momoa v. the Hemsworth brothers
While there's nothing I appreciate more than an Australian in a henley, I'm just going to come out and say that I've got Jason Momoa playing the role of Duke in my SG Madness 2019 bracket.
The Aquaman actor, who his stylist Jeanne Yang describes as "boho hippy chic meets biker," really did not come to play this year when it came to his red carpet and press appearances outfits.
Actually, scratch that. It does look like he came to play because he always looks like he's having the time of his goddamn life. 
So, do what you want, but you know where my vote's going in this matchup.
[socialpoll id="2543299″]
Chance the Rapper v. Kyle Kuzma
Newlywed Chance the Rapper had another great year in style. He continues to surprise us with the playful, fun outfits he puts together. Maybe apart from Jason Momoa, no one looks like he's having more fun than Chance. And that kind of confidence can help you pull off even the most "out there" style.
Lakers forward Kyle Kuzma received a "Best Style" nom at the 2018 NBA awards his rookie season for his bold pre- and post-game looks, and it doesn't appear he's slowing down anytime soon. Is it enough to topple Chance's pretty good SG Madness streak? We'll have to see.
[socialpoll id="2543300″]
Post Malone v. John Mayer
Okay, okay. That photo of John Mayer is from a GQ shoot, which we usually don't include because the lewks generally reflect the team standing behind the camera more than it does the star in front of it.
In this case, though, the whole profile was literally about the singer's unique personal style, and really, everything he wore is basically what he wears all the time, just dialed up a notch.
And when you're facing off against Post Malone, a "dialed up" outfit seems just right.
[socialpoll id="2543301″]
Beto O'Rourke v. J Balvin
And finally, a face-off between the recently announced presidential candidate whose campaign uniform consists of a steady stream of sweat-soaked oxford shirts , and the Colombian reggaeton singer who changes his hair color as often as we change pants?
Yeah, we're just gonna leave this here…
[socialpoll id="2543302″]
***
Vote in these match-ups before Saturday, March 23 at 5pm EST! And don't forget to weigh in on the Fashion-Forward, Fancy, and Classic bracket face-offs as we roll them out this week.
***
Ready to build your own SG Madness-worthy wardrobe?

Clothes make you feel like a million bucks does wonders for your confidence, but a closet full of clothes you love and feel great wearing can feel like a slog to build. If you're ready to invest in some new clothes for your wardrobe but dread the thought of shopping for them…consider having Team SG shop for you! We can curate an online shopping list just for you that fits your budget, your body type, and your lifestyle.
Let us rescue you from shopping fatigue and sartorial apathy. You'll receive personal attention and care that will make you feel like the best version of the awesome guy you already are! Ready to seriously improve your closet and your confidence? Give us a shout.