Shop the Store: Allen Edmonds
A historic brand, your perfect fit & a can't-miss sale
You may be surprised to learn that I have never worn a men's dress shoe in my life. However, I know many a well-heeled man who has, and I know that finding your perfect blucher or cap-toe oxford is serious business. Good men's shoes—the ones that last for decades and see you from job interviews to weddings to weekend walks and back again—are what Allen Edmonds does best—and better than most.
This isn't the first time we've touted the shoe-making mastery of this Wisconsin-based brand here at Style Girlfriend. Back in 2015, Megan took a be-goggled factory tour to see just how their 212-step process goes down (be-goggled is a word, right?). There, she learned the difference between "pinking" and "perfing" and so did you, probably. Unless you're already a shoe expert, in which case, dang.
While Allen Edmonds has been part of my go-to menswear rolodex since I started writing for SG (lo those many years ago), my most well-dressed guy friend Jerry is a real-life, card-carrying member of the AE fan club. I asked him about his favorite pair:
"I have 'The Strand,' and to me they are the ultimate classic-cool dress shoe. The walnut color really pops and they work with almost any suit. The quality is immediately recognizable, too. They've become my go-to shoe for weddings or any event where I want to stand out a bit. I feel like they'll never go out of style."
If a guy's shoes are his calling card, that description sounds pretty good to me. And if you've ever laced/buckled/slipped your toes into a pair of Allen Edmonds shoes, you probably have a similar story. But if you haven't? Well then by all means LET'S DO THIS.
HOW THEY STARTED:
Since way back in 1922, Allen Edmonds has been hand-crafting men's shoes in Port Washington, WI using the aforementioned 212-step process. Yes, more than 200 individual actions that have remained largely unchanged for generations. The only thing I've ever done with that many steps is draft, edit, peer review and eventually send a cutting text message to a misbehaving male.
We're talking hand-cut leather, hand-punched eyelets for laces, burnishing, a little cosmetic artistry… It's complicated in the best way possible.
You could imagine that when Elbert Allen and Bill "Pops" Edmonds opened their factory 95 years ago, it was something of a revelation in that small town. Today, it still is. AE is a shining example of a heritage American brand that has hooked a whole new generation of guys with old school quality and new school appeal. That's the "classic-cool" mix Jerry so succinctly described.
WHO THEY'RE FOR:
We asked Colin Hall, AE's SVP and Chief Marketing Officer about how men are shopping for shoes these days, and he noted that as offices are becoming ever more casual, "Working guys are seeking traditional styles that can be dressed up or down."
Naturally then, it makes sense that Allen Edmonds' bread-and-butter are the shoes that function as the ultimate wardrobe workhorses, seamlessly handling that work, special event, date night rotation.
So while your dad—with his mature 401K and robust investment portfolio—might more readily pop into a store for a fresh pair of his favorite shoes in a new colorway just for…well, kicks, the brand knows that young guys like you will invest in styles  that can really go the distance (helped along by their handy recrafting service), like oxfords, boots, and brogues.
Besides looks, fit is paramount to crafting a shoe that can do all that and last more than a year or two. AE shoes come in more than 100 sizes. Need me to say that again? More than 100 sizes. From 6 to 16 and widths from narrow AAA to wide EEE—literally any guy can be fitted for the perfect size. (Except Andre the Giant—did you know he wears a size 24 shoe?)
That's another thing. Did you know that a lot of men don't even wear their proper shoe size? You can (and should!) pop into an Allen Edmonds store—there are 70 around the county—and have one of their Master Fitters take your measurements and hook you up with an exact fit. Why? Because the next-level comfort and near-custom sizing will feel amazing and is good for your back health.
DON'T MISS:
Let's do some fast math, shall we? If Allen Edmonds began in 1922 and this month marks a huge anniversary for the brand, that makes it… Okay nevermind I'll just tell you—it's their 95th anniversary. To mark the occasion, AE has a pretty incredible sale going on through April 25th, where you can save up to $150 on some of their most popular styles. To make things a little easier for you and your digital shopping cart, we went ahead and pulled some of our favorite styles for you.
'Higgins Mill' boot with dainite sole, $300 (originally $350)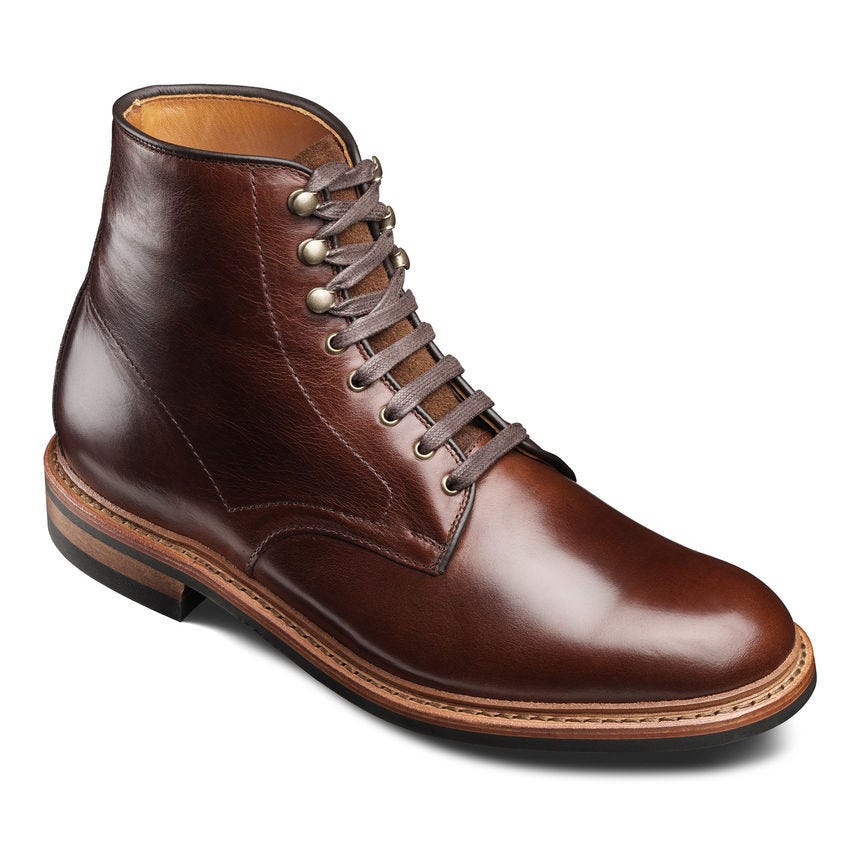 There's something about these boots that say, I am a super-date-able guy. The style combines sophisticated smooth leather with a substantial sole, like a footwear equivalent of the guy who wears a suit to work but also chops his own firewood. So, yeah.
'Fifth Avenue' cap-toe oxfords, $245 (originally $395)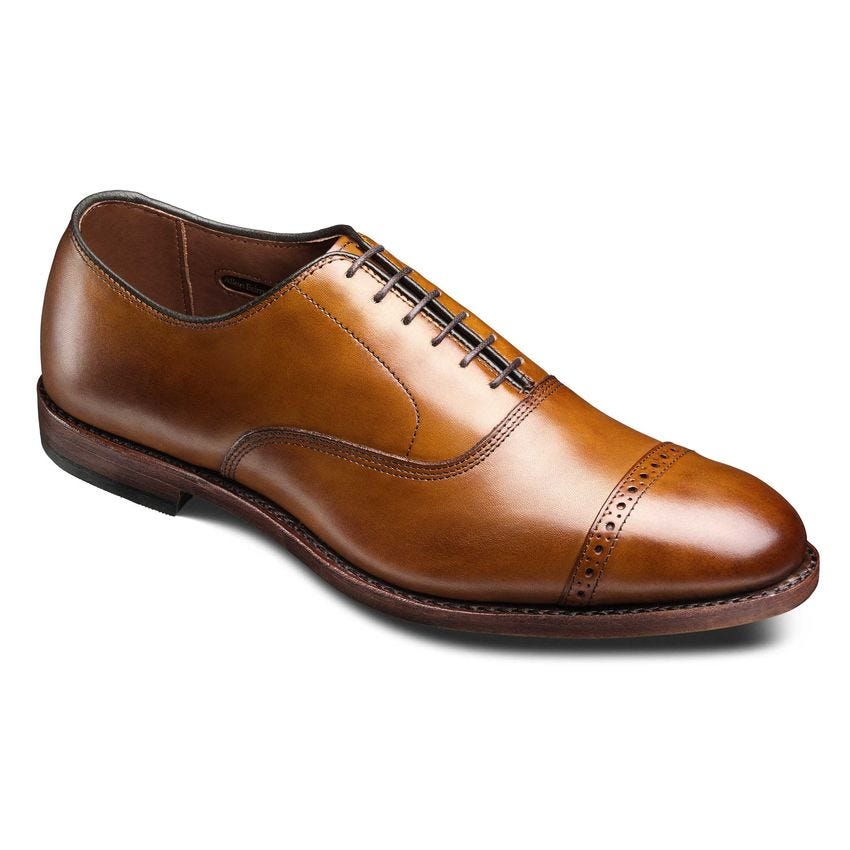 Like a great pair of dark denim slim-cut jeans, these oxfords walk the line between dressed up and dressed down. You could easily wear them with said-jeans and a crewneck sweater for Sunday night dinner with your parents, or with chinos and a blazer for work.
'Leiden Weave' wingtip blucher, $245 (originally $395)
Now, I will be the first to admit that with the weave and the wingtip details, this is a lot of shoe. But you know what they say: fortune favors the bold, so give these blucher-style shoes a try and see where they take you. After all, sales are a great excuse to push yourself out of your comfort zone!
'Randolf' penny loafers, $279 (originally $395)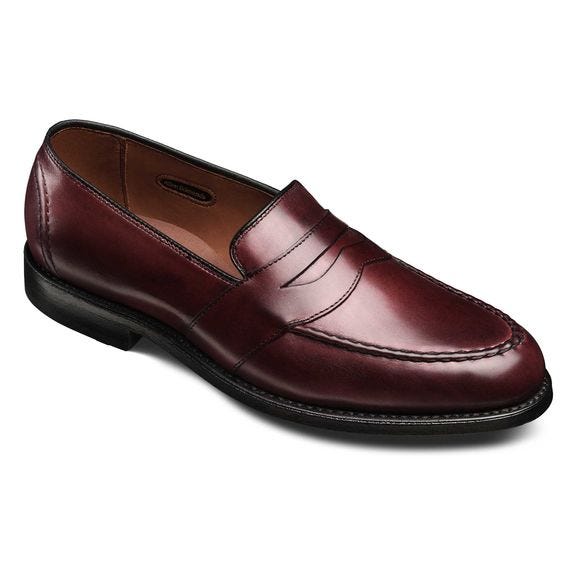 Can we bring these preppy shoes back into the everyday menswear mix, please? Maybe it's just me, but I love a good old school loafer like this—especially worn with no socks and a pair of chinos (no break). Keep the look from feeling too stuffy by adding a funky short-sleeve printed shirt.
TELL US:
WHAT WAS THE FIRST REALLY GREAT PAIR OF SHOES YOU EVER OWNED?
Presented by Allen Edmonds. Thanks for supporting the great brands that make Style Girlfriend possible!