Shop The Store: Indochino
Made-to-Measure Made Easy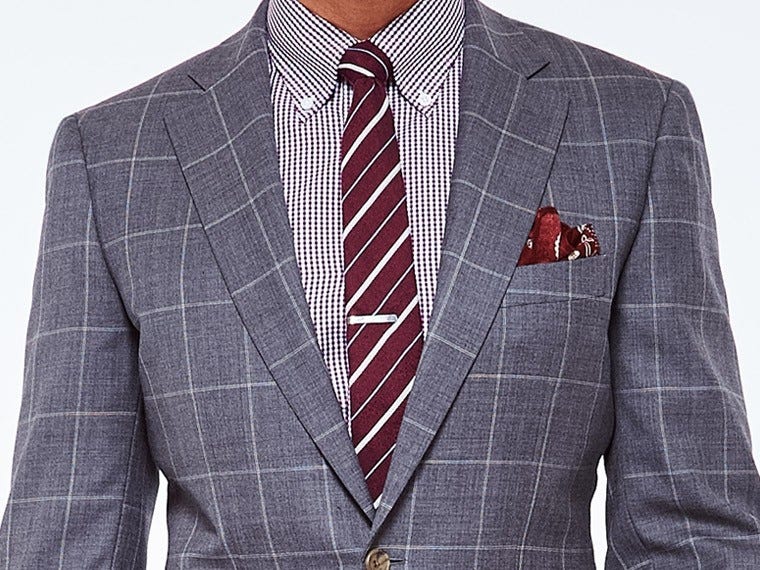 Presented by Indochino. Thanks for supporting the great brands that make Style Girlfriend possible!
Once upon a time, made-to-measure suits were only accessible to those with deep pockets (or maybe an uncle who just happens to be a tailor). Thanks to the rise of online shopping and direct-to-customer brands that cut out the (costly) middleman, though, apparel and suiting that looks like you were born to wear it is now available to any guy with broadband internet and a few hundred bucks saved up. As a pioneer in the Industry, Indochino broke new ground in the made-to-measure market and continues to dominate thanks to their high-quality offerings and easy breezy online-and-in-person shopping platform.
HOW IT STARTED
The idea of "mass" and "made-to-measure" co-existing peacefully certainly sounds strange at first. But combining accessible, attainable high-end menswear with a customized fit is exactly what sets Indochino apart. When the Canadian-based company started back in 2007, the online made-to-measure suit market was virtually non-existent. Flash forward to 2016 and they now have ten brick and mortar showrooms around the country, and plans to expand to 150 around the world in the next few years.
"Our goal is to offer the luxury of made-to-measure to men everywhere," says CEO Drew Green.
WHO IT'S FOR
Whether you're looking to beef up your workwear wardrobe or need to tux up for a special occasion, the Indochino model of measure at home, order online, is a great option. Along with a won't-break-the-bank starting price point, the customizable features and made-to-measure sizing give Indochino the edge over most mass menswear options.
With prices for a made-to-measure custom suit starting at about $400 (and custom shirts starting at $79), Indochino is right in that sweet spot where investment purchase meets crazy-good value that should appeal to most guys…and their wallets.
The idea is that once you've taken your measurements, you can easily order multiple custom suits with minimal effort.
"I watched the step-by-step measuring process, then took a tape measure over to my brother's house and enlisted his help," says Luc Walker, a longtime Indochino customer who lives in Portland, Maine. "It was very easy and in a sort of weird way, fun. I started ordering from them right away. And the return process as a customer couldn't be easier—since they have my measurements saved into my account, all I have to do is select the new piece I'm looking for and add it to my cart. At this point, I have a few suits and a number of shirts from them, all of which have a great and the quality is top notch."
DON'T MISS
This season marks Indochino's first foray into outerwear, and their winter collection is also chock-full of new formal wear options that have "your company's holiday party" written all over them. Think classic, wear-again-and-again topcoats (made from 10 percent cashmere and 90 percent wool) and tuxedos so slick they could (almost) show up the bride at your next black tie wedding. Inspiration for the winter season came from 1970s rock gods—meaning bold plaids, heavy flannels and sharp colors that lend a legendary feel to traditional suiting design.
SHOP THE STORE
The suit takes center stage in Indochino's winter collection (naturally), and we've highlighted three standout options that are all currently available for 50 percent off (that's less than $400 each, guys).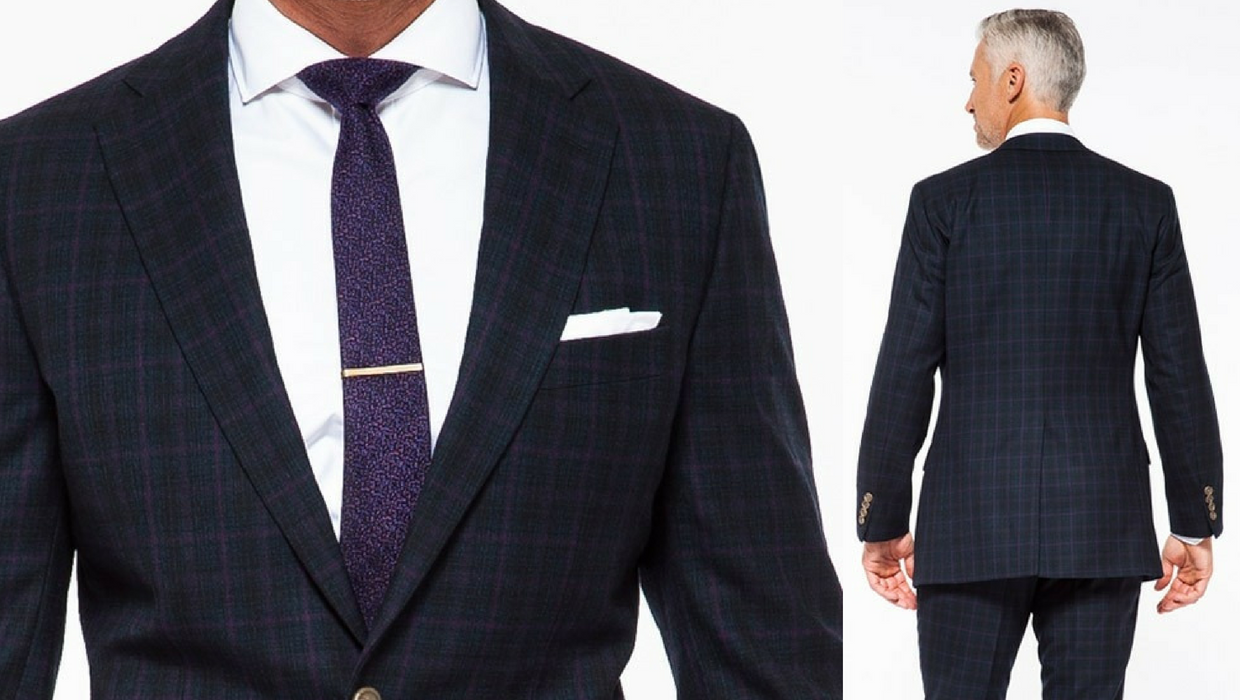 When you're ready for something slightly more elevated than your timeless navy suit, a subtle 

midnight 

blue plaid is interesting without being garish.

When it comes to accessorizing a patterned suit, go all in—but low key. A purple tie is unexpected but compliments the dark tones perfectly, and a white pocket square is crisp and easy.

Resist the urge to pair your 

midnight

 blues with black! Deep brown polished shoes (loafers or brogues) work perfectly.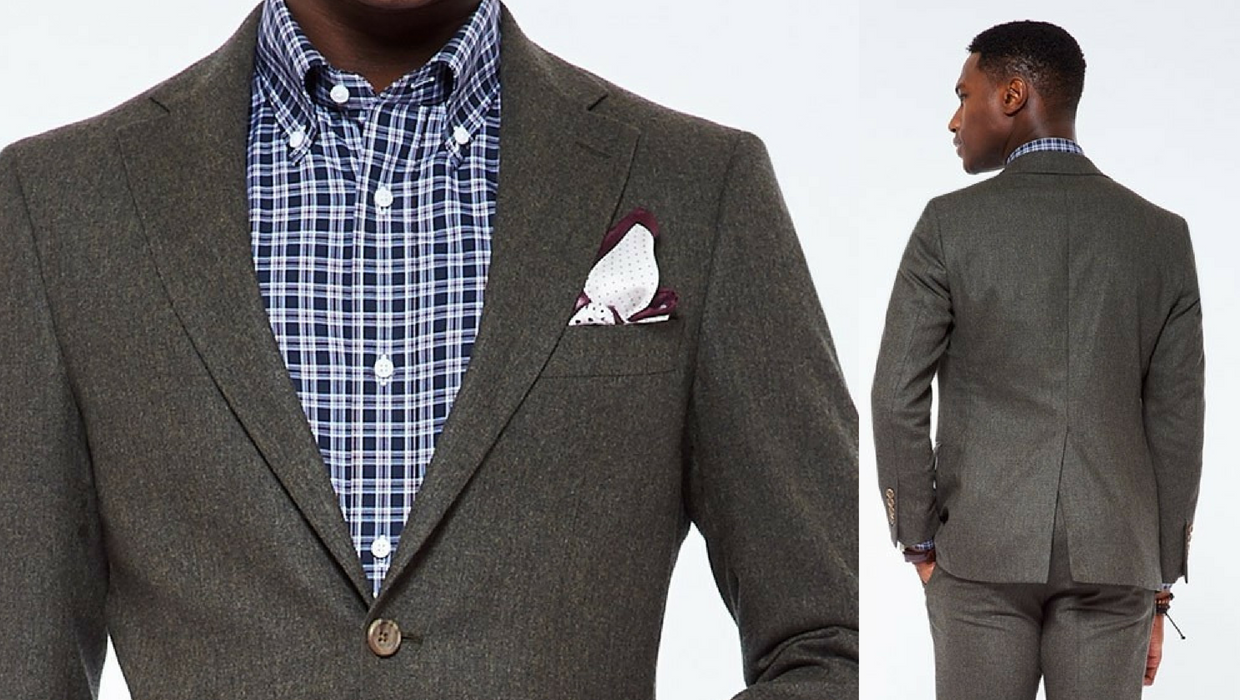 This olive-tone flannel suit is so subtle it could almost be grey, which makes it easily wearable for even the most traditionally suited guy.

Olive green is just inherently casual—so save this suit for your more "semi-formal" occasions. We love how it looks styled with no tie, boots and bracelets, though you could easily sub those out for sneakers and a nylon strap watch.

The jacket and pants of this suit are especially good on their own. Remember to triple the wearablity of your suit by sporting the trousers with a sweater and brogues and the jacket with jeans and sneakers on date night.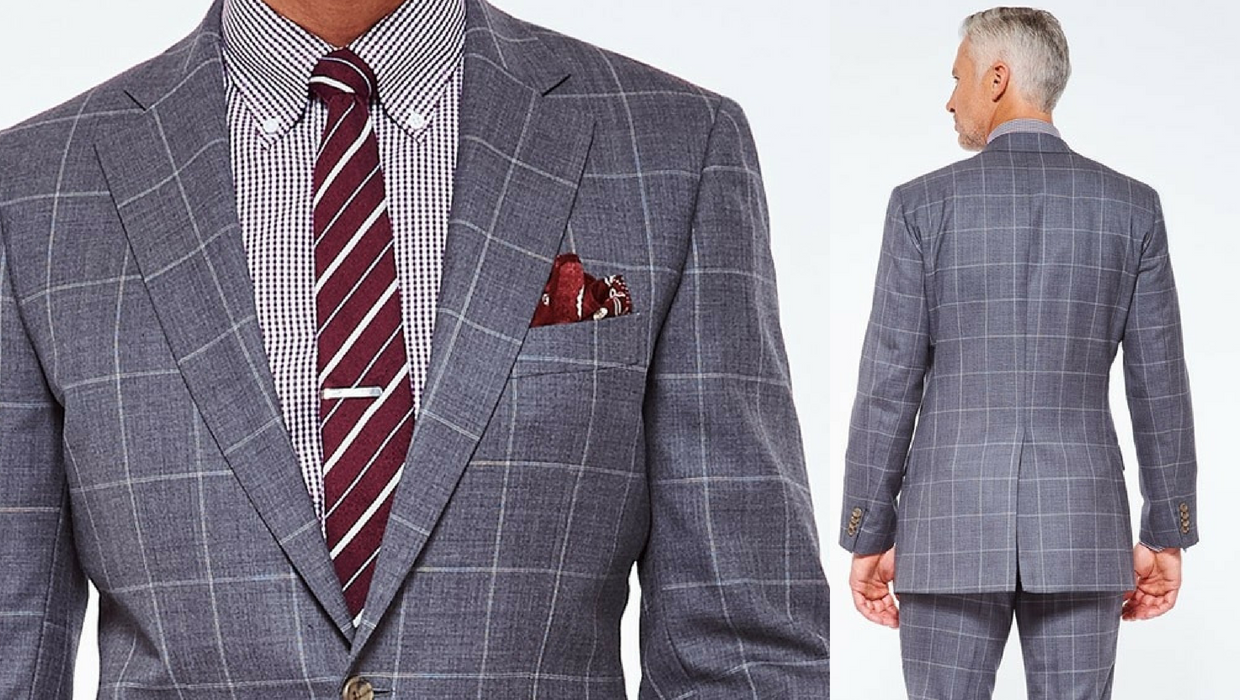 Windowpane plaid has become "trendy" of late, but make no mistake—this is just a refresh of a timeless pattern. Hint hint: It will always look good.

If you're going to go bold, go all the way! Try pairing a big-but-not-bold plaid with other prints like stripes and paisley.

Remember that while blue does go with almost everything—it doesn't have to be your crutch. With deep browns and greys, burgundy makes for a seriously stylish alternative with shirting and accessories.
TELL US:
WHAT'S YOUR *DREAM* MTM SUIT YOU WANT TO SEE HANGING IN YOUR CLOSET?
Want more everyday style? Listen to Style Girlfriend's Undressed podcast (and subscribe!).
Taylor Davies splits her time between NYC and Sun Valley. She loves writing about menswear, overpriced martinis in dimly lit hotel bars, and cross-country skiing. Not necessarily in that order.