Shop the Store: Saturdays Surf NYC
laid-back beach vibes for adults with jobs
If you live in the neighborhood of one of Saturdays Surf NYC's two New York stores, it's probably your go-to coffee place (their signature brew is roasted by coffee legend La Colombe). And if you're a surfer living in the city, then it's definitely your go-to place for restocking on Sexwax and Zinka, and picking up a fresh travel bag for your board for those weekend excursions to Rockaway.
The company, named after the day most beach rat New Yorkers escape the city to go surfing, was started by three guys who grew up surfing and needed a place in Manhattan to shake out their sandy flip flops and just chill (ma-a-a-a-n).
How to describe a Saturdays guy…or one who aspires to its laid-back surf aesthetic? Just check off any of the following: his style is timeless and his taste is minimal, he grew up on the beach (he skated on the boardwalk) but has a "big boy" job now, he loves photography (surf-related or otherwise), he just got back from surfing in Costa Rica with some babes, he really wants to visit Japan, and he likes J.Crew but doesn't want to show up wearing the same thing as his coworkers.
Want to slip into the Saturdays lifestyle? Shop the store with these three looks:
Bar Night
Vest ($100) | Cardigan ($80) | Shirt ($63) | Cords ($64) | Deodorant ($18) | Coffee ($14)
Complete the Look… Boots: Clarks | Socks: Mr. Gray
Wear it Well: Recognize that puffer? We first featured it in our holiday gift guide!
Campus Style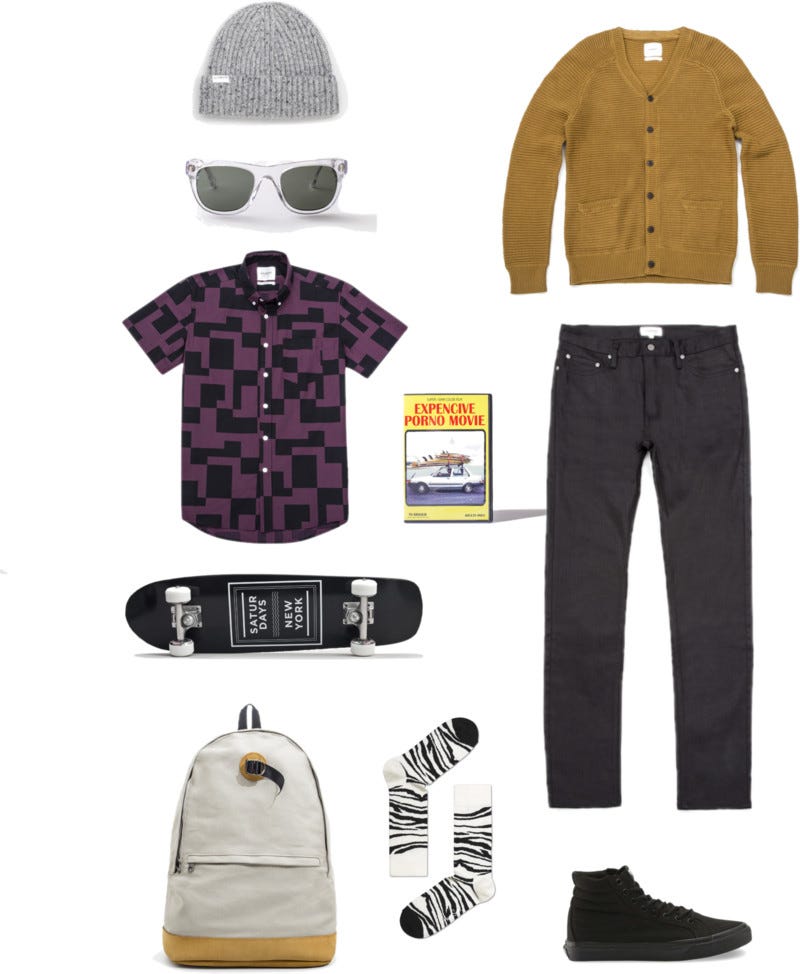 Beanie ($28) | Sunglasses ($295) | Shirt ($54) | Skateboard ($180)
Cardigan ($75) | Jeans ($75) | Saturdays' Surf Film* ($18) | Backpack ($63)
Complete the look… Socks: Happy Socks | Sneakers: Vans
Wear it Well: The surf vibe is as much about culture as it is actual surfing. If you've never seen any surf films besides Endless Summer, start with this NSFW-in-name-only flick.
 At the Office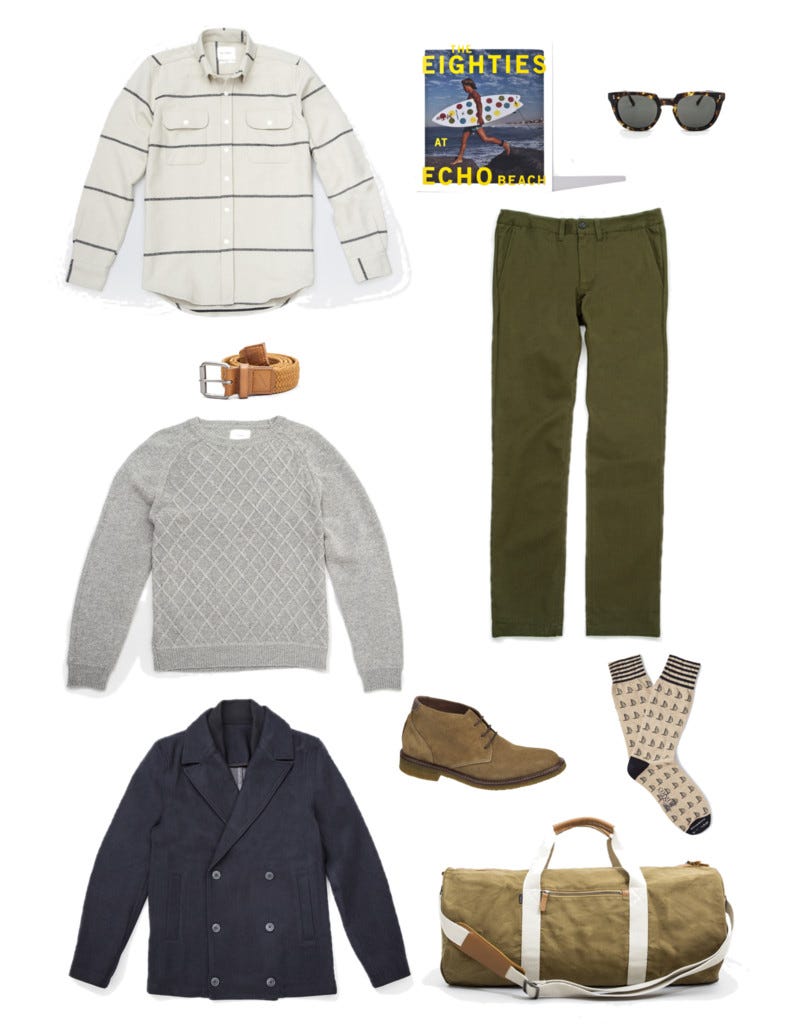 Shirt ($63) | Belt ($34) | Sweater ($80) | Coat ($163) | Book ($35)
Sunglasses ($205) | Pants ($59) | Duffle ($88)
Complete the Look… Shoes: Johnston Murphy Socks: Corgi
Wear it Well: You'll need that duffle for the weekend getaway you're taking after work (surf boards already racked up on the roof of your car, natch).
Tell Us:
How would you work these surf vibes into your daily look?
Want more Shop the Store? Right this way >>
Taylor Davies splits her time between NYC and Sun Valley. She loves writing about menswear, overpriced martinis in dimly lit hotel bars, and cross-country skiing. Not necessarily in that order.