The Best Small Patio Decorating and Entertaining Ideas
Transform your space.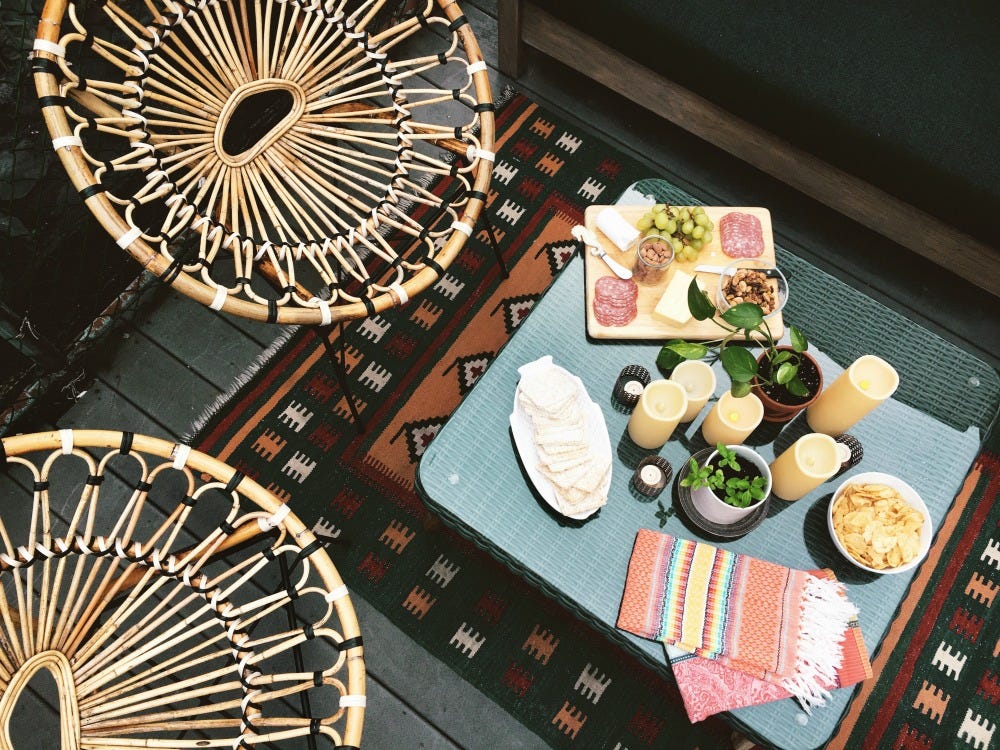 Editor's note: This piece was originally published in 2018. It seemed only right to update it for 2021!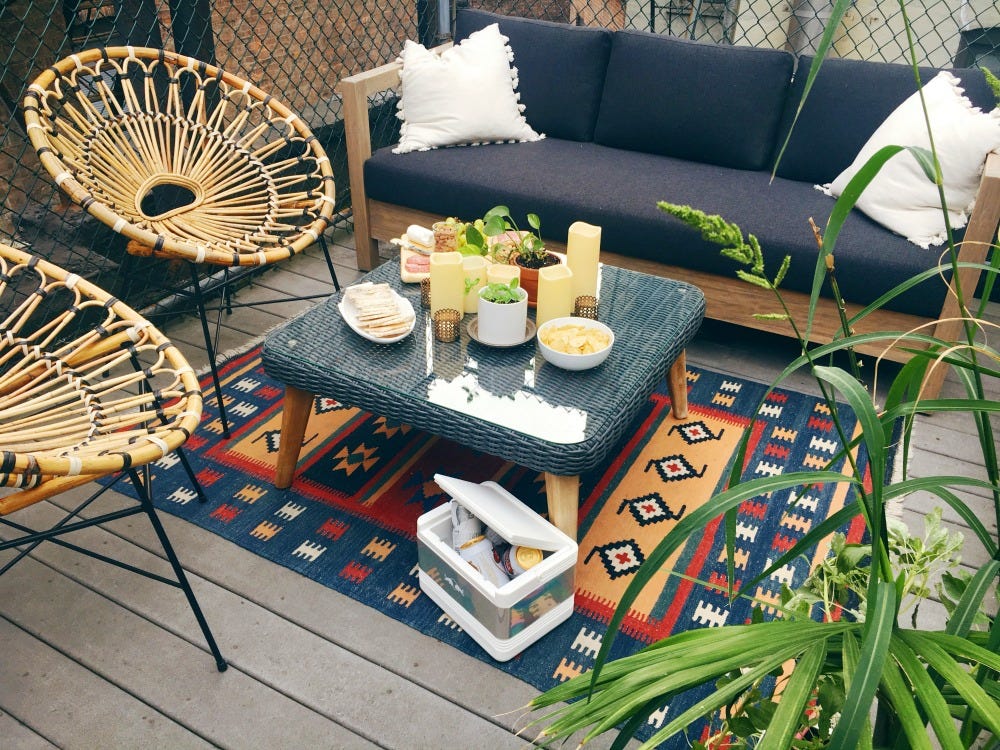 Have you ever wondered, "How can I turn the prison yard attached to my apartment into a paradise?" Well I have! That's right—your girl has finally reached one of New York's golden rings:
I have outdoor space.
But when I moved in? It looked more like an elevated cage than a coveted patio space beckoning to host a sunset happy hour or cozy spring nightcap after a perfect third date.
However, no amount of chain link fencing, pigeon poop or mysterious detritus could dissuade my dream.
I was determined to She's All That the space. With a little elbow grease, I knew I could take off the glasses (so to speak) of my patio to reveal the beauty that had been there all along.
Now, as with any good cinematic arc, the transformation has been a journey. I learned… A lot.
For example, did you know? If you do not use a base, your beautiful 6-foot-wide bistro umbrella will, during a particularly windy storm, levitate out of its hole in the middle of an outdoor table, take flight over a 6-foot-high fence, and fling itself onto the roof of a dim sum restaurant four stories below?
It's true!
Sometime around the middle of the summer, things really began to change, though.
Chic and comfortable furniture replaced worn-to-death folding chairs. A potted palm replaced a planter full of rocks with a dead roach under it. I bought an umbrella base. It felt like a heck of a lot more work than getting contact lenses and replacing a messy braid with a chic bob haircut, but finally—the makeover was complete.
Then, it rained. And rained. And rained.
This summer has been sort of the worst, weather-wise, but finally (just in time for Labor Day?!) I was able to throw a sort of "patio warming" party that inspired me to finally get around to my point: Peak outdoor entertaining season is actually right now.
So as we ease into the blissful weeks of late summer and early fall, I want to share some hot takes on how you can make the most of your outdoor space. Break out the cheeseboard, put the rosé on ice and for god's sake secure the umbrella—it's time to party.
Small Patio Decorating Ideas
1. Setting the Mise En Scene
Oui oui, I'm using French right now.
That's how fancy my patio makeover makes me feel.
First thing's first ,though, before I show you how to create a nice party vibe… You need to know what my space looked like before.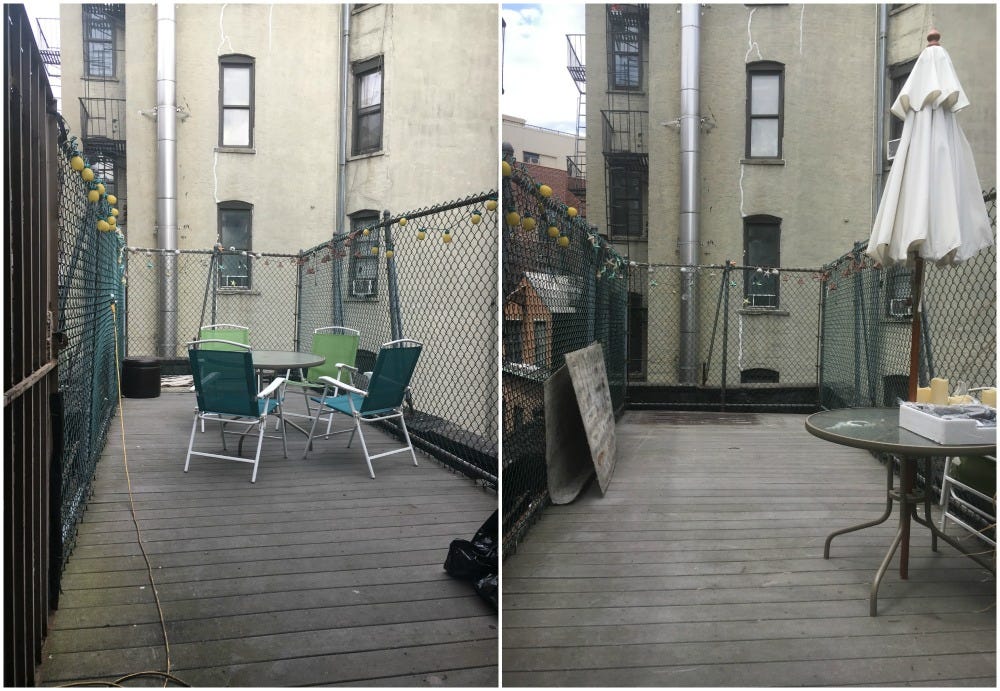 Honestly? Pretty sad, right?
There's potential, certainly, but it was a mess of mismatched furniture and strings of wacky lights haphazardly hung around the chain link fence.
Not to mention there was just a lot of random…garbage? So, I started with a major outdoor spring cleaning before bringing in any new furniture.
I kept the dining table so we'd have a proper place to eat, but everything else had to go!
To figure out what kind of vibe I wanted to create, I worked with the good people over at Article—a direct-to-consumer furniture company you need to know about.
Together we selected a three-seater couch, a coffee table and two lounge chairs to create a laid-back hangout spot where my roommate and I could entertain friends and dazzle them with my cheeseboard assembly skills. It feels like an outdoor living room, which, when you have a small city apartment, feels like a precious gift!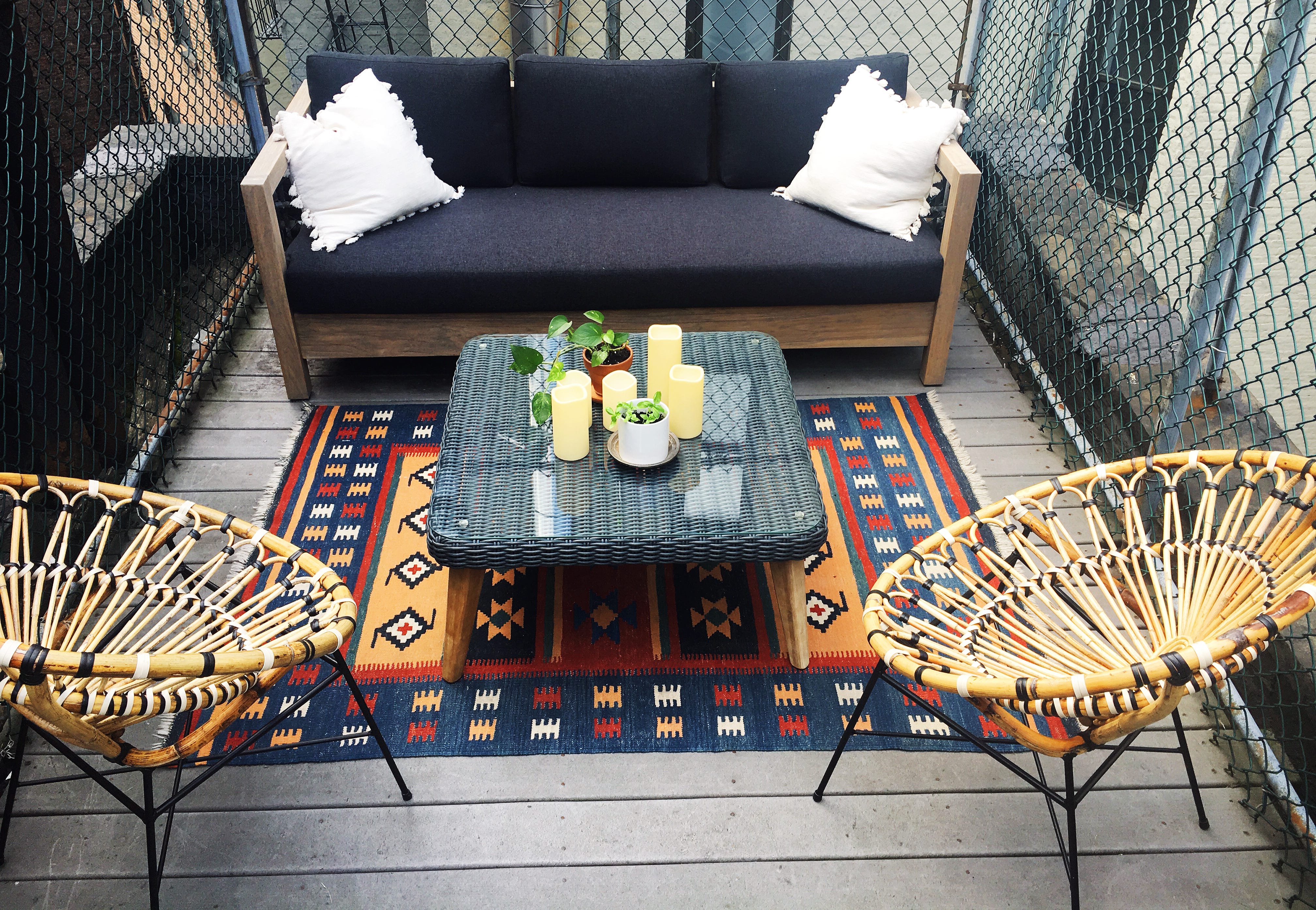 furniture: Daisy Lounge Chair | Arca Sofa | Ora Table
The couch is so deep and comfortable I do this thing some nights where I bring my dinner and my laptop outside so I can watch The Bold Type and eat a salad while relaxing on it.
But, the standout pieces for me are really the Daisy chairs. They stand out so much they honestly define the whole look of the patio now, thanks to their cool circular shape and bohemian look. Plus, they're comfortable AF and look really good on Instagram.
To make your outdoor sitting area really come together, consider an outdoor rug. They add color and sophistication with minimal effort, plus there are a bunch of affordable options on Amazon, like these really dope ones from Fab Habitat.
2. Shade is key
For the dining area, a few simple changes totally transformed the table. I got rid of the (admittedly very comfortable) not-that-cute folding chairs, and replaced them with four Poly & Bark stools I found on Amazon.
The piece de resistance though—see, still feeling fancy with French—is the Galtech 6' Patio Umbrella with a nice natural canvas color.
It's a total game-changer, and together with the white stools really upgraded the nondescript glass table. Plus, having a shady spot is essential in New York's brutal summer heat. I often open it up in the mornings and sit out there with my coffee and my computer to check emails before heading to the office.
3. Lighting is even *more* key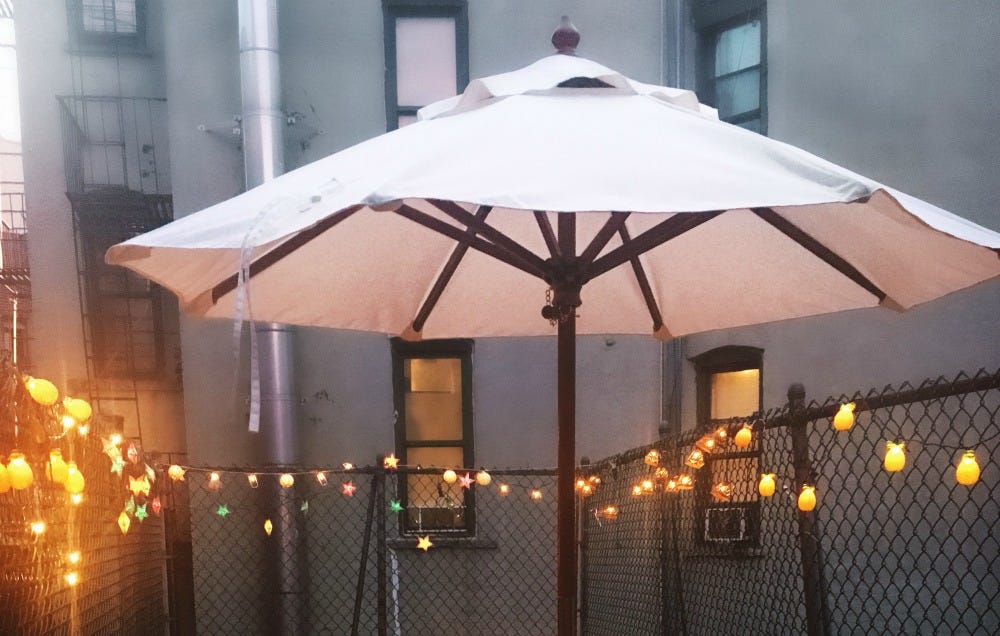 Whether you want to impress a lady friend you're bringing back to you pad for the first time, or just get a nice mood going for your next barbeque, lighting is essential.
For my patio, I kept things a little whimsical and fun with two strands of star string lights and two strands that look like little metal lanterns. However, you can keep things super simple with an extra-long strand of Edison bulb lights, like this 50 foot strand I found on Amazon for just $32.
Additionally, my mom turned me on to the genius of flameless candles—their batteries last forever and they're a lot safer than having an open flame. Group them in the middle of the table and voila, instant ambiance.
***
Throwing a Successful Outdoor Party
Once you've got your furniture and the general vibe of your outdoor space setup, it's time to send out the invites and start prepping for a memorable evening under the stars… Or the glow from other people's apartment windows…
1. Divide and Conquer with a Potluck-style Meal
This tip might seem obvious, but it bears repeating anyway, in case you haven't hosted much at your home.
Unless you feel comfortable taking on the responsibility of purchasing and prepping enough food and drinks for all your friends—ask them to contribute.
On your end, you should have enough drinks and a few light bites to get the first few guests going. From there, lean on your guests a bit to provide some easily sharable appetizers and drinks.
If you're at a loss, I usually start with a cheese and cured meat plate, and decorate it with a few bunches of green grapes and a couple bowls with little treats like almonds and cornichons.
For drinks, I like to have the makings for aperol spritzes or my personal summer fav, a "Stieglrita" to offer people when they arrive.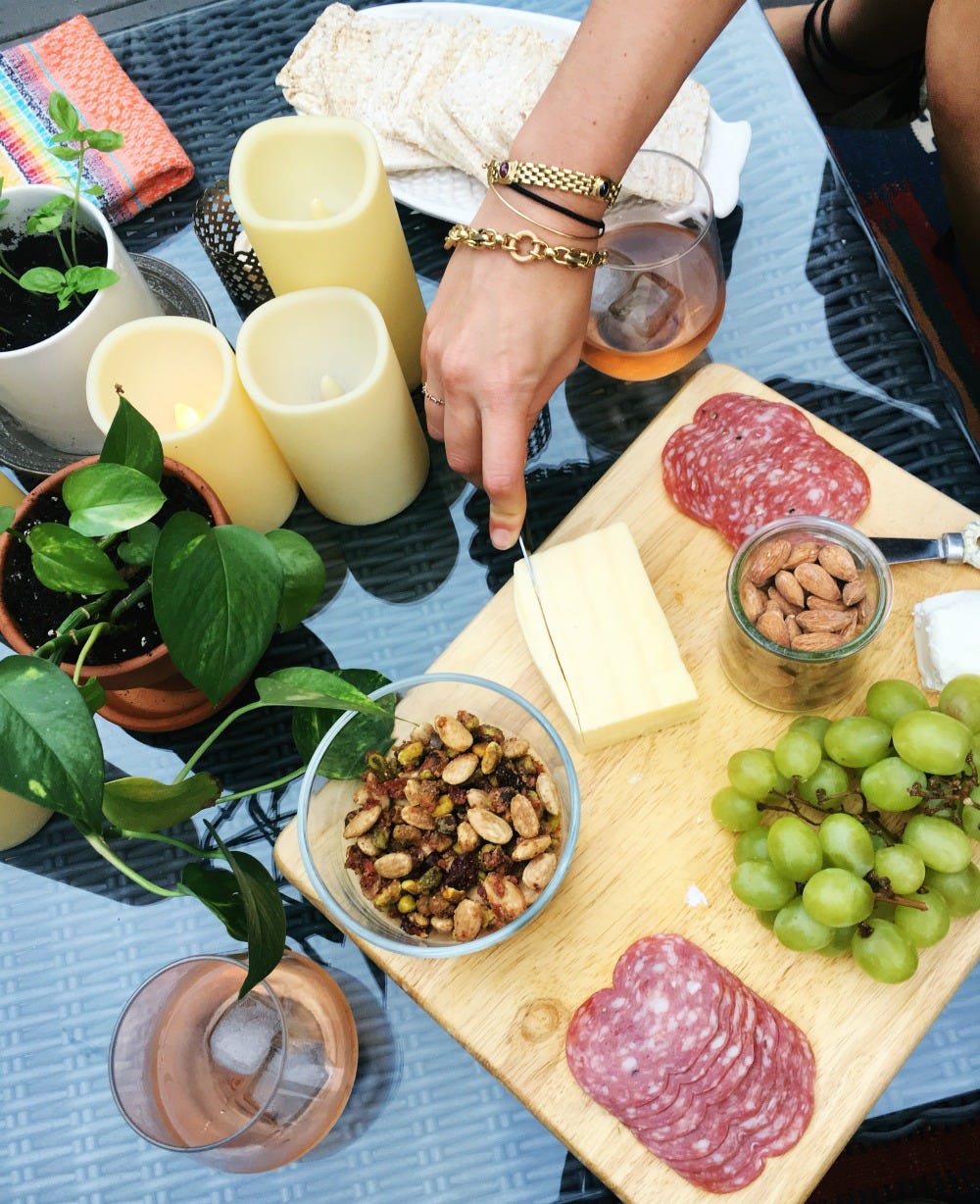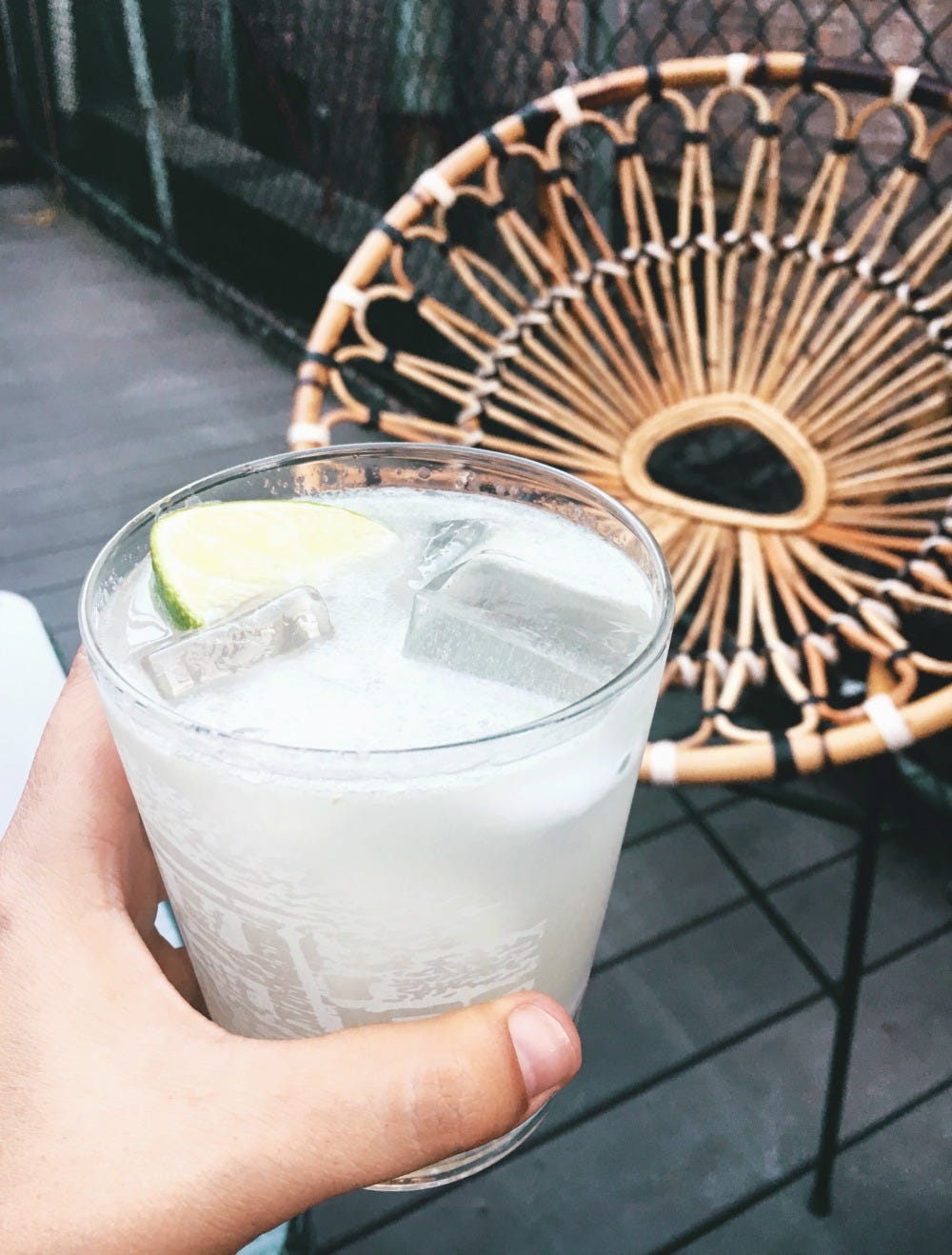 Since I want to encourage all of you to think beyond the bag of chips or tub of hummus (sorry, but those are so lame), here are a few of my favorite super-simple potluck-approved summer recipes you can handle as a host or a guest—no matter your cooking skills: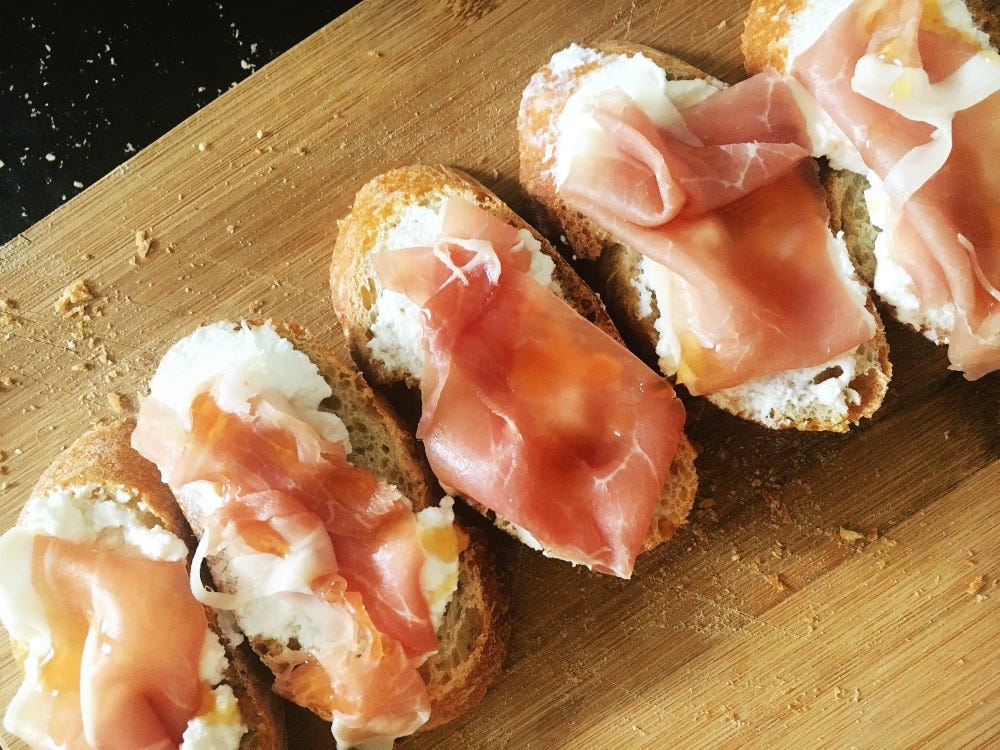 2. Create stations for optimal mingling
My little patio has enough room for two "hang spaces" so when I had friends over the other night, I designated the dining table as the bar area, and had all the food on the coffee table, so people could gather around and graze comfortably.
Creating "stations" like this keeps people moving around and talking, and helps avoid having all your guests crammed into one area. Whether you designate an area as a dance floor is up to you.
3. Manipulate the mood with the perfect playlist
You guys didn't think I was going to leave you hanging without mood music, did you? If you follow me on Twitter (or have read past SG posts like this and this) you know I love making playlists. And more than that, I love putting them to use when I have people over.
"Patio SZN" is my favorite outdoor entertaining playlist. Consider it my gift to you.
It contains a pretty wide, genre-spanning selection of tunes I think you'll like. Think: Childish Gambino and the Aces, to Savoir Adore and Charlie Puth. She's got the range!
Remember: the right music can completely change the mood of a party, so choose wisely.
The songs in this playlist keep things upbeat and poppy at first, then slide into those chill, post-sunset vibes.
***
Bottom line? Don't waste these warm outdoor evenings, guys. Especially this year. We've worked hard for it to be safe enough to gather.
So, host a Friday night happy hour for your friends and coworkers. Invite that cute girl over for a night cap in your backyard under those twinkly lights you painstakingly hung for exactly this purpose. You got this!
// Shop #SGapproved small patio furniture //
Okay, your turn!
Head to Instagram and hit our DM's with your favorite outdoor entertaining tips.
Taylor Davies splits her time between NYC and Sun Valley. She loves writing about menswear, overpriced martinis in dimly lit hotel bars, and cross-country skiing. Not necessarily in that order.