This Stay at Home Dad's Style Is Self-Isolation Inspiration
Look good, stay home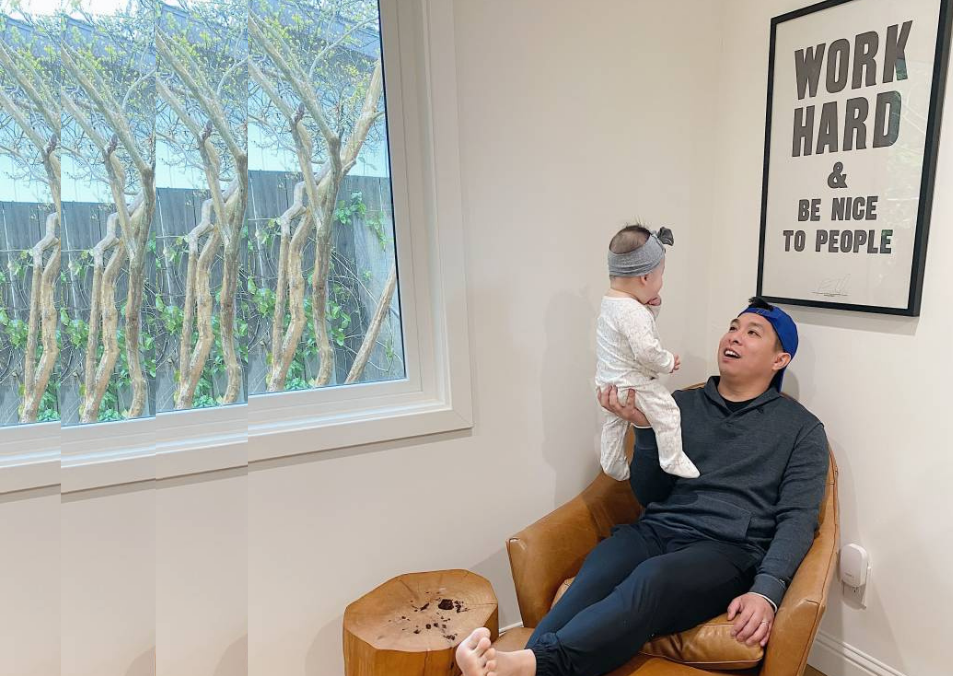 Has self-quarantining put a dent in your style willpower? We get that! That's why we enlisted stylish FoSG to get dressed, like, really truly properly dressed, and track their looks for a little "Real Guy Style" outfit inspiration.
Hopefully, you'll find it as useful as our new WFH normal continues.
First up? My pal Eric Toda. The incomparable E.Toda lives in the Bay Area, a husband and father of two who's worked as a marketer with global brands like AirBnB, Snapchat, Facebook, and Nike.
Even before ::gestures broadly:: all this, he was taking some time to be a full-time dad, and I very specifically asked for adorable said-children to be in any and all pictures he snapped. We caught him right as shelter in place went into effect, which is…wild.
Anyway, please enjoy. And don't worry, we've linked all the best stuff (not the babies), in case you like what you see.
Three days of Isolation / Stay at Home Dad Style in SF:
Isolation Day 1: Okay, here we go. The shelter in place has been issued by the county and I need an outfit that functions, but still looks good. Why do I care if it still looks good?
Because it's me, dammit.
I know I need warmth, but not too warm, you know? So let's go with joggers. Joggers are great because I can chase my two year old son around without anything bunching, they look good in the event I fire off an IG story live from the quarantine zone, and, well, they're in the clean pile of my laundry right now.
For tops, I like a two layer system; henley two buttons down for ventilation, and my selvedge denim shirt. 1. Because I desperately want it to break in and patina, and 2. it's warm and I like wearing it instead of a hoodie or a fleece. This one is the perfect weight.
The outfit helps me transition seamlessly between watching Daniel Tiger, making snacks, changing diapers, avoiding people outside of my house (six feet to be exact), and spending fresh air time with my son because we're going to be doing this everyday for the next three weeks [ed. note: at least!]
Key Pieces:
Isolation Day 2: We're here again?! Okay, let's change things up.
[Taylor Stitch's] Boss Duck is clutch because it stretches, it's heavy enough to keep me warm because the sun is no longer shining, and what's that? The joggers are back because, because we're sheltering in place and these are comfortable, okay?
This outfit is great for all of our normal activities within isolation, but also because if I have to pick up a quick video call over Zoom – I look damned put together.
Even though, let's be real, I haven't shaved in 4 days, and I swear there's like this funk that sits over you when you're in the house for OVER 72 HOURS so far.
Key Pieces:
Isolation Day 3: OMG it's like Groundhog Day.
I need to change it up.
Desperately.
I know what will do the trick, this amazing shawl collar merino pullover from Tracksmith, that will do it! Oh wait, I cant leave my house again?! My god when will this end? How am I going to do this for another three weeks? [another editor's note from the future: buckle up, buddy…]
Well, at least what I'm wearing is handsome, breathable, and warm enough to where I don't need a blanket in the event I take a nap on the couch during the kids' naptime.
…Naptime over and now we're playing in the garage? I'm ready because once again, joggers.
They're really the MVP of my isolation to be honest. I don't think i could do this in jeans or chinos.
Joggers win at shelter in place, and think I'll buy more when this thing blows over.
Key Pieces:
***
Head to Instagram for more stay at home dad style and WFH outfit inspiration from Team SG