Steal His Look: Colombian Singer J Balvin
4 smooth moves to steal from the "Safari" singer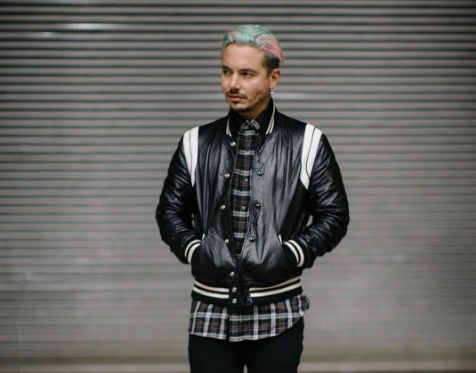 *Note from Megan: Hey guys! Today's dispatch comes from Intern Rita. Leave your hello's in the comments below!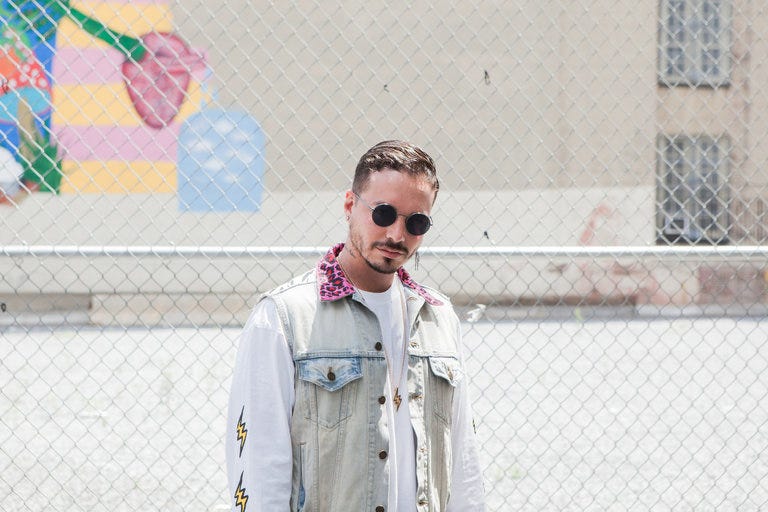 If the song "Safari" has been popping up in your Spotify Discover playlist (if not, go listen asap), the name J Balvin will ring a bell.
With an enthusiastic Latino fan base—14 million Instagram followers and counting!—the reggaeton singer is gradually gaining an American audience thanks to the aforementioned Pharrell collab, and a unique fashion sense that helped him land the gig of New York Fashion Week: Men's first Latin ambassador.
So you can imagine my excitement when, I spotted the chart-topping Colombian singer while walking from show to show on day two. Hailing from Guatemala City, for me this was like finding yourself standing in line behind The Weeknd at Starbucks. Honestly though, with his neon hair and eye catching outfit choice, it would be hard for anyone to miss Balvin.
Megan was proud that I asked him for a picture (to which he kindly agreed) and even though I tried to maintain my cool, I'm pretty sure I failed…hard. I love the American celebs we cover on Style Girlfriend, but there's so many other stars out there from whom to take style lessons from, and Balvin's wardrobe choices definitely makes him a suitable choice for us.
Below, four style lessons you can steal from J Balvin:
1. A monochrome base adds inches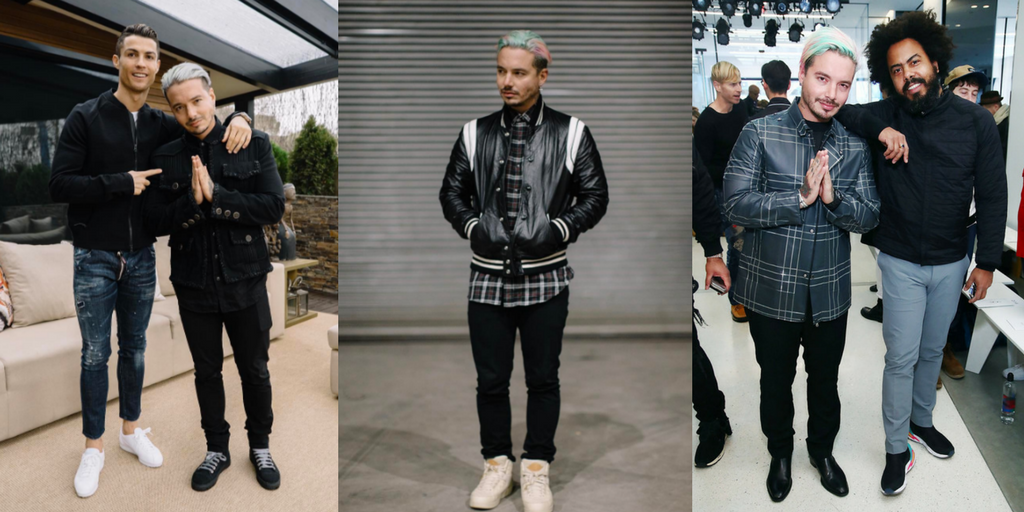 Wearing black head to toe creates a streamline effect that will make you seem taller. A bold jacket on top keeps your look from feeling boring, and easily creates an "Oh wow" outfit.
2. Don't sleep on statement shoes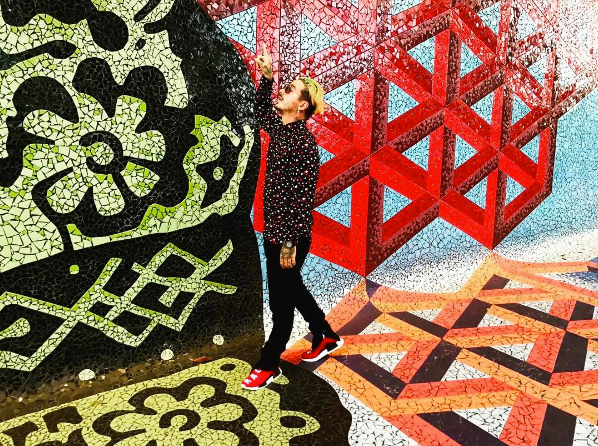 Eye-catching footwear, whether you go for a bright red pair of joggers or shiny patent leather dress shoes, will add the right amount of pizzazz when the rest of your wardrobe centers on more classic pieces.
3. Pattern goes a long way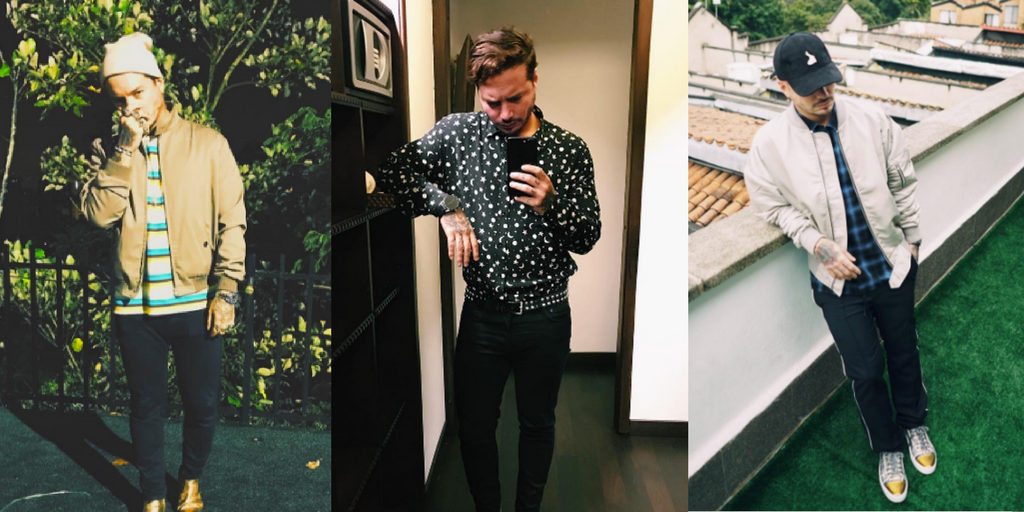 Don't be afraid to try an interesting pattern or texture on top; just make sure you choose one that looks luxe, not tacky. Pair it with neutral pants to balance the whole outfit.
4. If all else fails, try a different hairstyle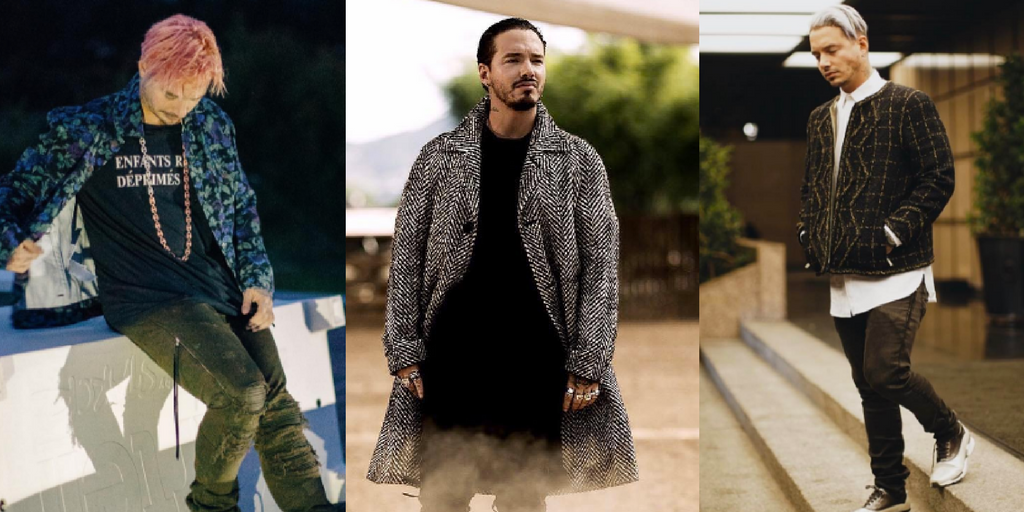 Sure, Balvin's multicolor hair choices are easier to pull off when you're a Latin Grammy-award winning music superstar. Even if going full-rainbow isn't in the cards for you anytime soon, you've got options. Try using a different styling product to give your hair a new look, or start parting your hair on the opposite side. Even small changes can help refresh your look and boost up your confidence.
Shop the post: 
TELL US: 
WHICH INTERNATIONAL CELEBRITY DO YOU GET THE MOST STYLE INSPIRATION FROM?
Images via Instagram and New York Times